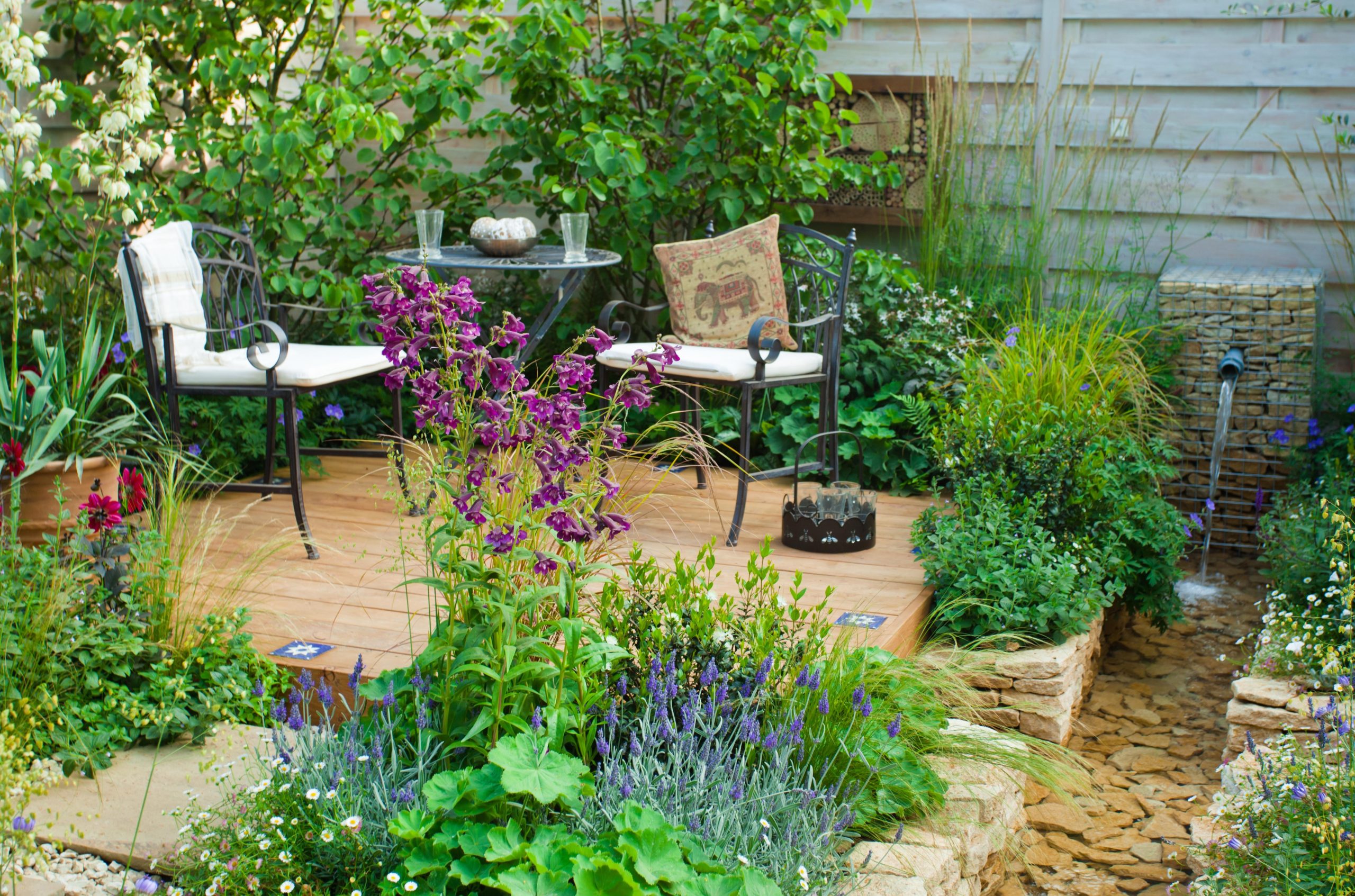 How to Maximize Small Garden Spaces
Gardens come in all shapes and sizes, from small to large and everything in between. Not all gardeners are blessed with the luxury of an ample plot of land to plant whatever their heart desires. For some, planting wide, spreading, and tall varieties is not in the cards. Thankfully, whatever the size of the garden, there are gorgeous bulbs, perennials and even fruit that can be grown in small garden spaces and containers. Beautiful small backyards can be created by planting in different areas, adjusting where to grow, and choosing plants for small gardens that better fit your space. With small row homes, condos, and the limitations of gardens in the growing suburbs, gardening in small spaces is the solution for those green thumbs that still want to be active in planting, growing, and enjoying the activity of gardening.
I find that there are many different bulbs and perennials that work perfectly for my small garden space. I can even plant fruit! The choices are plentiful for planting in small and tight spaces. There are many small garden ideas you can use. Let us help you find the best plants for a small garden and check out our small-space gardening ideas!
Plant Upwards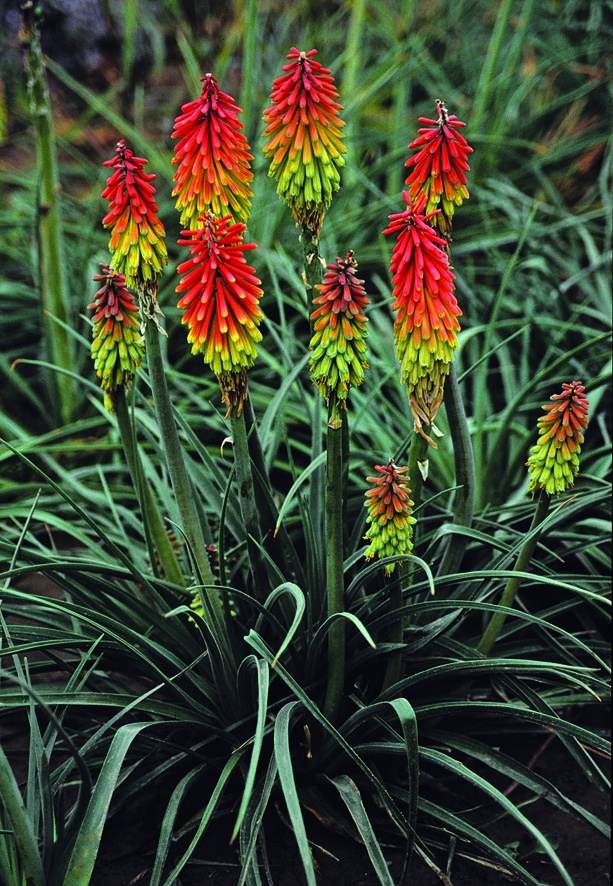 For the narrow places in my garden, I like to utilize tall, skinny plants. This gives me the ability to have gorgeous colour and flowers without taking up too much real estate. Kniphofia Fire Dance is a striking variety to add colour and interest. Growing to 50 cm (20") and with a slender width of only 60 cm, this perennial fits nicely in a smaller footprint. As a bonus, Fire Dance attracts pollinators, is deer-resistant, and blooms from July all the way through to September!
Echinacea comes in a variety of great colours, and I love the textures it adds to the garden. My favourite for a narrow place is Ruby Star. With a great height of 90 cm (36"), you will get deep pink blooms attracting pollinators all summer long but saving space with only a width of 40 cm (16").
Growing to a height of 90 cm (36") and width of only 15 cm (6"), Liatris spicata and Liatris spicata Floristan White tower with stunning textures of plumes of purple and white. These incredibly tall but thin flowers are excellent to plant in full sun, and narrow spaces.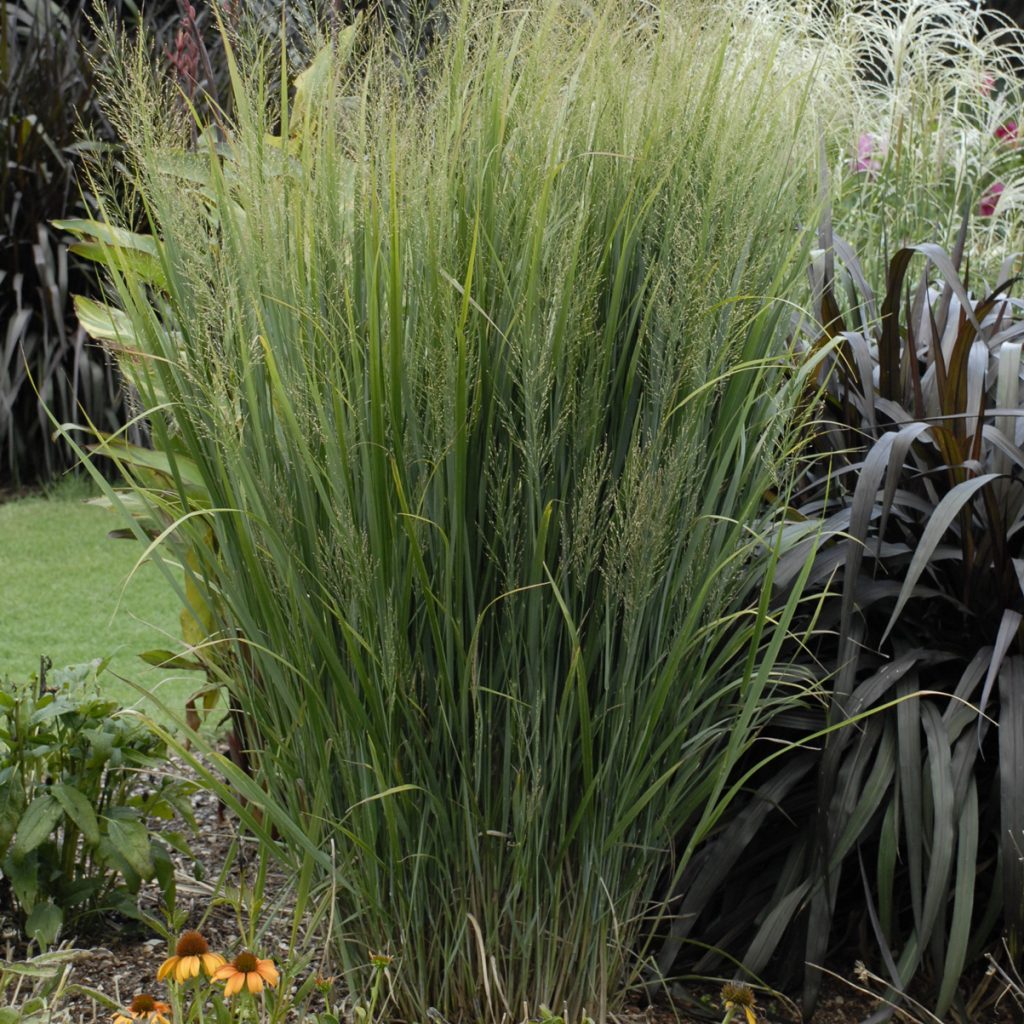 Grasses are also very beneficial in adding height to a garden. Grasses can add a graceful texture to your garden, add year-round colour, and soothing movement as they sway easily in the wind. Panicum Northwind grows to 125 cm (50") tall but with a width of only 30 cm (12").
Roses are a great addition to the garden, and there are many climbing varieties available to grow. A favourite award-winning climber is the David Austin Graham Thomas rose. This rich pure yellow rose has a strong lemon and tea fragrance and grows to an impressive 3.5 m (12') tall. Another way to add roses to a small garden is to plant them in containers. There are many varieties perfect for containers. Check out our blog on growing roses in containers!
Ever thought of adding clematis to your garden? It's a great variety if you wish your garden to grow vertically. For over 100 years, Nelly Moser has been one of the most popular to plant. With pastel mauve and pink flowers, Nelly Moser grows to a height of 2.5–3.5 m (8-12').
Both roses and clematis bloom all summer long! If your garden lacks width, think about planting upwards! Check out our blog on vertical gardening for more great tips on growing your garden upwards!
Container Planting
There's a lot you can do with containers in small spaces. Even without the space for a garden, you can utilize containers on a patio or balcony for small-space gardening. I like to place a few containers around my small sitting area in the backyard, and by my front door. For my front door container, I utilize the method of planting a spiller, filler, and thriller.
To fill out my container, I have added Heucherella Pumpkin Spice to add texture and a bold pop of orange colour. Phlox subulata Snowflake spills nicely over the sides of my container, with the white flowers contrasting beautifully with the colour of the Heucherella. For some thrilling colour, I chose to add Gaillardia Arizona Sun for its vibrant red and yellow flowers. Check out our blog on creating amazing container arrangements, with suggestions on varieties that work for both sun and shade locations. Gardening in containers is a great way to maximize your planting space!
Spring and Summer Flowering Bulbs
Bulbs are perfect for small gardens. Tulips, narcissus, muscari, Galanthus and hyacinths are just a few spring flowering bulbs that are perfect for compact garden spaces and they are also wonderful for containers.
I love the striking tulip Rem's Favourite and vibrant purple Blue Parrot both growing to a height of 55 cm (22"). For shorter tulip varieties, try mini botanical tulips. These petite blooms will reappear year after year in the garden. I have quite a few of these varieties, among them Preaestans Shogun, Little Beauty and Saxatilis. Every fall I plant a container of spring flowering bulbs to enjoy in the coming year.
A petite late winter flowering favourite in the naturalizing Galanthus, also known as snowdrops. I love seeing these short little white flowers peek their heads out from the snow each year welcoming spring!
For the summer months, I plant shorter varieties of dahlias and lilies. Anemones are also a favourite staple in my garden. There are many different anemones to choose from, including double-bloomed and pompom, however, I enjoy planting classic anemones in my garden. Every spring I pick up a package of 25 cm (10") tall hot pink Anemone De Caen Sylphide.
Patio Asiatic lilies work well for small areas like my patio containers. Add varieties like Tiny Epic or Tiny Bee to your summer flowering containers for stunning bursts of colour. Dahlias are known to grow and tower over gardens. Thankfully there are smaller, shorter varieties to add to the garden. The aptly named Gallery Patio Dahlias, growing to a maximum height of 45 cm (18") with 5" blooms, provide a good range of dahlias for a smaller garden. For monochromatic patio dahlias, there is the red Singer, yellow Pinto or pink Art Nouveau. My choice for patio dahlias however is the multi-coloured gallery Pablo, with a yellow centre and hot pink edges.
Short Shrubs and Perennials
It's great being able to incorporate shrubs into my smaller garden. There are fantastic choices for small gardens which are not too tall and wide. They will keep a petite footprint for a smaller garden space. Since their natural mature height is shorter, there is no need for endless pruning to keep them small.
You've probably seen them around, as Buxus are very popular – hence why I am mentioning them! Also known as boxwood hedges, this attractive little shrub retains a short and stout shape. Pruning is seldom needed for this small hedge which only grows 60-120 cm (24-48") wide. For those who like English-style gardens, these shrubs will conform to many different shapes. With easy pruning, buxus can be shaped into nice clean condensed shrub forms.
Hydrangeas are very popular, but it is commonly known that they can become a huge garden shrub. Thankfully there are Flare Hydrangeas. Growing 60-90 cm (24-36") tall and wide, this hydrangea is a perfect choice for a smaller garden shrub.
If you are looking to add small perennials, the options are endless. Hosta Mouse Ears series are very petite growing to a height of 18 cm (7") and width of 30 cm (12"). I adore the smaller, rounded leaves and they add contrast to containers as well. Adding Phlox into your garden infuses an enticing aroma, and flowers perfect for cutting and bringing inside your home to enjoy. The Phlox Flame series, dwarf compact phlox, is known for its compact form and clusters of large fragrant blooms. The Astilbe Visions series are known for compact growth with heights of 45 cm (18") and widths of 30-40 cm (12-16") and beautiful thick plumes of blooms! I've planted these in containers and in my small garden beds.
Fruit
I love fresh berries, and even in a small garden, I am harvesting a bounty of delicious fruit. Strawberries are very low growing, to a height of 15 cm (6"). If you don't have garden space, the perfect solution is to plant in a hanging basket! No need for a garden or container. Strawberries thrive in this environment. After many trials, I find everbearing strawberries the best for lots of berries from summer to fall. My favourite to grow is Everbearing Eversweet Strawberries the sweet flavour size of the berries is amazing! Blueberries can also grow in a tight space. The dwarf blueberry Top Hat is a variety that grows well in a container, with a great flavour and a slight tart taste of wild blueberry.
Grapes are ideal for growing on a climbing structure and are a delicious end-of-season fruit! When I didn't have enough privacy with my neighbour, I added a climbing structure and grew grapes. Not only do I benefit from the delicious fruit, but they are also good at adding a little extra privacy. My two favourite grapes are the red seedless grape Vanessa and the green table grape, Niagara. Vanessa is ready to eat at the end of September and grows on hardy and vigorous vines. Niagara produces large yields of delicious medium-sized white fruit. Both are excellent for an end-of-season treat!
There is always the ability to be creative when you are building your garden, either large or small. Having a small backyard garden footprint does not limit the beauty of plants and flowers you can enjoy at your home. By simply choosing the right plants for your area, finding small niches to plant, and grabbing some containers, you can enjoy a beautiful small outdoor space.