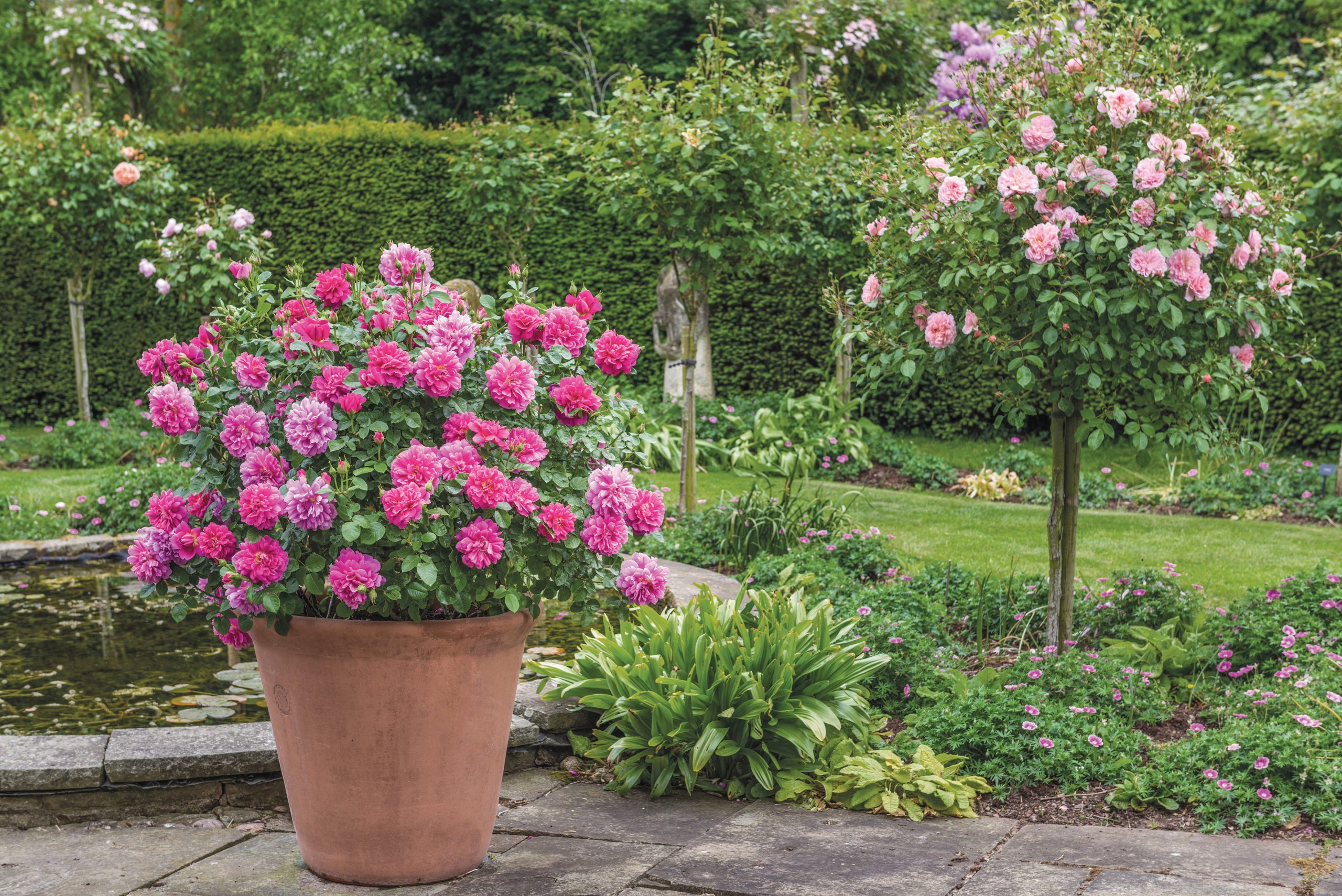 Gardening in Small Spaces: Growing Roses in Containers
Do you want to add a touch of elegance to your small outdoor space? Or maybe you just don't have the room in your garden for a rose bush. No problem! You can grow roses in containers, and they will look beautiful. In this blog post, we will discuss how to plant roses in containers and choose the right container for your needs. We will also talk about how to take care of your roses in pots and what to do after planting. So, if you're interested in adding some roses to your life, keep reading!
Choosing your materials
Containers are a great way to add colour to your courtyard, deck, patio, terrace, or rooftop without compromising too much space. The first step in the process is to pick out the rose and pot that will best suit your small space. There are a couple of quick things to think about when choosing which rose you want to plant. Most roses can be grown in large containers, but some are better suited for smaller spaces than others. For example, unless you plan on installing a trellis along your wall, it might be good to stay away from climber or rambler roses. Another thing is to consider the total growth or mature size of the rose. Roses that grow to about 4ft tall and about 3ft wide are about as large as you want to go for your containers. Anything above that could start overtaking the pot or space. But don't fret too much, you can always keep your bushes smaller by pruning them. Once you have chosen a rose for the space, it's time to think about pots.
Pots come in all different shapes, sizes, and colours. Choose a large container for a bigger and healthier rose. The larger the container, the more room roots will have to develop. Large containers also help prevent the soil from drying out. No matter what type of container you choose whether clay, ceramic glazed, or plastic, make sure it can withstand the year-round weather for your area, or if it can be moved to a protected area for winter. Also, ensure the container has good drainage holes, as a layer of gravel in the bottom of your container will also improve drainage.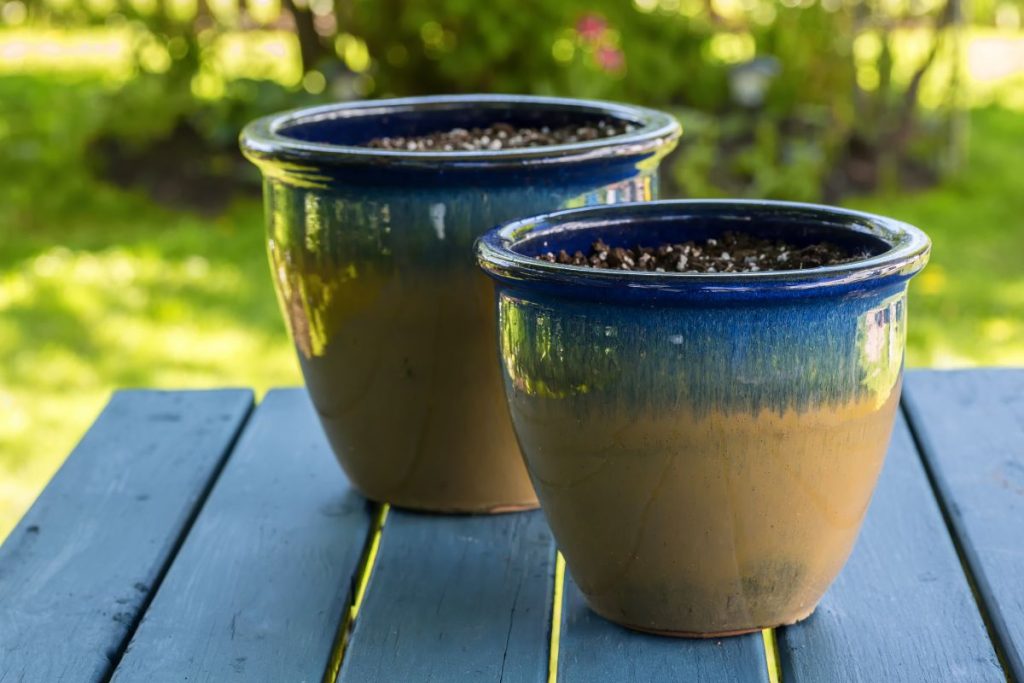 Rose Upkeep
To enjoy your container rose to the fullest, it is important to situate your rose in the right location and keep it properly watered. Roses enjoy full sunshine and should receive at least four hours of sun each day. Think patios, balconies, roof-top gardens, and entrances. You can also consider positioning your pot in an area, so the base of the container receives some shade, as this helps retain soil moisture and protects the roots from hot situations. Water on a regular basis, keeping the soil moist but not too wet. Water more often in extremely hot weather, never letting the soil dry out. Feeding container-grown roses encourage more blooms. Apply a slow-release fertilizer that consistently supplies nutrients for several months at a time. A liquid rose fertilizer, sea kelp, or fish, applied every 2 to 3 weeks can also be beneficial and encourage prolific blooming. Pause your fertilizing in mid to late August as you will want your rose to be preparing for winter dormancy in mid to late September, instead of putting on extra new growth.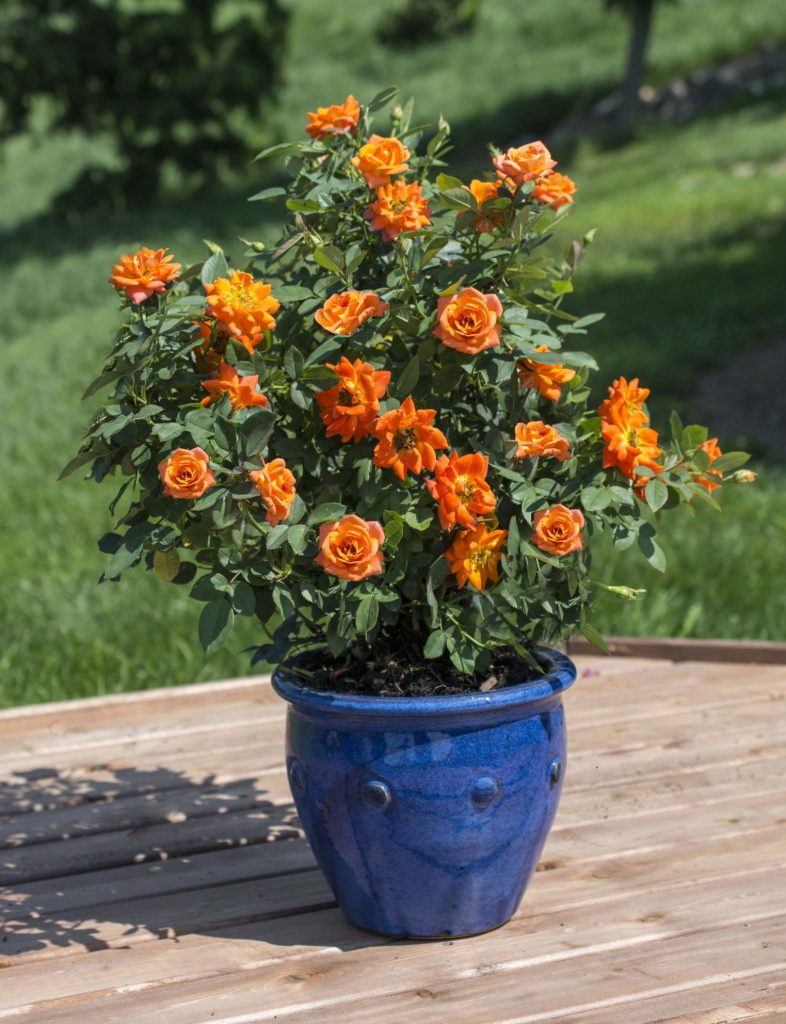 After Care and Pre-Care
Once your rose has finished blooming for the season it is time to take care of it for the winter months. In the fall move your rose containers to sheltered areas such as a shed, greenhouse, or garage. Remove any foliage on the stems and the top of the soil. Continue to keep the soil damp, roses enjoy a cold resting period, but dry cold winds and deep freezing can damage the canes and crown of your rose.
In spring, prune the rose when growth begins again and refresh the soil around the plant base by mixing in compost or well-rotted manure blended with peat moss. Sprinkle a tablespoon of Epsom salts around the base to provide the necessary magnesium for a fresh start of healthy foliage. Check out our blog A Quick Guide to Taking Care of Your Roses for tips on pruning.
Enjoy
The most important part of growing roses in containers is to enjoy them! Whether it is one or two on your small balcony or a few more around your property or backyard, make sure you take some time to stop and smell the roses. With so many colours, fragrances, and types, there is sure to be a rose for you to enjoy. So, head out to your garden centre to pick up a rose and pot for your small space.