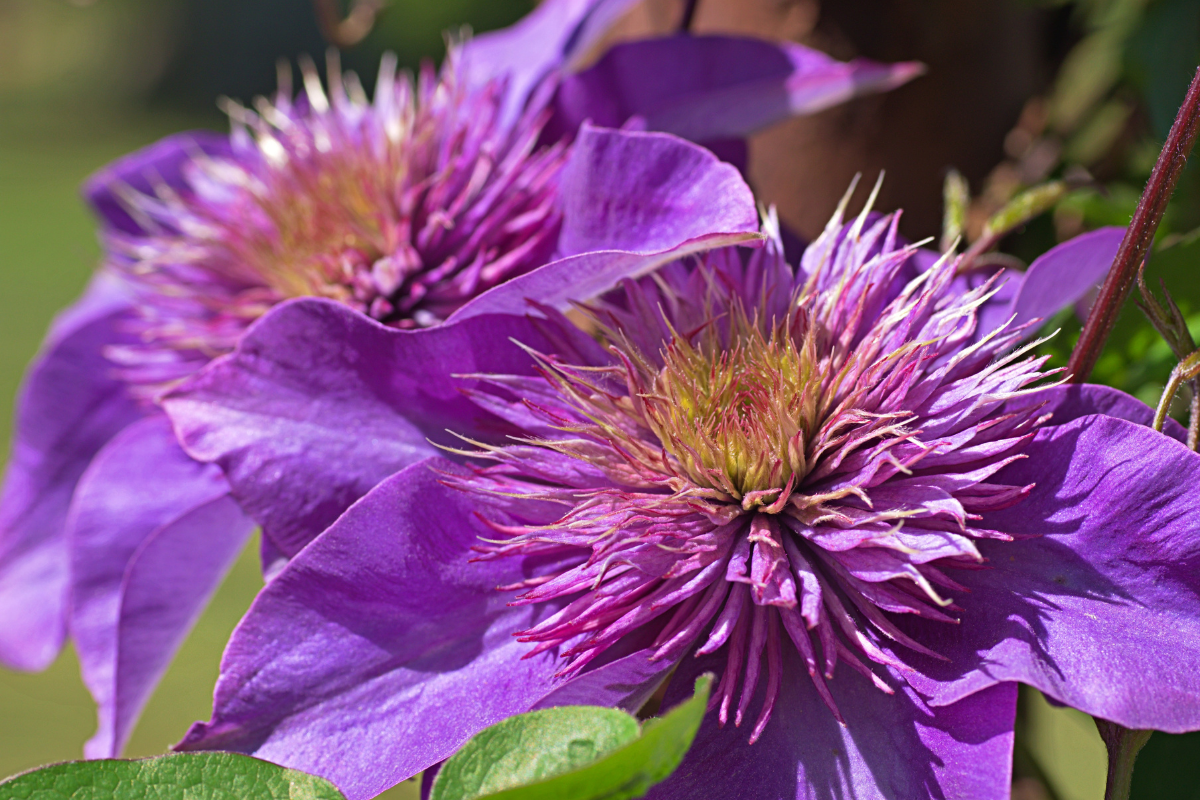 Looking to Add Clematis to Your Garden? Here's Everything You Need to Know
Have you seen those beautiful English gardens with flowers growing along the lattices adding that pop of colour? If you are like us and have seen any English garden photos on Pinterest, you might be wondering what that beautiful plant is. Well look no further because they are Clematis! They are the perfect plant to add some height and colour to your garden and to get that beautiful look that we see in pictures. There are many different varieties of clematis, each with their own unique look. In this post we will cover different varieties that you could plant, where to plant them, and how to make sure they have the best chance of success.
Picking Your Clematis
With so much beauty, there is a good reason that the clematis is called the Queen of the Vines. Several hundred species exist with diverse blooms in rich hues and shapes – from dainty nodding bells to large single or double star-shaped flowers. These vary in size from just a few centimeters across to edging over the rim of a dinner plate. The beauty of a clematis plant can brighten and add excitement to any environment. They can be grown in almost any sized garden space from containers on balconies and patios to rambling 20 ft up trees and poles. You will love their long blooming time and wide range of use in your garden. The pollinators will love their abundant nectar and pollen. Plant varieties which bloom at different stages throughout the growing season and you will enjoy clematis from late spring through fall.
With so many different varieties it can be hard to pick which one you want to add so here are a few of our favourites:
Clematis Elsa Spath:
A stunning clematis that produces blue-lavender tones, Elsa Spath is a beauty to behold. The huge 15-20 cm (6-8") flowers bloom in early summer and then again in late summer/early fall, so you get to enjoy them twice in a year. Growing to a height of about 6-8 feet and spreading 3-4 feet wide, it is a great plant for training on walls, arbors, or growing through medium to tall shrubs. The wonderful thing about Elsa Spath is that it attracts butterflies which means you not only get to watch beautiful blooms but also can see some beautiful butterflies.
Clematis Montana Elizabeth:
For a sweet vanilla scent in your garden, add in Clematis Montana Elizabeth. It produces beautiful pale pink blooms 5-8cm (2-3") with a satin sheen. Montana Elizabeth is a great choice to cover a wall, trellis, fence, or arbor. It can grow to 7.6-10.7m (25-35 ft) tall and 2-3 ft wide, providing a stunning impact. Blooming in late spring to early summer, it is a beautiful way to ring in the warm weather. To fully enjoy the sweet smell, you can plant it near an entrance or path or your favourite garden nook that you relax in.
Clematis Niobe:
A vibrant choice to add to your garden is Clematis Niobe. With large velvety, deep ruby-red flowers that open to 10-15 cm (4-6") in diameter, Niobe is sure to make a statement in your garden. These striking flowers bloom from late spring all the way to early fall which means you can enjoy them all summer long. Spreading about 8 ft tall and 3 ft wide, they are ideal for a small garden, larger containers, or mixed in with small to medium sized shrubs.
Clematis Nelly Moser:
A popular choice due to is prolific flowering and large star-shaped flowers, Nelly Moser is a beautiful addition to any garden. It is a super dependable, easy to grow, strong, and adaptable variety and can be used in many different locations. The vine grows 1.8-2.7m (6-9ft) in height and 60-120 cm (2-4 ft) across and produces huge 20-25 cm (8-10") pinky-lilac blooms with a beautiful carmine stripe. If you are looking for a starter clematis to get you going, then look no further than Nelly Moser.
With a bit of inspiration, it is time to get planting!
Planting Clematis
There are a few key things to remember when planting up clematis. These long-lived vines are happiest with their roots in cool shade, their foliage benefits from at least six hours of sun each day to grow to their full potential. To keep their roots shaded, consider planting a small shrub or perennial companion at the base of the vine. A sun-tolerant hosta, phlox or daylily are great protectors and with so many different colours and varieties to choose from you can always find one that complements your clematis. If you are looking a shrub companion, a dwarf azalea or boxwood can generally do the trick.
For planting, dig a large size hole in well-draining soil, work in lots of compost, bone meal, and organic fertilizers. Plant your clematis root ball 15 cm (6") below ground level and carefully fill in the hole with the amended well-draining soil, it is okay to burying 10 cm (4") of the stem. Clematis climb upwards and require a solid and robust fence, trellis or arbor so make sure you have something ready to help support the clematis when it begins to grow. If you are planting in containers choose one that is at least 45 cm (18") across to allow space for companion plants and supports. The vines are long lived and can take down flimsy garden structures that are unable to stand up to their weight so a strong and sturdy structure is key to the clematis' success.
Ongoing care requires watering regularly once a week during the first year of growth. A little patience may be necessary, as it may take a year or two for a clematis to get established, then it will take off and flower prolifically.
Clematis is a pollinator loving vine that can add beauty and elegance to any garden. With so many varieties available, there's sure to be one or two or more that are perfect for your garden space. Remember to give the roots plenty of shade and keep the soil moist and enjoy the blooms all season long! If you need help finding a retailer or have any questions about clematis, let us know. We're always here to help.