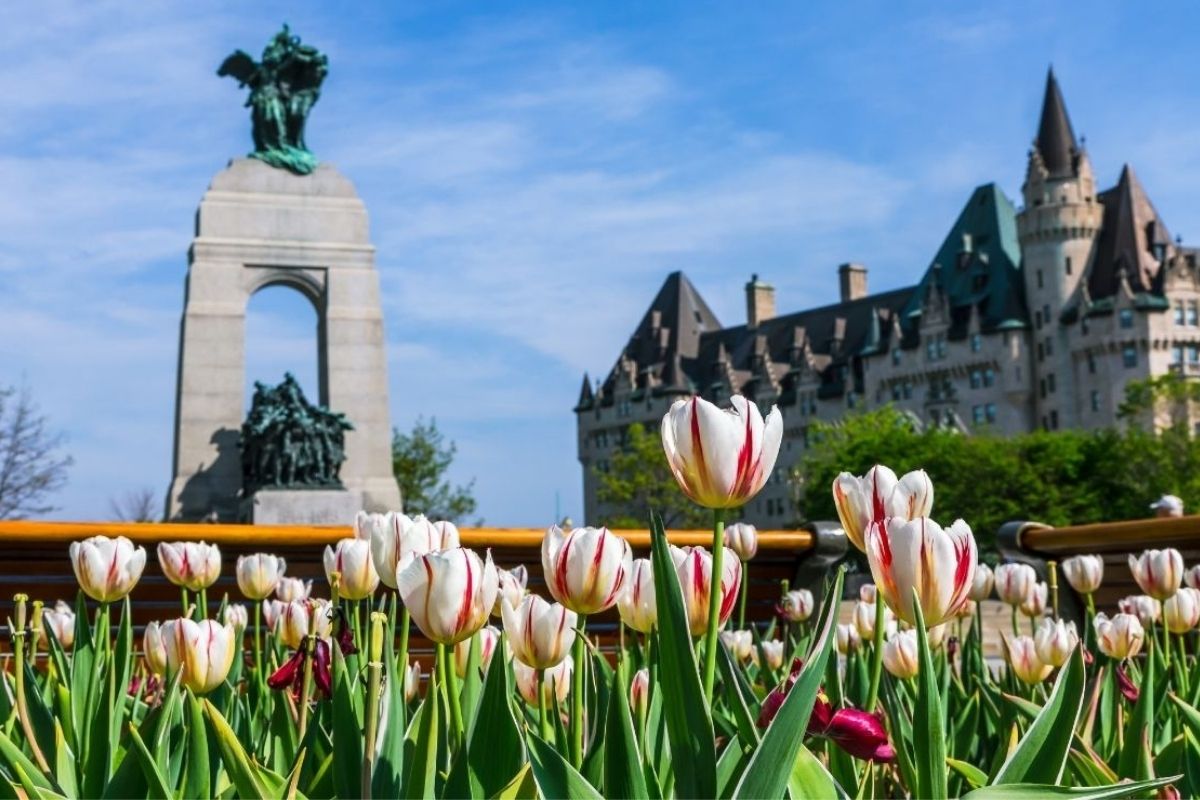 Get Outside and Enjoy Tulips Across Canada
The tulips are in bloom and the weather is warming up, so, it's time to get outside and enjoy the springtime beauty across Canada! There are so many great places to see tulips blooming, from the capital city of Ottawa and its famous Tulip Festival to parks and gardens all around the country. So why not take a drive or a walk this weekend to check out some of the best displays? The flowers will put a smile on your face and make you feel grateful for living in such a beautiful country.
Where to Enjoy the Tulips
All across this beautiful country, there are some absolutely wonderful tulip and flower displays. Here are some of the best places to check out:
Butchart Gardens, Victoria, BC – Tulips are just one part of the beauty at this world-famous garden destination. But during the spring season, the tulips are on full display and make a true statement throughout the gardens. Grab your camera for some truly instagramable moments while tip-toeing through the tulips and all the other displays throughout the vast grounds.
VanDusen Garden, Vancouver, BC – Nestled in the heart of Vancouver, the award-winning VanDusen Garden is worth visiting any time of the year, but it is especially breathtaking in the spring. Take a relaxing walk to enjoy the tulips of spring complimented by the famous Vancouver Cherry Blossom trees. In addition to the varieties of tulips, take time to enjoy their over 75,000 different plant species from all over the world!
Stanley Park, Vancouver, BC – Home to over 100 different varieties of tulips, daffodils, hyacinths, and alliums, this is a must-see if you are in the area. With thousands of bulbs planted each season, there is sure to be a tulip or flower variety that suits your fancy. Grab a bike and enjoy the flowers while biking around the sea wall or take a shortcut through the park to enjoy some of the beautiful botanical garden displays. Bring a picnic lunch and dine in between the flowers and soak up the wonderful sweet smells.
Bloom Flower Festival, Armstrong, BC – Formerly the Abbotsford Tulip Festival, the Bloom Flower Festival relocated to Northern Okanagan in 2021 where they are still showcasing an amazing selection of tulips. A perfect place to wander through the fields, snap a few pictures and learn about tulips. For a full tulip farmer experience, there is a designated u-pick section!
University of Alberta Botanical Gardens – Park County, AB – The collections at the University of Alberta Botanical Gardens are centered around the message of the relationships between humans, the ecosystem, and plants. With one hectare of gorgeous gardens, and a short 15-minute drive from Edmonton, the University of Alberta Botanical Garden is perfect to view spring-blooming flowers.
High Park, Toronto, ON – A lovely spot for a picnic lunch or afternoon walk, and the perfect place to see some early spring blooms. The park offers a variety of smaller gardens and displays to enjoy. Make an afternoon date to go for a bike ride around the park to check out all the small gardens and the beautiful blooms as the spring weather shines.
Canadian Tulip Festival, Ottawa, ON – If you are looking for an absolutely stunning display of colour and beauty, look no further than taking a trip to Ottawa to take in the Canadian Tulip Festival. Starting after World War II to symbolize the friendship between the Dutch and Canadians who helped liberate Holland, this display gives more than just a beautiful show. With over 300,000 bulbs planted each year, there are tulip varieties for everyone to enjoy. You can explore the different displays by foot, bike, boat, or even by air. So, head out and enjoy the tulips. The festival runs in mid-May when the tulips are in full bloom.
Montreal Botanical Garden, Montreal, QC – Situated minutes from downtown Montreal, it is a vast 75 hectares of thematic gardens and greenhouses with plants showcasing beauty during all seasons of the year. During the spring, visit their First Nations Garden, the Alpine Garden, the Quebec Corner, and the Shade Garden to view their collection of tulips and other spring-flowering varieties.
Kingsbrae Garden, St. Andrews by the Sea, New Brunswick – This garden is a must-see! If you are looking for a great display of tulips in a lavish horticultural masterpiece, Kingsbrae Garden is the place to visit. This former estate boasts the accolades of numerous horticultural awards. A perfect place to view not only spring blooms, but perennials, a hedge labyrinth, cedar maze, ponds, an authentic Dutch windmill, an old-growth forest, and alpacas, pygmy goats, and peacocks!
Local Cities and Towns – While there are some phenomenal flower show gardens across our beautiful country, some of the best flowers can be found around your town. With the weather warming up and summer on the way, hop on your bike, head out for a walk, or jump in the car for a tulip hunting day. Bring your phone to capture all the beauty and make sure to tag Florissa on Instagram (link the account) so that we can see the beautiful tulips in your hometown. Then head to google and see if you can name that tulip! We look forward to seeing you hunt across Canada for some beautiful tulips.
At home within your own garden – The best way to enjoy the flowers is in your own garden and planters. Whether you have a small deck with a planter of bulbs or some raised beds, there are flowers for everyone to enjoy! Missed out, or unsure of planting bulbs this past fall? Stayed tuned and keep following to get inspiration and tips for planting your tulips this upcoming fall, that you will enjoy next spring. If you see a specific variety that you love, make sure to jot it down on your garden wish list so that you can pick it up in the fall and enjoy it in your own backyard.
Canadian City Series Tulips
Did you know that we have 3 tulip varieties named after cities in Canada? Tulip's Quebec, Toronto, and City of Vancouver are 3 stunning blooms that you can enjoy all across the country in the springtime.
Tulip City of Vancouver – An ivory white tulip to match the snow-capped mountains, City of Vancouver is a gorgeous tulip to add to your garden and enjoy in spring. A late spring blooming tulip, it is a great transitioning tulip to bring the spring into summer.
Tulip Toronto – An early bloomer multi-flowering Greigii tulip is the perfect way to ring in spring. The coral red petals make a beautiful show during sunny days making it a great tulip to get you into the spring season. Plant these in containers on your balcony or in raised beds to enjoy them to the fullest.
Tulip Quebec – A multi-flowering tulip, Quebec is a true beauty to behold. The cream and scarlet petals make a true standout and each bulb produces multiple blooms. As a mid-spring bloomer, it is a great flower to really get you in the spring mood.
When the tulips are in bloom and there's no better time to get out and enjoy the beauty of these flowers. Whether you live in British Columbia or Nova Scotia, there are beautiful displays for everyone to see. Make sure you tag Florissa so we can see how you are enjoying the tulips in your home or city. We hope you have a wonderful weekend surrounded by these colorful blooms!