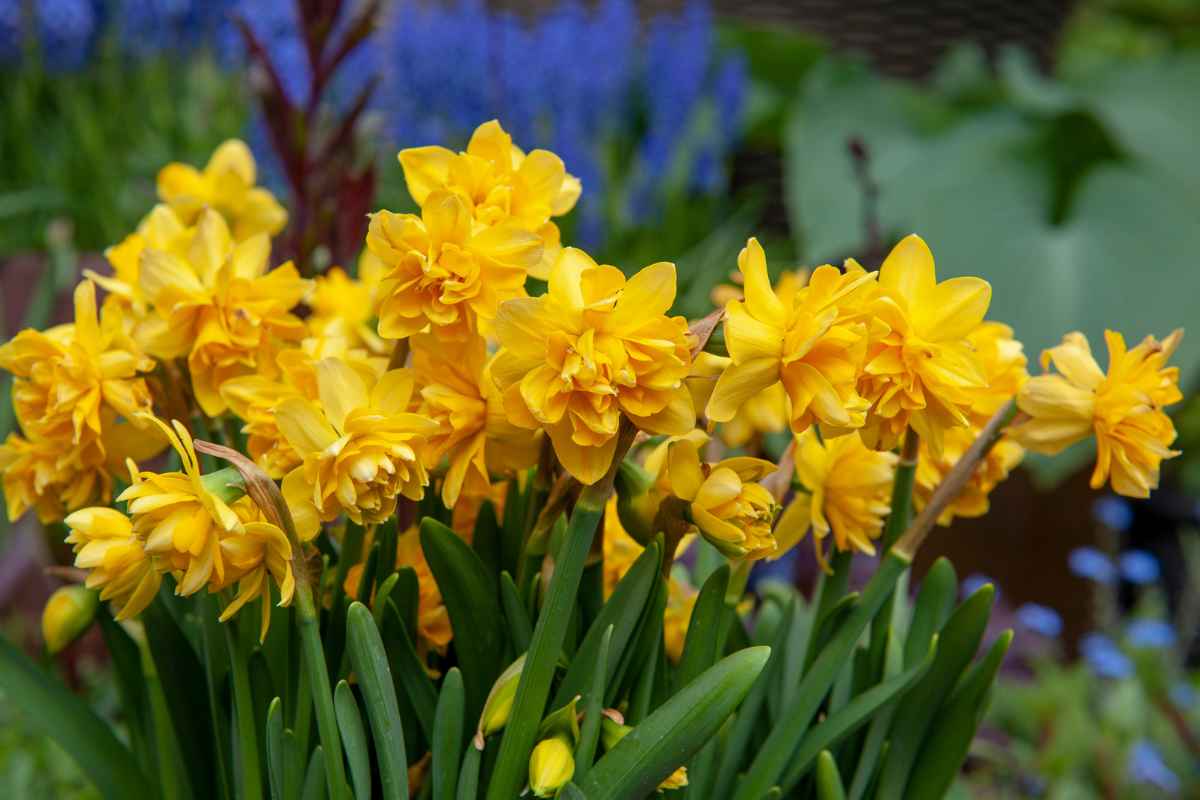 All About Daffodils: Everything You Wanted to Know, and More!
As the leaves start to turn golden and the air gets crisper, it's a sure sign that fall is upon us. For flower enthusiasts, this season brings with it the preparation for a gorgeous spring garden. Known for their stunning blooms, narcissi, commonly known as daffodils, are one of the most popular spring flowers. Narcissi are fall-planted bulbs that bloom beautifully in the spring with easy carefree elegance. There are many different types of narcissi, each with its own unique characteristics and flower form. In this blog, we will take a closer look at the different types of narcissi and give you straight from the grower tips on how to plant, grow, and care for them.
Narcissi can be categorized into different types based on their size and shape. There are trumpet, cupped (large and small), double, triandrus, cyclamineus, jonquilla, tazetta, poeticus, bulbocodium, split-corona, and species. Learn more about the different types, and a few of the wonderful varieties within those categories!
Trumpet Narcissus – Division 1
Trumpet narcissus are the most traditional daffodil. As the name suggests, they have a long trumpet-like centre surrounded by petals. With elegant large blooms, their long trumpets bloom one per stem. The most popular trumpet narcissus is King Alfred Type with its golden yellow trumpet and petals, but let's look at the other colour combinations available as well! These early spring blooming flowers are perfect for mixed borders, planting in containers, cut flowers, and they are great garden naturalizers.
King Alfred Type
When most people think about narcissus, they picture the beautiful traditional King Alfred Type. A standard symbol of spring, this beautiful bright yellow trumpet narcissus has been the representative for all other narcissi. We would be amiss not to mention this classic narcissus. Although a common narcissus, its beauty has stood firm throughout the years. Growing up to 40 cm (16") and hardy to zone 3, King Alfred Type is perfect for naturalizing, landscaping, and cut flowers. It is also deer-resistant and fragrant!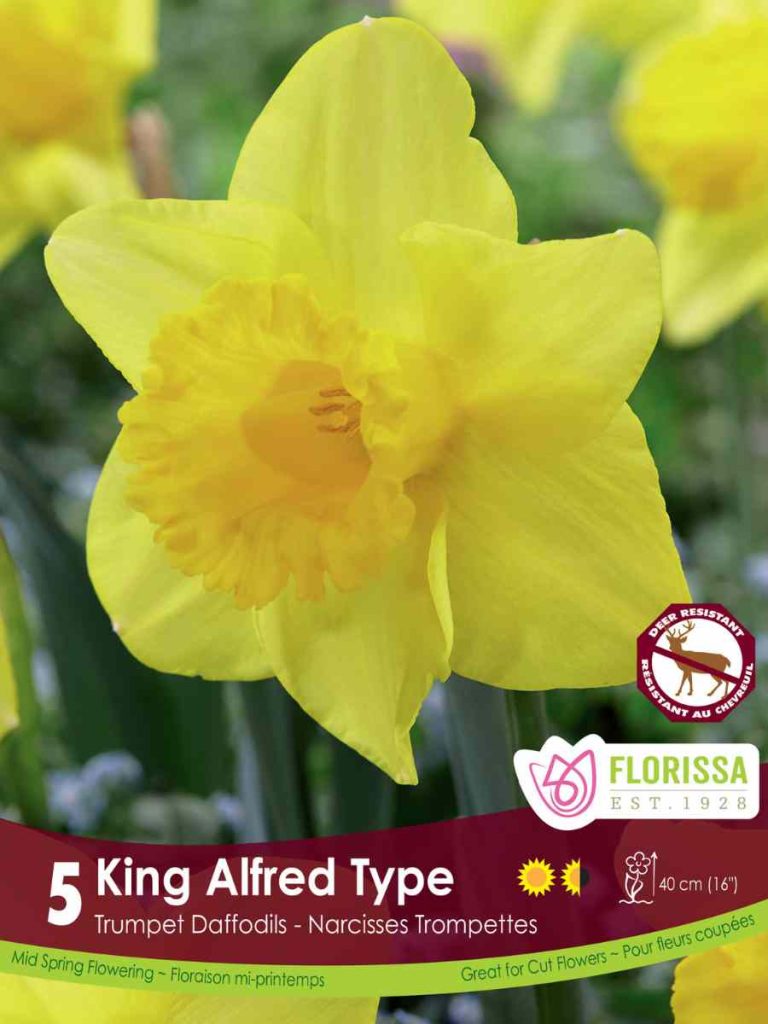 Angel's Flute
A gorgeous and understated trumpet narcissus is Angle's Flute. True to its name, Angel's Flute is delicate and full of grace. Its flowers open showcasing soft buttery white petals with a bright furled yellow cup. Angel's Flute grows to 35 cm (14"), is hardy to zone 3, is deer resistant, fragrant, and makes an excellent cut flower.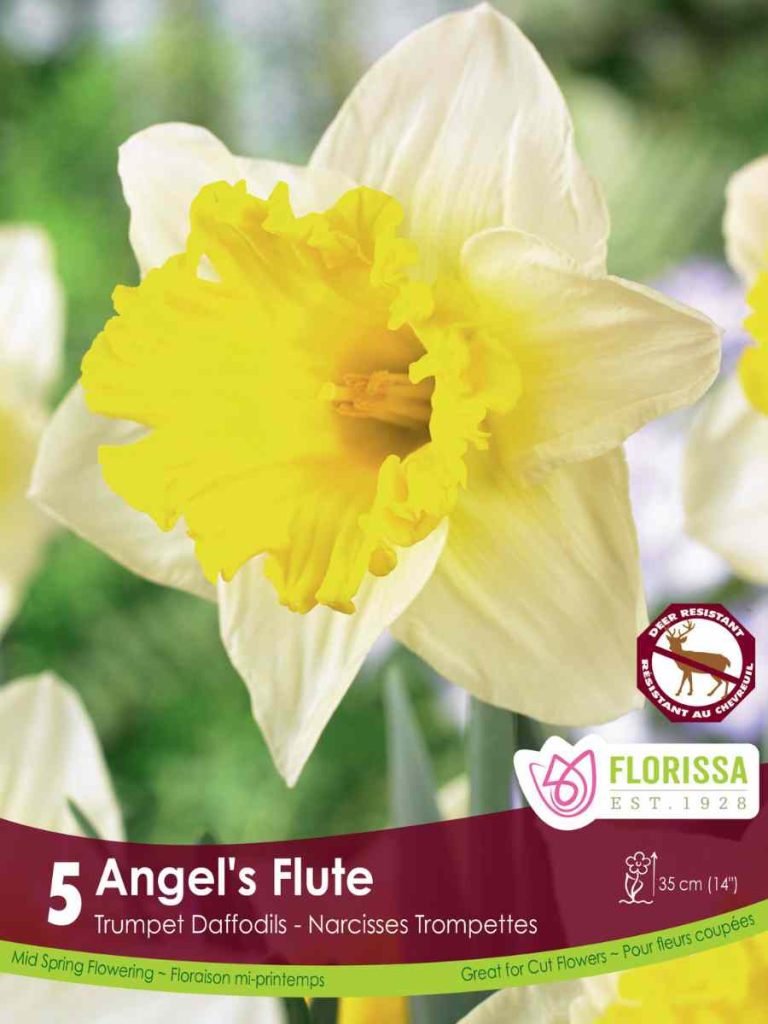 Cupped Narcissus – Division 2 & 3
Large cupped narcissi have one flower per stem with a corona or cup more than one-third, but less than equal to the length of the petals. On the other hand, small-cupped narcissus also have one flower per stem, however, their cup is not more than one-third of the length of the petals. Cupped narcissus bloom in an array of bright colours for many years. They are early-mid spring blooming, great for containers and mass landscaping. Easy to naturalize.
Barrett Browning
Barrett Browing is a small-cupped narcissus with a lovely colour combination. The bright white petals accentuate the vibrant citrus orange cup. Plant these in containers for a fantastic spring highlight! Perfect for garden beds as well. As an easy-to-naturalize variety, Barrett Browning is hardy to zone 3 and grows to a height of 40 cm (16").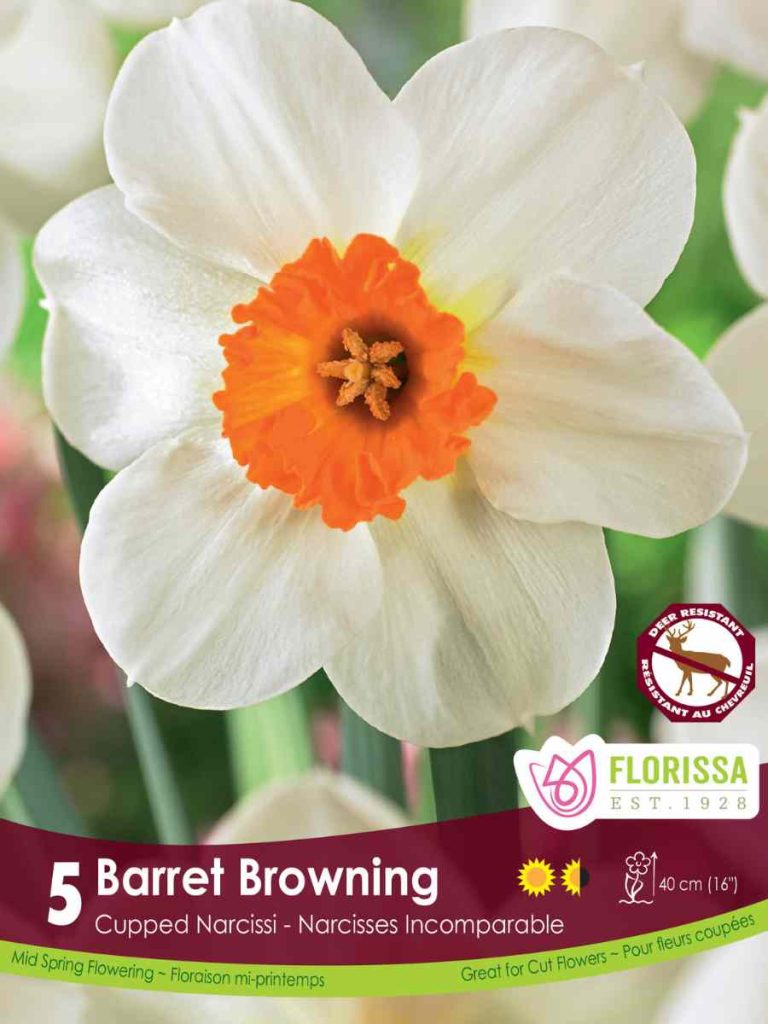 Pink Charm
Add pink to the garden with narcissus! Pink Charm will add a bold touch of pink to your spring garden with deep pink-edged cups that have an ombre blend to the crisp white bases that sit upon a ring of pure white petals. This large-cupped narcissus is 45 cm (18") tall, hardy to zone 3 and is deer resistant. You will be amiss to not cut and bring some of these beauties inside!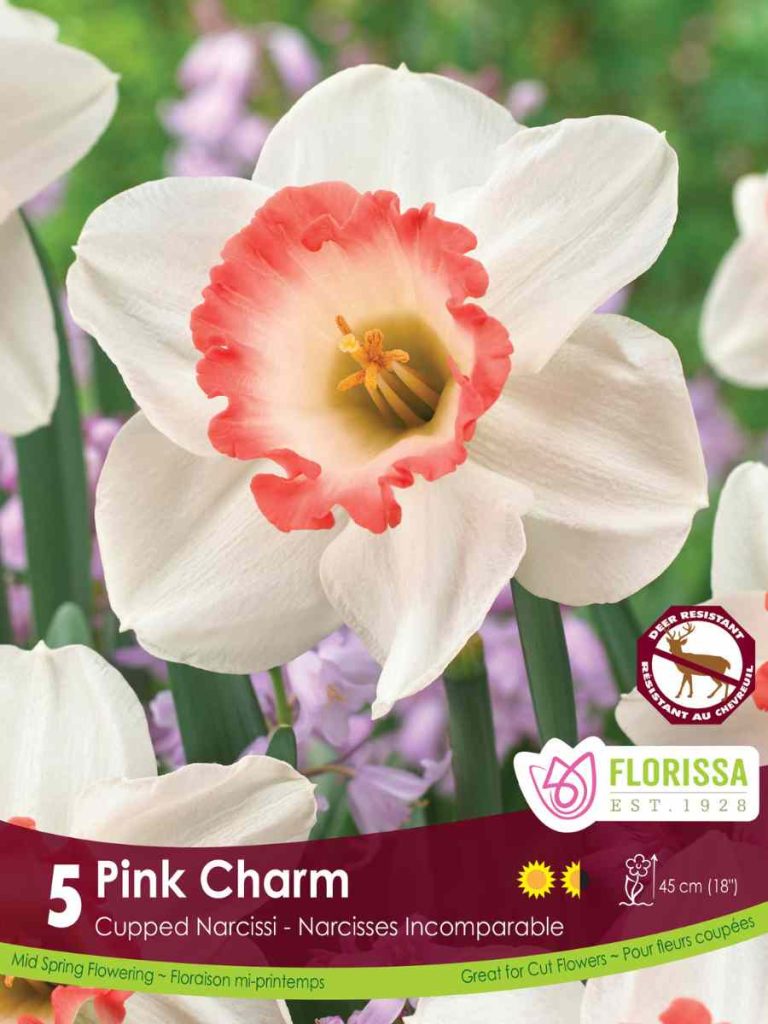 Fringe Cupped Narcissus
Snowtip
Snowtip is the first of its kind with a fringed cup. This unique variety has huge blooms of yellow petals with an open yellow fringed cup that is frosted with white. A beautiful narcissus, that grows to 40 cm (16"), perfect for cut flowers, is deer resistant and hardy to zone 3.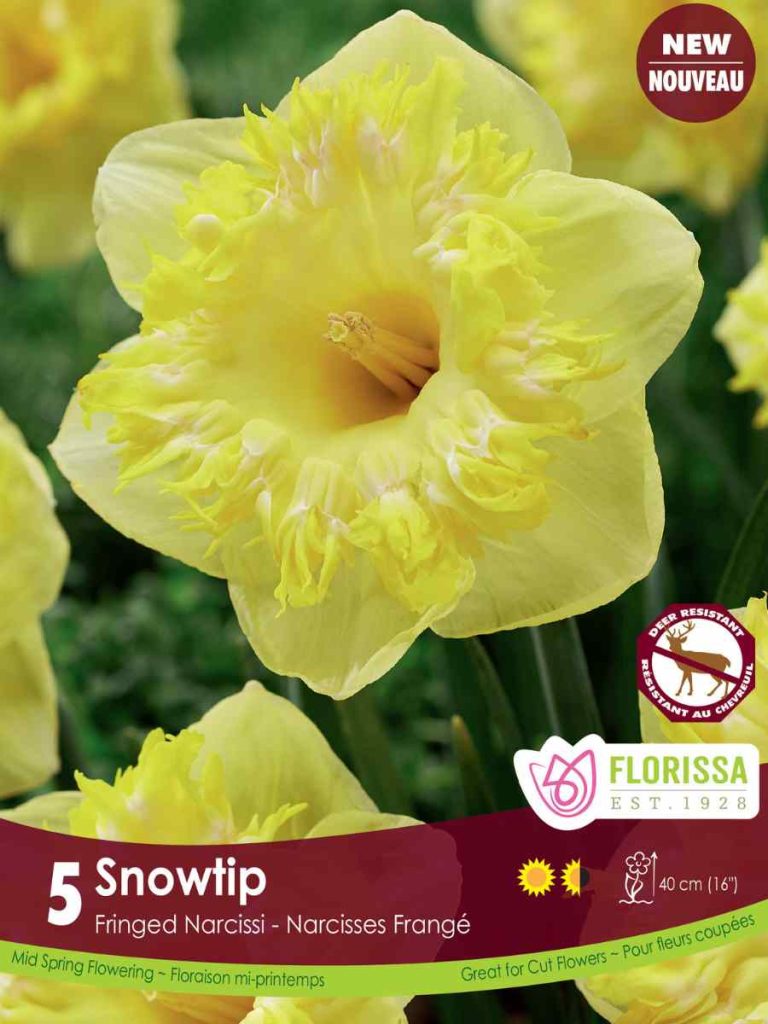 Double Narcissus – Division 4
Double Narcissus have huge blooms, and some are as large as 4" across! These early to mid-spring blooming varieties are great for containers and very easy to naturalize.
Tete Boucle
A sport of the popular Tete à Tete, Tete Boucle showcases stems of multi-flowering double blooms! This double dwarf narcissus grows to a height of 15 cm (6"), is hardy to zone 4 and is also deer resistant.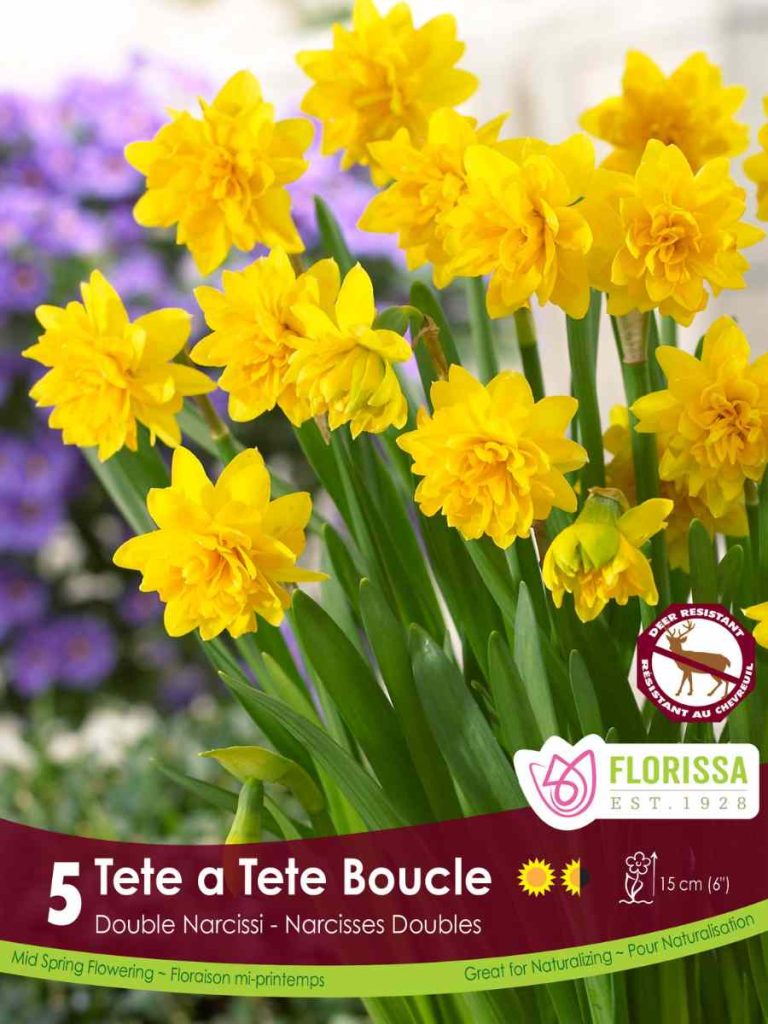 Wave
Wave is a novelty double narcissus with a unique cup filled with yellow petals, and one set of white petals. It is completely stunning! This fragrant variety is a great bloom for cut flowers. These flowers will be fabulous to enjoy inside during the spring months. Growing to 40 cm (16"), Wave is deer resistant and hardy to zone 4.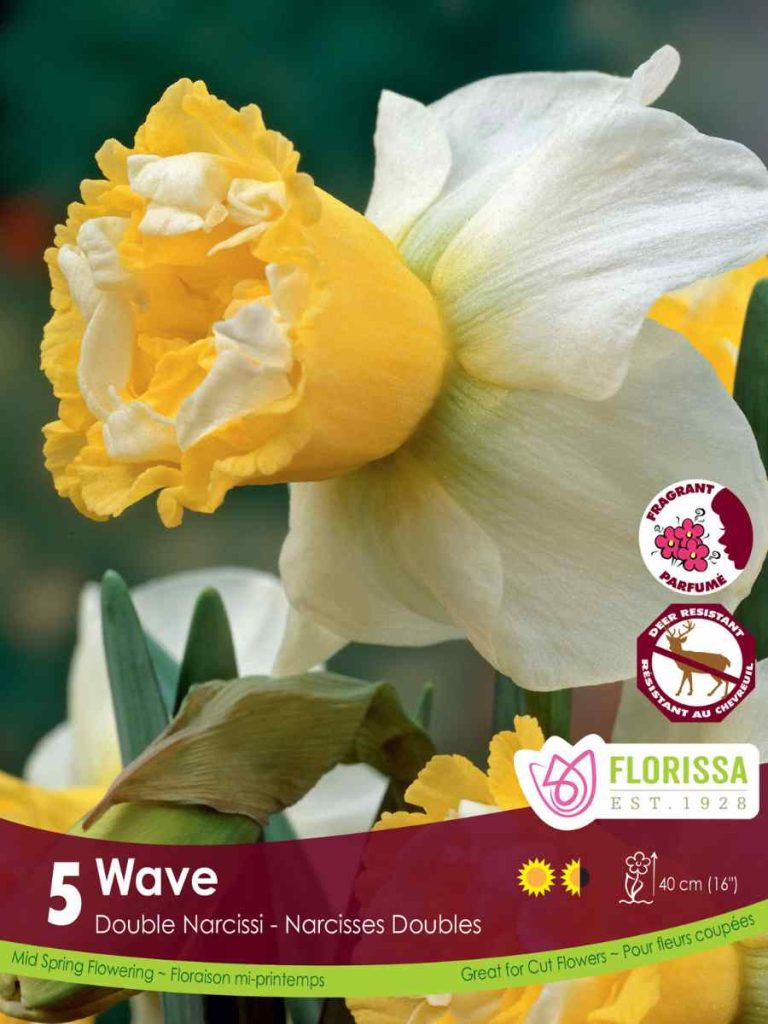 White Lion
White Lion is an early flowering variety, making an appearance in the garden in March to early April. The balanced blooms are formed with creamy ivory petals surrounding shorter split cup of lemon petals segments tucked in amongst the soft ruffles. Growing to a height of 40 cm (16") and hardy to zone 3. Each nodding, ruffled bloom sits atop a tall, strong stem, making it an excellent choice for cut flowers. This sweetly fragrant variety is also deer-resistant!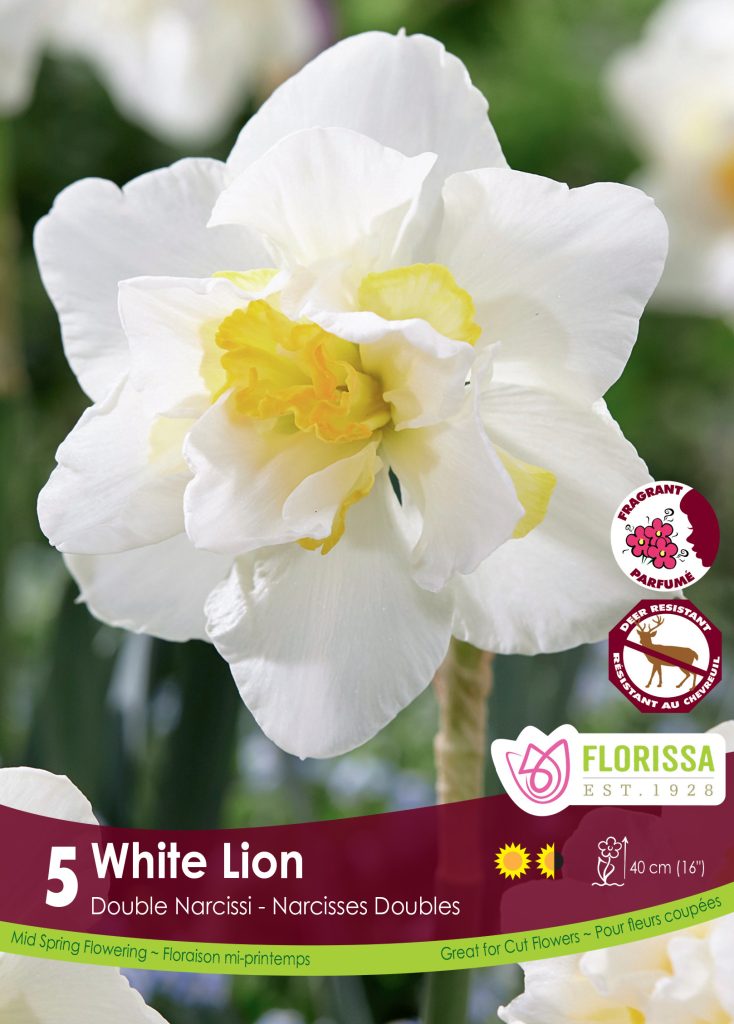 Split Cup and Butterfly Narcissus – Division 11
Split cup narcissus are a very romantic type of bloom. With reflexed segmented cups, their frills resemble the appearance of soft, beautiful butterflies. These blooms with unique split coronas are surprisingly easy to naturalize. Blooming in mid-spring, they are hardy to zone 3, deer resistant and excellent for cut flowers.
Electrus
These sweetly scented flowers are slightly upturned and outward-facing on long stems. Growing to 40 cm (16"), Electrus has huge 3.75" blooms of crisp white with vibrant melon-pink split cups that are a garden favourite. This deer-resistant variety is an excellent choice for containers and will bloom in mid to late season. Hardy to zone 3.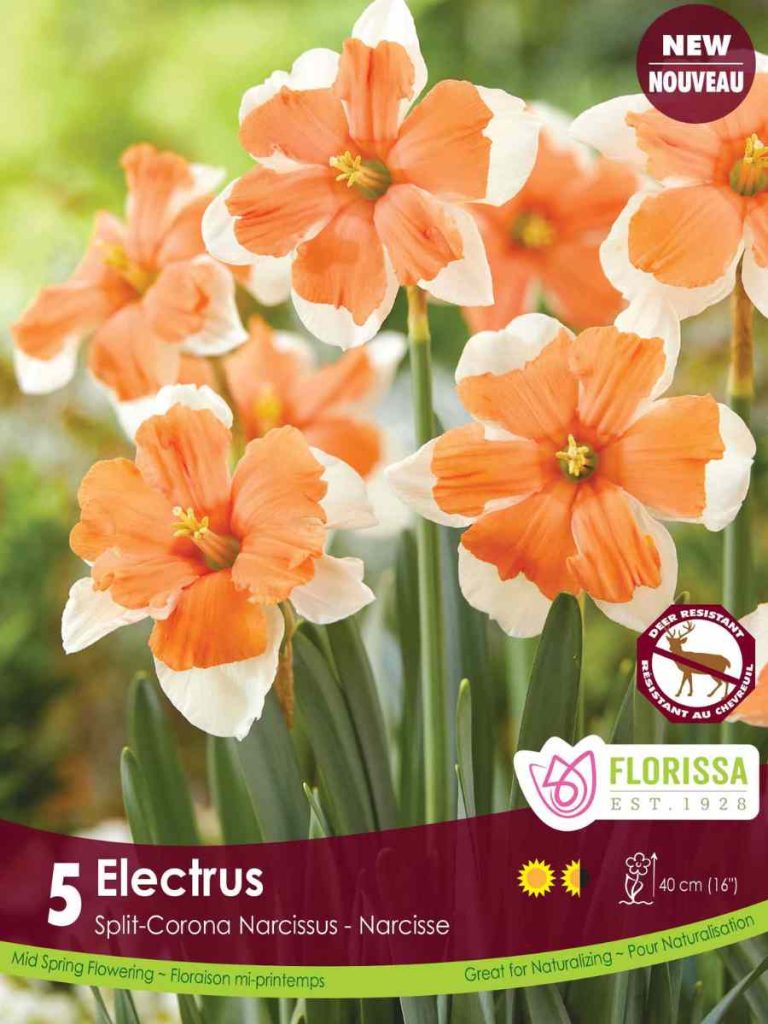 Gold Disc
With fluttering gold petals like beautiful butterflies, Gold Disc is a garden stunner. This variety will add a point of interest and will make your neighbours and visitors stop in their tracks for a sneak peek! A split corona variety, Gold Disc features a gold bloom with a flared corona. Gold Disc grows to 40 cm (16") making it an excellent variety for cut flowers. A perfect choice for naturalizing and landscaping, Gold Disc is also fragrant and hardy to zone 3.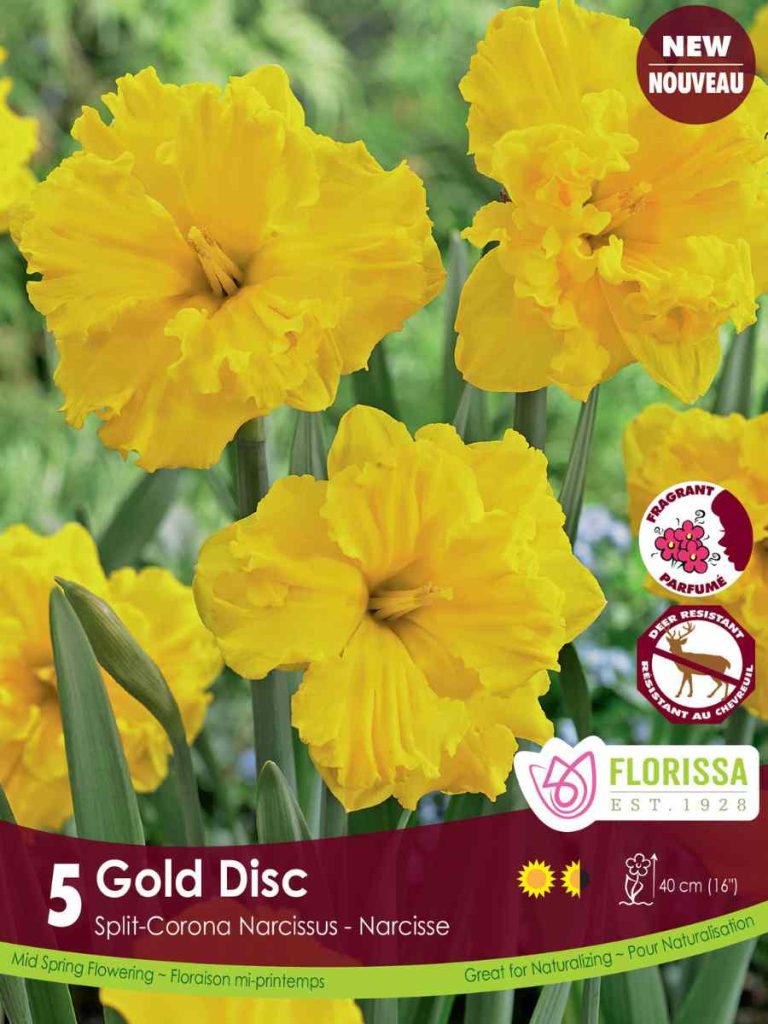 Triandrus – Division 5
Triandrus varieties are very neat and tidy growers that are easy to naturalize. In early-mid spring each stem is topped with two or more flowers that dangle like bells with the petals reflexed back to the stem. Great for containers and mass landscaping.
Thalia
Atop the slender nodding stems of Thalia appear ivory star-shaped flowers. They will bring grace and elegance to your garden with their light fragrance and petite size. These rockgarden narcissus grow to a height of 35 cm (14"), are deer resistant and hardy to zone 3.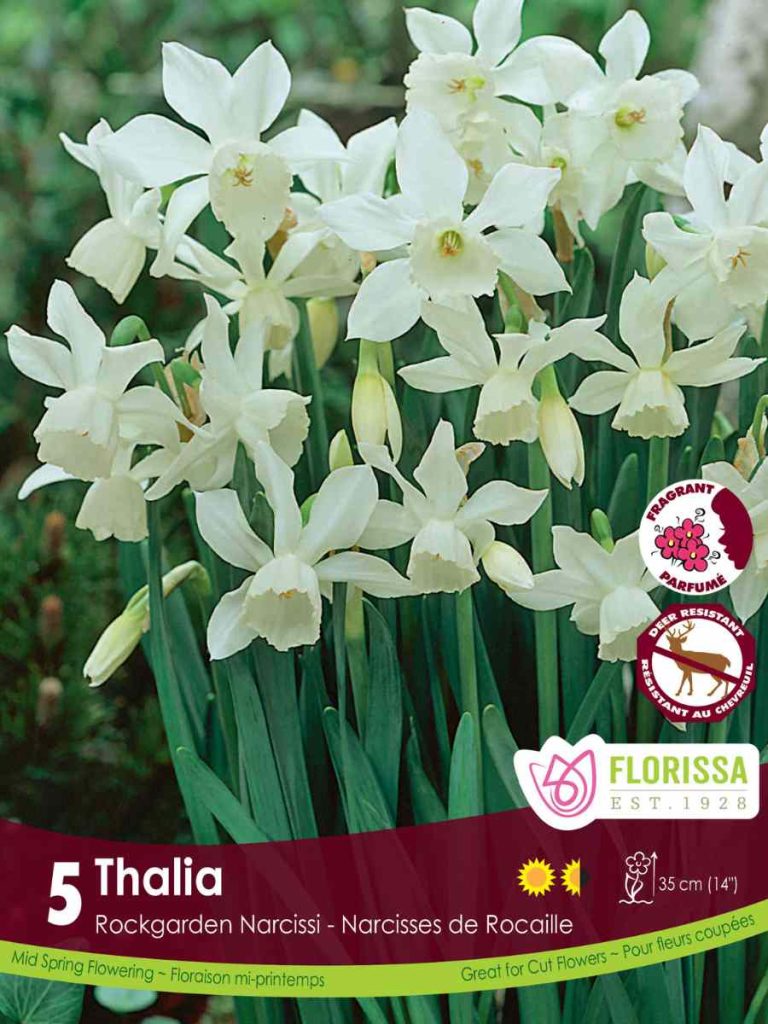 Cyclamineus Narcissus – Division 6
Cyclamineus daffodils are wonderful petite flowering varieties that bloom in early-mid spring. They have the signature style of one bloom per stem that sits at a 45-degree angle and each flower has a beautiful large cup with the petals reflexed back to the stem. These varieties are wonderful for mixed borders, edging, and they are great for containers. They are the perfect size to tuck into the front of garden beds or to fill out your spring flowering containers.
Jetfire
A striking dwarf narcissus, Jetfire is adorned with vivid yellow and strongly reflexed petals. Accenting the bright yellow petals is an extraordinary reddish-orange trumpet! Emitting a light fragrance, these blooms will pop up in the garden in early to mid-spring. Deer will steer clear of this dwarf variety which grows to 25 cm (10") and is hardy to zone 3.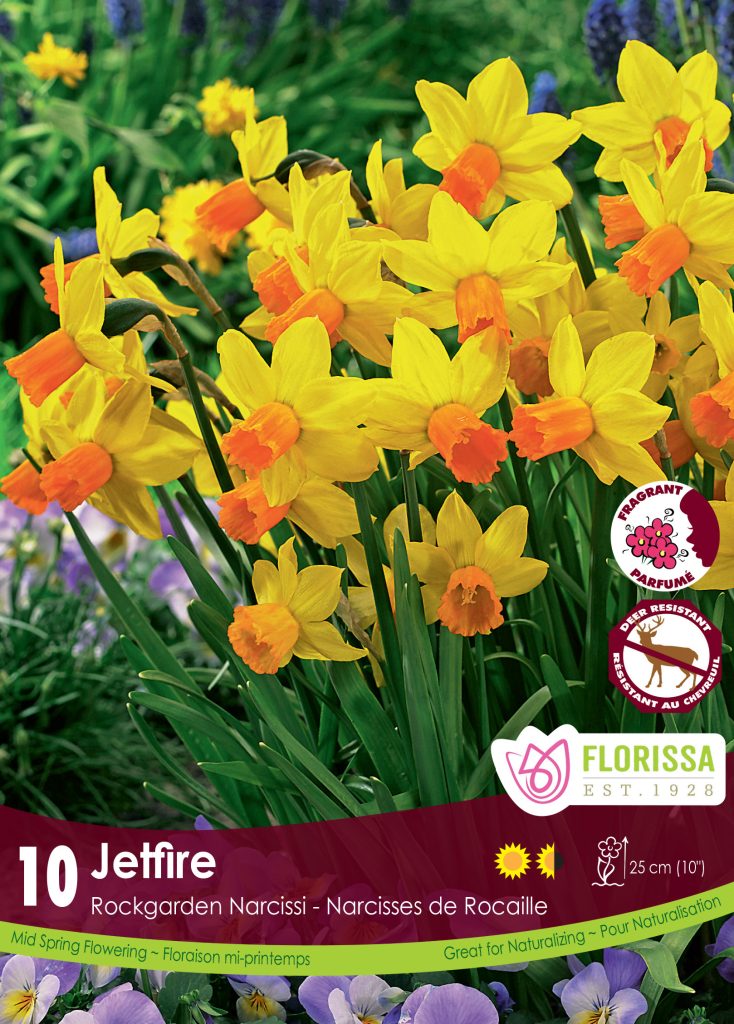 Jonquilla – Division 7
Known for their fragrance, Jonquilla varieties have a sweet smell that will perfume the garden. Blooming in mid-spring with their classic form of 1-5 blooms per stem. Each bloom has a beautiful short cup that is surrounded by flat wide petals. Plant these types for where you want fragrance and beauty. Try them in containers on patios and in entrances or in mixed borders in the garden near a favourite bench or resting spot.
Falconnette
The miniature blooms of Falconnette are a mix of bright yellow petals with a small tangerine cup. These long-lasting blooms are extremely fragrant. Enjoy them, for an extended period of time in the garden – or in the home! Grows to a height of 40 cm (16"), is hardy to zone 3, and is deer resistant.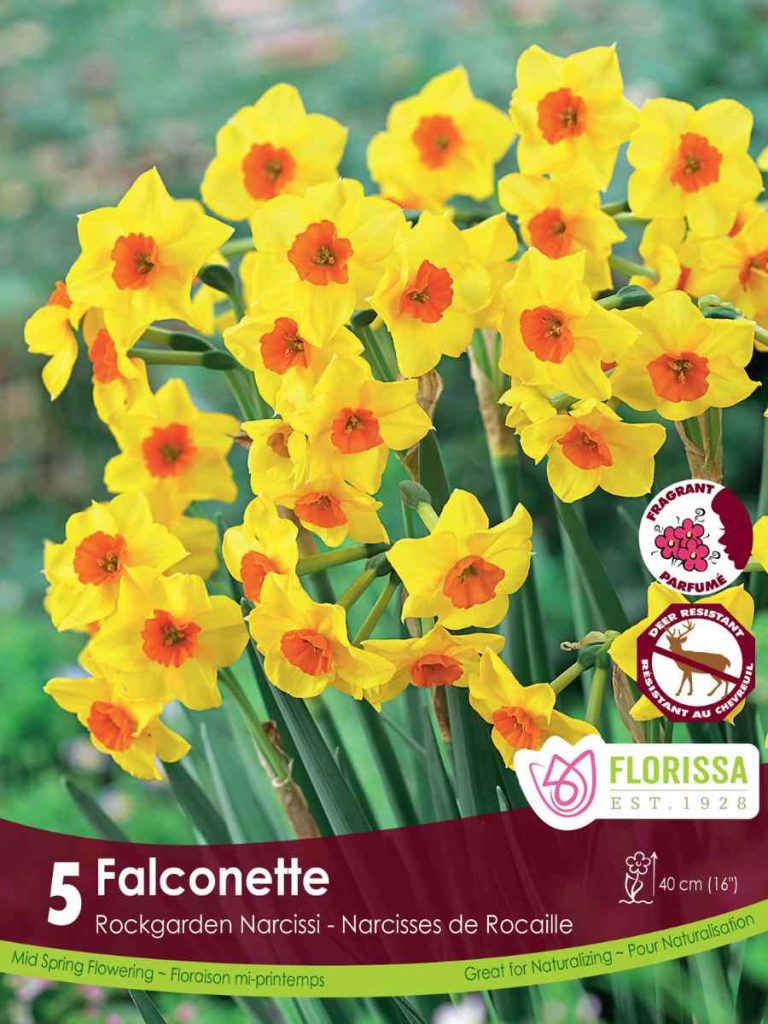 Tazetta and Poetaz Narcissus – Division 8
Tazetta narcissus are known for being the powerhouses of long-lasting fragrance. Each stem is topped with clusters of 3-20 petite blooms, which extends the blooming time and has an impactful fragrance. The outdoor blooming varieties pop up in early to mid-spring and will bloom for weeks. Plant these varieties as wonderful additions to garden beds or added to your mixed containers.
Minnow
With buttercream outer petals surrounding a shallow lemon saucer, these sweetly scented blooms appear in the garden in early to mid-spring. The gorgeous petals start out yellow, and throughout the spring, they turn white! These petite blooms grow to 25 cm (10") are deer resistant, hardy to zone 4, and perfect for naturalizing.
Resulting from Poeticus and Tazetta crosses, Poetaz narcissus are sweetly scented and multi-flowering. These gorgeous flowers bloom in early to mid-spring. Add these to containers and in mass plantings for amazing results.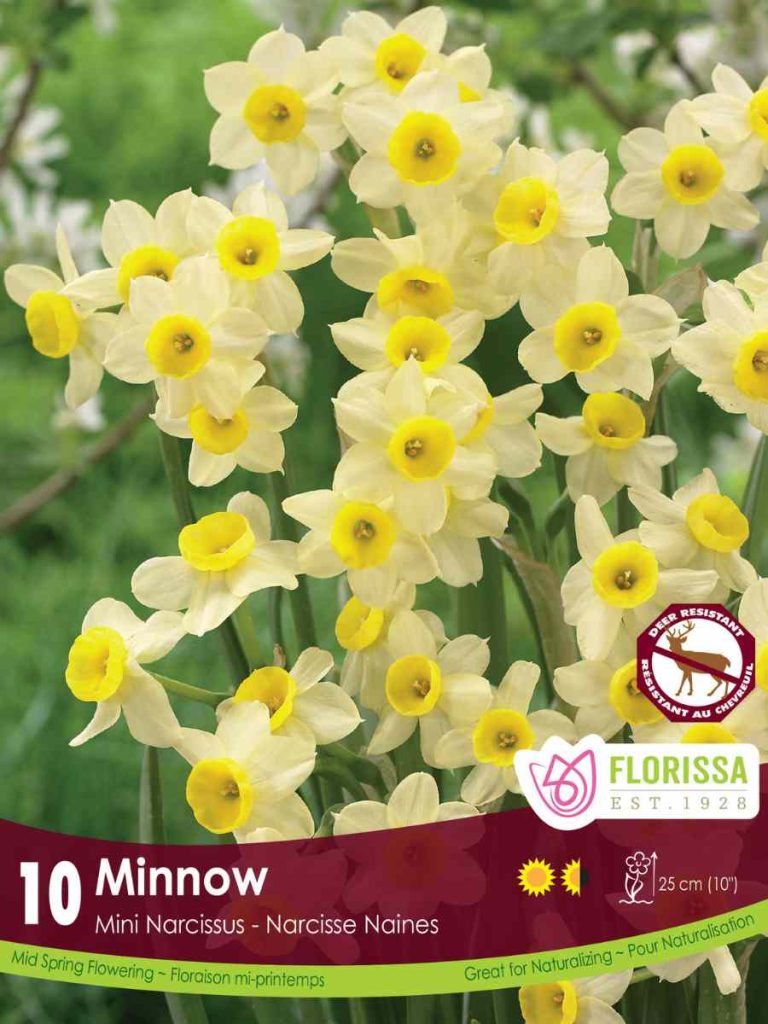 Geranium
A spring treasure, this highly fragrant variety is a must to grow in your garden. Each stem of Geranium is loaded with clusters of creamy white blooms accented by miniature, glowing orange cups. Geranium grows to a height of 35 cm (14") and is hardy to zone 3. This deer-resistant variety is a great choice for a cut flower garden. A perfect addition to a cut flower bouquet!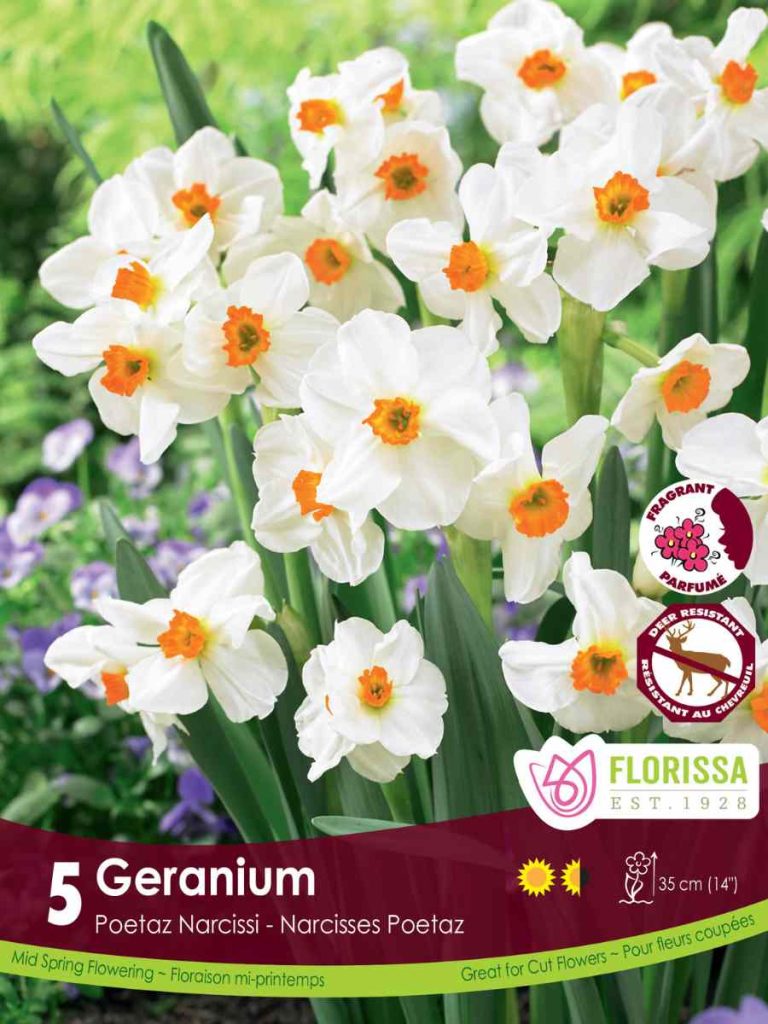 Indoor Tazetta Narcissus
Enjoy narcissus blooms indoors during the winter! These tazetta narcissus are grown in Israel and will bloom in our Canadian homes indoors in 6-9 weeks. These are great for indoor containers and can be grown with or without soil (forced on water). Plant in early November and enjoy your narcissus blooms during the Christmas season! Learn more about indoor narcissus on our Easy Winter Gardening blog.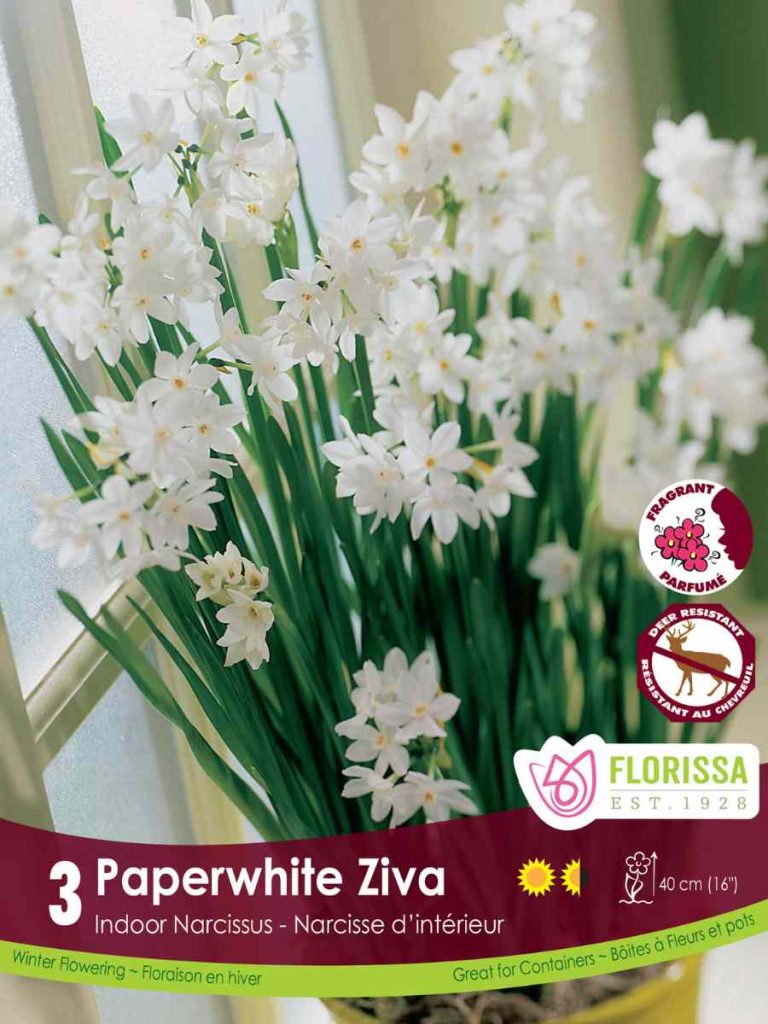 Paperwhite Ziva
Paperwhite Ziva is a stunning and sweetly scented indoor narcissus. Growing to a height of 40 cm (16"), this variety with a strong fragrance will engulf your home with a beautiful aroma and be a visual delight for all your holiday guests.
Paperwhite Inbal
Do you love the look of Paperwhite Ziva but are not keen on strong fragrances inside your home? Similar to Paperwhite Ziva is the Paperwhite Inbal, also growing to 40 cm (16"). This scent-free variety's white blooms are sure to be a pleasant delight during the winter season.
Poeticus – Division 9
The poet's type of narcissus has a delightfully sweet scent. The bloom shape has a distinct form with very short petite cups, edged in a contrasting colour, that is accentuated even more by the oversized petals. Some of the last narcissus to bloom in the garden these beautiful fragrant blooms are perfect for mid-spring mixed bouquets.
Poeticus Recurvus
Poeticus Recurvus has a sweet scent and unique colours. With recurved white petals, Poeticus Recurvus features a small stunning cup of yellow with a deep green centre, finished off with a thin eyeline on the tip of the cup of bold red! What a unique stunner! Growing to 40 cm (16") tall and hardy to zone 3, and like all narcissus they are deer resistant. This is the perfect narcissus to feature in bouquets of late-spring flowering blooms.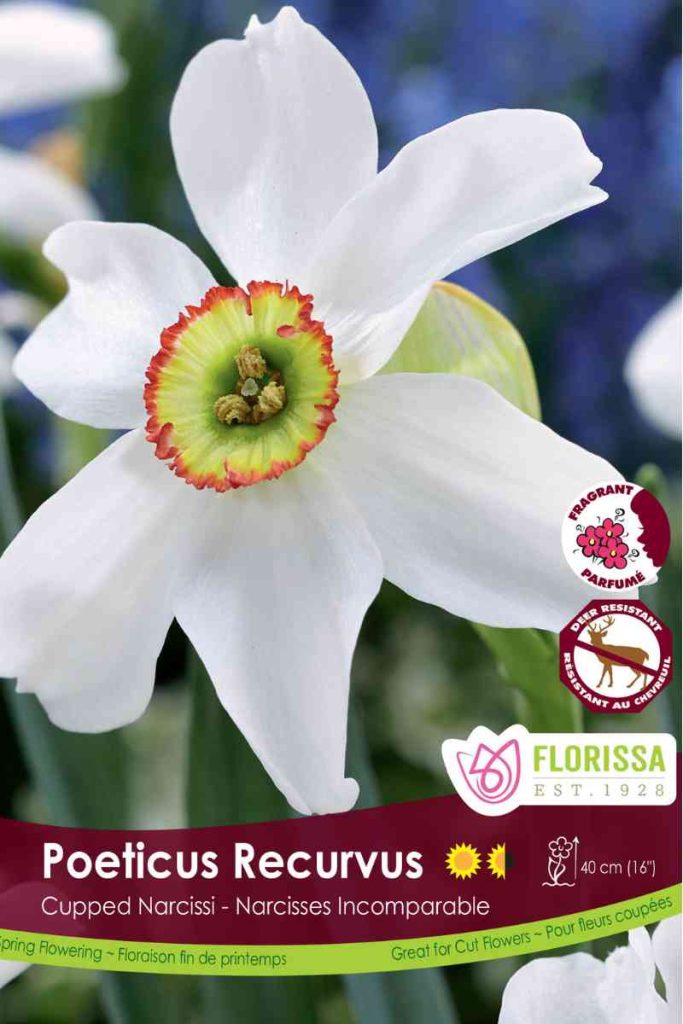 Bulbocodium Narcissus -Division 10
These might be small in size, but wow do they make masses of blooms! The classic look of the bulbocodium type is oversized rounded cups with very small and petite petals. Early to mid-spring blooming add them to containers and edging too.
Arctic Bells
Ring in spring with white Arctic Bells! With 15-20 blooms per bulb, you can easily fill your spring garden with masses of white bell-shaped blooms. This deer-resistant variety is also fragrant. It's great for naturalizing and landscaping. With its short height of 10 cm (4"), Artic Bells is the perfect choice to tuck into the front of your garden beds, or to add to your spring blooming containers for extra filler! Hardy to zone 4.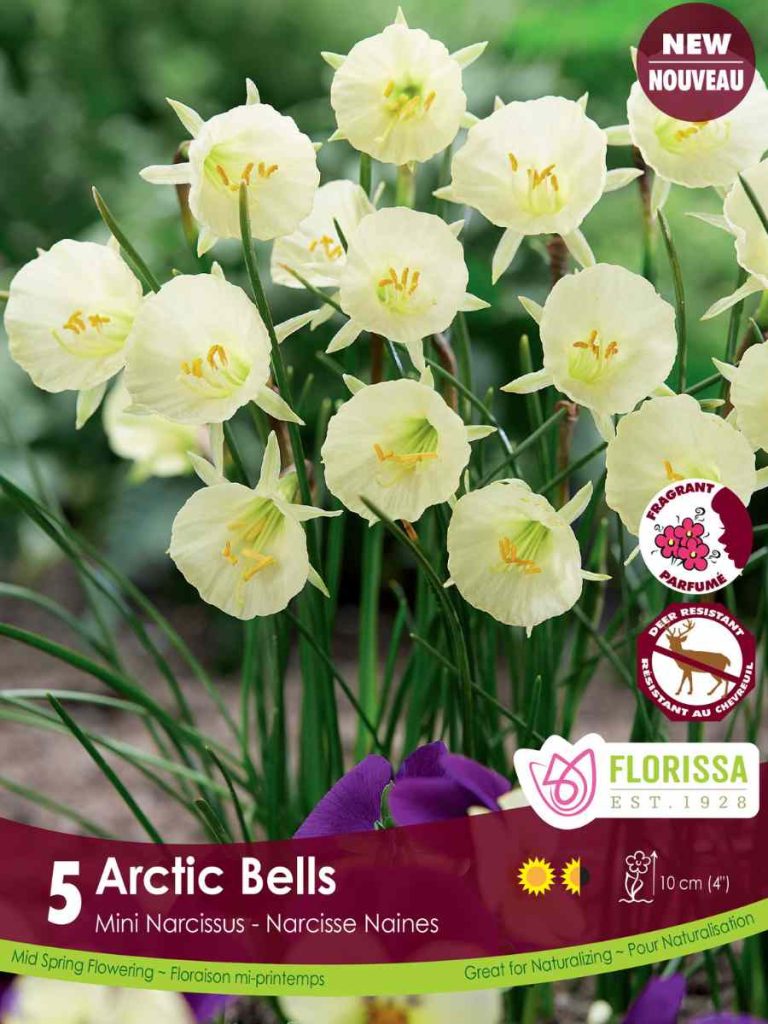 Planting
When planting narcissus outdoors, you will want to get this completed in the fall, before the first frost occurs. There are many areas you can choose to plant your narcissus bulbs, from garden beds to containers and window boxes! Your narcissus bulbs will perform best in well-draining soil in full sun to part shade locations. All narcissus, for growing outdoors in Canada will want to naturalize. Naturalizing is also known as perennializing. You will be blessed each year with more and more bulbs and flowers! For more about naturalizing, check out our blog!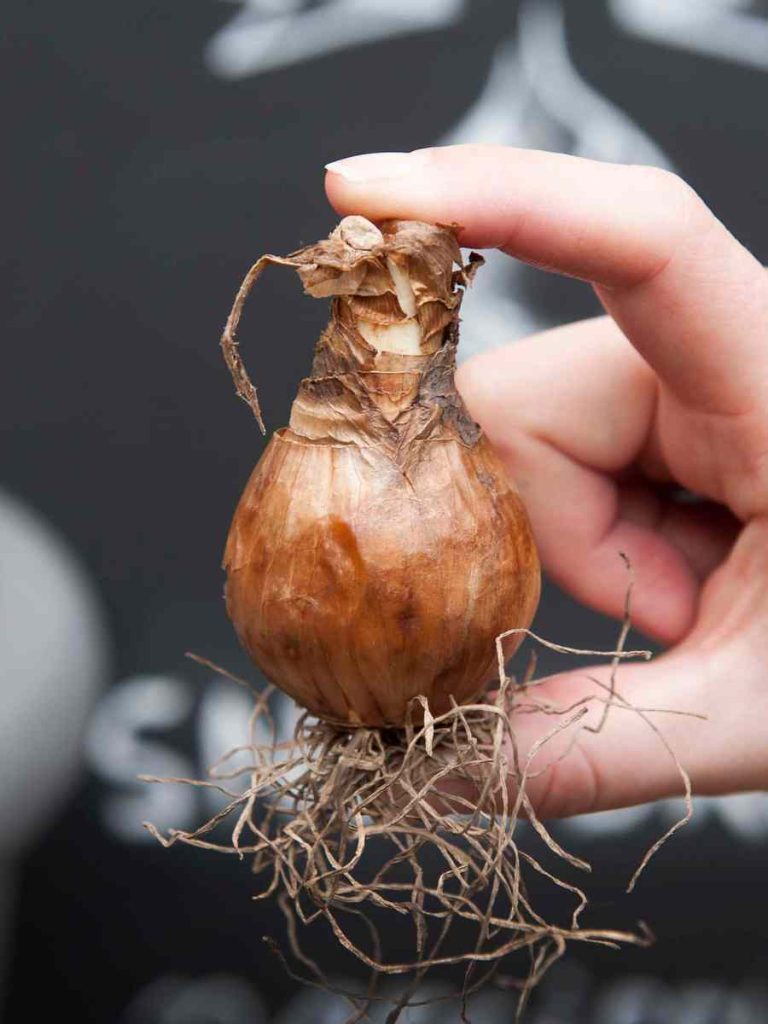 Plant your narcissus bulbs 10-15 cm (4-6") deep, and 8-15 cm (3-6") apart with the pointed side up. In containers, you can plant them closer and shallower as they will be in the container only for a year or two. Cover your bulbs with soil and water. Plant your bulbs in relaxed groups of at least 5 or 7 bulbs for larger impact and eye-catching accents. Keep in mind that the bulbs will naturalize in the ground so allow enough space to create a natural look.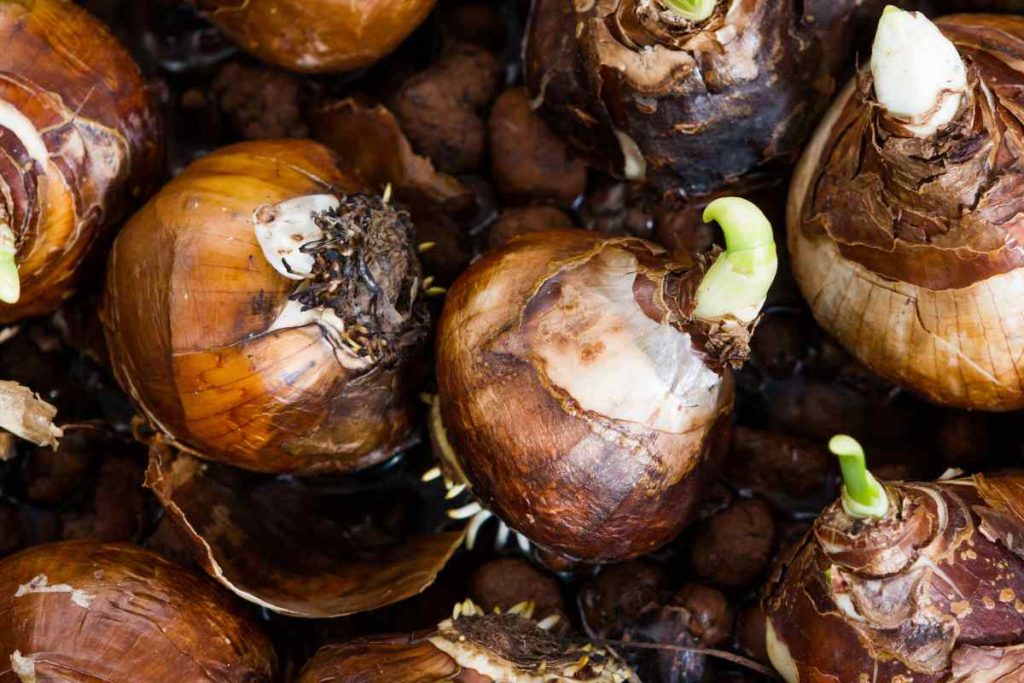 Winter Care
Once planted, the bulbs will set out roots before their winter slumber. As with all fall-planted, spring-flowering bulbs they need to experience a cold period to grow to their proper size and bloom at their expected height. Narcissi need at least 12-13 weeks of temperatures at 9°C or below to bloom properly. Thankfully our Canadian winters are happy to provide the right amount of cold time. For our colder regions in Canada, where you will plant your narcissi in containers, keep them in a cold garage, shed, or greenhouse. This will protect them from the dry winds that -30°C and below can bring. For the warmer growing regions, just remember snow acts as an insulator from the dry winds, so it is okay to let the snow pile up on your containers.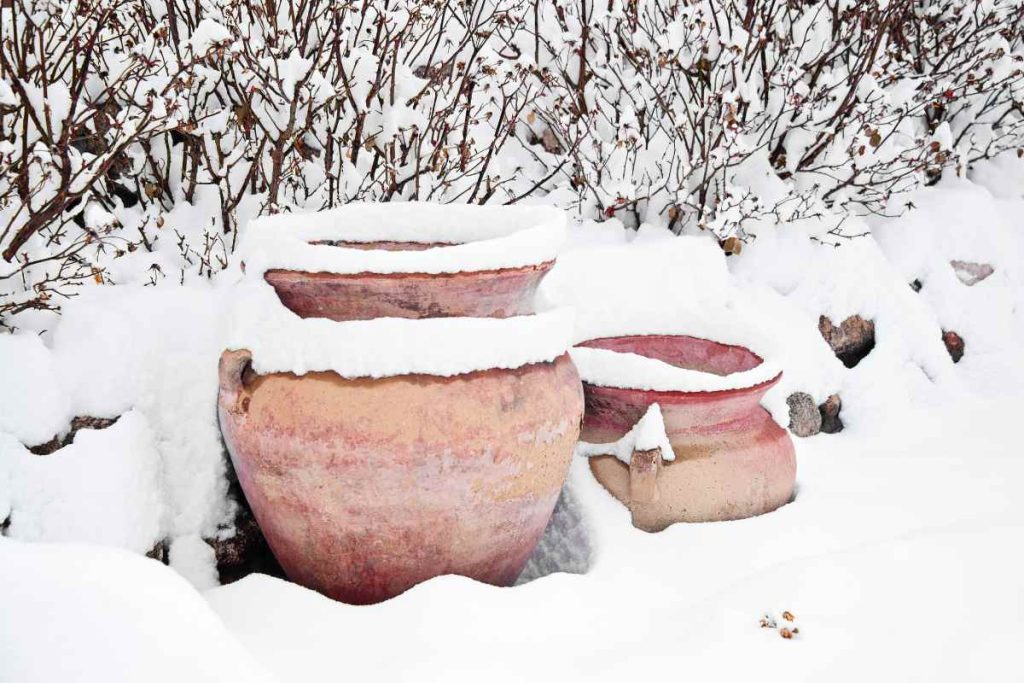 Spring Care
Once the first signs of lasting spring appear, gradually bring your containers out of their winter-protected areas. Our rainy spring season will usually be enough to keep the roots moist, but if there are any dry spells, give your bulbs in containers and in the garden beds a little watering if needed. Remember to cut flowers to bring indoors and relax in your favourite garden space to enjoy the fragrance.
After Care
As your narcissi finishes blooming, it is time to deadhead the flowers. It is important to remove the spent blooms. If the seed pod is allowed to develop, then all the energy of the plant will go into producing seeds, instead of blooms for the next spring. To deadhead your flowers, cut off the flower with clean scissors, garden pruners, or a knife just below the bloom and developing seed pod, leaving the stem and leaves. Removing the spent flowers and thickening seed pods will trigger the regeneration stage of the plant.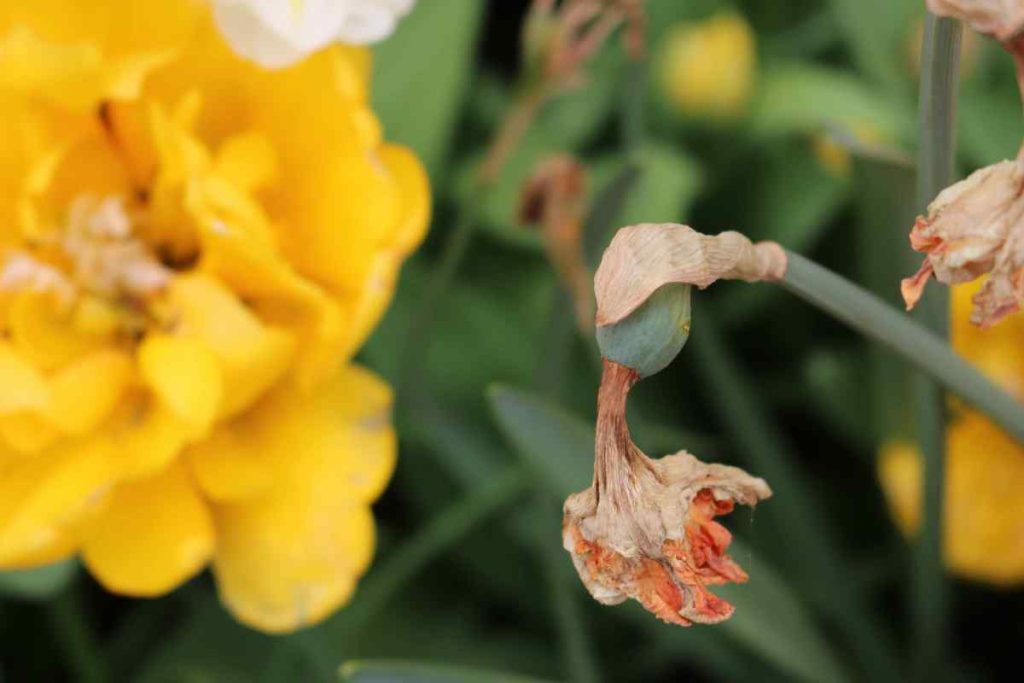 You will want to keep watering the leaves and stems for the regeneration stage to be successful. During this stage, the leaves and stem will continue to photosynthesize and store the sugars in the newly forming bulblets below ground. This process of nutrient absorption and pulling energy back to the bulb can take 4-6 weeks. So, make sure to leave the greenery intact and keep the soil moist, so they will flower again next spring and it will keep the bulbs healthy.
In addition, do not braid the withering leaves of the plant or twist them into stacks, as this will break the path of nutrients back to the bulb. This is also an ideal time to add bone meal and top-dress your bulb plantings with compost and balanced fertilizers. Once the foliage has turned yellow, you can prune the leaves and stems to soil level and the bulbs will be dormant over summer. Read more about Caring for Spring Flowering Bulbs After They Bloom on our blog. During this dormancy stage is the perfect time to dig and divide any overgrown clumps of bulbs and replant right away.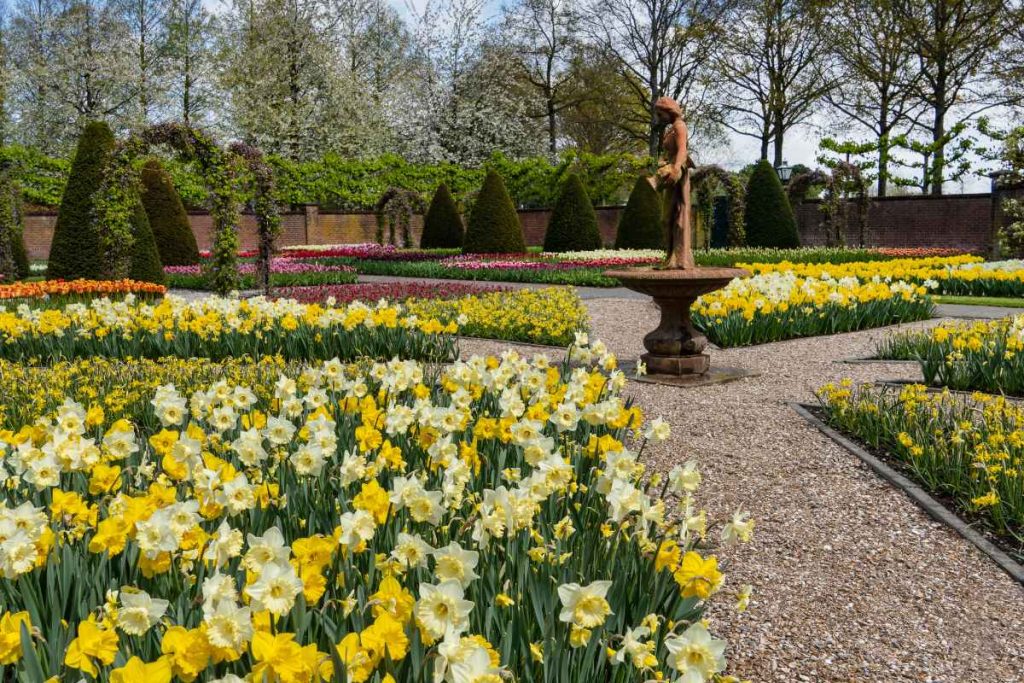 Narcissus is a popular flower to add to the garden. With many different shapes and colours, there is a plethora of personalities that narcissi can add to your spring garden! Make sure to plant some this year, to enjoy in spring and for many years to come!