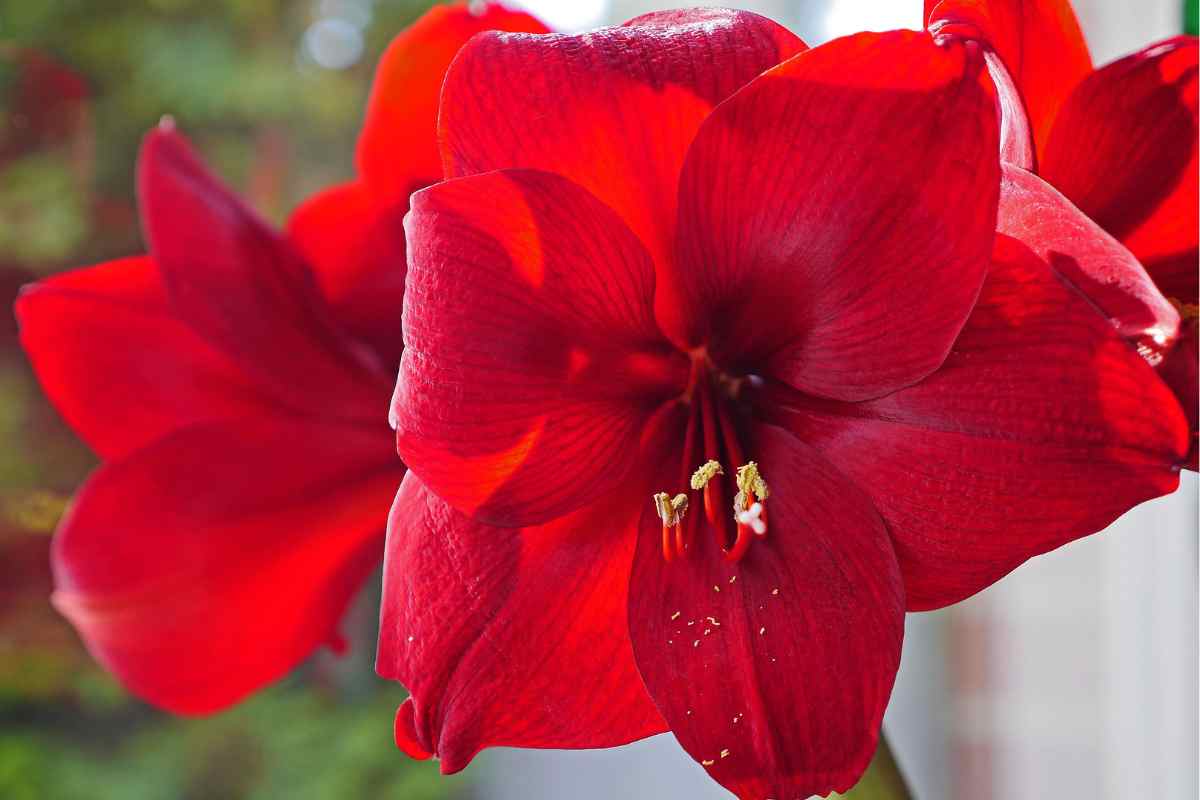 All About Amaryllis!
When winter sets in and the garden is blanketed with frost and snow, add a pop of color to your home with Amaryllis! This beautiful flowering bulb, with its trumpet-shaped blooms and radiant colours, brings warmth and cheer to the winter months. Known for its vibrant blooms and ease of care, amaryllis has become a favourite indoor plant to enjoy during the wintertime. When the garden is mostly dormant in the winter months, create a beautiful display of large, colourful amaryllis flowers! In this article, we'll discuss how to grow amaryllis, how to care for amaryllis, what to do with amaryllis after they bloom, and tips for keeping amaryllis thriving throughout the year!
History of Amaryllis
So, what is an amaryllis flower? Amaryllis, also known as Hippeastrum, is a member of the lily family, with trumpet-shaped flowers that can be shades of pink, red, white, green, and even striped. This bulbous plant is native to South America and South Africa, and in colder climates, such as Canada, it is grown indoors during the winter months. Amaryllis bulbs can produce 2-4 stems of bloom clusters in a season and are popular as cut flowers for floral displays during the holidays.
Varieties of Amaryllis
There are many different varieties of amaryllis to choose from! Although there are many different types of amaryllis, they all grow to 45 cm (18"). There are the classic single flowering, double flowering, and novelty blooming Amaryllis – Hippeastrum.
For classic large flowering amaryllis, the pure white Mont Blanc, bold Red Lion, and deep maroon Red Pearl are seasonal favourites. Other enchanting additions are antique rose Rilona and crisp pink Sweet Star. The elegantly edged Picotee and Charisma add their own touch of flair. For two-tone amaryllis, there is Samba, Minerva, Barbados, Sofia, Strong King, Apple Blossom, and Gervase, which are all varying mixtures of white with pink, salmon, or red.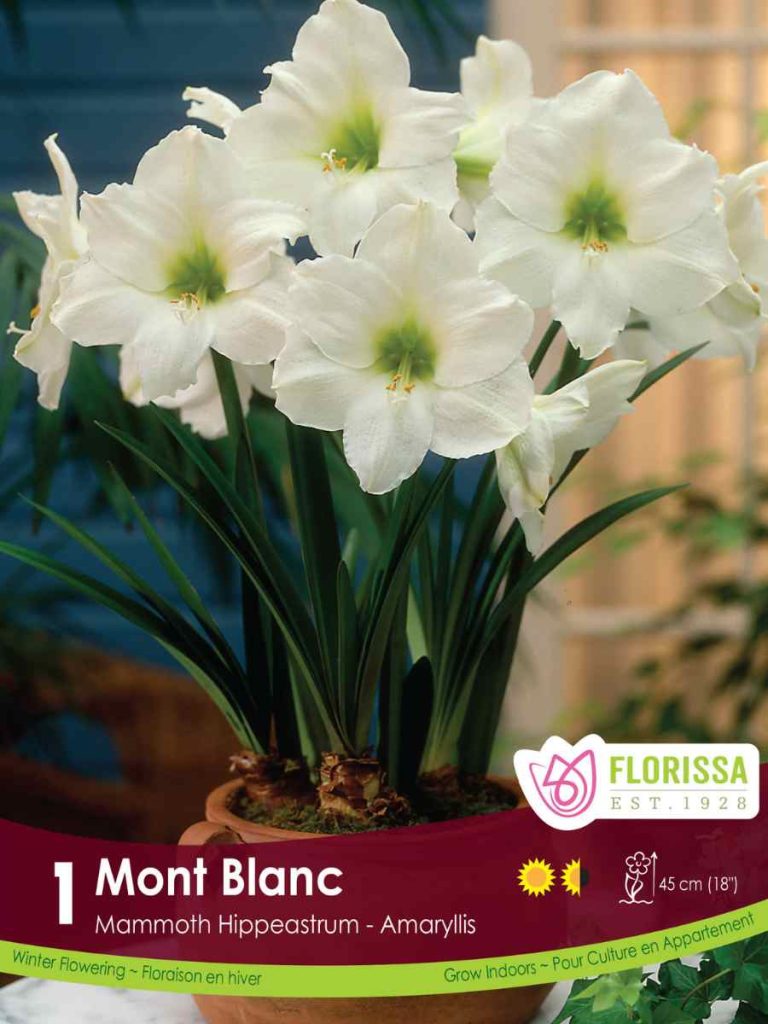 The huge showy blooms of double amaryllis are double the delight! For pure colour, there is the White Nymph, and Red Peacock. For striped and varying coloured double amaryllis, check out Dancing Queen, Amadeus, Elvas, Blossom Peacock, and Nymph.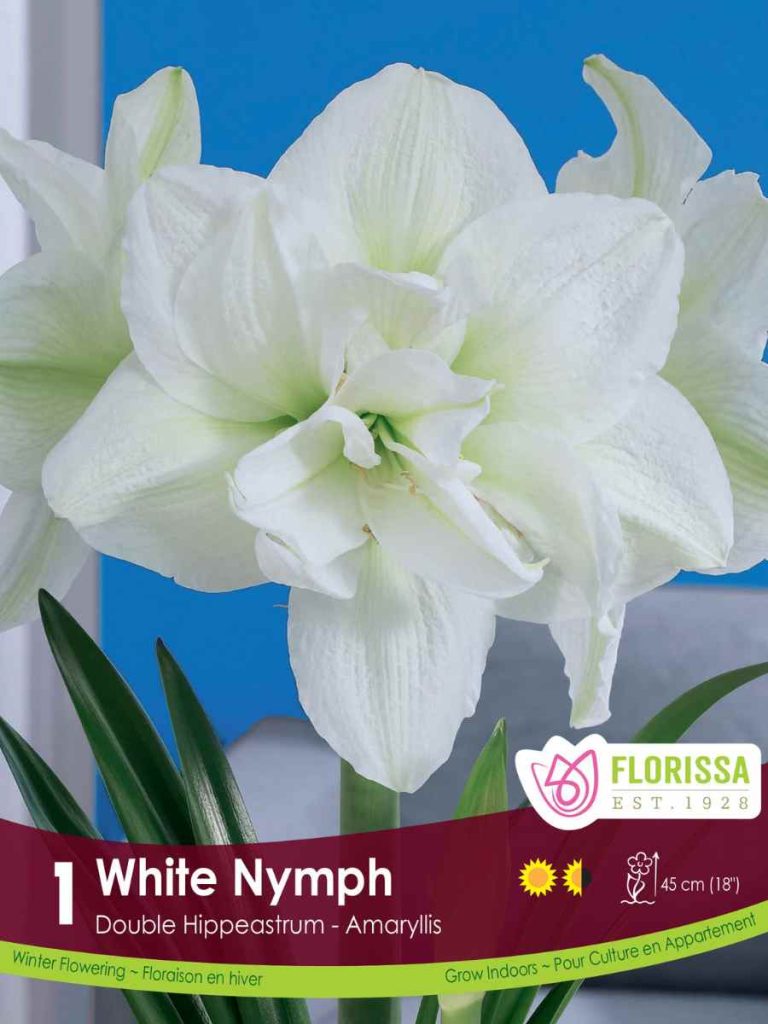 Do you seek the unique? Add novelty amaryllis for captivating flowers! Unlike traditional amaryllis, cybister, and trumpet amaryllis bear elongated or distinctively shaped blooms. Each flower is like a work of art. You must see them to believe it! There are many to enjoy check out the gorgeous shapes and colours of Mystica, Chico, Bogota, Evergreen, and Wild Amazone, pictured below!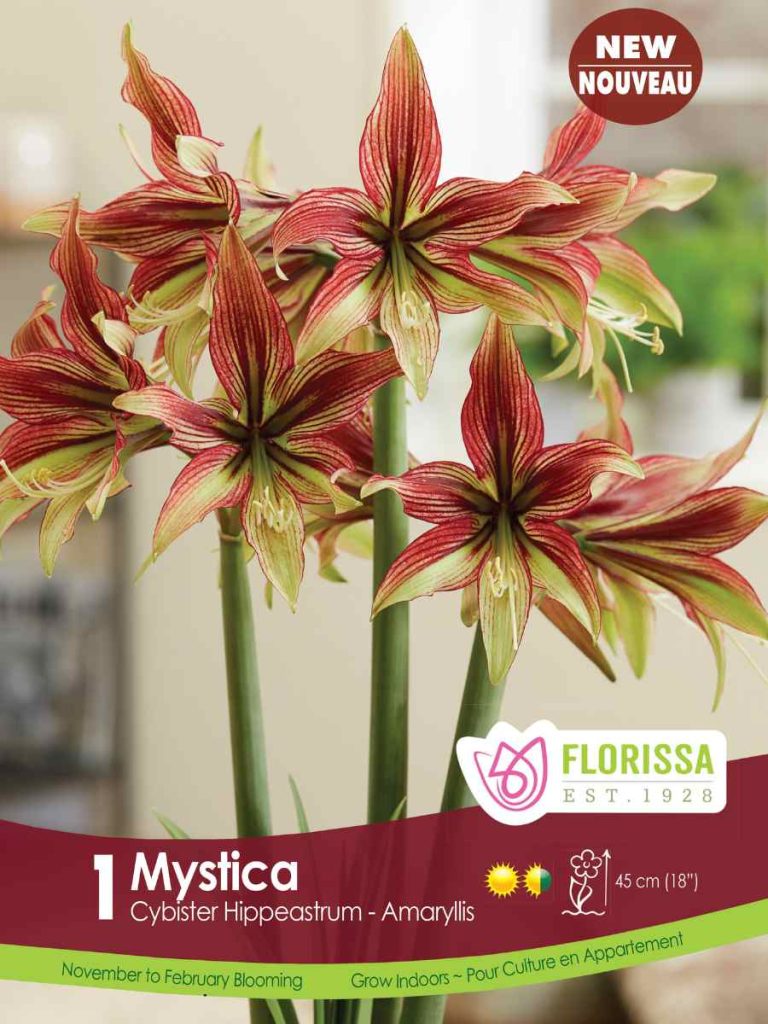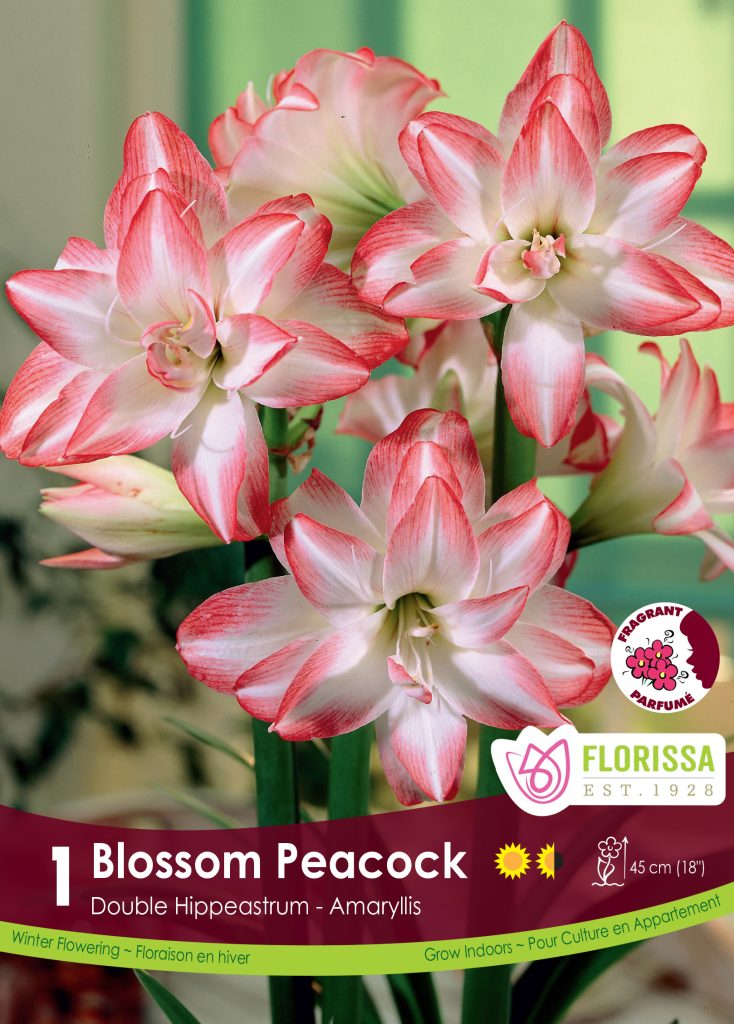 How to Grow Amaryllis
If you're wondering how to plant and grow amaryllis, you're in luck because the process is simple. When choosing a bulb, note that the larger the bulb, the more stems of blooms it will produce. The bulb size is measured as the circumference of the bulb in centimeters. There are varying sizes of bulbs, ranging from 24/26 cm which usually produces 1-2 stems of blooms, jumbo amaryllis 34/36 cm which produces 2-3 stems of blooms, and mammoth bulbs (40/42 cm) producing 3 or more stems of blooms.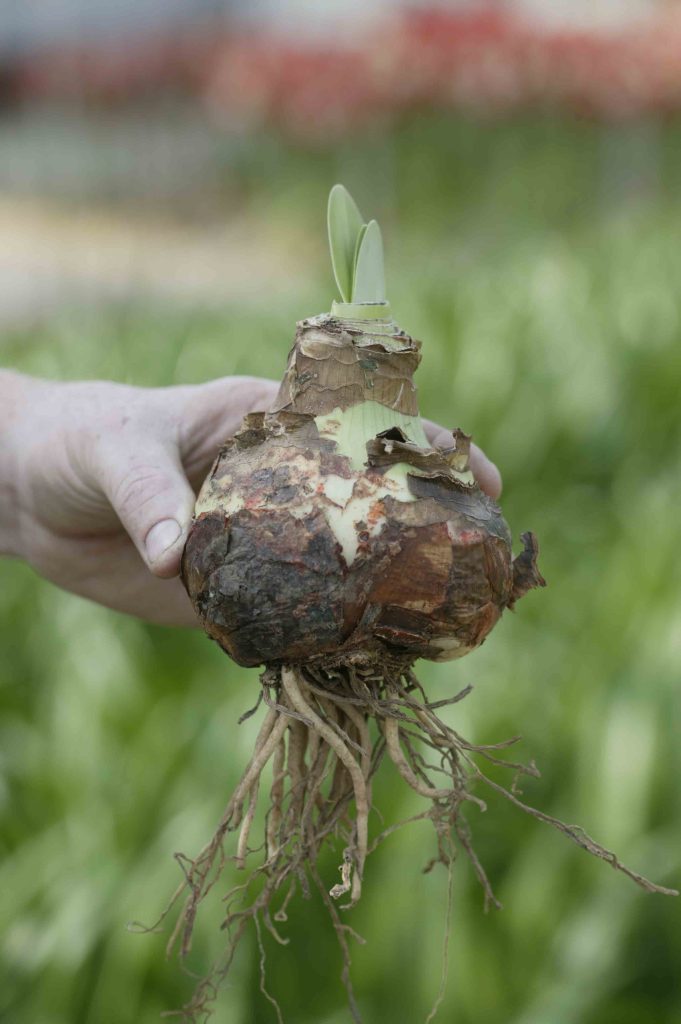 When choosing a container, a 15-20 cm (6-8") diameter pot, at least 15-20 cm (6-8") deep is good sized. Make sure the container has good drainage holes. Amaryllis prefers a smaller, tighter pot, therefore the edge of the pot should be no more than 5 cm (2") away from the bulb's shoulders. If you can fit your finger between the side of the pot and the bulb, this container is just the right size. Due to their eventual height and bloom weight, make sure to choose a heavier container to prevent your amaryllis from tipping over.
Fill half of the container with moist potting soil. Place the bulb so that the neck and rounded shoulders of the bulb sit above the soil. This is usually the top one-third of the bulb. Continue to fill the soil around the sides of the bulb in the container. After planting, press down firmly on the potting soil, water well, and keep the soil barely moist until growth begins.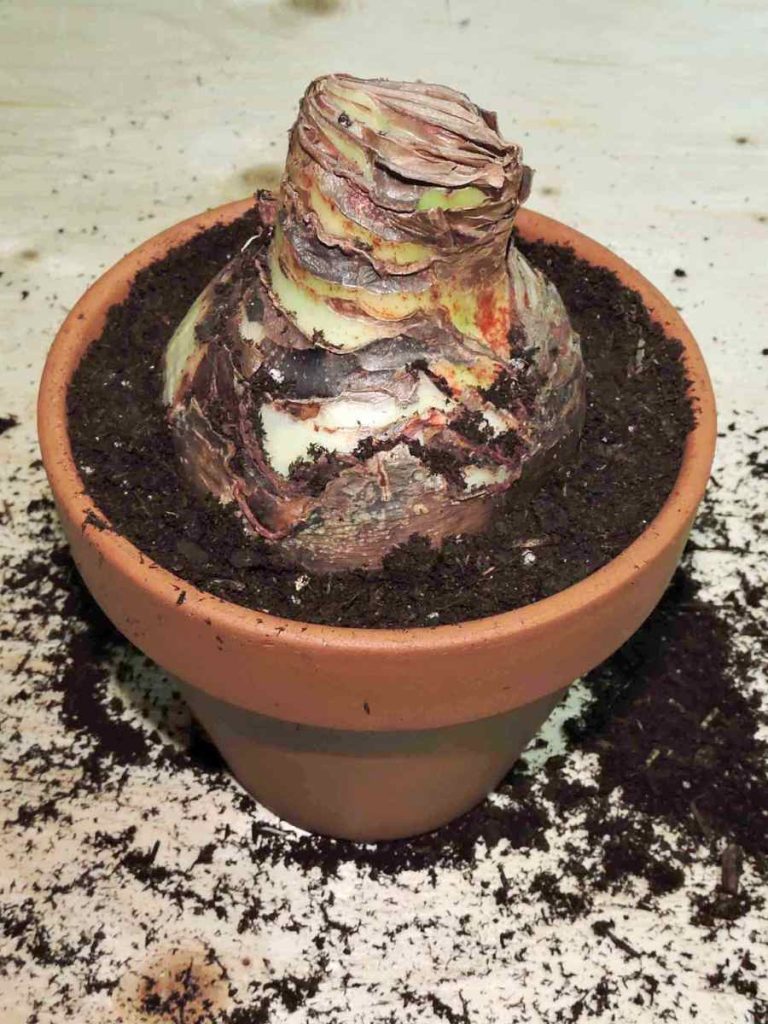 When the bud and stem appear, then you'll need to water more often. Check the soil surface with your fingertips – it should be slightly damp. When the soil feels dry to the touch, water sparingly, to keep the soil moist. Make sure to water the soil, not the bulb.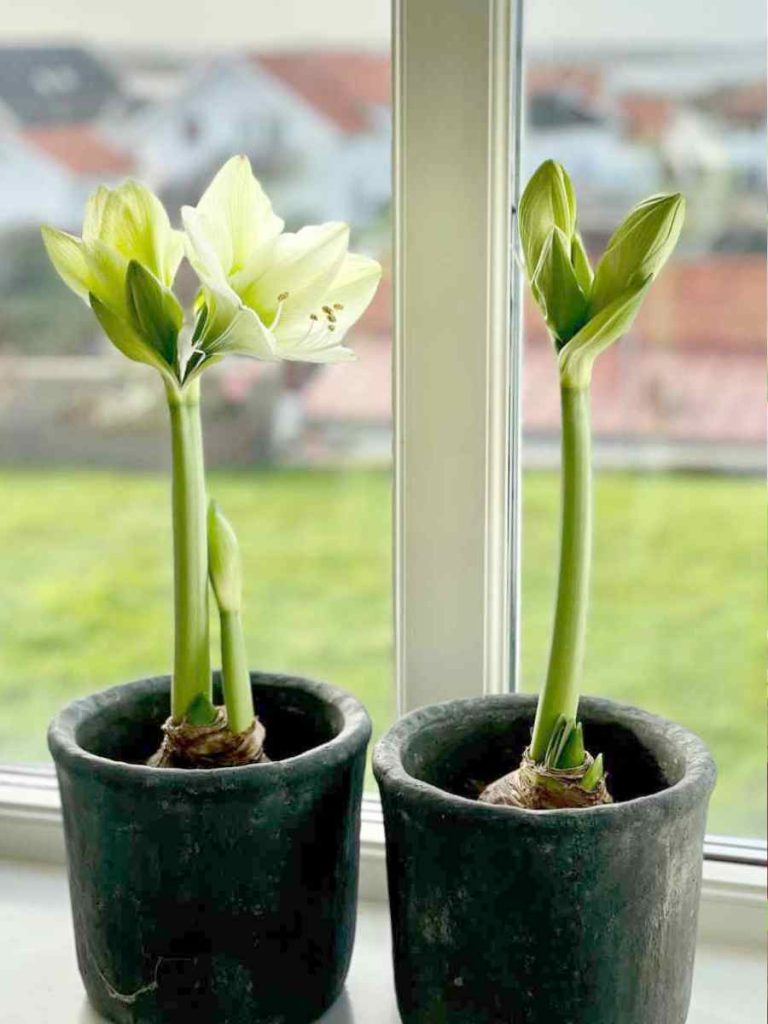 All amaryllis bulbs are ready to bloom when you purchase them in the fall. An amaryllis grown indoors during the holiday season will bloom in about 8-12 weeks depending on temperature. Place your pot in a warm and bright indoor location (21°C) and away from any direct heat sources, such as vents. Amaryllis are tender bulbs, so avoid exposing them to freezing temperatures. Cooler temperatures as low as 9°C will slow down the development and active growth of an amaryllis.
As with other indoor flowering bulbs, avoid placing an amaryllis bulb next to apples, bananas, or other ripening fruit and produce, as they can emit ethylene gas. It's harmless to humans, however, it sterilizes the bulbs and stops the flowering.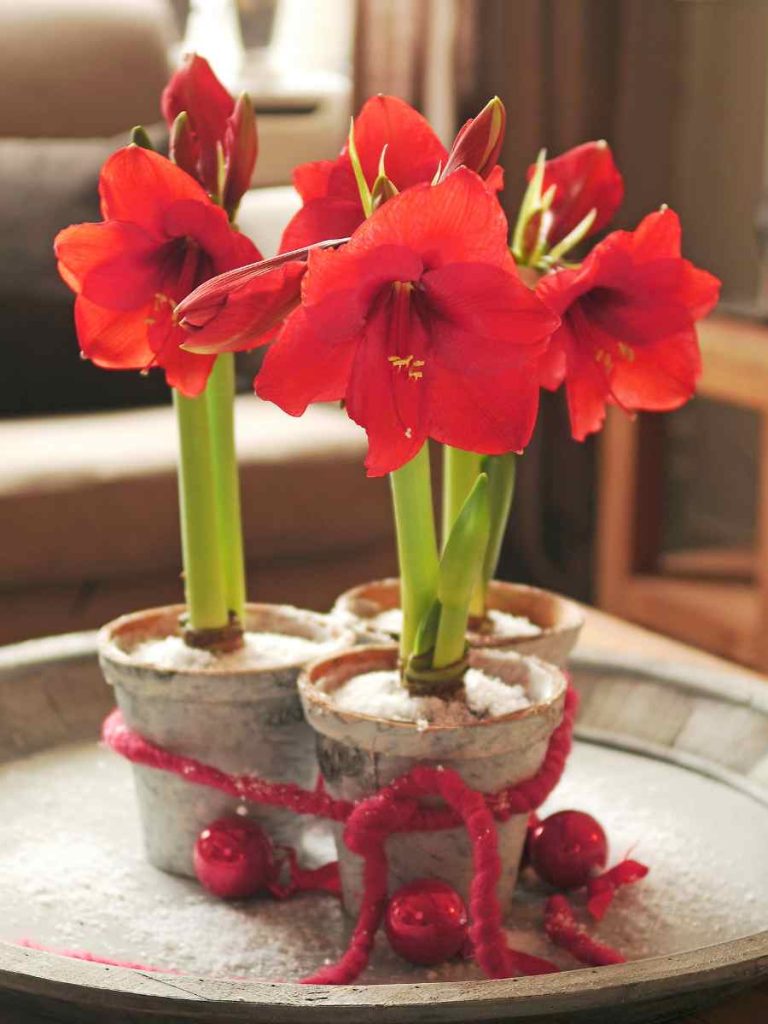 Amaryllis season begins in November and hits its peak around Christmas to New Year's, which makes this flower bulb the perfect gift of the season. After the first blooms have faded, simply remove the stem and another will soon be on its way! Amaryllis bulbs are exceptionally long-lived, even though the flowers fade each season.
Cut Flower Amaryllis
Amaryllis are gorgeous, no matter how you display them. Amaryllis as cut flowers can last up to 2 weeks or more in a vase and are appealing as a table centerpiece around which family and friends gather. Large amaryllis bulbs produce approximately 2-5 blooms, and it can be nerve-wracking to cut stalks off to place in a vase. However, it is good for the bulbs to cut away the stems of the flowers! This allows the bulb to focus its energy on producing the next stem that is on its way. So, you can cut the stems before the flower unfolds. Cut the stem an inch or so above the neck of the bulb and place the stems in a clean vase filled with room-temperature water. Position the vase in a cool place and allow the flowers to rest overnight.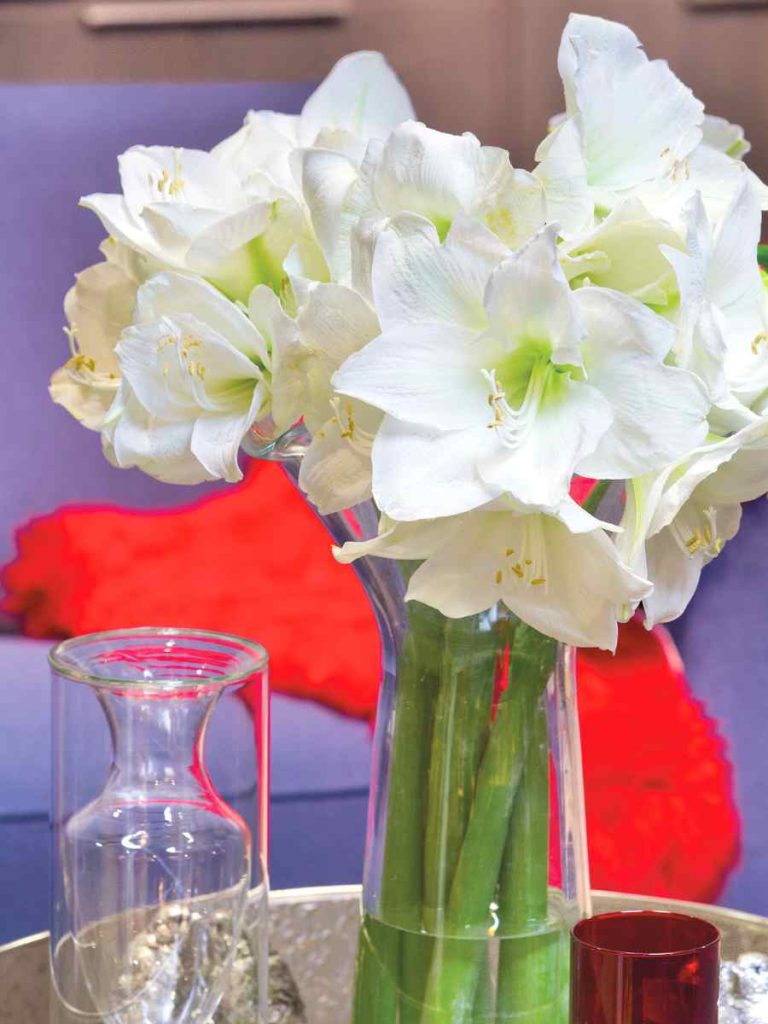 Later, re-cut the stems to suit your arrangement and insert a thin bamboo cane or chopstick into the hollow stem. The cane will stop just below the neck of the flowers, supporting the weight of the magnificent blooms, doubling their vase life. A little bit of cotton pushed up into the stem will keep the cane from slipping out the bottom. Room-temperature water with added floral food helps the stem remain strong and extends the life of the blooms. Stems tend to split and curl at the base in the water. Twist a rubber band around the base of the stem or wrap it with waterproof tape to prevent this from happening. Change the water and wash the vase every few days. With all cut flowers, keep out of direct sun, and cooler locations to extend the life of the blooms.
Caring for Amaryllis After it Has Bloomed
When winter is slowly starting to wind down, you have enjoyed your beautiful amaryllis all holiday season long, and it is finally finished blooming – what's next? Did you know that you can save your amaryllis, so it comes back to bloom next year? Once your flowers begin to fade and wither, you can easily remove them and enjoy the rest of the blooms. Use a sharp pair of scissors to cut them off right at the base of the flower. If the entire stem has finished blooming, simply remove the faded blooms, and once the stem starts to shrivel trim the stem to the top of the bulb. This will allow nutrients in the stem to be redirected to the stems of blooms that are waiting their turn to bloom. Be careful in trimming the blooming stems to avoid any injury to the leaves, as these will be needed for the next 6 months. Remember to keep watering as normal.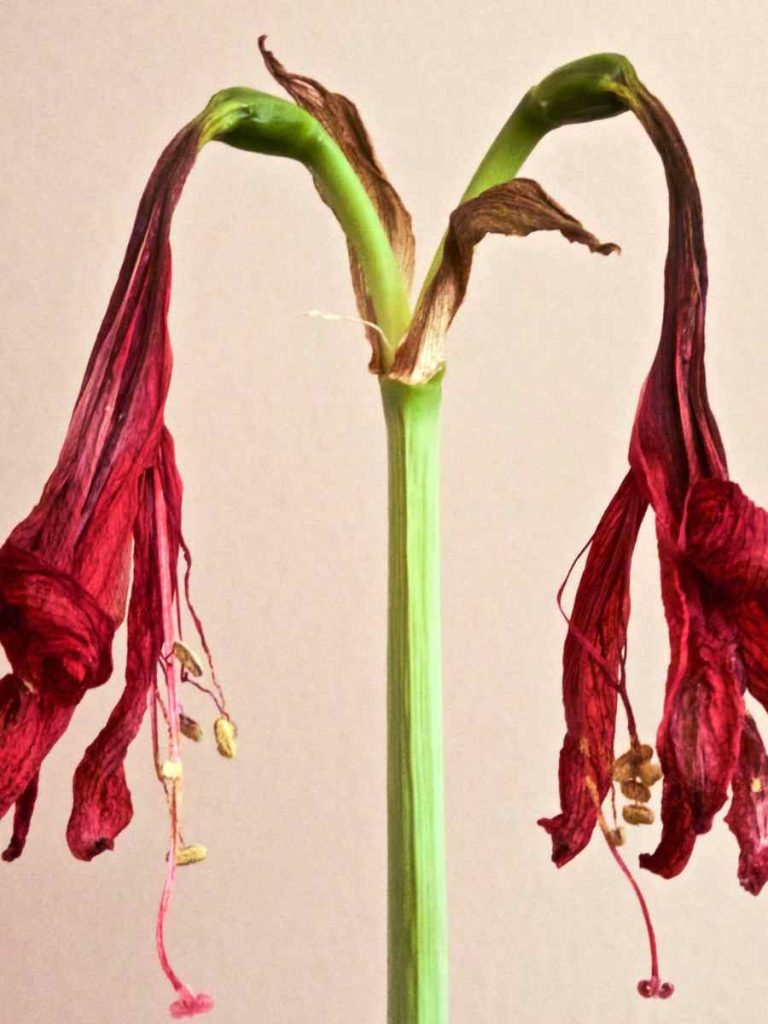 Preparing Your Amaryllis for Next Season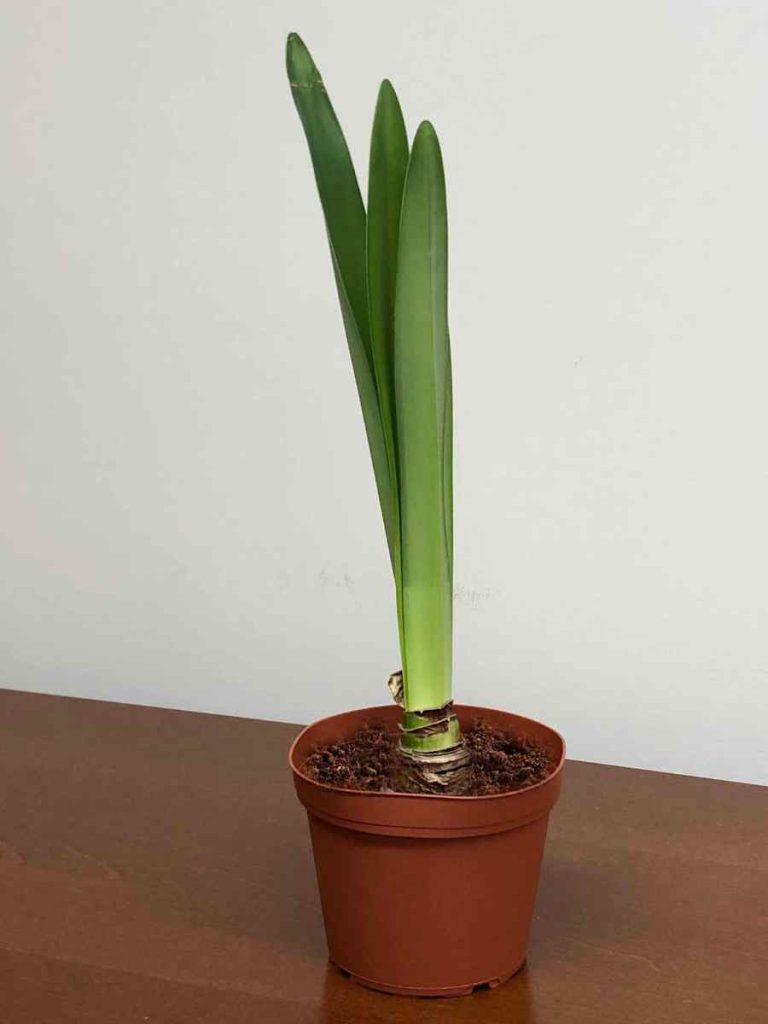 Once your amaryllis has fully bloomed and you have pruned all the flower stems, you will see them begin to grow some beautiful leaves. The foliage won't produce any flowers but will be a nice-looking house plant. Place your amaryllis indoors in a sunny spot that gets lots of natural light to ensure it gets everything it needs. Make sure to water and fertilize with a houseplant fertilizer to keep your amaryllis green and healthy. During this time leaves are producing energy and storing it in the bulb for the next blooming event. This process can take about 6 months, so go ahead and enjoy your amaryllis as a houseplant during this time.
At the end of the summer, it is time to put your amaryllis into dormancy. There are two steps to make sure your amaryllis will bloom again. You will need to create that dormancy phase and a growing phase. When your bulb is set to go dormant, and if the leaves are still lush and green, stop watering and allow the soil to dry out. When the leaves turn yellow, trim them 2" from the top of the bulb, remove them from the soil, and store them in a cool, dry, and well-ventilated area (4°C – 10°C). Set a reminder on your calendar for mid-October and leave your bulb alone.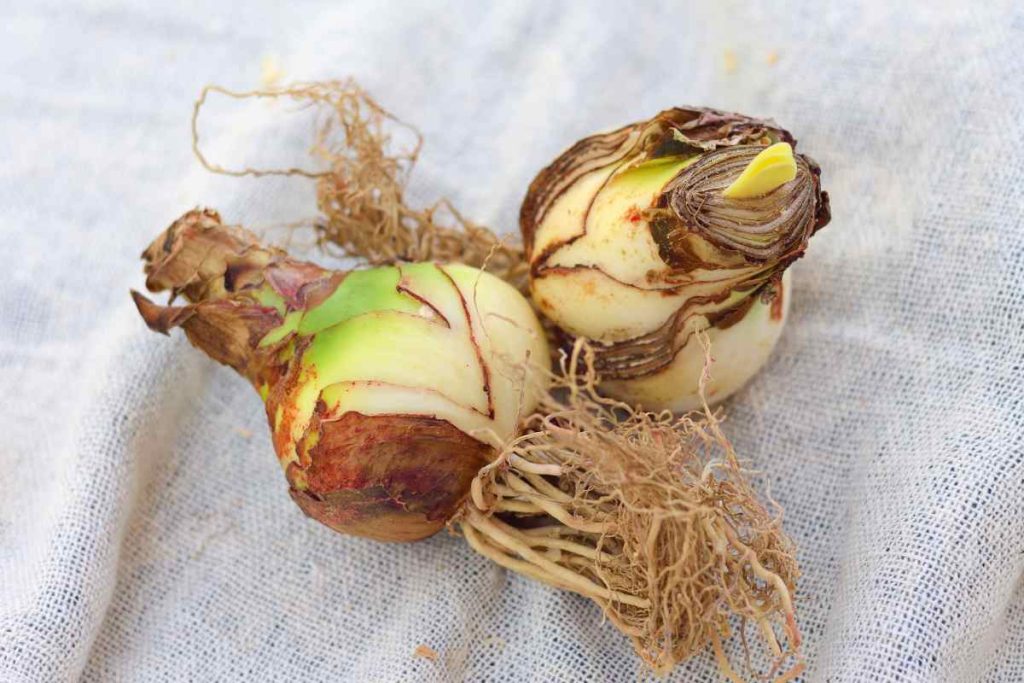 When mid-October comes along, bring out your amaryllis. Trim off any dead roots to prepare for new ones. Plant your amaryllis bulb in some fresh and moist potting soil, and water. Place your potted amaryllis bulb in a bright and warm area (around 21°C). Once new growth appears, ensure the soil stays damp.
If you don't see any new growth after a few weeks of repotting your bulbs, gently squeeze the thickest part of the bulb. If it feels soft or soggy, and not firm, your bulb may have rotted, unfortunately, this bulb will no longer produce blooms. So, grab a new amaryllis and start again!
If you are receiving a lot of foliage without any flowers in year two, simply treat it as a houseplant, go through the yearly cycle as mentioned above, and wait until next year for blooms.
Quick to Bloom Amaryllis
In need of last-minute holiday décor? Did you wait until the last minute to decorate your home? Florissa has a collection of Santa's Little Helpers amaryllis that are specially grown to bloom 4-6 weeks from planting! With these short bloom time amaryllis, you won't have to wait 8-12 weeks for huge, colourful flowers!
Similar to other amaryllis, pot them up with a third of the bulb sitting above the surface and water the soil. You won't have to wait very long for the bud to appear and grow into a flower stem. Each day the stem grows taller, and anticipation builds for the beauty of 4 to 5 sparkling trumpet-shaped flowers. To find our Santa's Little Helpers, simply look for Florissa's Amaryllis packaging featuring Santa's dedicated sidekicks – his reindeer!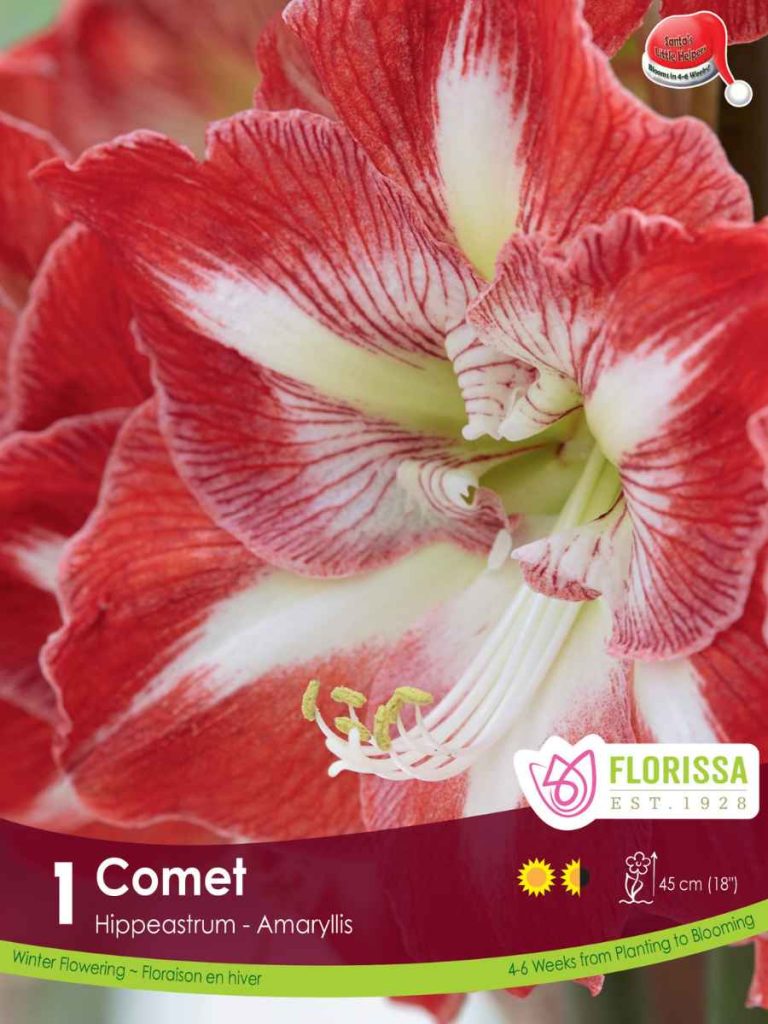 Wax Amaryllis
Looking for amazing winter colour and low commitment? Deck the halls during the Christmas season with waxed amaryllis. These specially cared for hippeastrum bulbs are hand-dipped in a colourful wax coating which seals in all the nutrients and moisture the bulb needs to grow and bloom. There is no need to even water it! The only task you have to do is turn it every couple of days in the light as it is growing.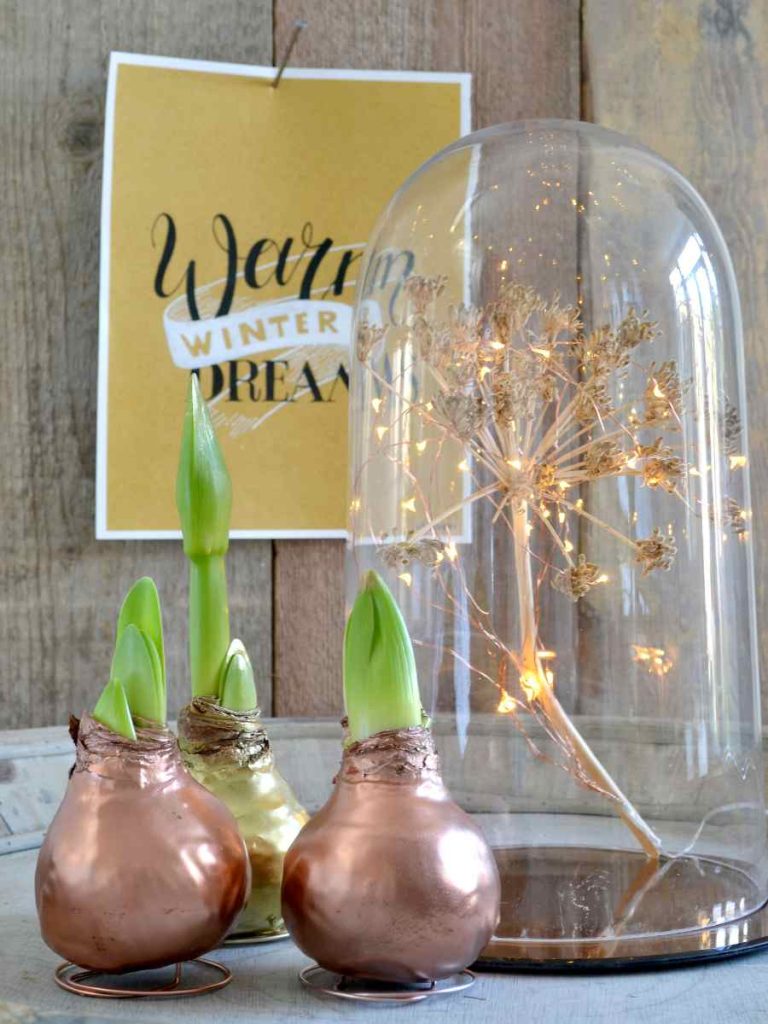 Wax amaryllis bulbs come in a variety of different colours of wax; some sleeved with décor, and others coated with a shimmery shine! Check out our blog on dressing up your holiday amaryllis to see the creative, showy, and delightful versions of waxed amaryllis!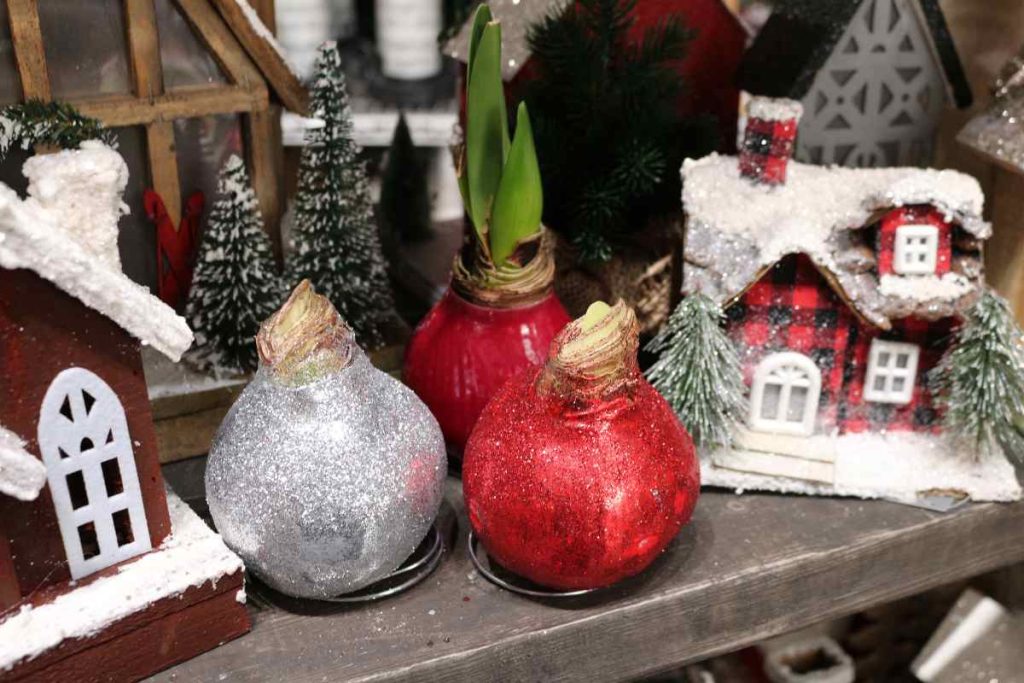 It is easy to get creative with wax amaryllis. For craft and display ideas, check out how to make an amaryllis centerpiece. There are many different arrangements you can make with wax amaryllis! Try highlighting your wax amaryllis with winter elements such as pinecones, evergreen branches, or twinkling lights! Wax amaryllis make an excellent Christmas gift, especially as a hostess gift or for a teacher!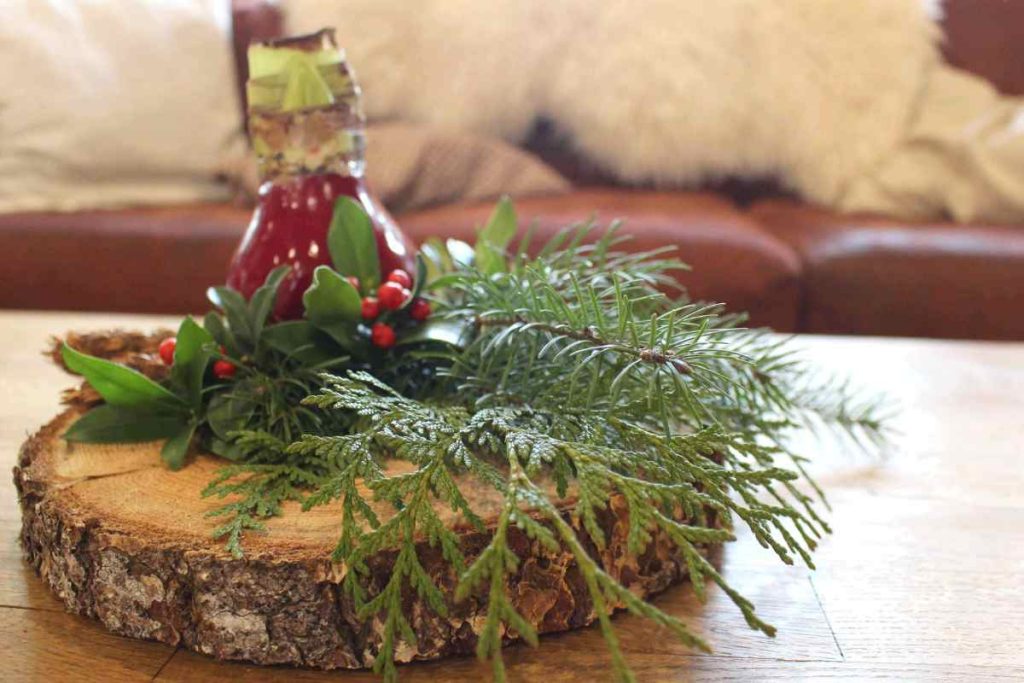 These waxed amaryllis are intended for one season of enjoyment. Blooming starts in 4-6 weeks and each bulb will grow 2-3 stems of bloom clusters. When the blooming season is complete, simply remove its metal stand, and place the waxed amaryllis in the yard pick up! It's as easy as that!
Amaryllis is a stunning flower, no matter how you grow and display your favourites. With proper care and attention, hippeastrum can bloom every winter and be enjoyed for years to come! So, plant an amaryllis bulb today and get ready to be wowed by its stunning blooms! Check out our handy brochure on amaryllis online!