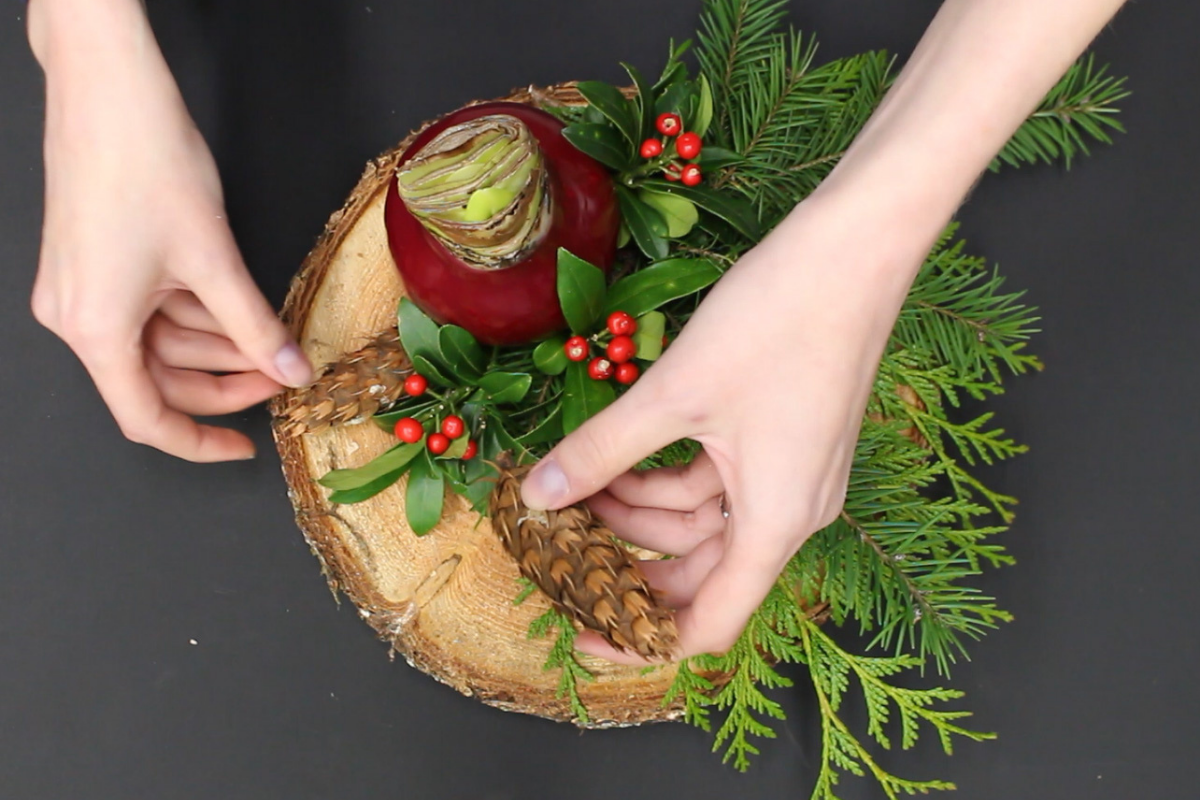 DIY Amaryllis Centrepiece
Make the holidays merry and bright with this…
Do-It-Yourself centrepiece using Touch of Wax Amaryllis.
Florissa shows you how easy it is! Enjoy big, beautiful amaryllis blooms among fresh and aromatic greens. Best of all, this centrepiece needs no watering.
Here's what you need:
1 Touch of Wax Amaryllis Bulb
1 round, wooden plaque, about 1.5" thick and 9-11" diameter
2 branches of cedar evergreens
1 branch of pine or fir
3 Wintergreen or Holly Berry stems
2 Pinecones
The thick, round-shaped wooden plaque has unfinished natural bark around the outer edge which makes a great base for this and other arrangements. We purchased ours from a local craft store.
Gather conifer branches from your own backyard garden or purchase them from your local garden centre. Different kinds of greenery can be used for this project. Cedar, fir, pine and juniper work well indoors because they retain moisture, dry out slowly and hold their needles better with warm indoor temperatures. Always use fresh greens and soak them in water overnight to prolong their suppleness. Sprays of boxwood, rosemary, and sage are other aromatic greens that can also be included in this centerpiece. Keep a few extra sprays on hand for replacements.
Dried flowers like hydrangeas and lavender, or slices of dehydrated fruit like oranges add colour and create contrasting textures. Add a spray of mistletoe, reindeer moss, red twig dogwood, ferns, or small succulents. You're only limited by imagination and creativity. Let yourself break away from the holiday shopping rush and relax. This centerpiece is a great afternoon project to put together and share with family and friends.