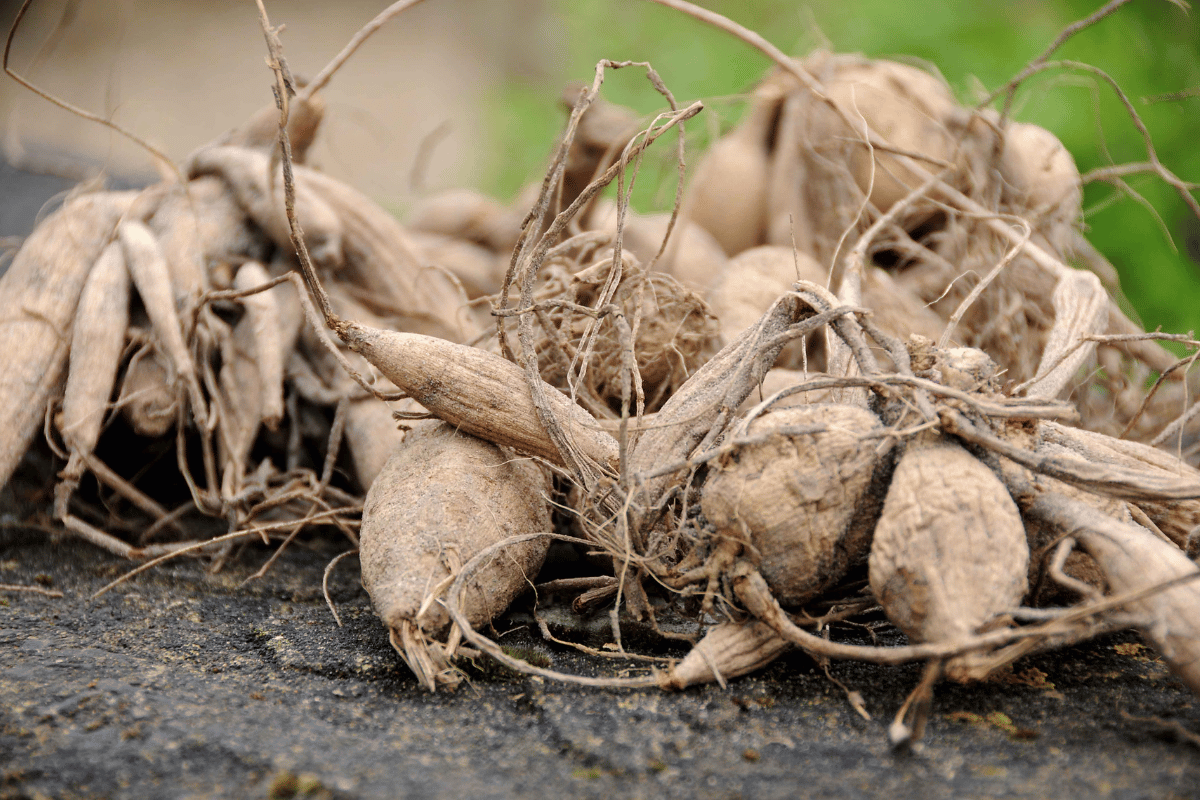 A Guide To Dahlia Tubers
Planting dahlias gives pops of colour and drama to your summer garden with their many different shapes, and sizes. They add the wow factor to the garden. But when it comes to selecting and planting dahlia tubers, it's common to be a little overwhelmed. This blog is a guide to dahlia tubers; how to identify the parts of the tuber, and how to choose healthy and viable dahlia tubers. Spring is upon us and dahlia planting season is fast approaching. Let's get all the facts to create a magnificent dahlia garden!
What is a Dahlia Tuber?
Dahlias grow from a type of bulb called a tuber. The purpose of the tuber is as a storage device, to hold enough moisture through the dormant months to get the first sprouts growing in spring. Dahlias are heat-loving plants, and their tubers are also very cold-sensitive. So, you will want to protect the clumps of tubers in frost-free areas indoors during the winter. It is good to know that the dahlia tubers you plant in the spring will not be the same ones you harvest in the fall. As the plant is growing in the summer it will start to form a fresh clump of tubers in the ground. The tuber initially planted will often be reduced in size and not be obvious or present.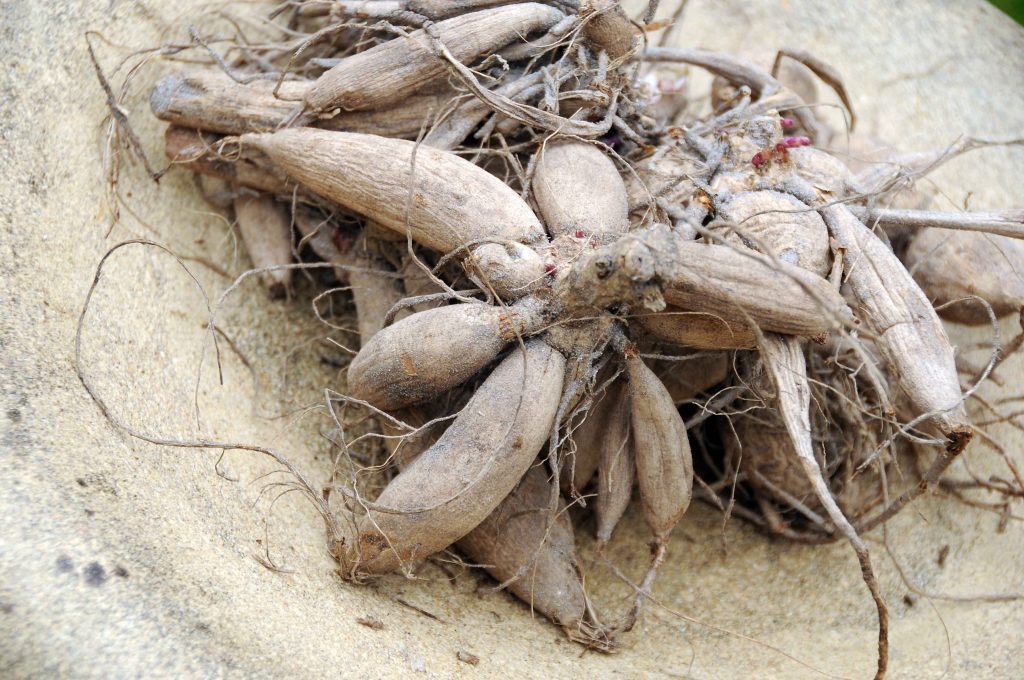 Choosing the Right Dahlia Tubers
When planting, it is important to choose plump dahlia tubers. Carefully examine the clump of tubers for any rot or damage and discard any that are very soft and squishy (simply cut that one off). Look at the dahlia tubers closely; if there are any soft spots or discolouration on the tuber, it may have started to rot. You can trim back the tip of a tuber to remove rot, but if the tuber feels mushy, remove it from the clump. If rotten dahlia tubers are planted, they will quickly become compost in your garden.
Dahlias produce different-sized and shaped tubers; surprisingly, even small ones can produce large, beautiful blooms come summer. The tubers can be small and round or long and skinny and they do not have to be very large to get the dahlia plant started. The key aspects needed for a tuber are the neck, an eye, and a body that contains an adequate amount of moisture. If your tubers are wrinkled that is okay, as they only need to hold enough moisture to get the initial bud and roots started once planted. If you think a clump of tubers is too dried out, then cut the end of one of the tubers. If the centre is still white, then it is viable and should be planted. If the centre is brown and dried out, then it has lost too much moisture and is not viable and should be composted.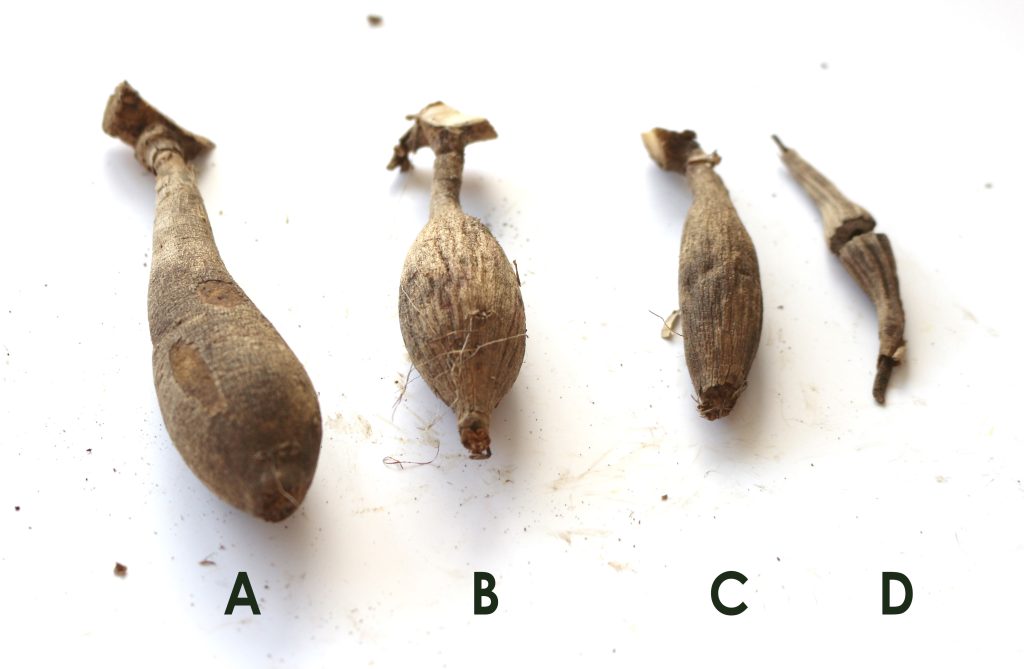 A, B, & C are viable tubers. D lacks the moisture needed to produce a successful dahlia plant.
On the other side of the coin, extremely large tubers are not always the best bet. When digging up tuber clumps at the end of the season, it is common to come across a massive clump of tubers. Some varieties will produce 2-3 tubers, and some are very generous and will form 8-12 tubers to be harvested in the fall. Usually, you can work to split this large clump into useable smaller tubers. However, if a tuber in a clump is too big, it can work against you. In some cases where a tuber is larger than a coffee mug, it contains a lot of nutrients and moisture and will not produce as many tubers come fall. So in the case of an extremely large tuber, it is recommended to cut a part of the tuber off to reduce its size and allow the cut surface to dry a bit before planting.
Parts of a Dahlia Tuber
Before planting dahlia clumps, it's important to identify their different parts: the crown, the neck, and the tuber. The tubers in a clump attach to last year's growing stem by their neck. The area where last year's stem meets the neck of the tuber is the crown.  It is this crown area where the eyes are formed, and sprouts will emerge that will grow into the plant. If a tuber does not have a neck attached to a crown, or the neck area is dried out and seems detached from the clump, the tuber will not grow into a plant. At the bottom of the tuber are dried-up roots from the previous growing season. Once planted your tuber will produce fresh roots, so lack of dried-up hairs is not a problem. At Florissa, we sell our dahlias as clumps of tubers so you will have success in growing large healthy plants and it is not necessary to divide your clumps before planting.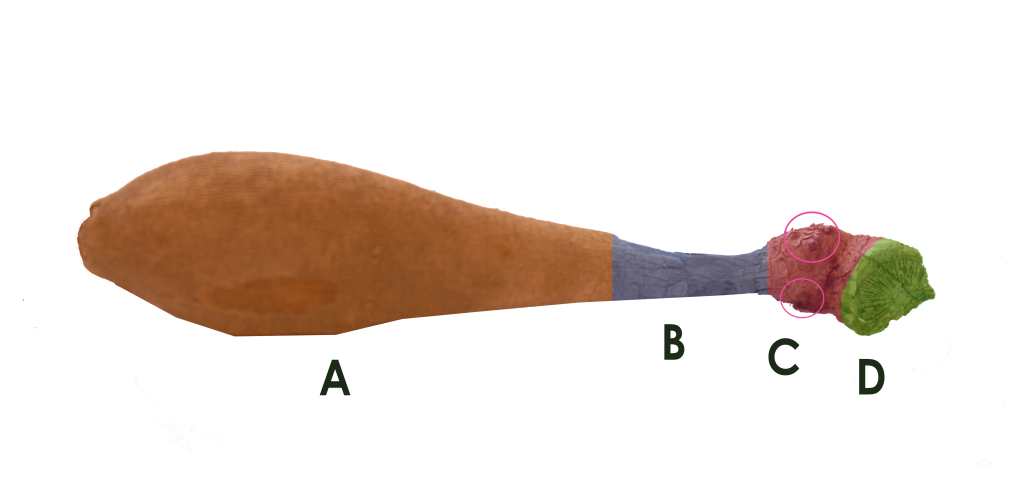 A=Tuber, B=Neck, C=Crown (eyes circled), D=Last year's stem
Identifying the Eyes of a Dahlia Tuber
Dahlia tubers have small eyes that look like bumps on the plant. These bull's eyes will swell, and you will see a sprout emerge. To identify dahlia eyes, look closely at the dahlia tubers' crown area, the eyes will only grow from this location. They can be obvious little sprouts, but others can be quite tricky to identify. They should be slightly raised, and they may look like small bumps. Many dahlia tubers will have visible eyes when you buy them, but some may not. If the dahlia has no visible eyes, don't worry! Start your tubers indoors in spring and within a few weeks you will see the sprouts growing. If a sprout snaps off in the planting process, that is okay, a new sprout will emerge from the same eye zone.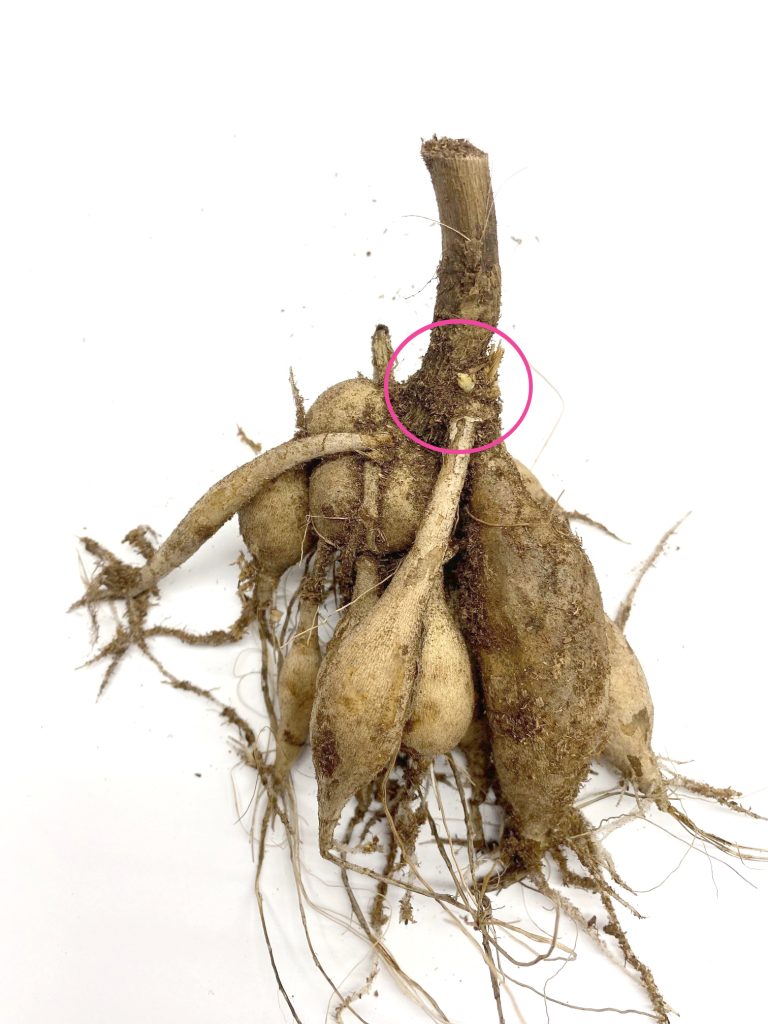 How to Plant and Care for Your Tubers
Once you have selected dahlia tubers, it's time to get planting. For information on how to start your tubers inside, and also planting directly outside, check out our blog How to Grow, Overwinter and Split Dahlia Tubers.
In most regions of Canada, winter temperatures are too cold for the moisture-rich dahlia tubers to survive in the ground. To enjoy your dahlias again next year, the tubers need to be dug up in the fall and stored over winter before planting again the following spring. To learn about overwintering your dahlia tubers read more here. Come spring, you will be all set to bring your tubers out of storage and plant them once again. However, it's always great to visit your local garden centre to buy additional new varieties to add to your collection as well!
When it all comes down to it – dahlia tubers are resilient. Apart from obvious rot or excessive dryness, tubers that don't look the best can be some of the most successful dahlias in the garden. As the old adage says, don't judge a book by its cover. And when in doubt – plant it! It's best to plant it and be surprised by blooms than to throw out a tuber and have it bloom in your compost pile!
Summer Dahlia Favourites
If you are looking for some suggestions to plant this year, then you are in luck! Every year I plant my favourite varieties, but I always find beautiful new blooms to add in to create an extra pop of colour and contrast.
Café Au Lait Twist
I love dinnerplate dahlias for their massive amounts of giant-sized blooms. I've been planting (and loving) Café au Lait for years. New this year is a twist on the classic! Café au Lait Twist offers up 9" blooms at a staggering 110 cm (44"). The soft pink blooms are lightly brushed with accents of a darker rosé pink hue. I'm looking forward to summer so I can have Café Au Lait and Café Au Lait Twist in vases on my kitchen table!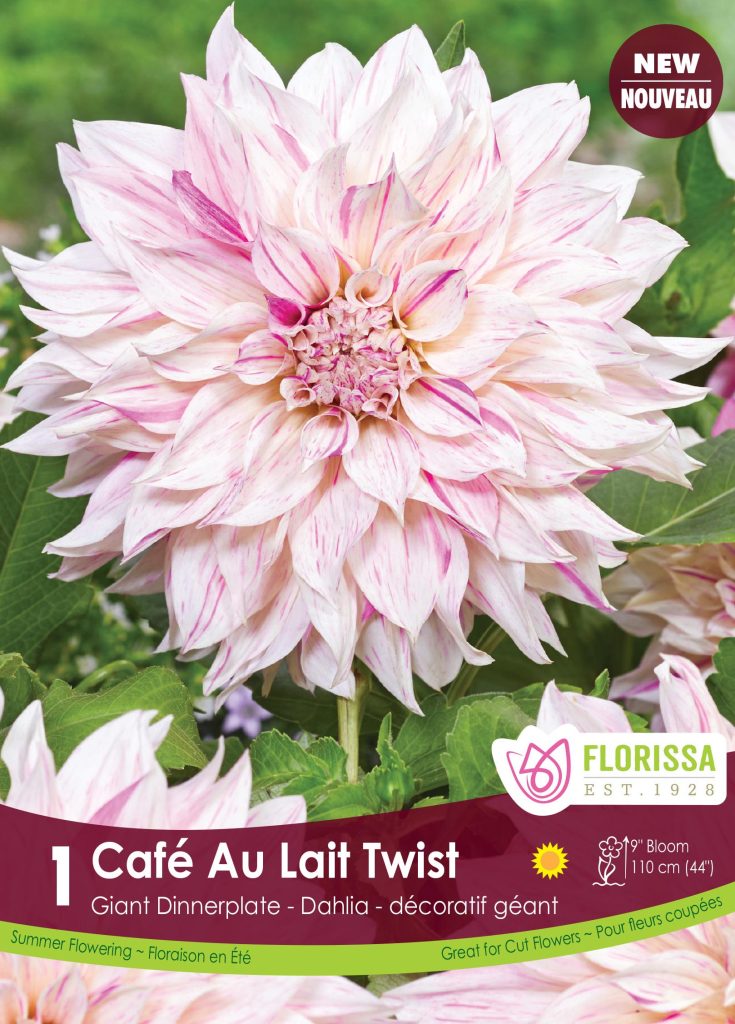 Cornel Bronze
I have always loved the intricacy and detail of ball dahlias. Cornel Bronze has been growing in my garden for many years. Then in summer, without fail, my garden is graced by a plethora of perfectly formed 3" blooms of deep apricot. From July all the way through to October, I have lots of blooms for sharing as Cornel Bronze is thriving in my dahlia garden!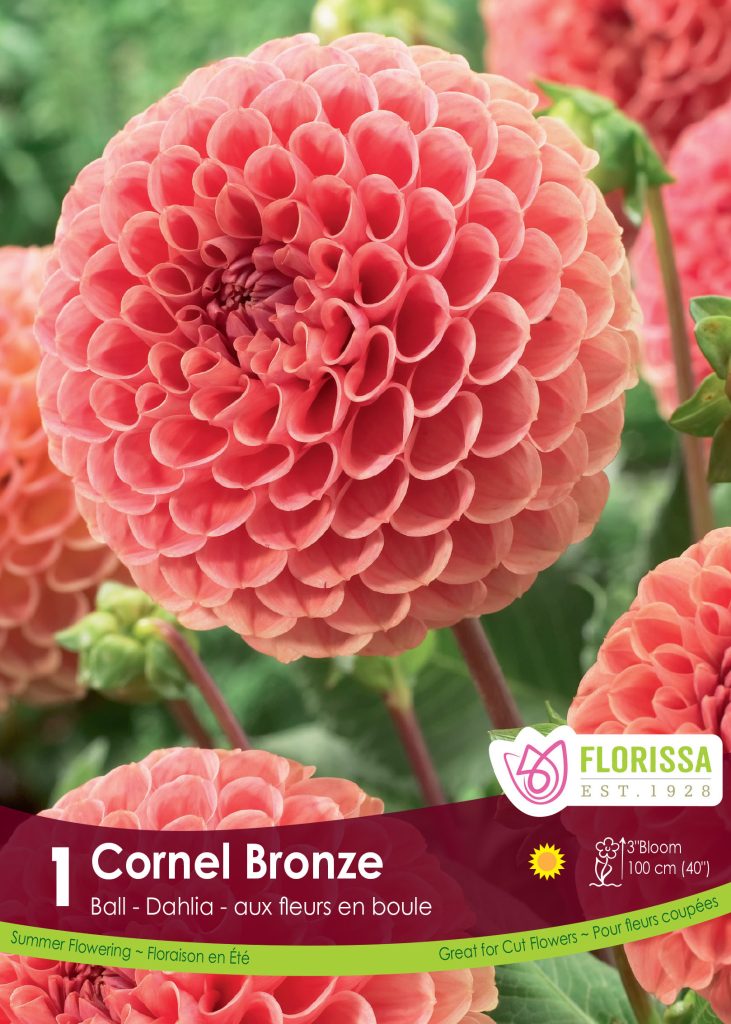 Bora Bora
Add fiery colours to your garden with Bora Bora! Boasting 7" blooms, this cactus dahlia is a garden stunner! If you are looking for a wild pop of colour for your garden, then this variety is a good choice. With blooms of vibrant red and a bright yellow centre, Bora Bora will add contrast and interest to your cut flower garden. Growing to 110 cm (44"), this new variety will be a welcomed addition to my dahlia garden this year.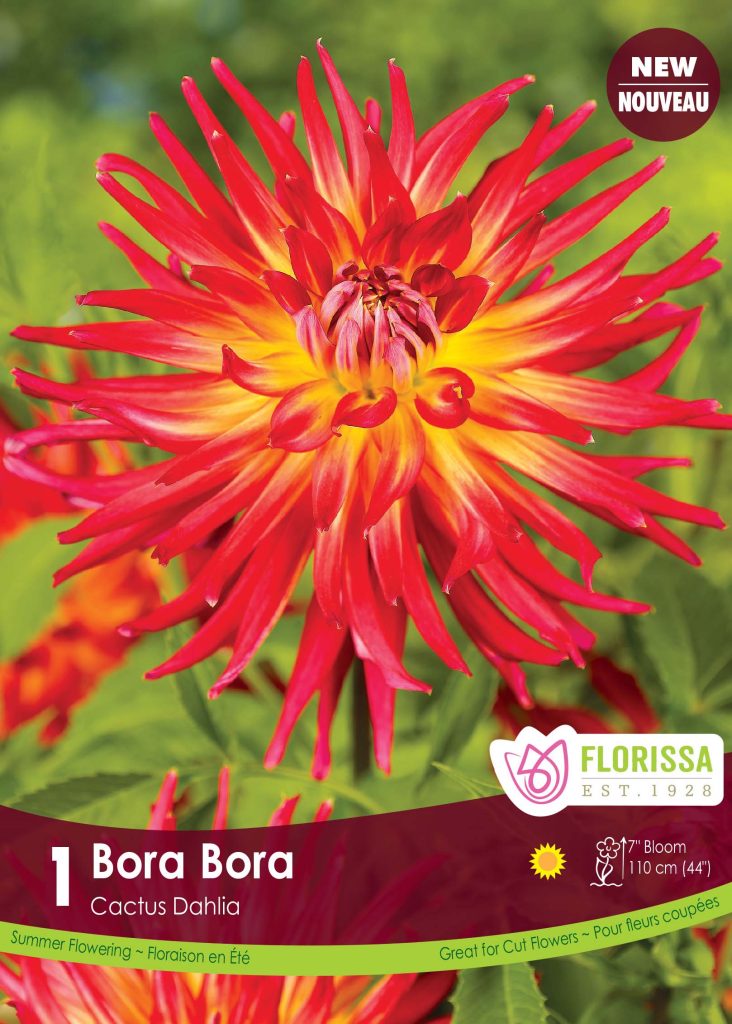 Peach Bellini
Florissa's Colourful Companion packs are excellent for building a garden. Colourful Companions are carefully chosen based on their complementary growth heights, bloom times, and colours which look amazing together. The Colourful Companion Choice of the Year is Peach Bellini. Drink up the vibrant colours of summer with 120 cm (48") tall giants with gorgeous 10" blooms!!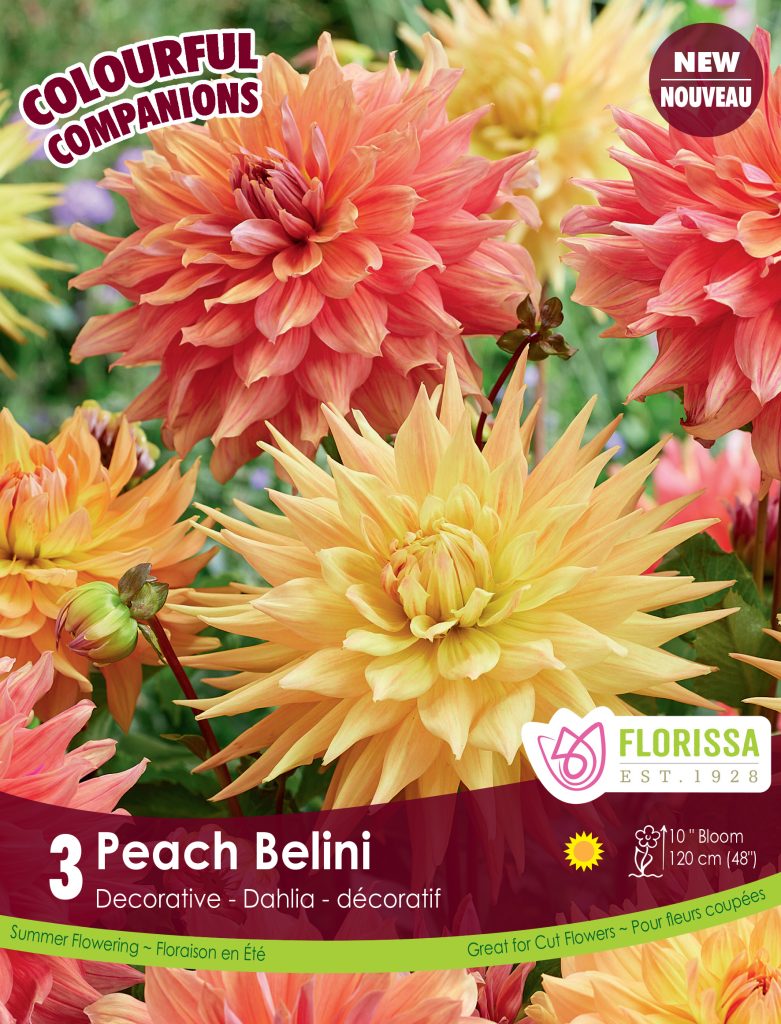 Looking for more ideas? Read more about the different forms of dahlias here. I know you will fall in love with some (or all!) of the varieties listed! This spring, make sure to head over to your local garden centre to pick up an assortment of dahlia to prepare your summer garden! While buying your favourite dahlias, make sure to place some of Florissa's newest varieties into your cart!