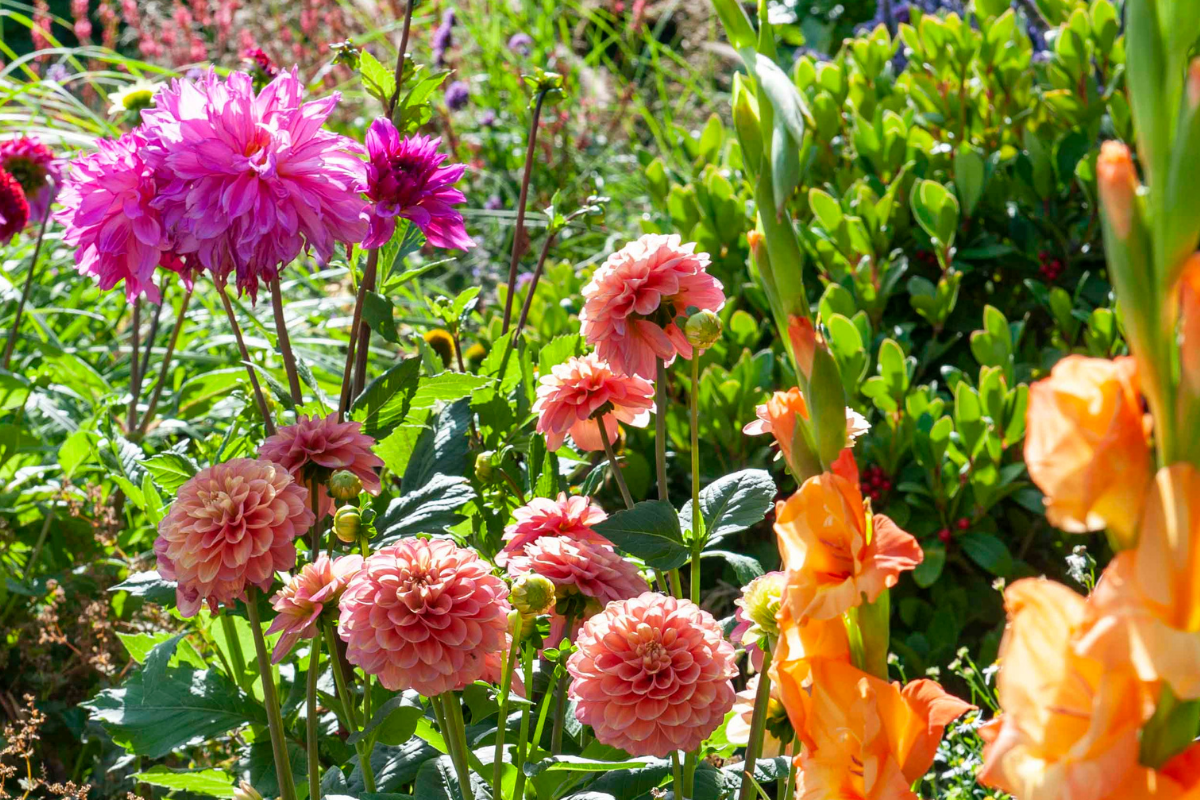 12 Months of Gardening
Ever have a month pass by and miss a task which needs to be done? If you forget certain gardening milestones throughout the year, then you are not alone. But don't worry! We are here to help! Below is a month-by-month list of milestones for gardeners. With gardens ever-changing, there is something to do every month of the year. Be it outside or indoors, the process of planting and growing never stops. Plant your garden, tend to it with care, and enjoy 12 months of gardening!
January
It's the beginning of a new year! Christmas décor is being put away, and hope and joy for a new year is all around. In the garden, Galanthus (Snowdrops), Eranthis (Winter Aconite) and other winter bloomers are poking their heads out of the cold earth. Life is bursting forth from the ground once again. January is a great time to plan out your garden spaces for the flowers and harvest you want to enjoy later in the year. Place your orders for veggie seeds and create your wish list for summer flowers. As there is not much to do outside in the frosty garden, now is the time to sit back, grab some cocoa and enjoy the blooming flowers welcoming in the new year.
February
As February comes along, your crocus, narcissus, scilla, chionodoxa and other spring blooming flowers will start to pop out of the earth. Early spring flowering bulbs are starting to bloom! Your garden is coming into life. Beautiful colours and a multitude of varieties are abundant all around. You'll be seeing fantastic spring flowers from February through to May! February is a great time to finish pruning any perennials that were left to go to seed for the birds to enjoy. Once the deep cold is on the way out, gradually bring containers planted with spring flowering bulbs, stored for protection indoors, to your patios and entrances. Remember to tuck drip trays/saucers under the pots and to keep the soil moist as they will be actively growing and will appreciate the extra water available.
March
The beginning of March is the time to start thinking about Gloxinias and Begonias. Purchase your tubers in February and start growing the tubers inside in early March to see blooms by July and into autumn. When the danger of frost passes in May, the plants can be introduced to outdoor conditions for a few hours, and gradually up to overnight and then to their final positions. Relax and enjoy the beauty of your blooms.
April
April is an exciting month for the garden. There are many different things for you to enjoy and plant, therefore it makes for a very busy, yet fun time. You can pick bouquets of tulips and hyacinths to brighten your office and share with friends.
The weather is warming and garden centres are filled with shipments of Florissa summer flowering bulbs and perennials! Visit your local garden centre to find your favourite dahlias, lilies, peonies, callas and gladiolus! Why not add some dahlias into your garden, such as Dalila Tartan with 10" blooms or Lily Tiny Padhye which is perfect for patio containers? It's a great time to try new varieties!
Also, now available is a great selection of fruit and veggies. There are many benefits of planting your own vegetables and fruits. You can easily harvest ripe fruit and vegetables as they are ready, and as an extra bonus, it is very economical! Plant your edibles now for a delicious crop in late summer. Berries, rhubarb, potatoes, onions, asparagus, and garlic are must-haves to plant in your garden.
May
It's time to buy your roses! In May you'll see a multitude of roses popping up in garden centres. Popular rose forms to grow include climbers, bush roses, tree roses and groundcovers. There are so many different varieties and colours to choose from! With their enticing aromas and delicate blooms, it is no wonder they are so popular. In every way, roses are a superb garden plant, and are an excellent Mother's Day gift! Visit our blog on roses to learn about planting and caring for your roses.
May is also a time where garden blooms transition from late spring blooming bulbs like alliums to perennials. Now is a great time to plant any perennials you have had your eye on. It's so easy to be captivated by the assortment of beautiful, unique, and colourful array of perennials including grasses, ferns and hostas! There are deer resistant, scented and pollinator friendly perennials to choose from. With so many options in perennials, you can create an amazing perennial garden, or add stunning focal points among your flowering bulbs. Try a Hosta of the Year or the pollinator friendly and deer resistant Aquilegia or Echinacea, these will grow larger each year and produce more and more blooms.
In the garden, remember to disbud any spent blooms from your spring flowering bulbs like tulips and narcissus and allow the foliage to continue to grow. The foliage is producing and storing nutrients for next years blooms.
June
An excellent project for June is to dress up your front entrance, patio or balcony with a gorgeous perennial container. You can easily add colour and a focal point to any outside areas with a container arrangement. Containers are exciting to build as you can personalize your container using a wide selection of plants. Experiment with large or small containers and varying types of perennials. Incorporate varieties which are fillers, spillers and thrillers and create a stunning arrangement.
A garden task is to trim back the foliage from your spring flowering bulbs. Once the foliage of your favorite tulips, daffodils and hyacinths turns yellow this is the signal that the bulbs are ready to go dormant and you can then prune the faded foliage to soil level.
July
It's getting hot! As the warmer months are upon us, make sure to pay extra attention to the needs of your garden. Check to see if your perennials, containers arrangements, and garden beds are getting enough water. Set up a timed soaker hose in your garden if needed. However, before setting up, make sure to check your city's bylaws regarding summer watering.
Roses are spectacular right now – enjoy the perfume of the garden. Remember with roses the more blooms you cut the more they will produce – so go ahead and share the armloads with friends and family.
July is also the delicious time of berry harvesting. You will see juicy red strawberries, flavourful blueberries and cherries ready to be picked. Grab a bowl and head out to your garden and pick some fresh tasty berries! Use them to make a delicious smoothie, dessert, or eat them fresh. Enjoy the fruit of your labour!
August
It is gladiolus time! Late summer blooming varieties like dahlias, oriental lilies and gladiolus are in full bloom. Pick bouquets to brighten a neighbours day and enjoy yourself.
It's time to start harvesting veggies you planted in the spring. August gardens bring a bounty of delicious items. Dig up your early potatoes, harvest your onions, and pick your raspberries, blackberries, blueberries, and other yummy items. Carefully dig up your garlic and prepare them for storage. Store your potatoes and onions for up to 2-3 months in a cool, dry location.
Remember to keep watering and removing spent blooms on perennials and roses to encourage more blooms.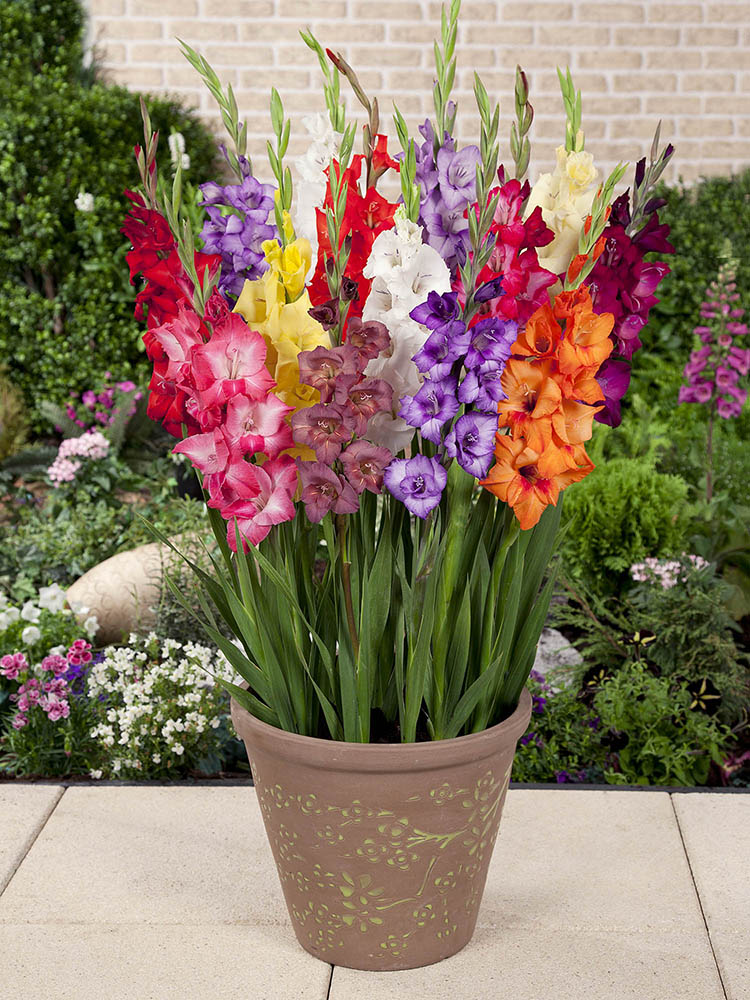 September
Is when your dahlias will be a showcase in your garden! When other summer flowering blooms start to go dormant, dahlias are in full swing. Harvest grapes, late season raspberries, onions and the late varieties of potatoes. Then it will be time to clean up and prepare your garden for the next season.
Right now, garden centres are filled with shipments of Florissa spring flowering bulbs! Visit your local garden centre to find your favourite tulips, alliums, narcissus and hyacinths. It's a great time to try new varieties!
October
October is a major planting month for your garden. It's time to plant your favourite tulips, narcissus and other spring flowering bulbs. Grab a light jacket and spend a day outside in the refreshing fall air. In a short amount of time and effort, you can plant a terrific spring garden. A popular crop to plant in October is garlic. With so many different varieties, it can be a fun activity to choose the garlic most suited to your taste buds. Read more about planting garlic.
Winter hardy bulbs, such as lilies, can be left in the garden to bloom next year. However, there are some varieties that are not winter hardy and need to be dug up and stored in a garage until replanted in the spring. Carefully remove your callas, cannas, gladiolus and dahlia tubers, brush off the soil and wash and label them before storage. Store them in a well-ventilated frost free area where the temperatures stay above 7-13C.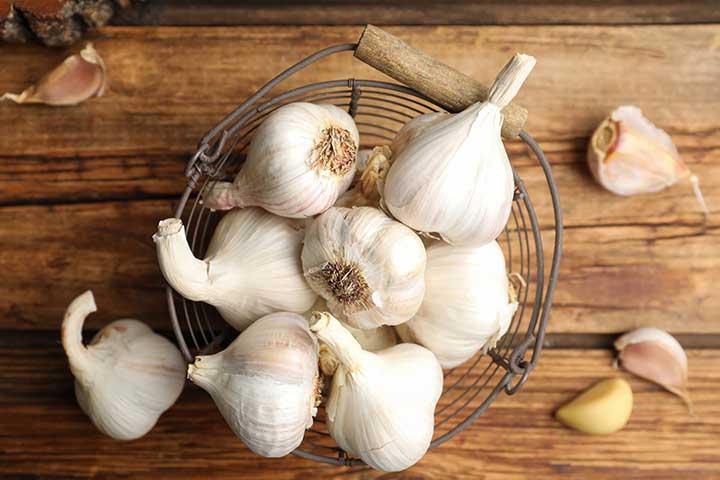 November
Winter is another busy time for gardeners. Yes, even with the frosted ground and looming snow! There are gardening projects which can be enjoyed inside. We believe it's never too early to start thinking about Christmas! Start your amaryllis and paperwhites in November to have them ready and in bloom for Christmas. Do you love the scent of hyacinths? They are not only for the spring garden. Try forcing hyacinths indoors and enjoy their fresh scent into your home.
December
As the holidays approach, there are many indoor blooming flowers to keep your green thumb busy during the month of December. Many different flowers can be used as home décor or gifts. Try potting up an amaryllis bulb, creating a winter centrepiece, or growing a wax amaryllis! Wax amaryllis is also ideal for gifting. Available in different colours and designs, these are excellent carefree flowers appropriate for the gardeners and non-gardeners in your life!
Gardening is a rewarding hobby which can keep you busy during all 12 months of the year. If you would like, your garden can keep you busy every month. For those who wish to dabble in the soil, or plant for only certain seasons or crops, there are also particular times to venture outside. Choose the projects (or all of them!) which you would like to complete throughout the 12 months of gardening.