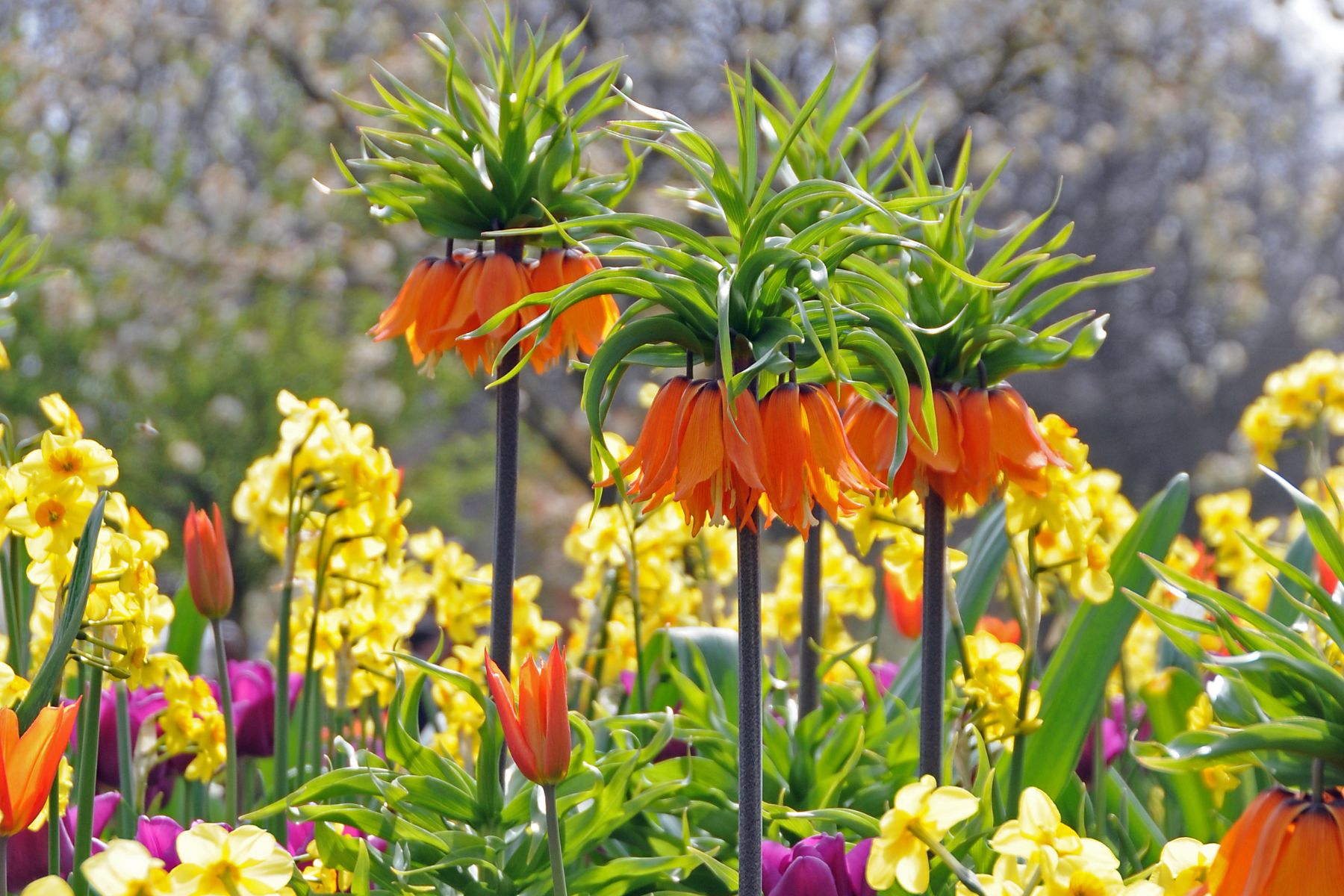 Understanding Bloom Times Before You Shop
In autumn, all of your favourite bulb varieties are hitting the shelves. I love browsing the fully stocked shelves, dreaming about feathery pink parrot tulips, and spunky mini daffodils poking up in my spring garden! September is a great time to visit your local garden centre so you can have the first choice of a wide variety of spring-blooming bulbs. Not sure where to go? Let us know! Email us at mail@florissa.com to find a garden centre near you.
Quick Bloom Time Guide
Did you know that fall-planted, spring flowering bulbs bloom at different times in the spring? Understanding the bloom times of certain bulbs before you start shopping is an excellent help when it comes to planning out your garden design. Here's a quick guide to the bloom times of some of our favourite spring bulbs:
Early Spring Bloomers
First to show their beautiful spring colours! Early blooming on the west coast of Canada (B.C.) happens in February and March. However, as you move east into the Prairies, Ontario, Quebec, and Atlantic regions, early blooming bulbs start to poke up once the snow begins to melt in April to May.
Mid Spring Bloomers
Lots of beautiful options for mid-season blooming bulbs. Mid-spring bloomers make their entrance in April to May on the west coast of Canada – and closer to May to June in the Prairies. Once you hit Ontario, Quebec, and Atlantic gardens you can expect mid-spring bloomers to shine in late May.
Late Spring Bloomers
Late to the party, but certainly worth the wait! Late spring blooming bulbs are flourishing in B.C. gardens from May through June. The Prairies can expect the same show from late June to July. Similarly, Ontario, Quebec, and Atlantic areas can also expect late blooming bulbs to show colour in June.
Spring Blooming Varieties
Here are some examples of bulbs that you will find in stores that line up with these blooming periods (based on West Coast bloom times):
Very Early (February to March)
Galanthus (Snowdrops)
Eranthius (Winter Aconite)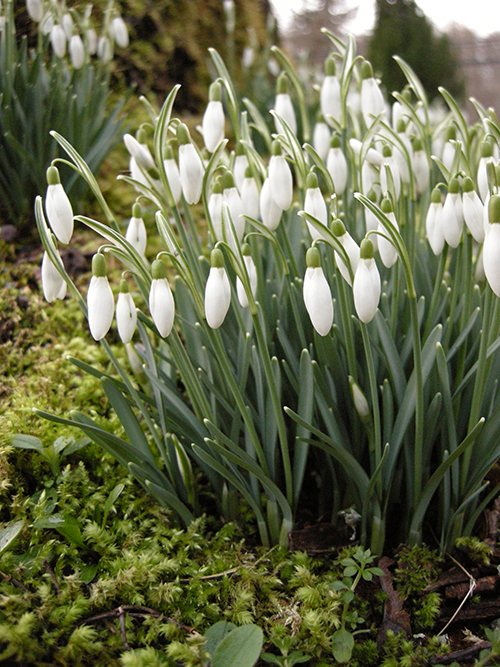 Early (March)
Anemone Blanda
Chinodoxa (Glory of the Snow)
Muscari (Grape Hyacinth)
Puschkinia (Striped Squiill)
Scillia Siberica
Trumpet Narcissus
Dwarf Narcissus
Rockgarden Narcissus
Mini Narcissus
Fosteriana Tulips
Greigii Tulips
Kaufmanniana Tulips
Mini Botanical Tulips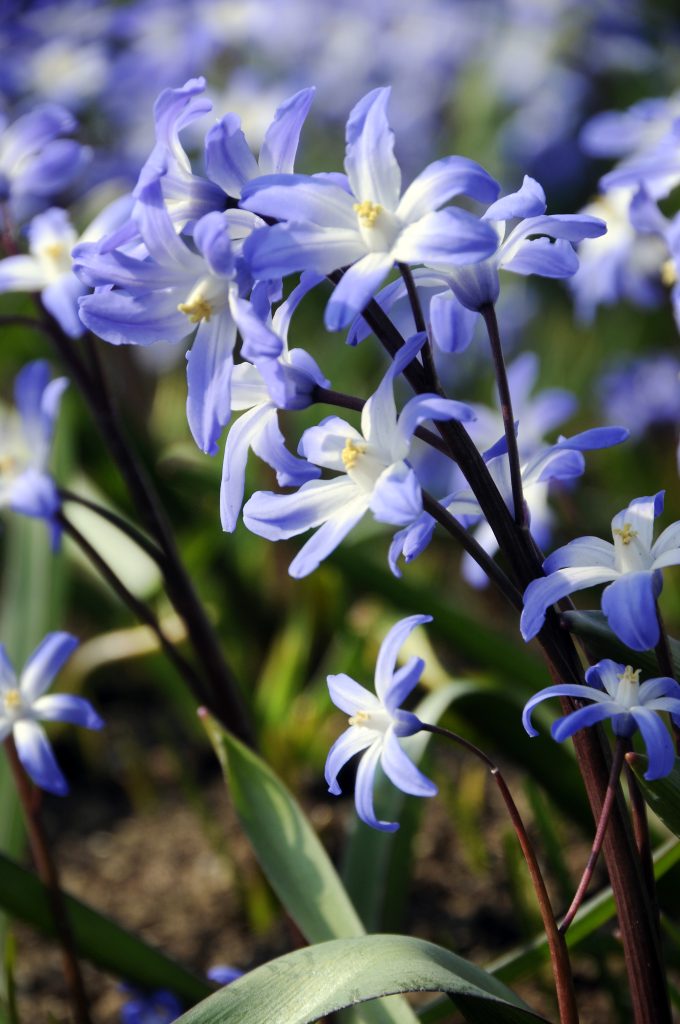 Mid (April to May)
Anemone De Caen
Cupped Narcissus
Poetaz Narcissus
Double Narcissus
Butterfly Narcissus
Hyacinth
Single Early Tulips
Double Early Tulips
Triumph Tulips
Darwin Hybrid Tulips
Allium short varieties
Fritillaria meleagris
Leucojum (Summer Snowflake)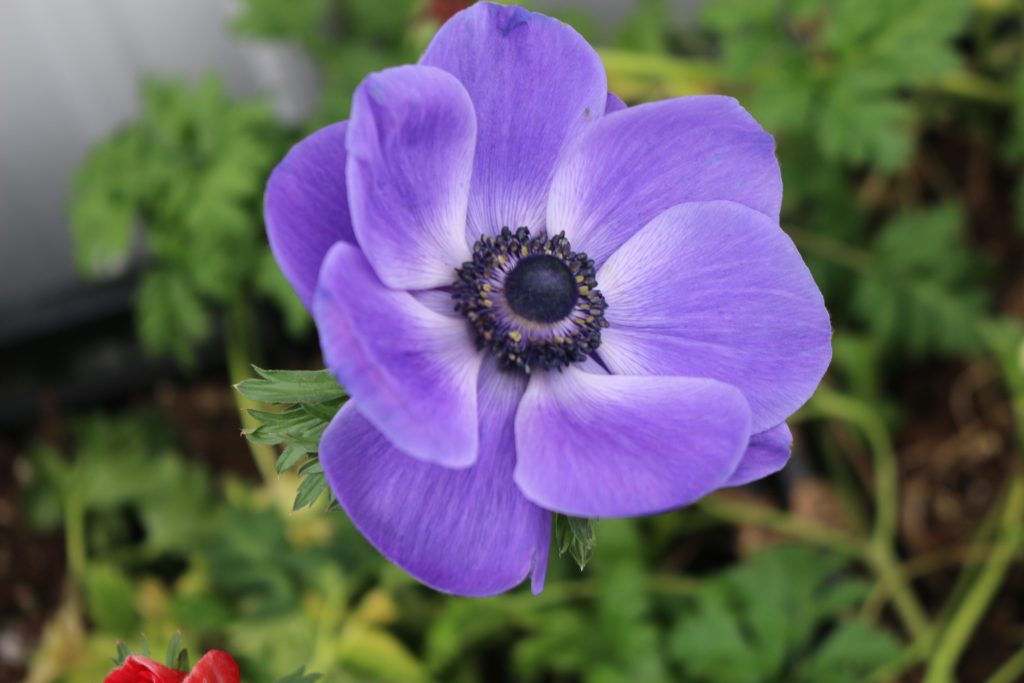 Late (May to June)
Allium tall varieties
Camassia
Dutch Iris
Scilla Campanulata (Spanish Scilla)
Double Late Tulip
Viridiflora Tulip (green flowering)
Giant Beauty Tulip
Darwin Tulip
Lily Flowering Tulip
Fringed Tulip
Double Peony Tulip
Parrot Tulip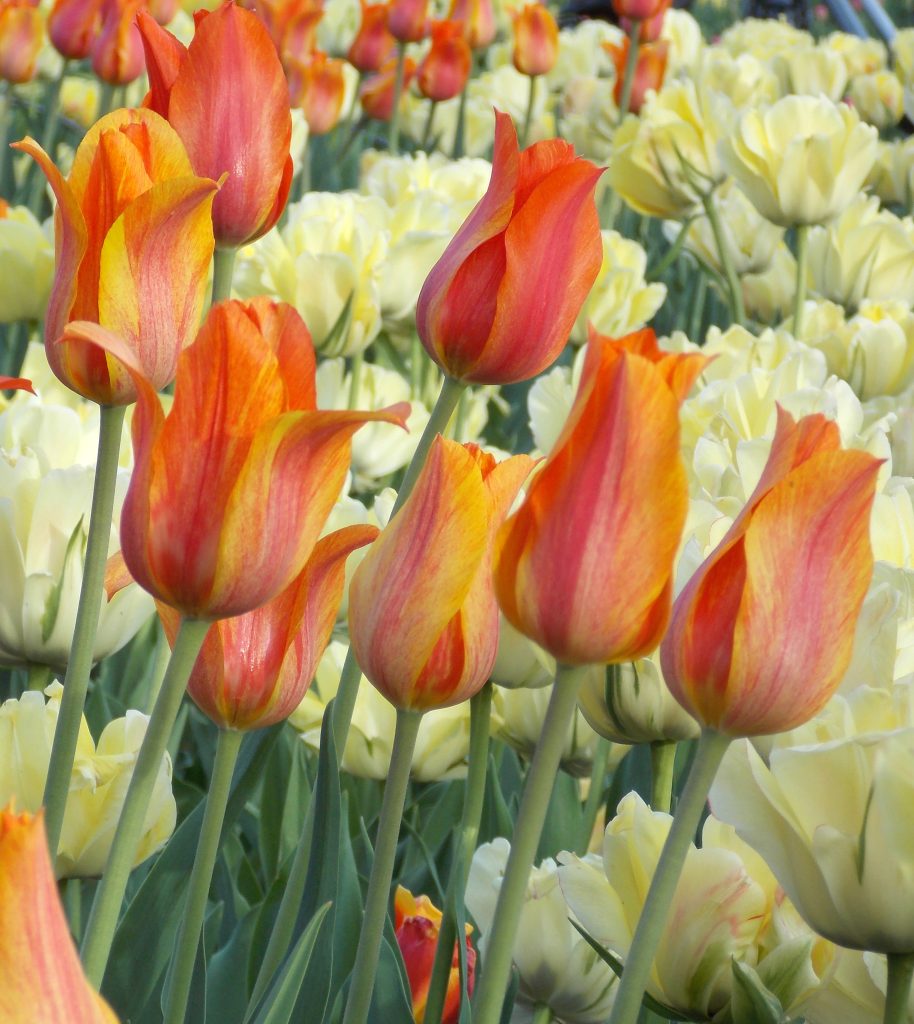 Very Late (June)
Allium Summer Drummer
Eremurus (Foxtail Lily)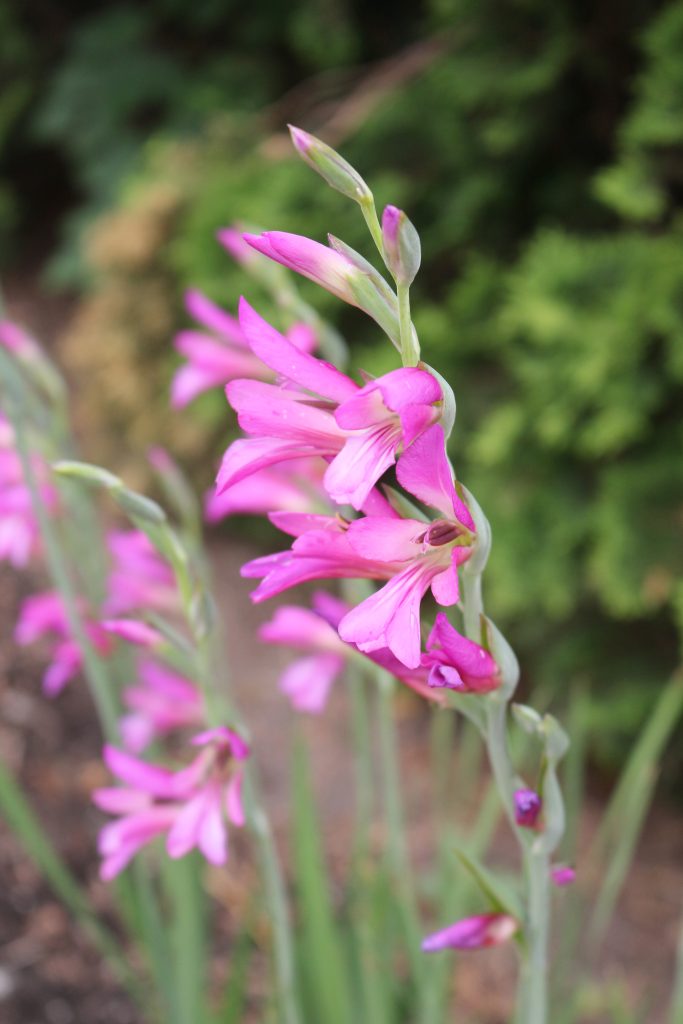 Keep It Simple
The best advice I've received when it comes to picking out bulbs is to keep it simple. Select a variety and commit to it! Buy enough bulbs of that variety to plant a nice grouping (at least 3, 5, or 7 – ideally more!). Next, put some thought into the timing of blooms. If you're in love with the mini botanical tulip Chrysantha (early blooming) and have planted a lovely grouping of these bulbs in your garden, consider planting a Darwin Hybrid tulip Beauty of Spring (mid blooming) in a similar cluster close by. This way, you can expect lovely colours in your garden progressively throughout the months of spring.
Matching Colour According to Bloom Time
Mixing and matching varieties to come up at the same time is just as easy! Pick a few varieties within the same bloom time grouping and similar heights, then watch the magic unfold before your eyes come spring! Triumph tulips, for example, bloom mid-spring. Select your three favourite triumphs (Strong Love, Strong Gold, and Suncatcher!) mix them yourself and plant them in one big grouping. This will definitely give you maximum impact as these three varieties will bloom at the same time!
It's worth noting that most garden centers have done the hard work for you and offer Florissa's pre-mixed packages of beautiful Colourful Companions! Colourful Companions packages provide a mix of bulbs that complement each other in colour, stem length, and bloom time.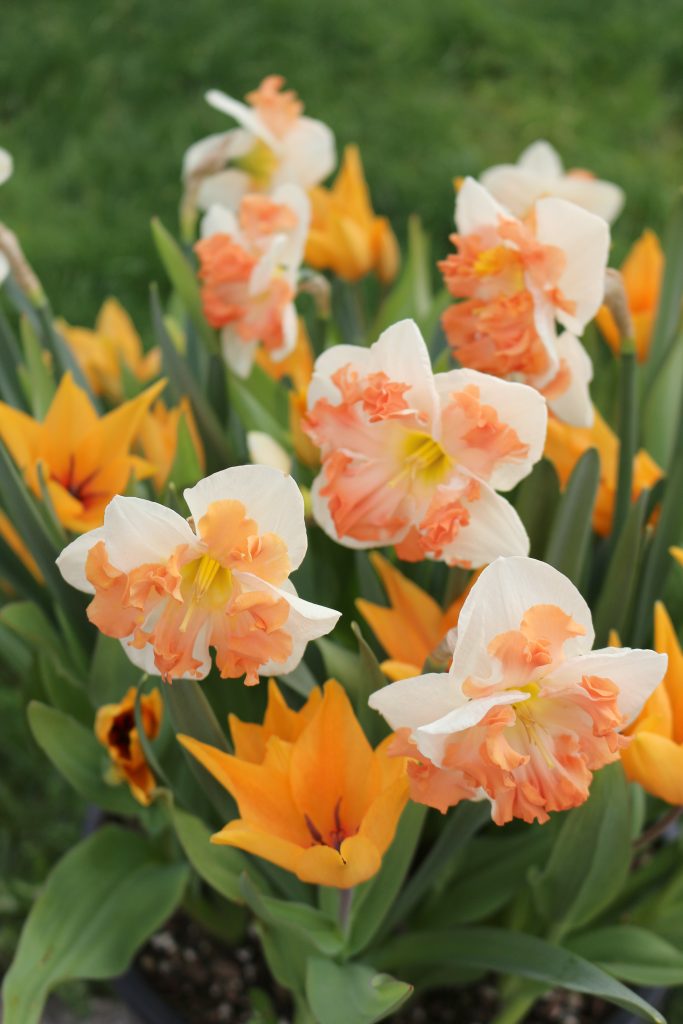 Whether you're going for maximum impact with showstoppers like Colourful Companions or setting yourself up with sweet blooms all spring long – understanding the bloom times of fall-planted bulbs makes a huge difference when planning your garden. Keep it simple, commit to planting bulbs in the fall, and plan to have colourful blooms from early spring to summer!
Check out our Spring Flowering Bulbs planting guide.
For information on where to find Florissa products near you, please inquire on our Find a Retailer page.