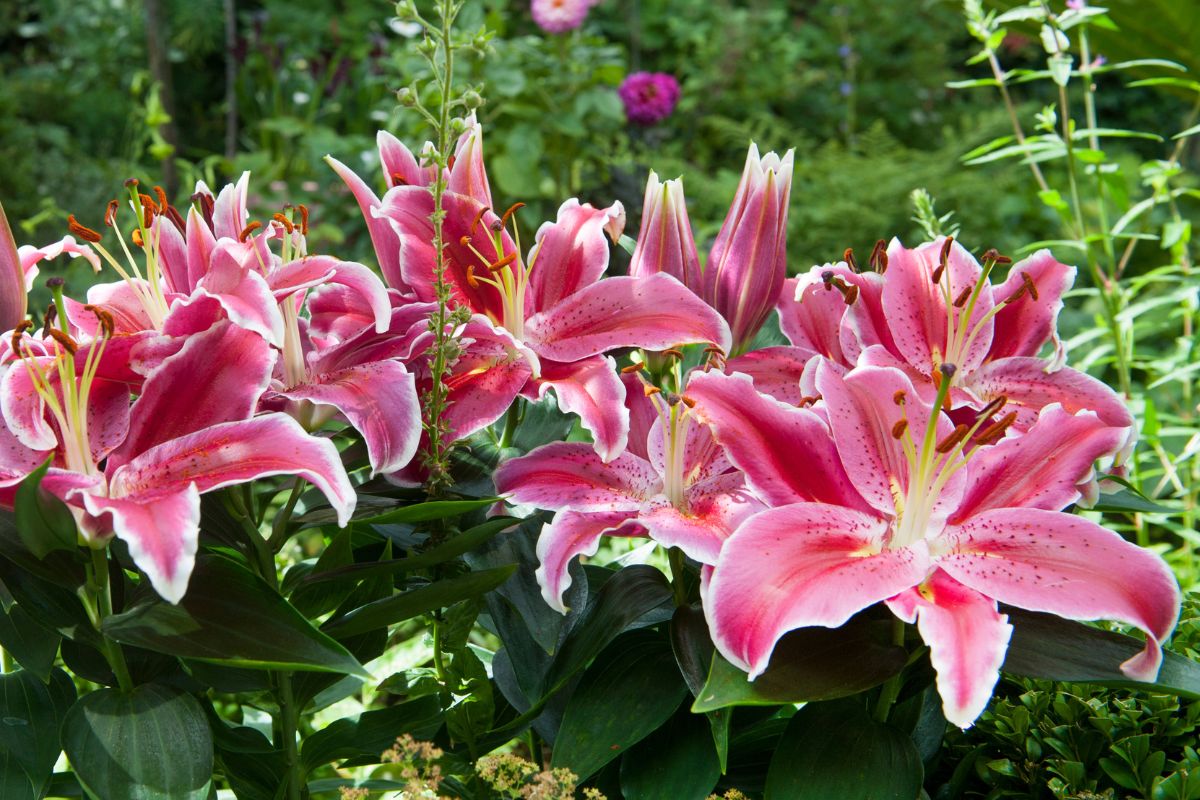 Scented Garden Plants: How to Create a Fragrant Garden
A garden filled with fragrant flowers is a relaxing and alluring place to be. Your senses are brought alive and the aromas remind you of special moments, they invigorate your soul and lift your spirits. With the mindful addition of scented perennials and bulbs, your garden becomes a haven of fresh, sweet, spicy, and tantalizing aromas. Check out our favourite best-smelling flowers for the garden and how you can build an enticing aromatic outdoor oasis.
Types of Garden Fragrances
Different types of fragrances can be found in the garden. There are floral, fresh, and spicy scents to experience. For sweet floral scents to promote relaxation, lilies, jasmines, gardenias, peonies and lily of the valley (Convallaria) are perfect. For fresh garden scents that stimulate and refresh, grow lavender and mint. To add spicy scents into your garden that are slow and sensual notes, plant dianthus and spicy scented roses such as Malvern Hills, Secret's Out, or America.
Building a Scented Garden Year Round
To ensure amazing scents in the garden throughout the year, plant aromatic varieties which will bloom at a variety of times. Start your fragrant garden in the spring with narcissus from mid to late spring, hyacinths in mid-spring and Convallaria (lily of the valley) blooming from April to May. In late spring, Paeonia (peony) will start to bloom and grace your garden with their presence until July. Experience fragrances of floral, honey, damask, fruit, citrus, and myrrh from a variety of roses from spring all the way through until fall. Enjoy beautiful oriental lilies in the summer. In early fall, you will still be enjoying the scents of lavender, phlox, jasmine, and gardenia. During the winter months, make sure to grow sweet Paperwhite Narcissus and hyacinths indoors. When having multiple fragrances at the same time, you can separate them in the garden to cut out competition, or if you love being inundated with various scents, just plant and enjoy.
Scented Garden Varieties
Roses
Bloom time: Spring to Fall
Roses are a necessary flower to mention when discussing fragrant gardens. They are for sure known to be among the best-smelling flowers. Although not all roses are scented, fragrant roses are well known for their variety of different scents. There is not one single fragrance all roses emit. Perfume roses smell sweet, citrusy, musky, floral or fruity! When thinking about rose garden ideas, stop and smell the roses to see if the scent is one you will enjoy in your garden.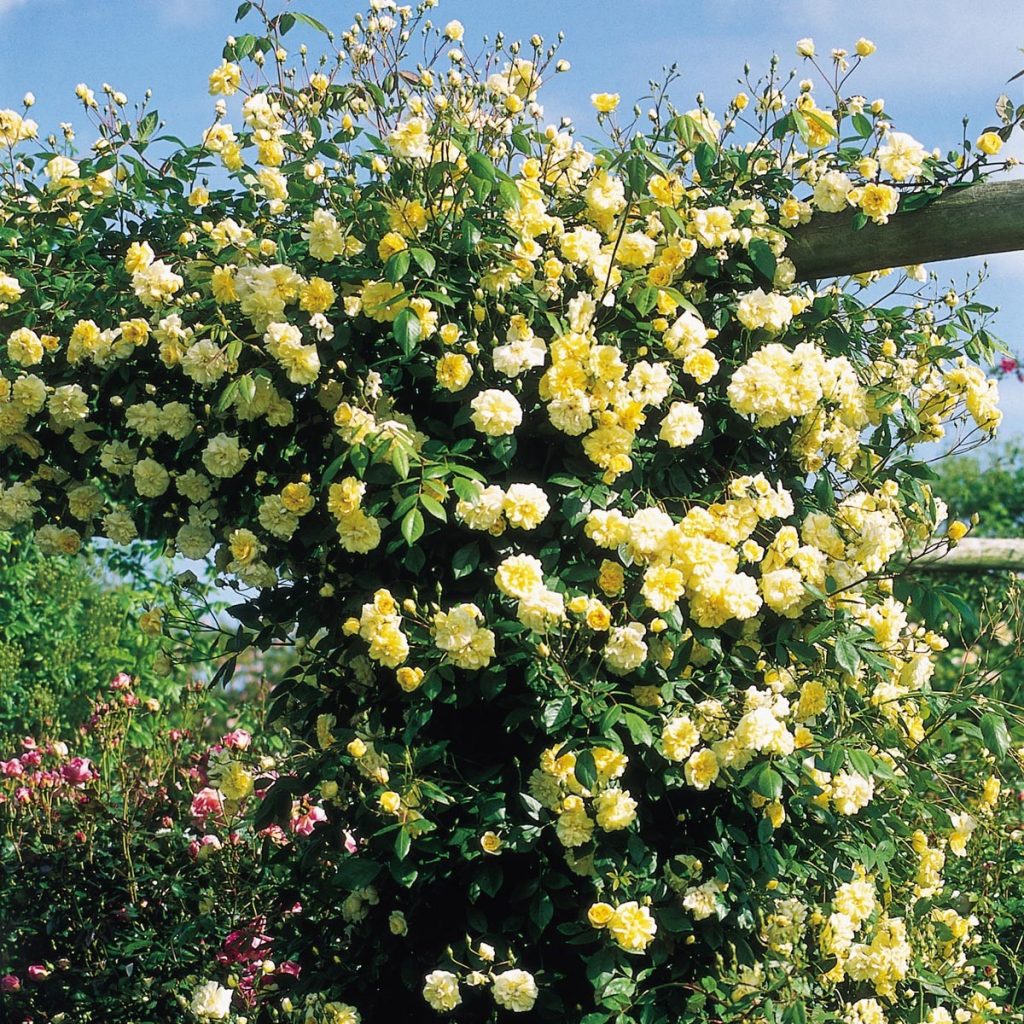 Hyacinth
Bloom time: Spring
Looking to integrate beautiful scents into your spring flower beds? Plant hyacinth in the fall for a bold and sweet perfumed spring garden. Available in a myriad of colours, the hyacinth flower brightens up your spring garden with cheery blooms. Plant blue hyacinth Delft Blue, the deep pink Jan Bos and yellow City of Haarlem in your spring garden for a mix of fragrant hyacinth colours. To enjoy the wonderful scent of hyacinth during the winter months, make sure to force hyacinths indoors! Check out our blog 'A Complete Guide to Forcing Hyacinths Indoors'
Phlox paniculata
Bloom time: July to September
Add big clusters of scented blooms to your garden with phlox paniculata. Growing on strong stems, phlox blooms in the garden from mid-late summer. The sweetly fragrant clusters of flowers are very attractive to hummingbirds, bees, and butterflies. Enjoy bright colours in your garden with varieties such as the saturated red of Starfire, hot pink of Coral Flame, or fun duo-tone pink and white blooms of Peppermint Twist.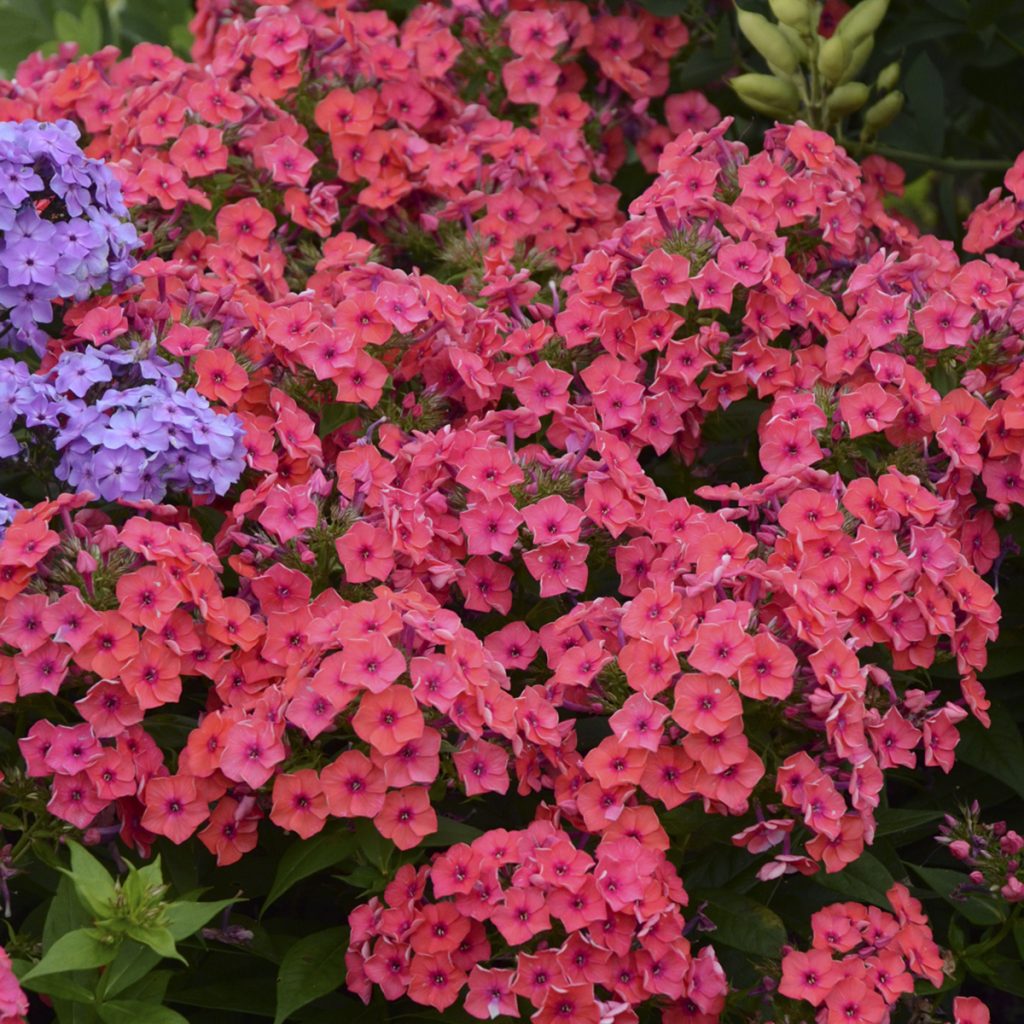 Lilium – Lilies
Bloom time: June to September
A very well-known selection on the fragrance list are lilies. There are so many lilies to choose from. Oriental lilies boast strong sweet scents. Blooming in mid to late summer, they are a beautiful addition to mixed borders. Plant your lilies bulbs in spring for summer blooms. Patio Oriental Lilies are shorter which work well in containers, providing a wonderful aroma for your summer outdoor parties. Growing to only 45 cm (18"), try Sunny Bonaire or After Eight in your summer containers. For taller scented lilies, we recommend lilium Stargazer, Casablanca, and Salmon Star.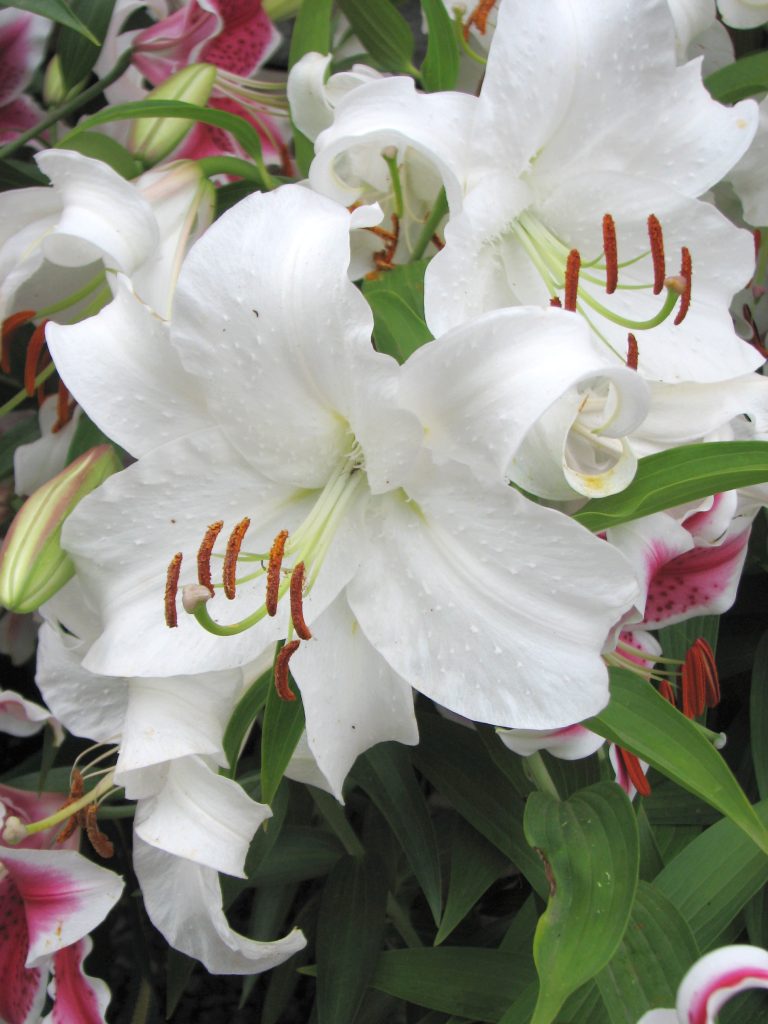 Lavandula – Lavender
Bloom time: June to September
Lavender, or Lavandula, is a very popular scent for a garden. Both French lavender and English lavender are strongly aromatic. This strong aromatic flower is a tantalizing aroma which permeates the garden. Try growing lavender in your borders or rock gardens or if you want a daily dose of lavender, plant it alongside garden walkways and paths. Lavandula Grosso, Munstead and Hidcote are popular scented lavender varieties. A benefit to growing lavender is you can harvest and dry lavender flowers. Dried lavender is commonly placed in small, netted sachet bags to refresh drawers, dressers and bags.
Jasmine
Bloom time: Spring to Fall
The aroma of a jasmine flower invokes the memory of long summer nights and is regarded as intoxicating, exotic and intense. The beauty of a jasmine plant is reason enough to incorporate it into your garden. Its delicate star-shaped blooms of white are an added bonus to its romantic scent. The sweet and spicy scent of Jasmine, known to be the strongest floral variety in the garden, can fill the entirety of your garden. Jasmine is also a perfect climber to cover a pergola or lattice.
Convallaria – Lily of the Valley
Bloom time: April – May
Convallaria's dainty white or pink bell-shaped flowers have a big strong fragrance each spring. This low-care perennial is perfect for a groundcover. If looking to line the sides of shaded pathways, a carpet of lily of the valley flowers is perfect for your garden! As it can be an invasive perennial, planting beside walkways or driveways is ideal to control growth. Choose the white variety Convallaria majalis, the pink Convallaria majalis Rosea, or both!
Paeonia – Peony
Bloom time: May – July
Once established in your garden, you will be enjoying wonderfully scented blooms for over 100 years! With stunning blooms, it's no mystery why so many are growing peonies in their gardens. Ranging in a multitude of colours, peonies possess alluring aromas, although not all are heavily scented. Among some favourite fragrant peonies are Paeonia Sarah Bernhardt, Paeonia Coral Charm, Paeonia Bartzella and Paeonia Cora Louise. Bring Paeonia blooms indoors for an aromatic cut flower arrangement. Read more about peonies in the garden here.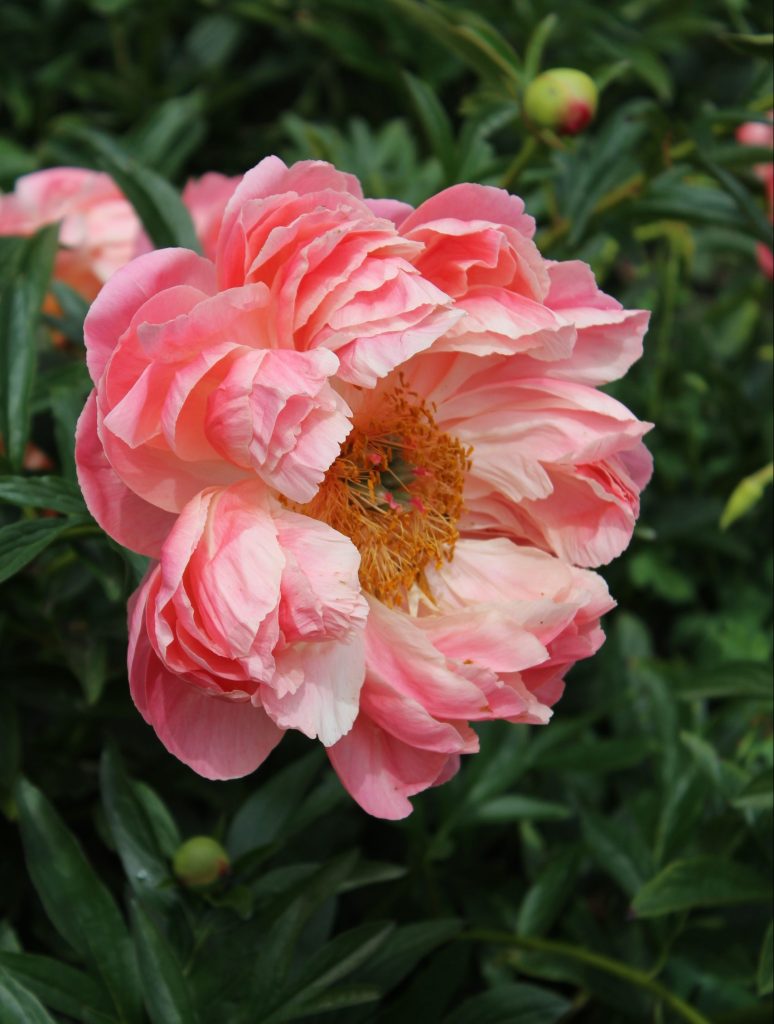 Gardenia
Bloom time: Late Spring to Fall
Gardenia bushes are adorned with waxy cream-white flowers and gorgeous vibrant shiny green leaves. Its powerful scent is very popular. Native to the tropical regions of East Asia, they can be a bit temperamental when growing in Canada. However, with their incredibly intoxicating aroma and beautiful blooms, they are worth the work. Gardenia is hardy to zone 7, however, they can also be grown inside – so don't fret if you live in a colder climate.
Narcissus – Daffodils
Bloom time: Mid to Late Spring
There are many wonderfully fragrant narcissus. If you are looking for a strong bold scent, plant Bridal Crown. Bridal Crown packs a punch with a strong sugary-sweet scent. Take note, when brought inside its intense aroma is felt ten-fold! Some of our other favourite scented narcissus are Tahiti, Wave, Electrus, Golden Echo, Poeticus Recuvus and the very popular King Alfred Type. Although not grown outside in the garden, we would be amiss without mentioning Paperwhite narcissus. One of the best smelling plants for indoors, paperwhites are a delightful winter blooming flower, which you can enjoy indoors for 6-9 weeks. They are great for indoor containers and can be grown without soil! During the Christmas season, add to your holiday decorations with a paperwhite display. Check out our blog An Easy Guide to Holiday Décor to learn more!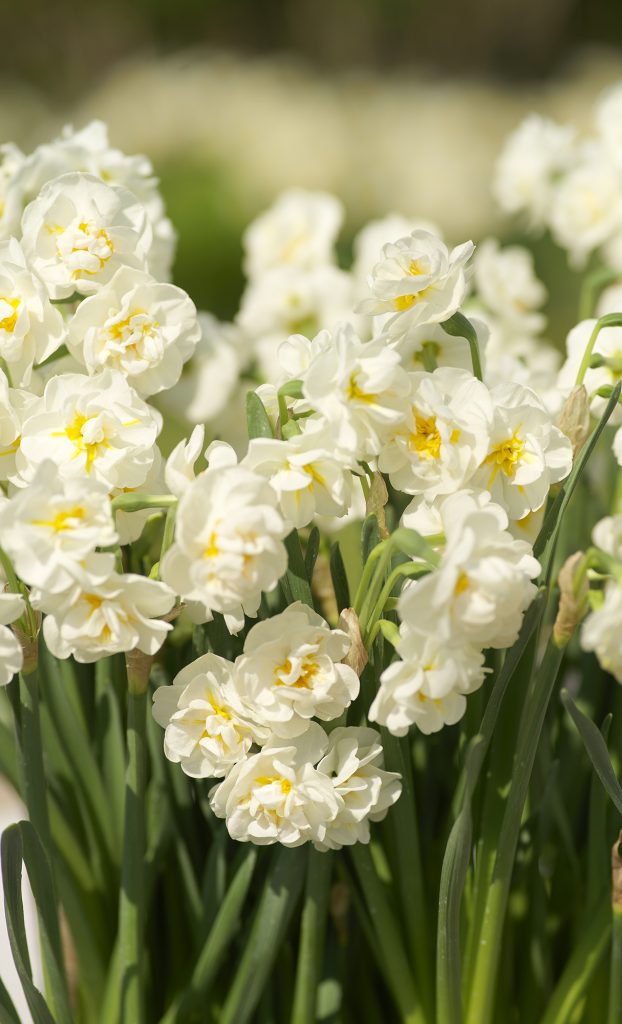 Planting Your Scented Garden
With all scented flowers, be mindful of strong aromas when selecting their planting locations. Strong aromas can compete in the garden. If you enjoy a scented garden, but don't want to be overwhelmed, plant further away from sitting areas and windows. However, plant close to walkways and borders if you wish to travel through the garden with an array of sensory stimulating aromas. Fill planters and garden beds near sitting areas with your favourite scented varieties to enjoy fragrances to their fullest.
When shopping for fragrant varieties to add to your garden, look for Florissa's fragrant logo on our packaging for easy identification! For information on where to find Florissa products near you, please inquire on our Find a Retailer page.