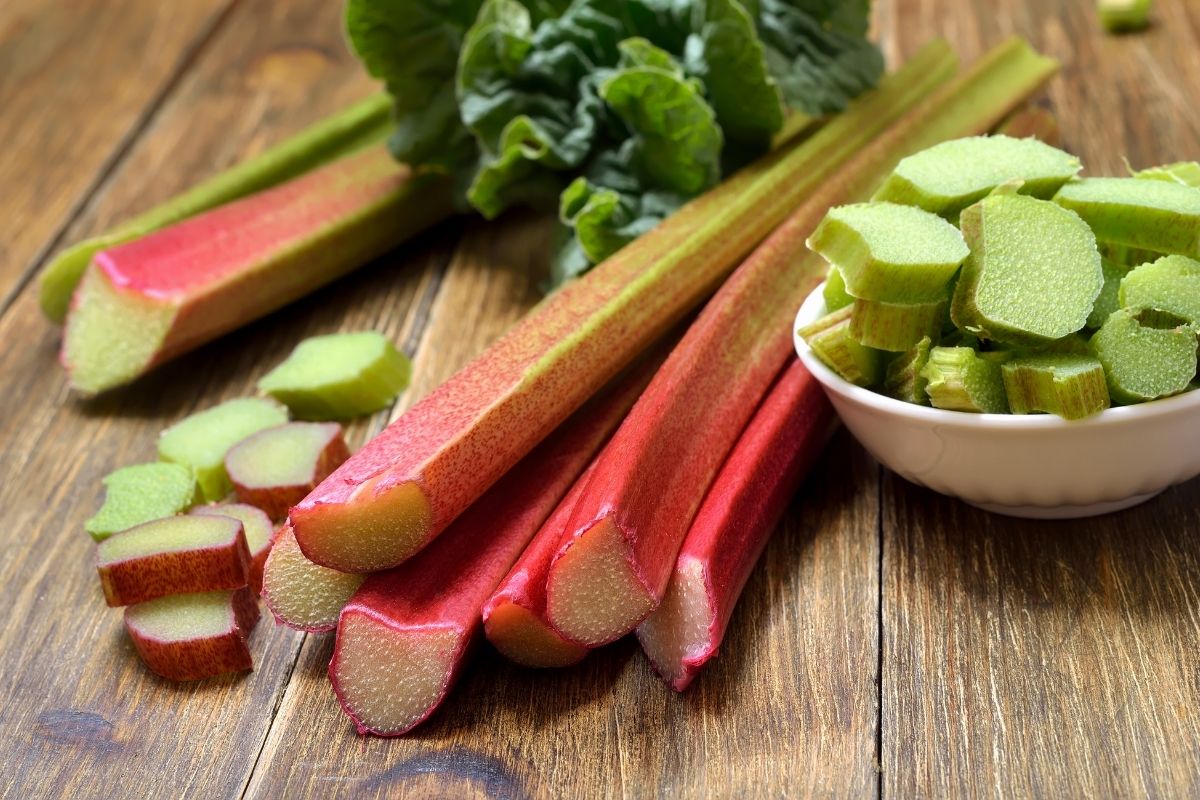 Rhubarb – Easy to Grow Super Food
The first taste of summer? For me, it's the sweet and tartness of fresh picked rhubarb.
One of nature's super foods, a stalk of rhubarb is 95% percent water, but just one cup contains 16% of your daily vitamin C intake.
It's also high in vitamin K, vitamin A,
potassium, and calcium.
The bright red stalks come from high concentrations of anthocyanins which have anti-inflammatory and anti-viral properties. Rhubarb is high in fiber, low in fat, and calories too.
Rhubarb is very easy to grow and ideally suited for Canadian gardens. Rarely bothered by insects or disease, rhubarb is winter hardy to -40°C (-40°F) Zone 3. Like many perennials, it lies dormant in the winter and returns each spring year after year but with a more plentiful harvest.
Purchase roots from your favorite garden centre in early spring. Look for these varieties for the home garden – Canada Red, Crimson Red, MacDonald Red, Strawberry Red, Valentine and German Wine.
Planting rhubarb is easy: choose a full sun or partially shaded location with well-draining soil. If you have more than 1 root to plant, space them about 60-90 cm (24-36") apart. Dig extra-large holes and mix in compost, well-rotted manure or organic fertilizers. Plant the roots so that the crown sits 5 cm (2") below the soil's surface. Firm the soil around the roots, but keep it loose when covering the crown. Water thoroughly, and if Mother Nature doesn't bring rain, keep the soil moist. Your rhubarb plant should show signs of growth within 2 weeks.
It's best to let plants establish and wait until the second season to harvest stalks, but If you can't wait for that first taste of homegrown rhubarb pick only a few stalks during the first year of growth.
When harvesting, remove the leaves from the stalks immediately and wash well.
Rhubarb stalks are a fresh sweet and tangy treat, but the leaves contain oxalic acid which is toxic, so trim and discard them before cooking with this vegetable. Rhubarb that has been damaged by a cold snap and suffered frostbite should not be eaten as oxalic acid may have leached from the leaves into the stalks. If this happens, cut the plants all the way back and wait for new growth.
If you have young children, teach them to eat only the rhubarb stalks, preferably those that have been washed and trimmed by an adult.
You can freeze Rhubarb: wash the stalks well and dry, cut them up into chunks and freeze them on a cookie sheet for approximately 1 hour. Then measure the chunks into bags and store long term in your freezer. Frozen rhubarb can be used in baking pies, pastries, breads, and your morning smoothie.