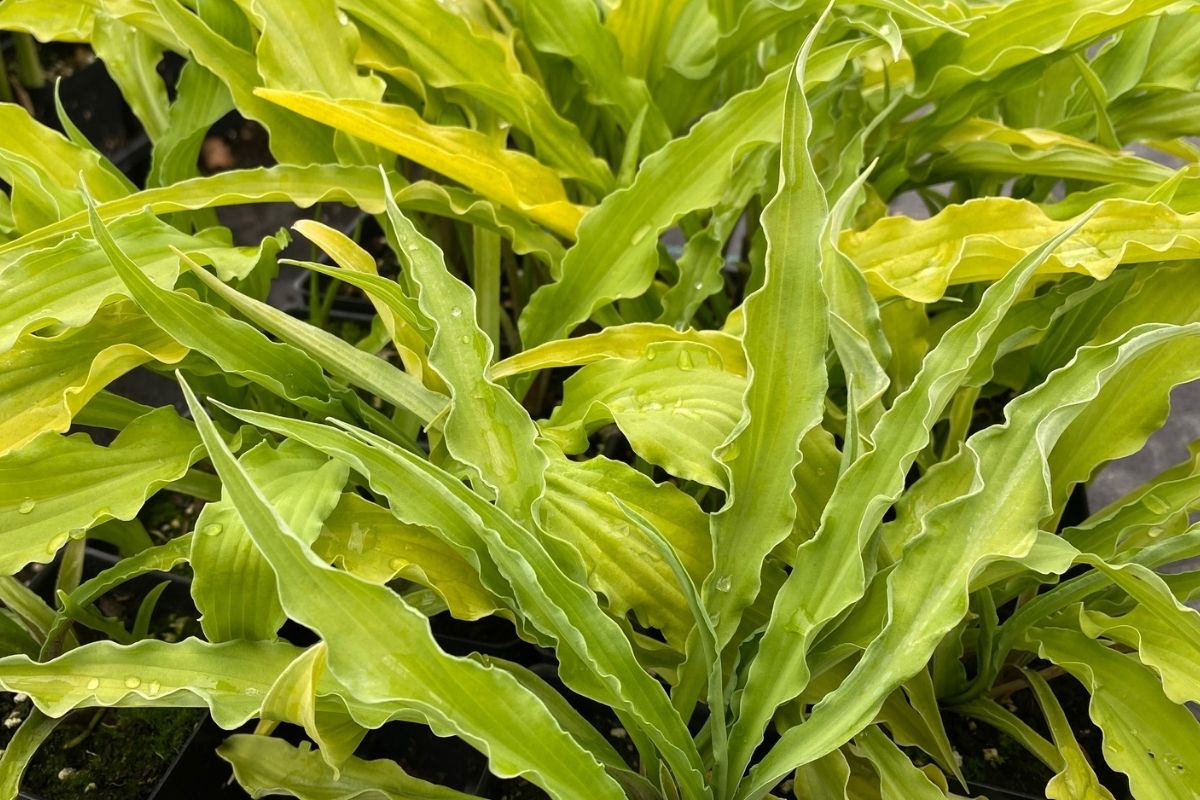 Hosta of the Year 2016 – 'Curly Fries'
Salad or fries? These days I'm inclined to have the fries – Hosta 'Curly Fries' that is!
Hosta Curly Fries is dwarf sized, only 15 cm (6") in height, and …
ideal for growing in containers or tucking into spaces near the front of the border. If you're looking to build form and texture into the garden, Curly Fries has loads of it with stiff narrow and rippled leaf blades. Each strap-like leaf is only about an inch wide, but the foliage has great substance offering more resistance to slugs and pests than many other small hostas.
In early spring, Hosta Curly Fries emerges chartreuse, but as the season progresses the leaves turn golden and then mature to creamy yellow. Plants that receive morning sun and afternoon shade will develop the best foliage colours.
Planted in the ground, Curly Fries establishes a clump about 40 cm /16" in width. It takes on a different appearance when given a bit more room: the width of the leaf blade increases and the waviness or rippled effect decreases. At the plant's base where the leaves emerge, red speckled petioles develop. In midsummer, Curly Fries has lavender blooms topping reddish purple stems. Many hosta gardeners trim away the flowers, but leaving them may attract hummingbirds.  Hardy to -40 °C (-40 °F) USDA Zone 3, this hosta is well suited for all the major growing regions across Canada.
Curly Fries pairs well with other Hostas, complimenting varieties with bright blue in the foliage such as 'First Frost,' and 'Touch of Class.' Other great plant companions include Heucheras, Dicentra, and Astilbes.