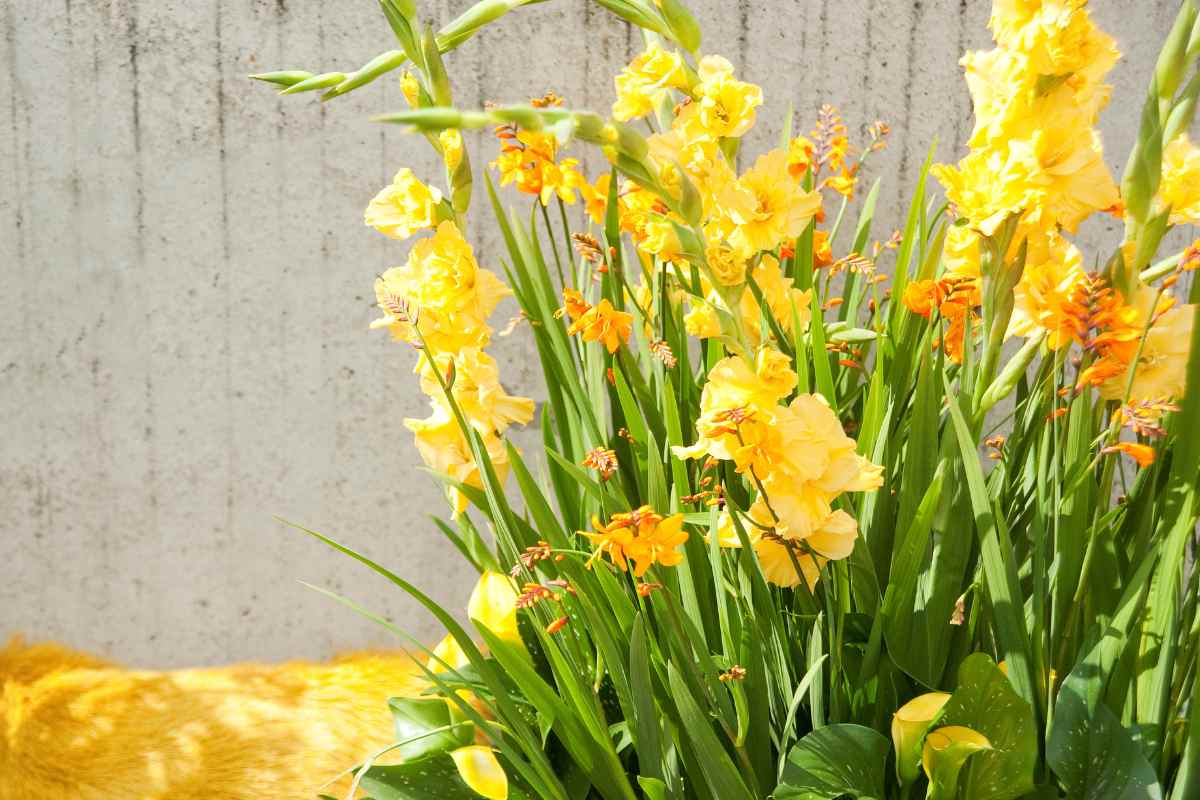 How to Add Summer Sunshine to the Garden
With summer comes bright sunshine, warm days, and fantastic garden colour. During the summer you see the bright colour yellow all around. From the radiant morning sun to stunning sunsets, shades of vibrant yellow appear in the garden. Yellow pops in a garden landscape!
Heliopsis Burning Hearts (False Sunflower)
What's summer without sunflowers? Add bright sunny yellow and orange blooms to the garden with Heliopsis Burning Hearts. Plant heliopsis and every year you will have vibrant blooms on display atop 120 cm (48") tall stems. Blooming from July straight through until October, you will have a burst of smouldering summer sunshine in your garden! It will seem like a never-ending display of blooms. Make sure to grab your cutters to collect some blooms for summer bouquets. The bright yellow and orange petals will attract birds, butterflies, and bees. Perfect for a pollinator garden! This hardy and easy-to-grow perennial is drought tolerant once established, which is perfect for those hot summer months. An excellent deer-resistant variety, Burning Hearts is hardy to zone 3.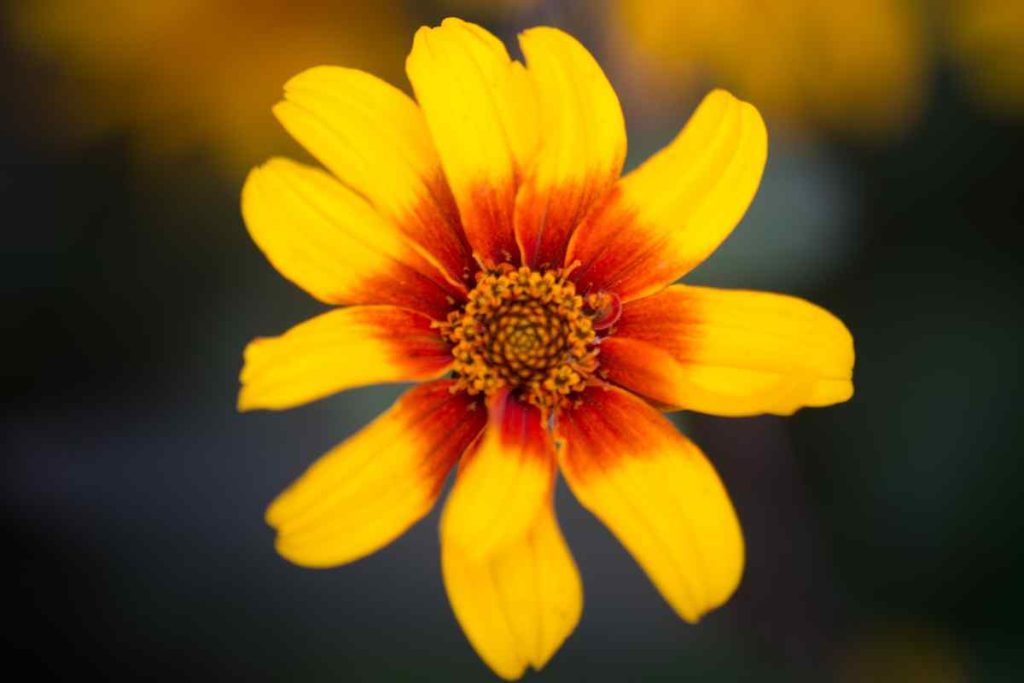 Hemerocallis Happy Returns (Daylily)
Add continual summer colour to your garden with Hemerocallis Happy Returns. This perennial will be a delight in your garden from June to September. A reblooming daylily, Happy Returns will send up a flush of yellow, crimped-edged blooms from 2-5 times each summer! This extremely fragrant Hemerocallis features 3" blooms which will be perfect for cutting and bringing inside. Its bright yellow blooms are very attractive to butterflies and hummingbirds. Often referred to as a perfect perennial due to its drought tolerance, ability to grow in most zones, and low care requirements. Growing to a height of 45 cm (18") Happy Returns is an excellent variety for planting in mixed borders, as ground cover, or in containers. Hardy to zone 2.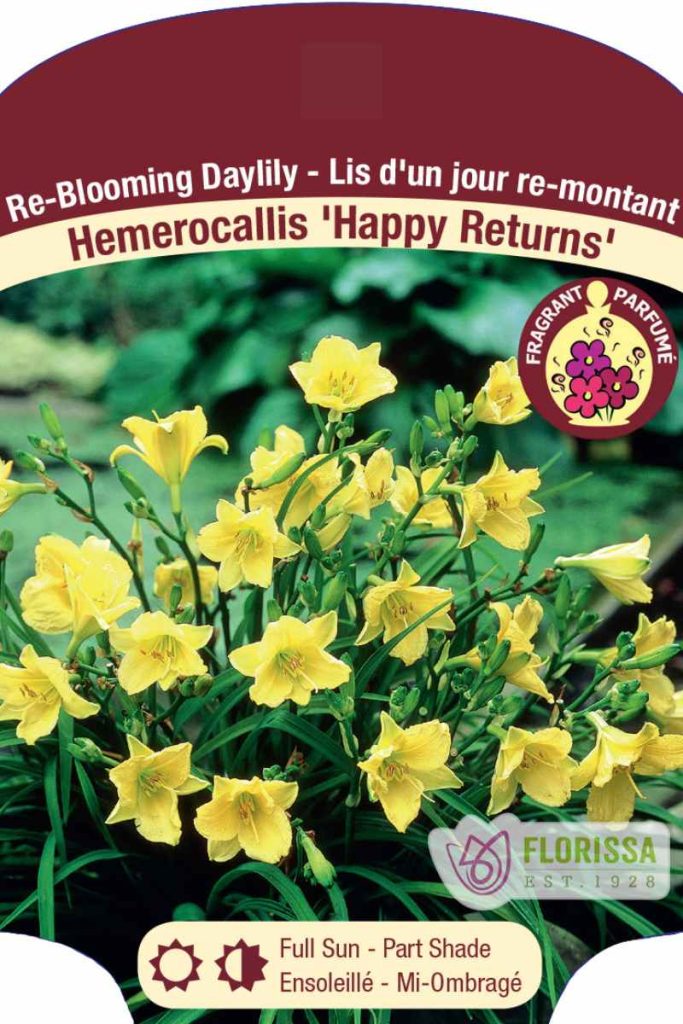 Lilium OT Outback
Lilies are a popular summer flower. Easy to grow, these perennials will give you years of gorgeous blooms. Lily Outback is a garden giant, growing to a stunning 120 cm (48"). Dazzling yellow flowers will be on display in the garden in the height of the summer months, in July and August. Often referred to as lily trees, Oriental x Trumpet Hybrid lilies boast huge blooms with a double dose of fragrance and very sturdy stems. Make sure to have your camera ready when these amazing blooms appear in the garden! Hardy to zone 3. Read more about planting and caring for lilies.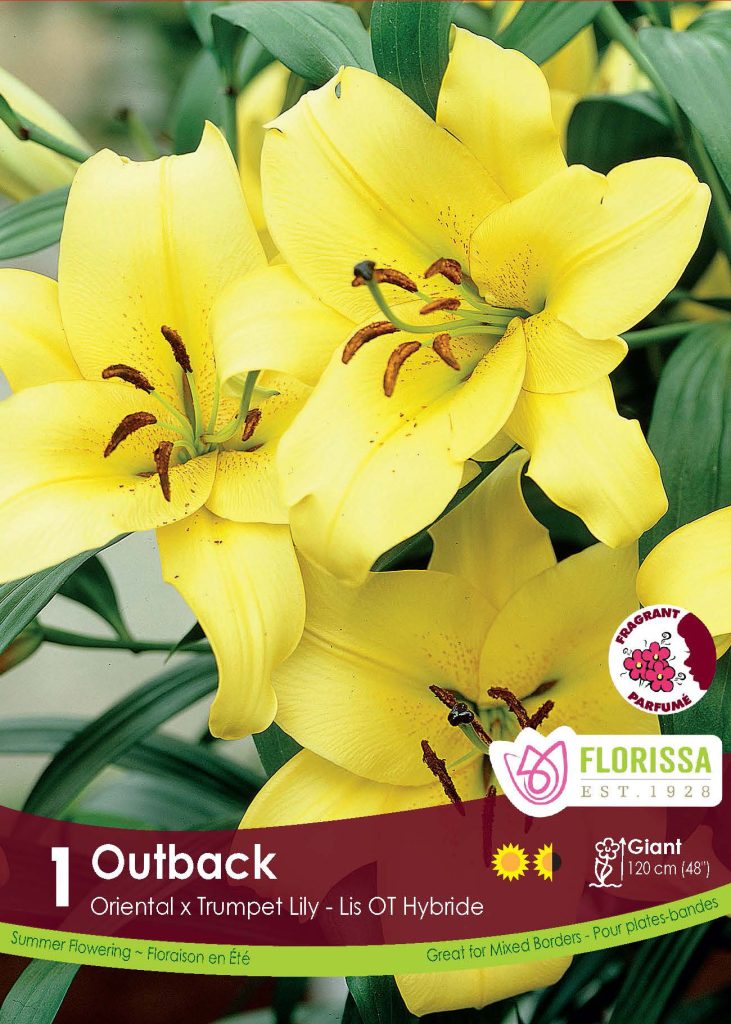 Dahlia Kelvin Floodlight
This lush dahlia produces masses of 10" blooms. It's a showstopper! As a reblooming variety, you will have Dahlia Kelvin Floodlight gracing your garden from July through to October. At a height of 90 cm (36"), this giant dinnerplate dahlia is a garden focal point. Dinnerplate dahlias create a big wow factor in the garden. These huge yellow blooms will appear as bright orbs of sunshine in the garden. Excellent for fresh-cut flower bouquets. Plant in garden beds for a sunny summer showcase! Please note dahlias are not winter-hardy, so be sure to dig and store your tubers over the winter months. For more information on growing and caring for dahlias, check out our helpful blog.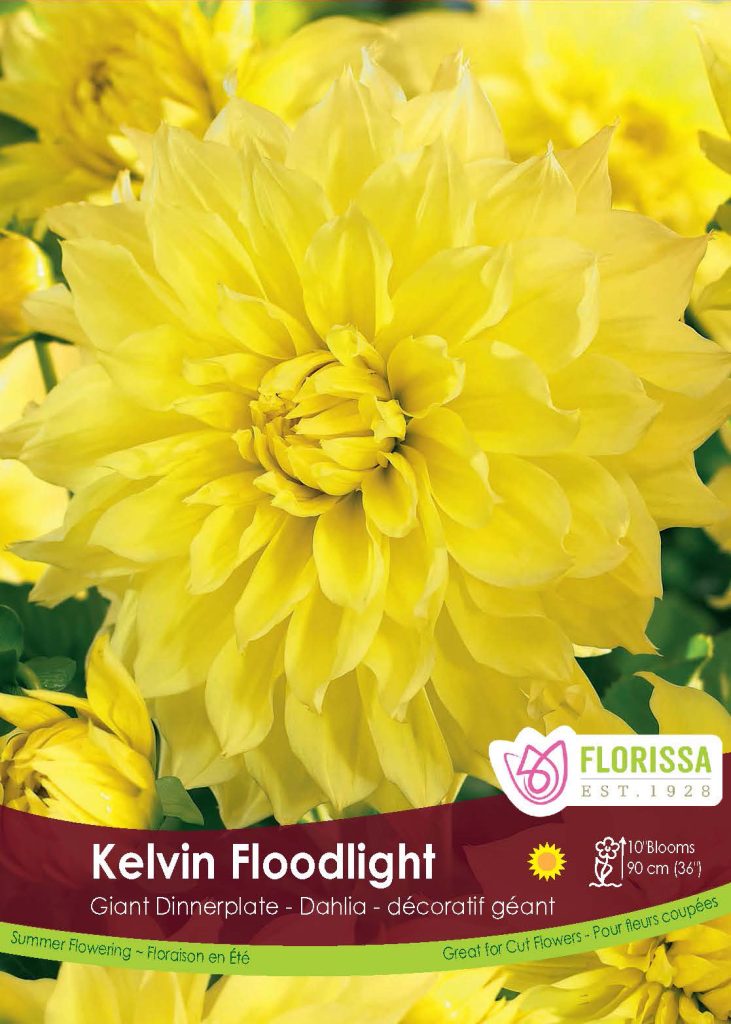 Paeonia Bartzella
Peonies are a garden favourite. Lasting for decades in the garden, this perennial is drought tolerant once established, deer resistant and low maintenance. Itoh peonies are unique hybrids that are a cross of Herbaceous and Tree Peonies. Peony Bartzella has amazing huge 9" yellow blooms. With an above-average blooming ability, a mature Bartzella plant produces up to 50 blooms from May through to July!  Growing to 120 cm (48") tall and hardy to zone 4, this Itoh peony also boasts a lovely lemon scent. Bartzella is a recipient of the highest award a Paeonia cultivar can receive in the American Paeonia Society. It is given to recognize exceptional qualities of beauty, strong stems, and dependable performance. A true gardener's delight.  Check out more information on growing peonies.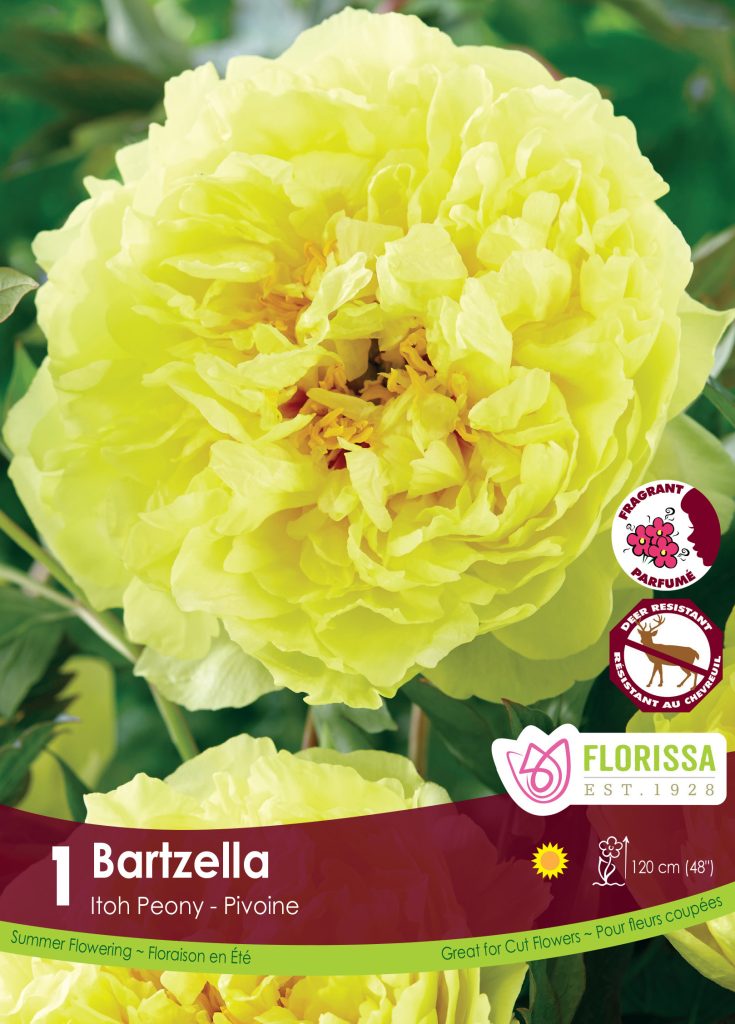 Calla Summer Sun (Zantedeschia)
Aptly named, Calla Summer Sun shines bright. This reblooming calla loves containers and being in waterside areas of your garden. With long-lasting blooms, you will love this stunning yellow variety gracing your garden from June through to September. Also known as Zantedeschia, Calla lilies originate from South Africa and are superb summer bulbs. Summer Sun grows to a height of 40 cm (16") and loves well-draining soil. This is a perfect choice for summer cut flowers. Remember in the fall to dig and store your bulbs through the winter, as they are not winter hardy in most Canadian gardens.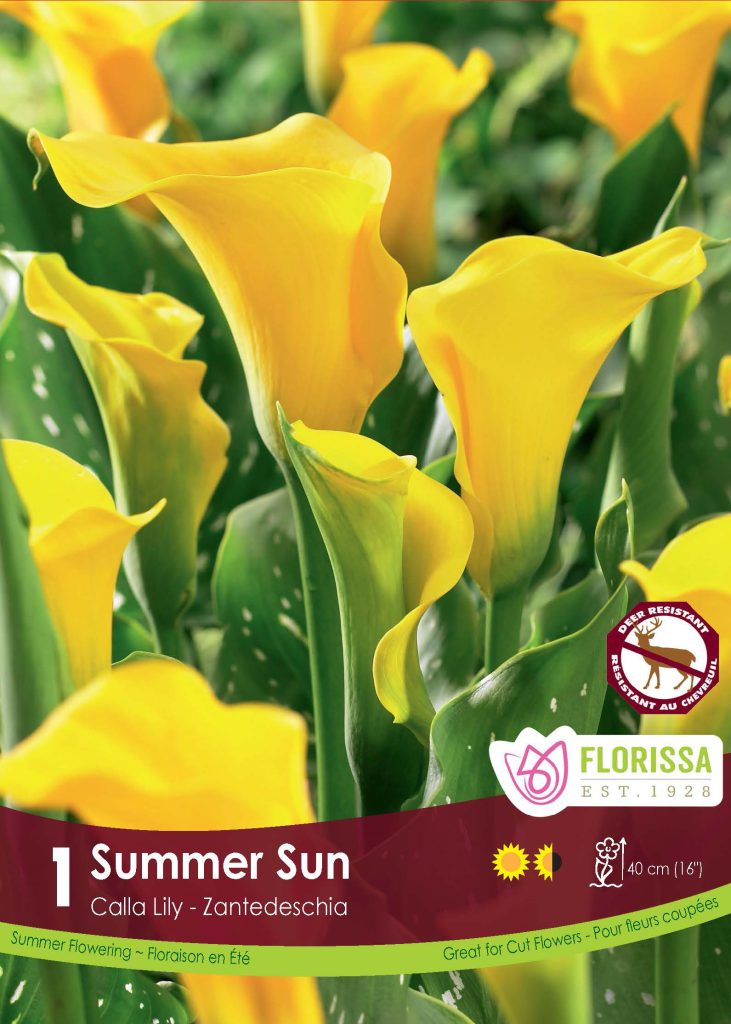 Crocosmia George Davidson (Montbretia)
Add attractive foliage and flowers to the summer garden. Crocosmia George Davidson showcases upright sword-shaped leaves. The bloom sprays of orange buds, which burst open to show off bright golden yellow flowers. This extremely reliable variety grows to 45 cm (18") tall and blooms from July through September. Perfect for planting in mixed borders, or containers. Want to attract pollinators to your garden? George Davidson is a magnet for bees, butterflies, and other garden friends needed for a fertile garden. Plant in full sun, in clumps of 12 or more for maximum visual impact. Grab your cutters for this variety as well, as it is a perfect variety for cut flower bouquets. George Davidson will last for up to 2 weeks in a vase! This deer-resistant variety is hardy to zone 4.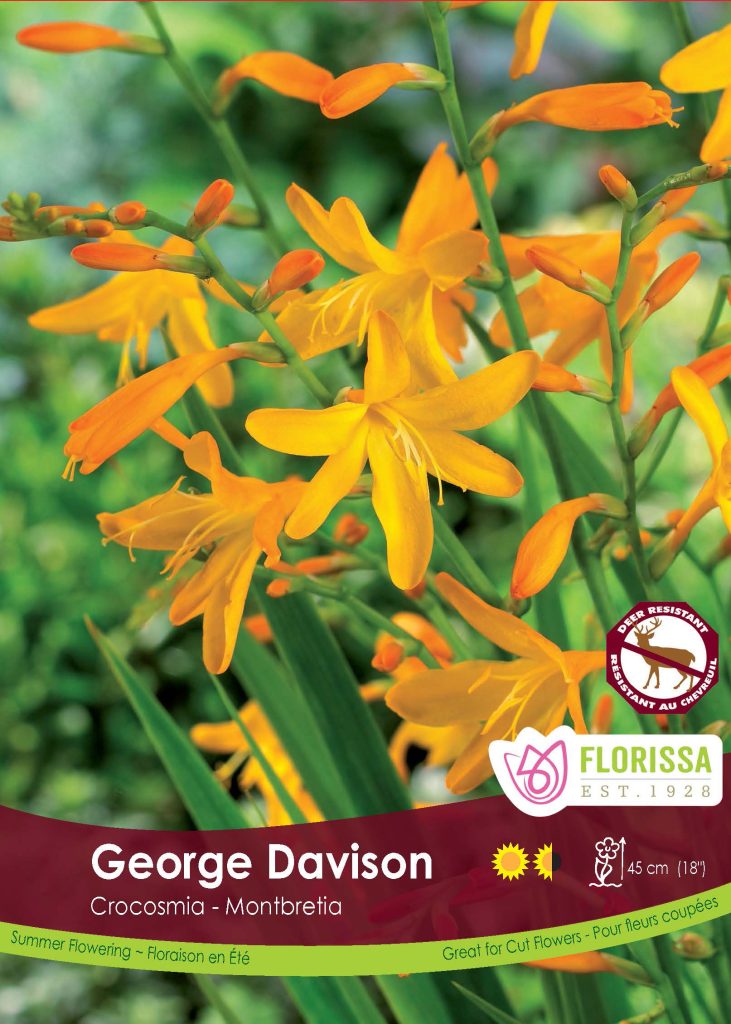 This summer, add bright pops of yellow to the garden. Make your garden shine with the colours of the summer sun!