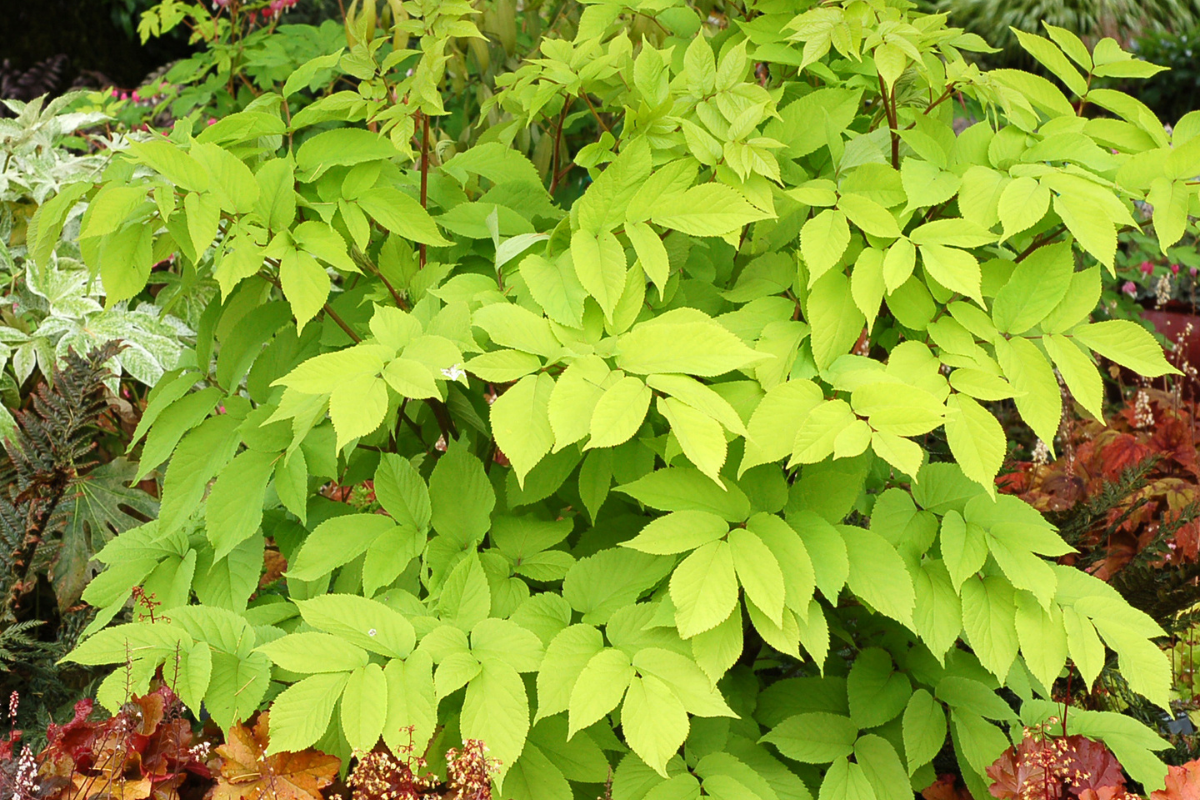 The Newest Hosta and Perennial of the Year!
Looking for Something New for Your Garden?
Every year two outstanding perennials are showcased in the world of horticulture. This year, Hosta 'Dancing Queen' wins the title of Hosta of the Year, and Aralia 'Sun King' is honored with the award of Perennial of the Year. These two varieties are exceedingly worthy of these accolades.
Aralia cordata 'Sun King'
'Sun King' is a Japanese Spikenard that grows to an impressive 150 cm (60") both high and wide. 'Sun King' is perfect if you are looking to add some bright and contrasting shades of green to your garden. Its golden green foliage stands out in contrast to its reddish-brown stems. The green leaves brighten to yellow in part sun, while the leaves are more chartreuse or lime green when in full shade. After showcasing tiny white flowers from July through September, Aralia 'Sun King' produces deep purplish black non-edible berries. Honeybees are attracted to the 'Sun King', while deer will keep a wide birth and leave this precious perennial alone.
Hosta 'Dancing Queen'
Have some fun and let loose with this rippled and fluid-like hosta. The leaves dance as they circle and intertwine, creating a dynamic showpiece for your garden. 'Dancing Queen' grows to a height of 70 cm (28") and has a spread of 75 cm (30"). This hosta displays large bright yellow leaves all season long with a unique pie crust edging.
Both 'Sun King' and 'Dancing Queen' thrive in mixed borders, and work well together for your garden.
Looking for other great hostas and perennials? Try some previous winners of Hosta of the Year or Perennial of the Year; Stachys 'Hummelo', Baptisia australis 'Blue False Indigo', Hosta 'Lakeside Paisley Print' or Hosta 'World Cup'.