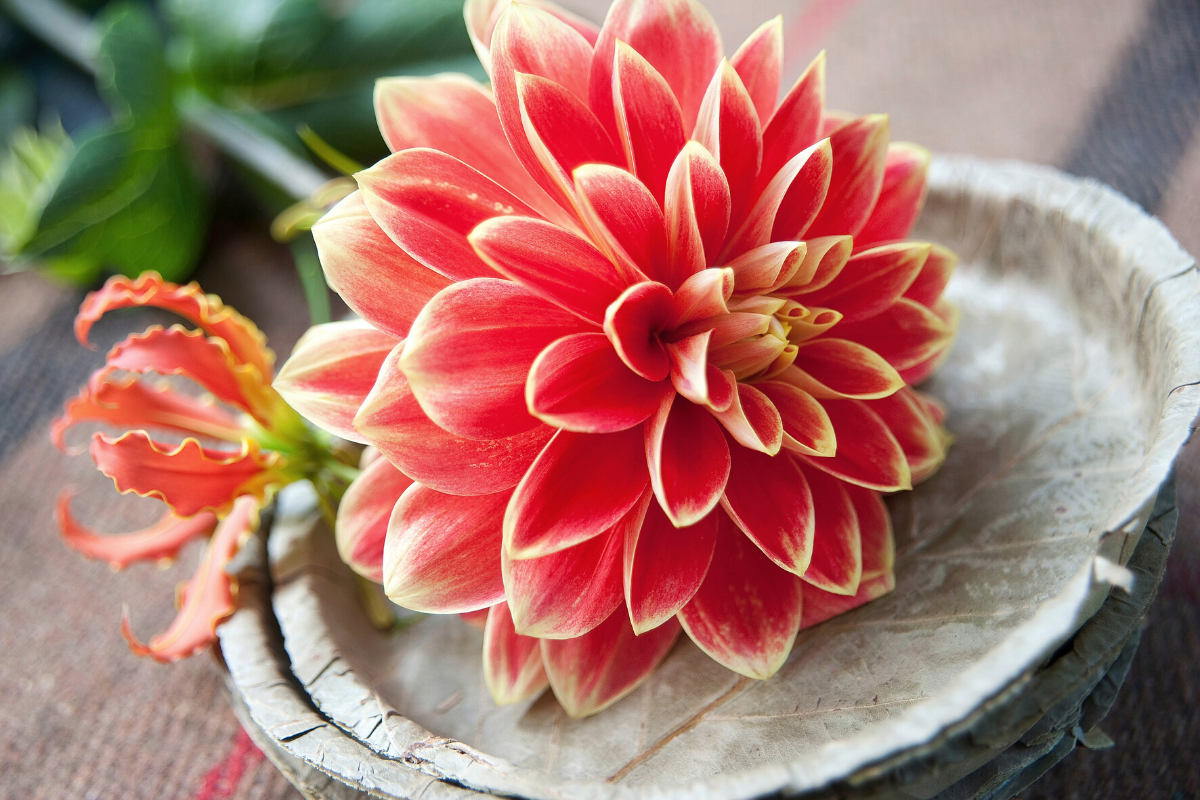 New Summer Blooms!
Exciting new varieties from Florissa coming soon to a garden centre near you! We have beautiful new Colourful Companions that pair complementary with varieties in your garden. In addition, we have a gorgeous range of dahlias, lilies, and also fruit! Experience amazing blooms from summer through fall.
Summer Fiesta
Summer Fiesta is Florissa's Choice of the Year. This bright and bold decorative dahlia mix will be a stunner this summer in your garden creating a festival of colour. Boasting 18 cm (7") blooms, 'Summer Fiesta' grows to a height of 90 cm (36") and loves full sun. 'Summer Fiesta' is a celebration of vibrant yellows and ruby reds which are excellent in combination with other flowers and foliage in your garden. Perfect for arrangements, as the more flowers you cut, the more they produce.
Grace and Glory
Grace and Glory is a romantic scented cut flower trio. This Colourful Companion is a soft mix of Phlox and Lysimachia. The sweet-scented bright pink and pure white Phlox are dreamy companions for Lysimachia's slender arching white spikes often compared to the bend of a goose or swan's neck. Growing up to 80 cm (32") they love full sun and bloom year after year! Grace your garden and home with the glory of this Colourful Companion.
Dahlia Spartacus
If there was only one word to describe this Dahlia it would be WOW! With strength and power, Spartacus grows huge 20 cm (8") blooms. This dinnerplate Dahlia grows to a height of 90 cm (36") and is excellent for full sun locations. This intensely deep red dahlia will forge dynamic contrast to your garden and cut flower bouquets.
Lily Captain Tricolore
Aye Aye Captain! Follow us and add this stunner to your summer garden! Captain Tricolore is a soft mix blending from a silky yellow centre, to white and out to a soft rose pink on the petal tips.  Flowering in August, Captain Tricolore has huge fragrant blooms and grows to an impressive height of 120 cm (48"). Great for cut flowers or to simply adore in your full-to-part sun garden space.
Groundcover Raspberries Anna and Valentina
This season we are excited to announce the arrival of two varieties of groundcover raspberries! Anna and Valentina are low both growing and thornless. They uniquely produce aromatic lilac blooms in mid summer which grow into sweet berries in late summer. Growing to a height of 12 cm (5") these raspberries love the full sun of summer.
Visit your local garden centre this spring to pick up these and other Florissa summer flowering varieties. Create the garden of your dreams with dahlias, lilies, gladiolus and more. Add beautiful colours, sweet scents, and even delicious flavours to your outdoor space this year. To find a retailer near you, contact us at https://www.florissa.com/find-florissa-retailer/.