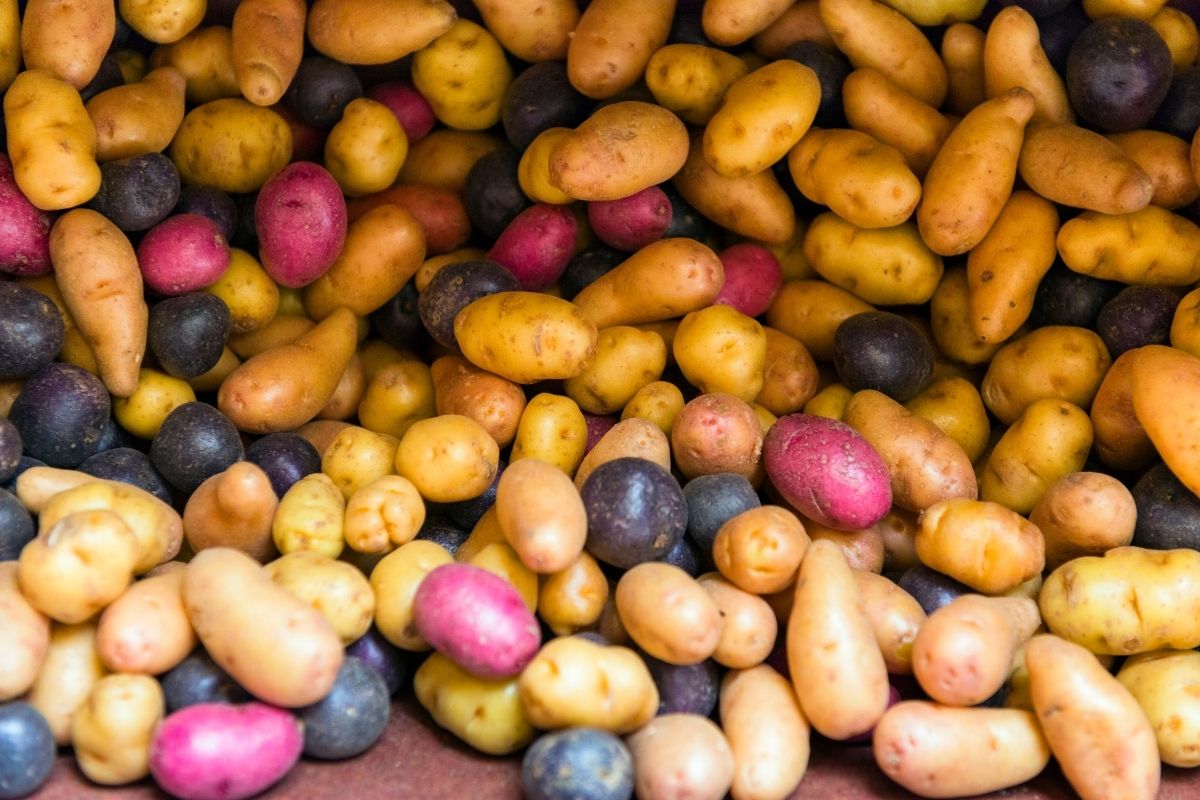 Home and Urban Gardens: Gourmet Potatoes
Nothing satisfies the palate more than the flavour of new potatoes dug fresh from the garden. Check out these fabulous gourmet varieties that are ideal for the home and urban gardener. Whether you're baking, roasting, grilling, steaming, frying, or chipping, there's a potato for every use in your kitchen.
Amarosa
A mid-season fingerling with smooth red skin and red flesh, so much so that it looks like pepperoni when sliced raw. AmaRosa retains its color when cooked – even chipped, this variety resists fading. It has high culinary attributes, tasting creamy and sweet. It's great for baking, roasting, and grilling. A prolific bearer, expect high yields, as many as 30 potatoes per plant. When harvesting handle tubers gently to prevent damage to the skins. AmaRosa stores well – up to 145 days – but who's counting? They'll be eaten up much sooner.
Marilyn
Developed in Europe for gourmet markets, Marilyn is a rising star among fine chefs. A mid to late-season fingerling with smooth, clear yellow waxy skin and light yellow flesh. Long oval tubers are very consistent in shape and medium-sized. Marilyn is a perfect choice for salads with its firm texture and wonderful sweet buttery taste. It is ideal for boiling, steaming or roasting. Easy to grow, Marilyn produces high yields and is excellent for storing. Make this the variety for your next potato salad party.
Prince of Orange
A relatively new potato on the gourmet market, Prince of Orange has smooth dark red skin and beautiful dark yellow flesh. A late-season harvest produces oval to long-shaped tubers of medium to large size for a fingerling. High-yielding, Prince of Orange has outstanding culinary attributes and a delicious creamy buttery taste. Versatile in the kitchen, it's great for boiling, steaming, roasting, grilling, and frying.
Violet Queen
There are thousands of potato varieties and not all of them look like your average potato. Violet Queen is a specialty potato with deep purple skin and flesh based on ancient Peruvian varieties. It smells sweet like red beets when cooked and tastes great. High in antioxidants, Violet Queen retains its color through cooking and is great for boiling, steaming, and baking. Violet Queen produces high yields of oval-shaped tubers early to mid-season. Let your garden be creative and fun for the whole family and bring something new to your table.
Harvest
Harvest potatoes after they flower, usually about 7-8 weeks after planting for young "new" potatoes. Simply turn the bag on its side and dump out the contents. Sift through the soil gently to uncover potatoes without damaging the skins. Allow the tubers to dry indoors covered with a towel (to prevent them from greening) for a day or two. You can also wait to harvest in late summer when the foliage begins to yellow and wither for full-size tubers.