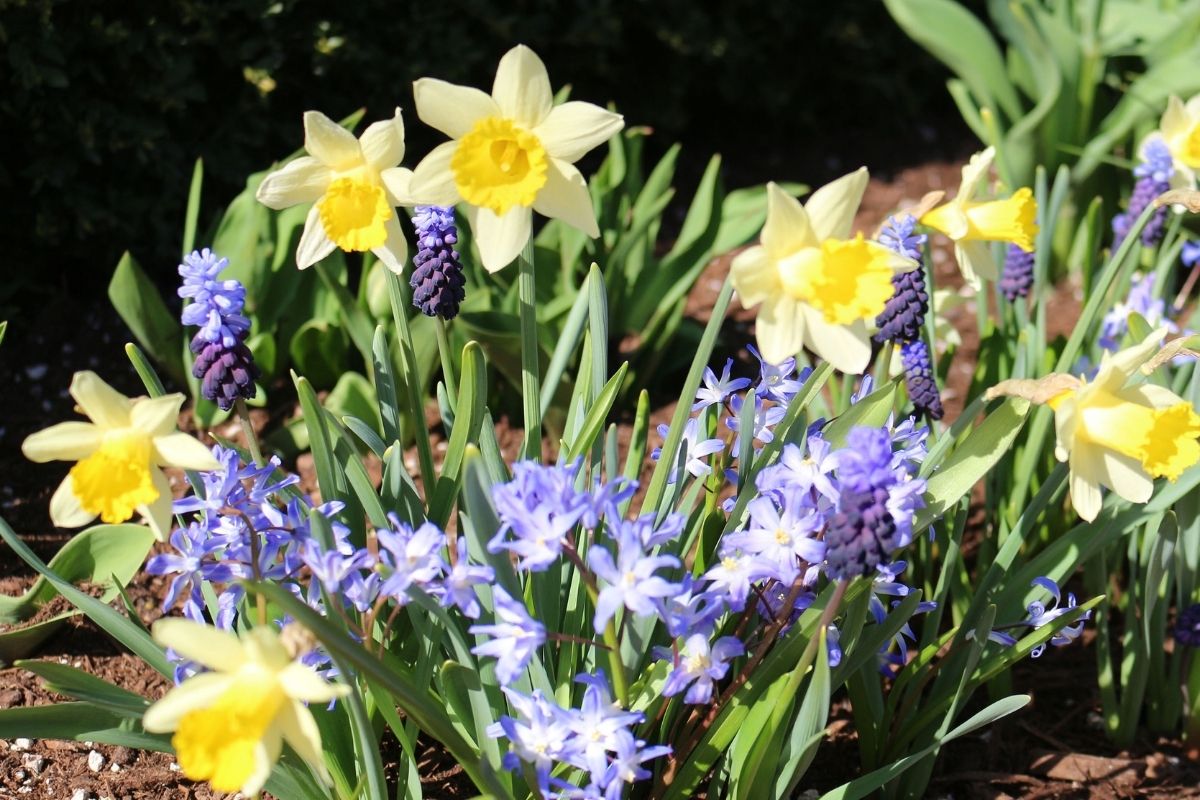 Florissa's Choice for Fall: Spring Cheer (for a spring garden!)
As late summer turns towards fall's glorious colour, the time to plant spring flowering bulbs arrives. It's never too early to plan your spring garden, especially when Florissa makes it easy with the introduction of these spectacular new Colourful Companions.
Spring Cheer
We're all longing for colour at winter's end, and Spring Cheer blooms in uplifting shades of blue skies and sunshine. These early to mid-spring bloomers are ideal for containers and mixed borders. No matter where you plant Spring Cheer, you're sure to be delighted. All of these bulbs easily naturalize in the garden, which means they'll come back year after year. They're deer resistant too!
Narcissus Topolino, a fragrant miniature daffodil, features creamy white pointed petals and a gorgeous yellow trumpet with a ruffled edge. Chionodoxa Forbesii, also known as Glory of the Snow, has lovely sky blue and white starry flowers that are always lookin' up. Muscari latifolium's two-toned blooms of navy blue with light blue tufts are sweetly fragrant and adored by early foraging bees. All are compact, growing 15-25 cm (6-10") tall. Hardy to Zone 3.
Spring Cheer is Florissa's Choice for Fall 2017, so make yourself happy and pick up one or more packages. Plant it throughout the garden and spread the cheer. It's simply a "must-have" for a spring garden. Make cheer a part of your spring garden!
Ballroom Blitz
Imagine tulips dancing the flamenco in skirts of deep magenta pink and amethyst purple. Their flared and pointed petals with feathery brushstrokes of dark green intermingle as the passion of the dance soars. Just like the fiery stomping footwork and twirling skirts of flamenco, Ballroom Blitz makes for a dramatic, vibrant showcase in your garden. It'll capture attention and take centre stage even when placed in a corner. Lily flowering tulips bloom in late spring and Ballroom Blitz is well worth your anticipation, as the flowers are long-lasting, for three weeks. Grows to 45 cm (18") tall. Hardy to Zone 3.