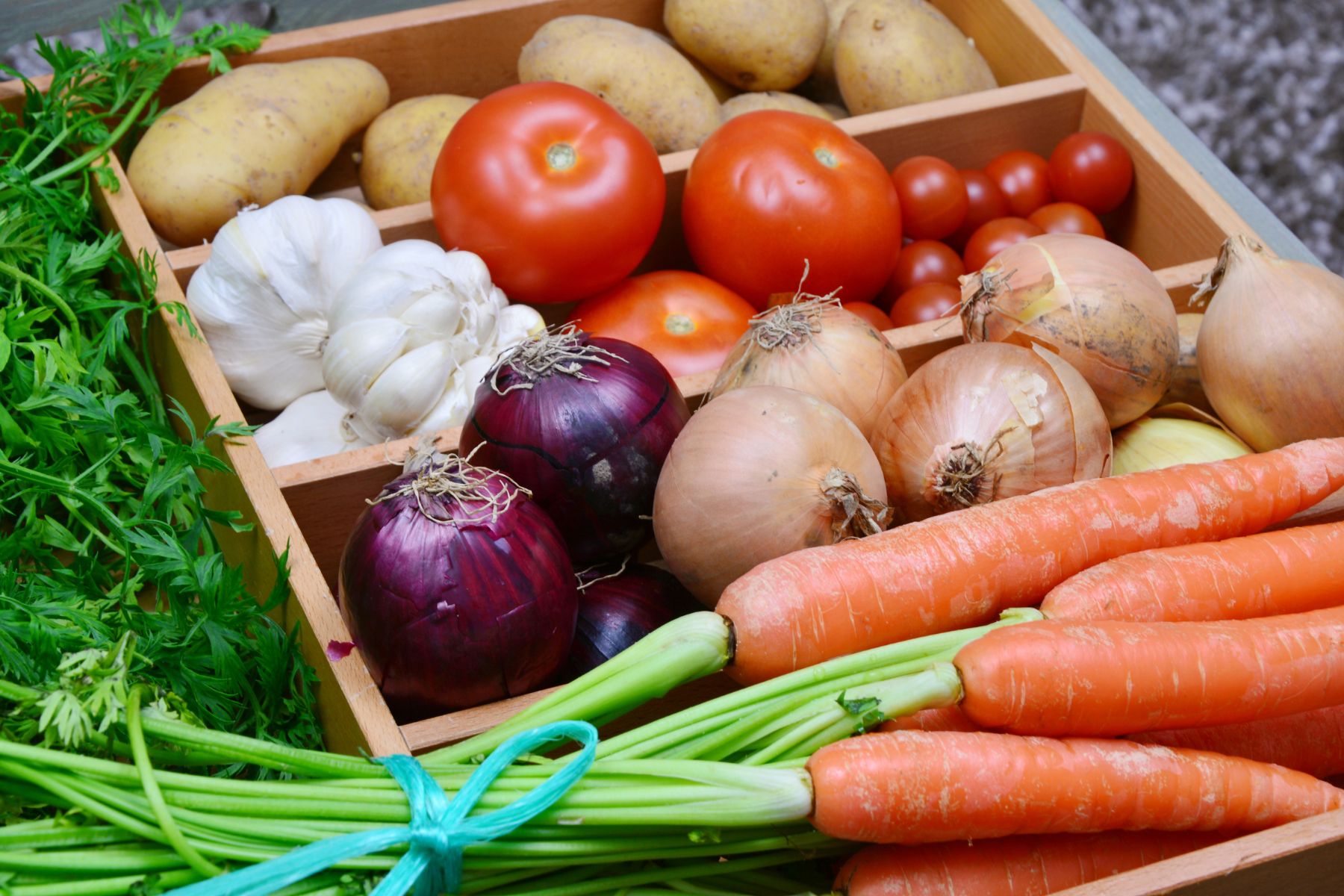 Farm to Table Eating: Recipes for Your Garden Harvest
What does farm-to-table eating mean? Farm to table is prioritizing where your food is grown and making sure items are sourced directly from local farms – or in this case, your backyard! If you have ever grown your own potatoes, onions, garlic, zucchini, carrots, or other vegetables, you know that it is much more economical than purchasing at the grocery mart. We could always do with a little more money left in our pockets, as vegetable prices have been increasing steadily. In addition, the flavour of homegrown vegetables and fruit is far superior. You can also control the amount (or lack) of chemicals and sprays in your garden.
Farmer's Markets
If your space does not allow for a large garden, we suggest visiting a local farmer's market. On your weekends, pick up fresh local produce to supplement what you are already growing. This will allow you to still have delicious fresh local vegetables and fruit while supporting the farmers and small growers in your area. Farmers markets are also great places to pick up meats, canned foods, and preserves to serve with your fresh local produce to ensure the entirety of your plate is locally sourced.
From Your Garden
There are some very easy vegetables to plant that have extremely productive yields. Among them are potatoes, onions, garlic, and rhubarb. Whether you are in the mood for a main dish, appetizer or dessert, the options are endless with these versatile and popular vegetables.
A Simple Garlic Recipe
Garlic is a kitchen favourite. It adds plenty of depth and flavour to meals. But what about canning garlic for spreads and seasoning? Garlic confit is an easy-to-make preserve that can be used to flavour soups, sauces, pasta, mashed potatoes and more! I love it mashed onto a baguette as a delicious garlic spread! It makes for an amazing appetizer. If you are like me, I always plant an abundance of garlic. This recipe is perfect for harvesting high yields, as you can prepare it and then store it for up to 4 months!
For a nice mild and sweet garlic spread, I use Chesnok Red, but when I want to kick up the spice, I use German Red, Metechi or Russian Red. Try Legacy or Music if you are looking for something in between.
Garlic Confit
www.foodandwine.com/recipes/garlic-confit
Ingredients:
6 heads of garlic, cloves peeled (2 cups)
6 thyme sprigs
3 small bay leaves
3 dried red chiles, such as chiles de arbol
2 cups pure olive oil
Directions:
Combine all the ingredients in a medium saucepan and simmer over low heat until the garlic is tender but not browned, about 30 minutes. Let cool.
Using a slotted spoon, transfer the garlic, herbs and chiles to three 1/2-pint canning jars. Pour the cooking oil on top, seal and refrigerate for up to 4 months.
Using Your Bounty of Potatoes and Onions
I love to plant potatoes. There are so many benefits to growing potatoes. I love how many varieties I can plant, the yields are amazing, and they are so versatile! I have found uses for them for breakfast, lunch, and dinner. Likewise, onions are amazing producers. They are the flavour adders to the cooking world. Where would we be without this amazing veggie? It's great to add red, white, and yellow onions to so many dishes. Below is one of my all-time favourite recipes using potatoes and onions!
French onion soup is classic comfort food. With its caramelized onions, warm broth, and gooey cheese, this is a popular dish. A great spin on this traditional classic is this delicious recipe for French Onion Baked Potatoes. On a crisp fall or winter evening, these potatoes are a perfect side dish for a nice roast dinner. You can use both your homegrown potatoes and onions in this delicious recipe. Pacific Russet is a perfect potato for this recipe – and it's a potato with a very high yield too! For the onions, I like to use Stuttgart Yellow. It has a great full flavour that is tangy and sweet, perfect for sautéing and caramelizing. Making French Onion Baked Potatoes is great for using your large yield of potatoes and onions from your garden.
French Onion Baked Potatoes
www.delish.com/cooking/recipe-ideas/
Ingredients
6 russet potatoes, scrubbed
Extra-virgin olive oil
Kosher salt
Freshly ground black pepper
For the Soup
2 tbsp. butter
2 medium onions, thinly sliced
2 sprigs thyme, plus more for garnish
1/4 c. red wine (I like to use Pinot Noir)
1/4 c. flour
2 garlic cloves, minced (German White is a great variety in this recipe, with its smooth bold flavour)
2 c. beef broth
6 slices Gruyere cheese
Directions
Preheat the oven to 350° and line a small baking sheet with parchment paper. Pierce potatoes all over with a fork. Rub with oil and season generously with salt and pepper.
Bake until potatoes are easily pierced with a fork, 1 hour to 1 hour 30 minutes.
Meanwhile, make onion soup filling: In a large pot over medium heat, melt butter. When melted, add onions and thyme and season with salt and pepper. Cook, stirring occasionally, until onions are soft and caramelized, about 20 minutes.
Remove thyme and add wine. Bring to a simmer and cook until wine is mostly evaporated. Add in flour and garlic and cook until garlic is fragrant, about 2-3 minutes. Add in broth and bring to a simmer. Let simmer until thickened slightly, 5 minutes. Season with more salt and pepper to taste.
When potatoes are tender, cut a slit lengthwise on the top of the potato, then press the ends together to create an opening. Spoon soup into each potato and top with a slice of gruyere. Place on a prepared baking sheet and bake until cheese is melted. If you would like more colour, broil on high for 1 minute. Garnish with more thyme sprigs, serve and enjoy!
Rhubarb
Rhubarb is a great summer crop due to its high performance and great versatility for desserts! There's a wide range of different varieties of rhubarb you can plant. A good tart rhubarb to use is Holsteiner Blut. It's a vigorous variety with long, deep red stalks and flesh. I love how great this flavour performs in my desserts. If you prefer a sweeter taste, try Strawberry Red. It has nice tender and sweet rose-pink stalks. As an added bonus, Strawberry Red is never stringy. One of the most popular varieties however is Victoria. With thick red and green stalks, its flavour is right in the middle with a sweet and slightly tart taste. All three of these varieties perform well in desserts.
Rhubarb Drop Scones
www.tablespoon.com/recipes/rhubarb-drop-scones/
Ingredients
2¾ cups all-purpose flour
¼ cup sugar
1 tablespoon baking powder
1 teaspoon baking soda
1½ sticks cold, unsalted butter, cut into 1/4-inch cubes
1 cup chopped fresh or frozen and thawed rhubarb
¾ cup buttermilk
Directions
Preheat the oven to 375°F
In the bowl of a stand mixer, combine flour, sugar, baking powder and baking soda.
While the mixer is on medium speed, slowly add butter and mix until the mixture resembles a coarse meal.
On a low speed, mix in rhubarb and buttermilk and mix until just combined.
Using two spoons or an ice cream scoop, scoop out generous pieces of the dough and place them on a parchment-paper lined baking sheet, spacing them about 1 inch apart. You should end up with about 12 scones.
Bake scones for about 25-30 minutes, or until a light golden brown. Allow to cool slightly on a cooling rack before serving.
If you are looking for great ways to use your homegrown fruit and vegetables, there are so many tasty options. I hope you try out our favourite recipes above (my personal favourite is the French Onion Baked Potatoes). So, harvest your veggies and bring the bounty of your garden into the kitchen for amazing meals!
For information on where to find Florissa products near you, please inquire on our Find a Retailer page.