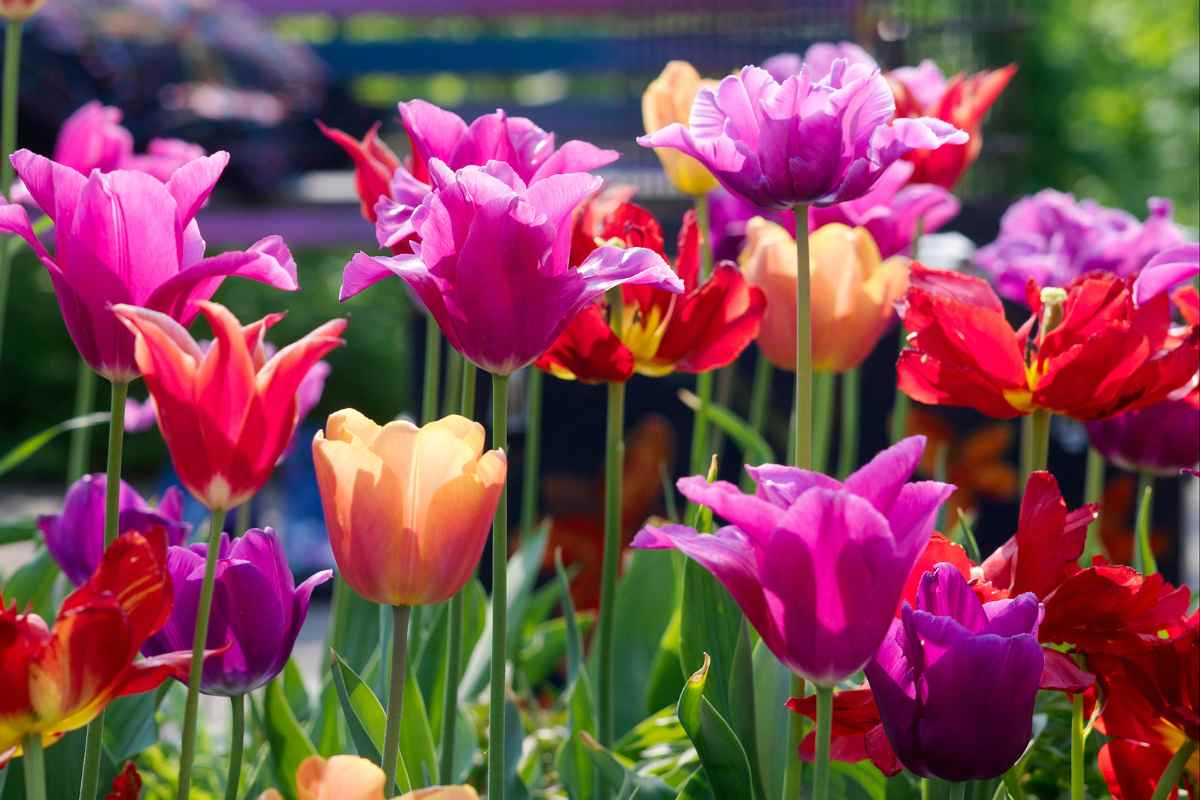 Fabulous New Fall Varieties for Your Spring Garden!
Nothing says spring quite like a garden bursting with blooms, and to make that happen, fall is the time to plant your bulbs! Come September, the summer heat is on its way out and the cooler months are approaching. To have a fantastic display of spring flowers, fall is the time to get into the garden and plant. As you wait for the fall planting season to arrive, let's check out the gorgeous new varieties Florissa has to offer and plan for a magnificent spring garden display. Tulips and daffodils are the classics — and for good reason — but don't forget all the other options! This fall, check out all your Florissa fall favourites and make sure to keep an eye out for our great selection of new items. Planting spring flowering bulbs is a simple and easy way to create a beautiful garden every year!
When you're shopping for your bulbs, look for varieties that are new to add to your garden! It's always fun to add something fresh to the garden each year. Whether it's a new colour, shape, or species of flower bulb there are so many options to choose from.
Colourful Companions
Florissa's Colourful Companions take some of the guesswork out of planning what to plant. Complimentary heights, bloom times, and colours are all considered when Colourful Companions are chosen. One package of bulbs contains a selection of different varieties that are specially chosen to pair well in your garden and make a dramatic impact together.
This year, a must-have for the garden is the new Colourful Companion Reigning Success. Reigning Success is a royal duo of two stunning Crown Tulips. Crown Tulips, or Coronette tulips, have sturdy stems, and large crown-shaped, thick petals. Reigning Success is a combination of Tulip Crown Dynasty in pink and white and Crown Negrita in royal purple. Blooming in late spring, these tulips grow to a height of 45 cm (18"). If you are looking for something a little unique with a flourish of whimsy all wrapped into one stunning bouquet, try Reigning Success!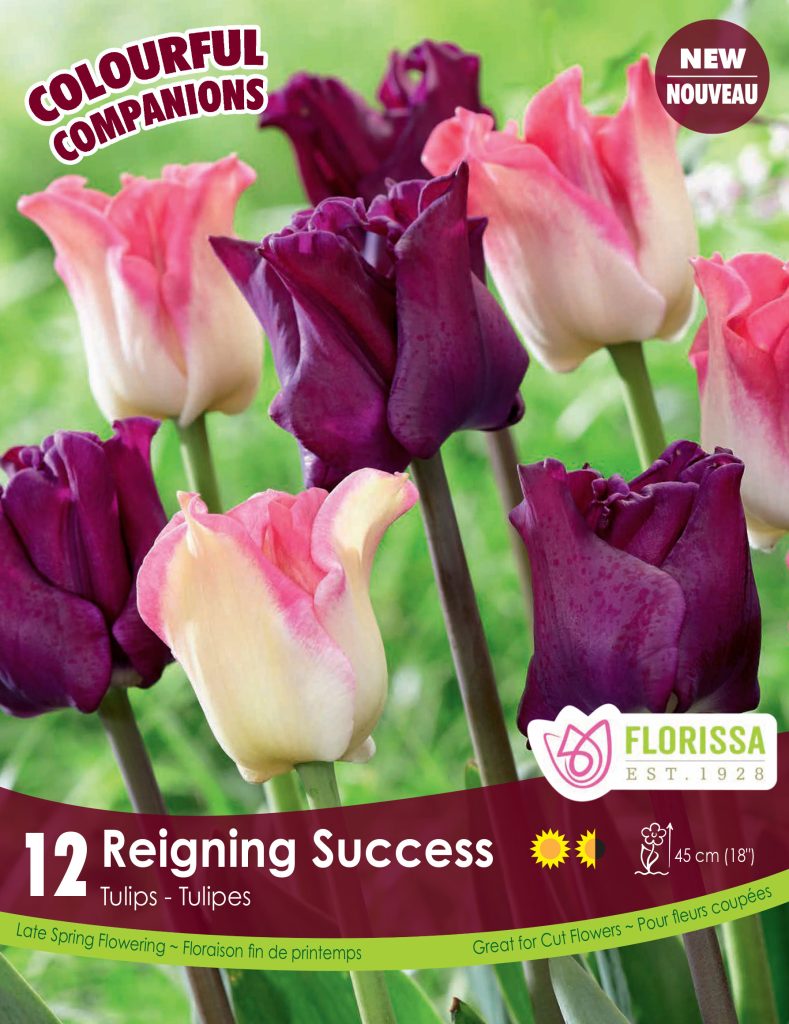 Tulip Flamenco
Add a blaze of colour to the garden! Tulip Flamenco is a bright yellow fringed tulip with flames of red flaring to the top of the blooms. This gorgeous, fringed tulip with unique serrated edges is great for landscaping and cut flowers. Flamenco is a late-blooming tulip that grows to a height of 50 cm (20"). Try pairing Flamenco with another fringed tulip, North Pole, as it will provide a nice white background for the bright yellow and red to contrast with.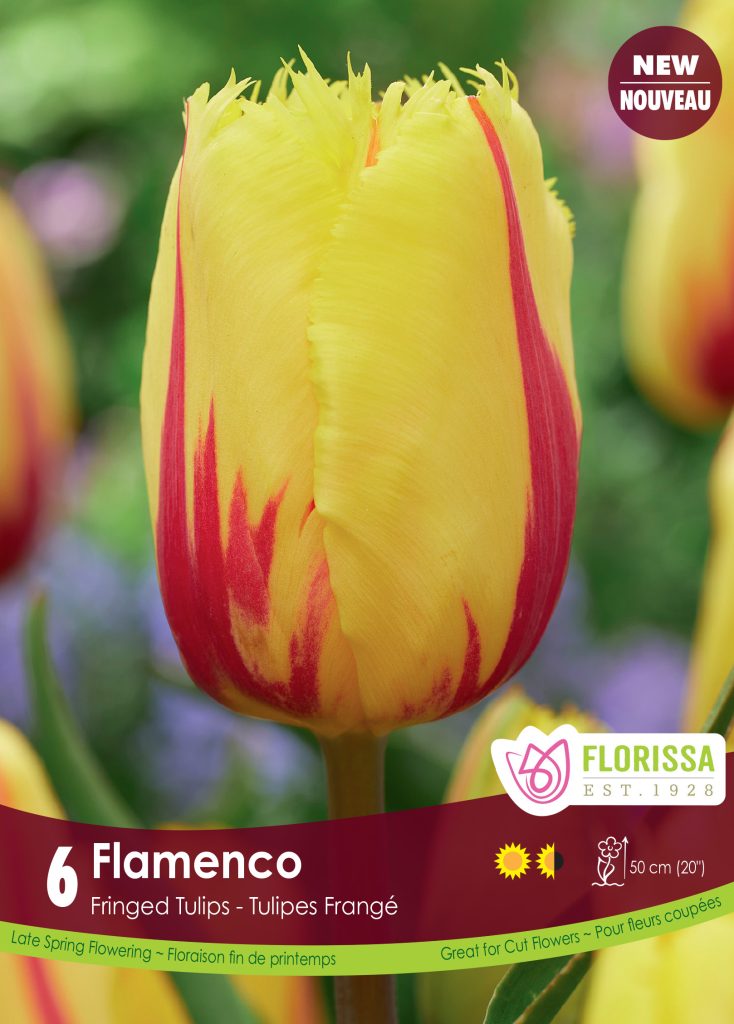 Narcissus Chromacolor
Narcissi are a spring favourite. New this year is Narcissus Chromacolor. This soft and stunning narcissus treats you to an amazing contrast of clean white petals and bold orange-peach cups. The bright colours of this cupped narcissus bloom for many years as it naturalizes in the garden. Plant Chromacolor in your planters, containers, or garden beds. They are great for landscaping, and this naturalizing bulb will delight you year after year. Chromacolor grows to a height of 40 cm (16"), blooms in early to mid-spring, and is deer resistant!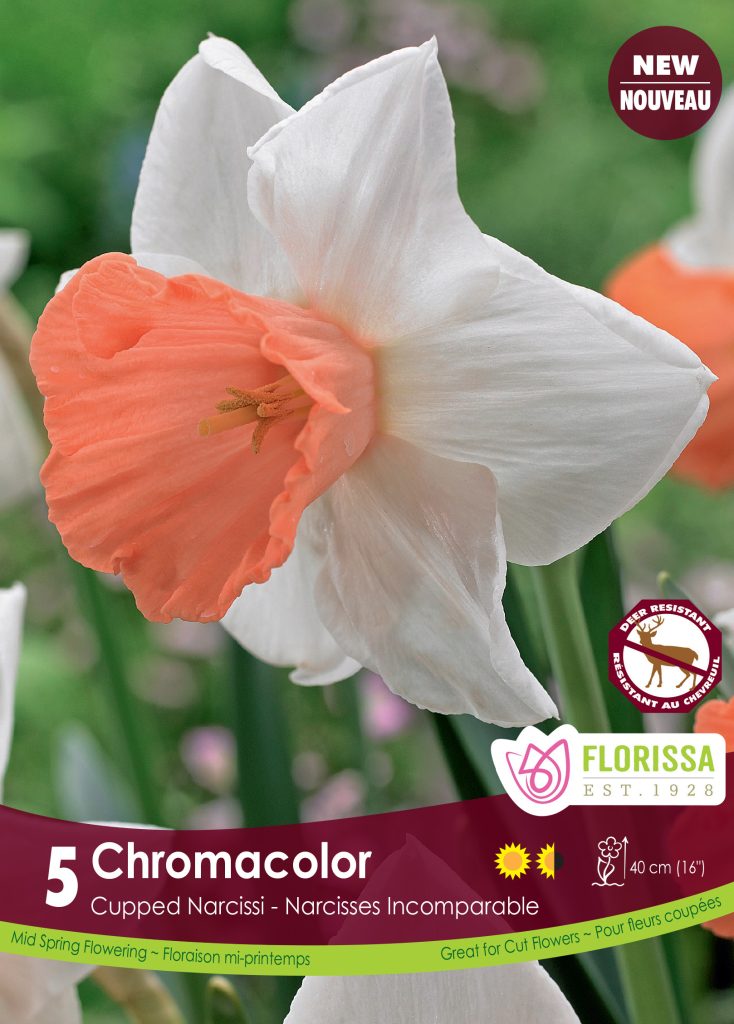 Fritillaria Red Beauty
Add a touch of the tropics to your spring garden with Fritillaria Red Beauty! This Crown Imperial Fritillaria brings a tropical feel to the garden with its pineapple-like appearance! It is an exotic-looking variety that will stand out in your garden. Growing to 90 cm (36") Red Beauty will display itself as a garden statue, with lush green foliage reaching to the skies, atop bell-shaped red blooms. A mid-spring variety, Red Beauty is deer resistant and fragrant!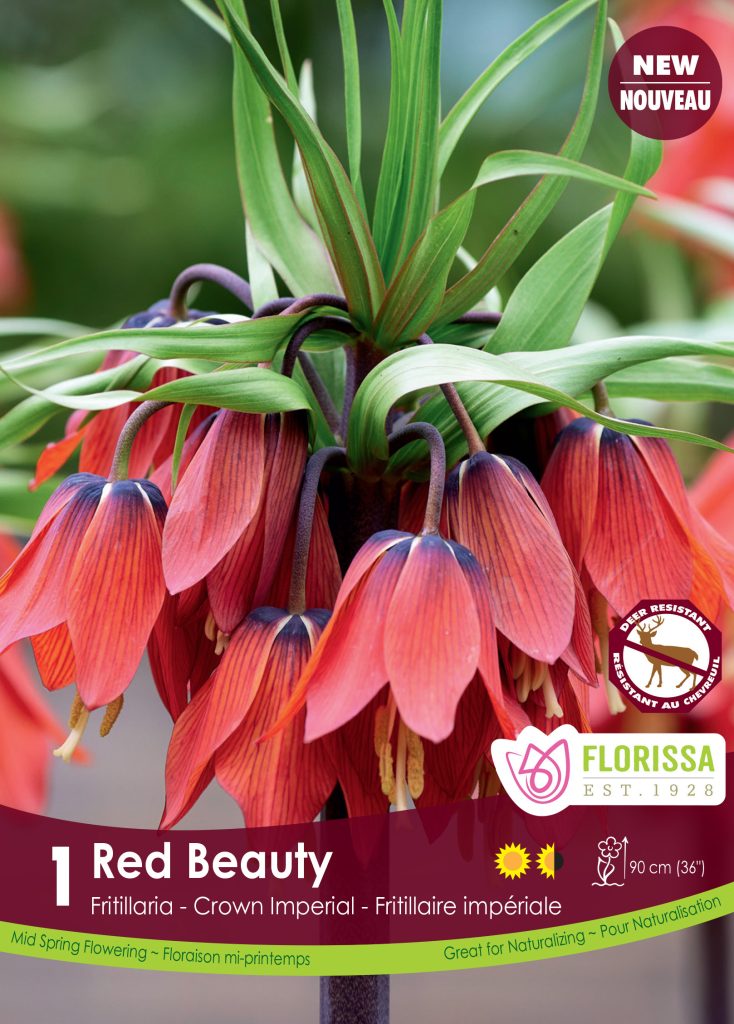 Allium White Giant
Add soft white globes to your garden with Allium White Giant. Measuring 120 cm (48"), this allium is one of the tallest white alliums! Complimentary to its stunning height, this allium features a globe packed with hundreds of snow-white feathered blooms on each flower of 6-8"! This variety naturalizes easily in the garden. With its height, be sure to plant it in the back of your garden beds to create a pretty backdrop for your spring flowering bulbs. Looking to ward off deer? Alliums are a perfect choice. As an extra bonus, you will be attracting beneficial garden visitors such as bees, butterflies, and other pollinators to the garden too!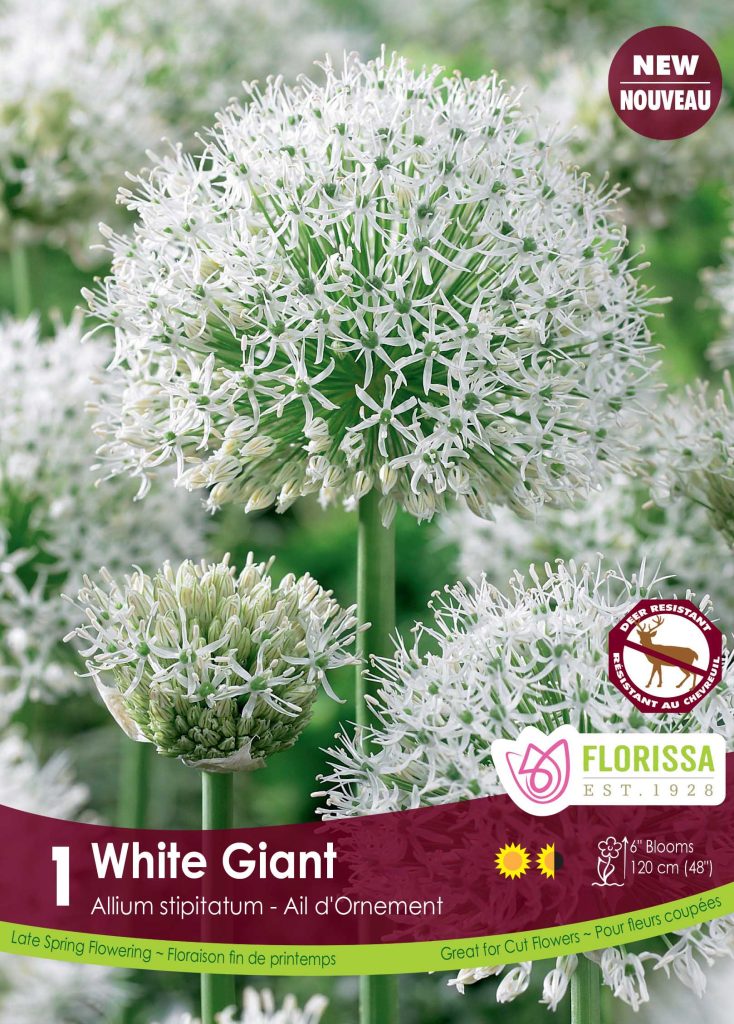 Tulip Queen Rania
Enchant your garden with a tulip fit for royalty! Tulip Queen Rania is a charming lily-flowering tulip which blooms in late spring. This tulip is perfect for cut flowers, with its height of 50 cm (20"). The deep, saturated hot pink colour of Queen Rania is a stunning addition to any spring garden. Perfect for planting in your garden beds, or in your favourite containers! Be creative and plant alongside some of your favourite late-spring blooming flowers. How about the double peony tulip Mount Tacoma, or a Single Late tulip, Bleu Aimable?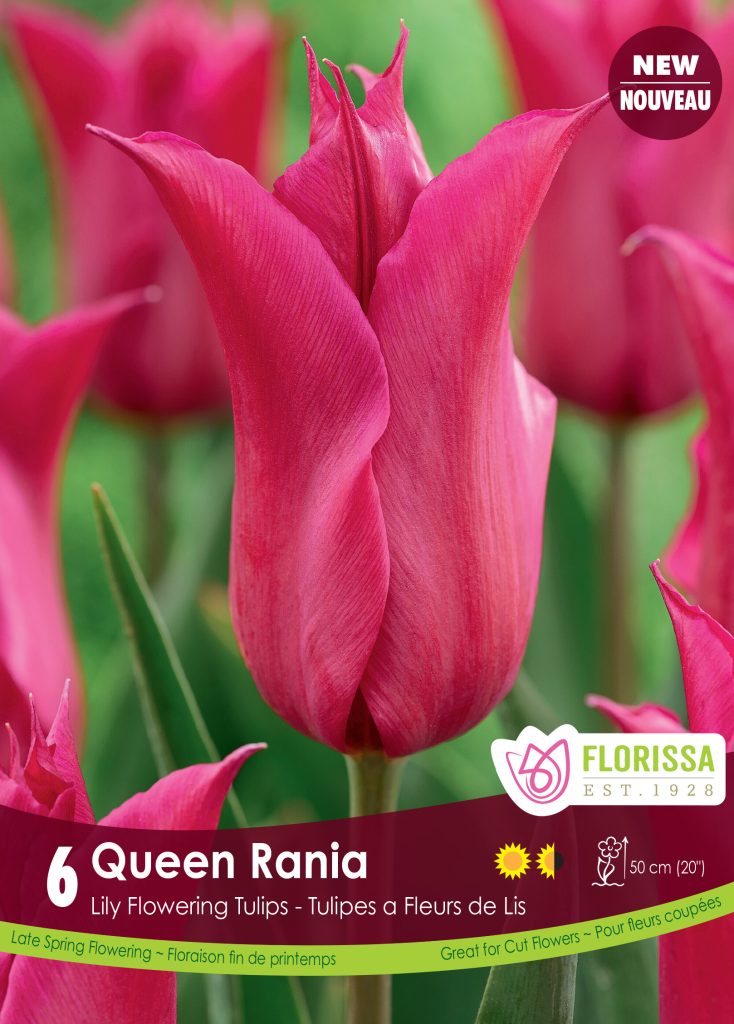 As summer comes to a close and fall approaches, take some time to review our fabulous new tulips, narcissus, alliums, amaryllis, iris and more! We have stunning new Colourful Companions to discover as well! It's never too early to plan out your garden and dream about spring blooms!