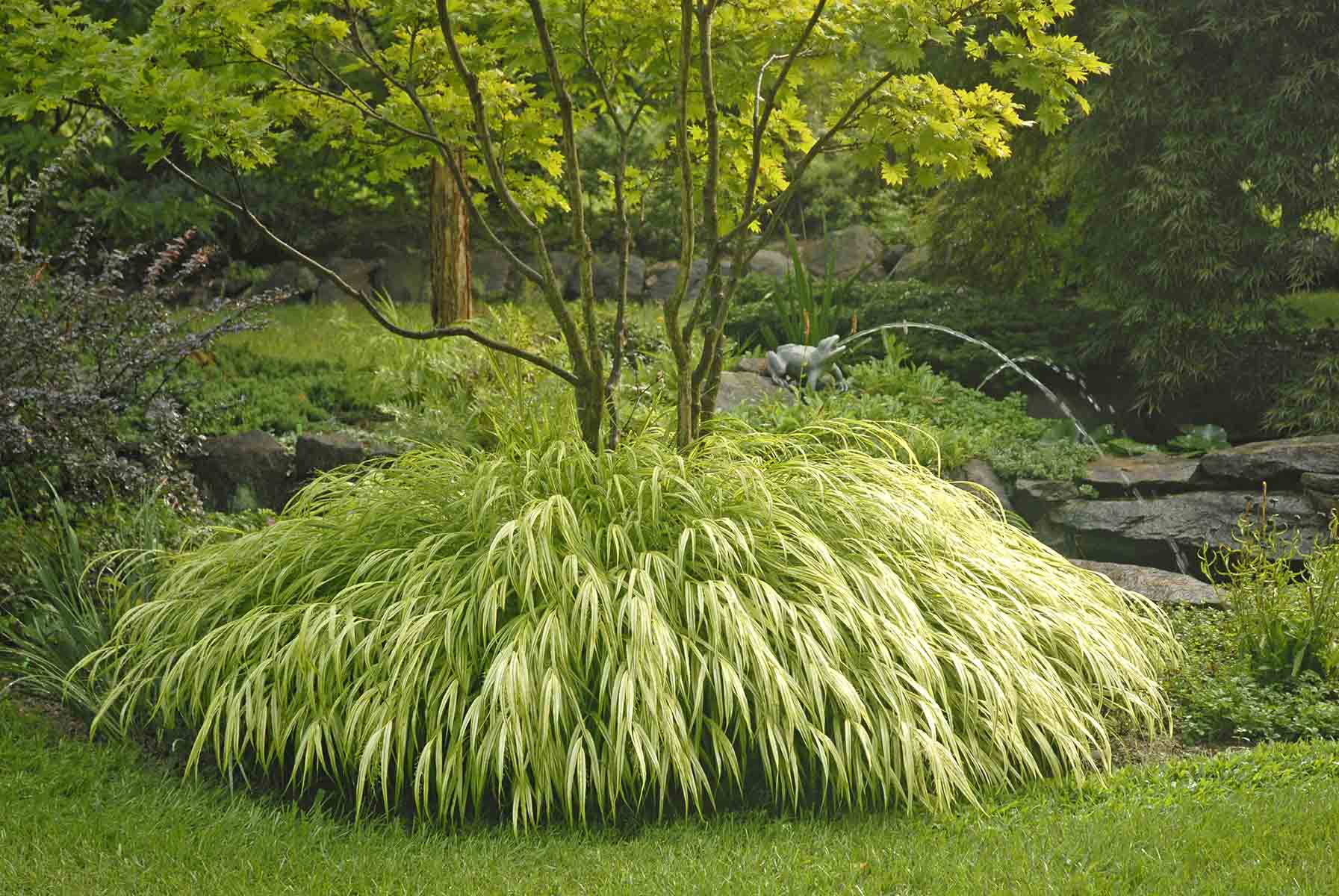 Dog-Friendly Ornamental Grasses
Most dogs enjoy dog-friendly pathways around and through the yard. If you watch them, you'll notice they take the same routes frequently. Your dog might already have a well-worn path along a fence line where it seems nothing can grow. Don't try to change your dog or its course. Instead, let their path become part of the garden design behind a screen of tall, sturdy perennial grasses and shrubs.
Designing a garden pathway at least 90 cm (36") in width accommodates even larger size dogs. Raised beds or mounding borders along the way creates interest and can reduce trampling. When planting – plant densely – starting with a quart or one-gallon-sized plants. Soft mulches with rounded edges won't get stuck in between the pads of your dog's soft paws. Avoid using cocoa bean hulls, as they can make your dog sick if it eats this mulch. There are many options for surfaces, but ensure your path is soft, not sharp, and that it doesn't get too hot in the sun.
Most ornamental grasses are safe for dogs. Beautiful and robust, they are available in different shapes and sizes, textures and colours. Grasses can be soft and mounding, or straight and upright. Planting several types of grasses together among perennials and shrubs in a border can provide a screen, adding an element of seclusion in the garden. Grasses can even act as a buffer for more fragile flowering plants.
Miscanthus Morning Light
Miscanthus Morning Light is a beautiful variety of maiden grass with a gorgeous vase shape that reaches heights of 90 cm (4'), forming a dense clump 80 cm (32") wide. Narrow finely variegated silvery foliage bends gracefully in the slightest of breezes, catching the light. This grass softens hard landscape features such as walls and fences. In late summer to early fall, crimson red plumes appear which change over to sterling white as the season progresses towards winter. 'Morning Light' enjoys full sun in well-draining soils but will tolerate partial shade. It will also put up with heat, humidity, drought, and salt. Winner of the RHS Award of Garden Merit. Deer and rabbit resistant. Hardy to Zone 5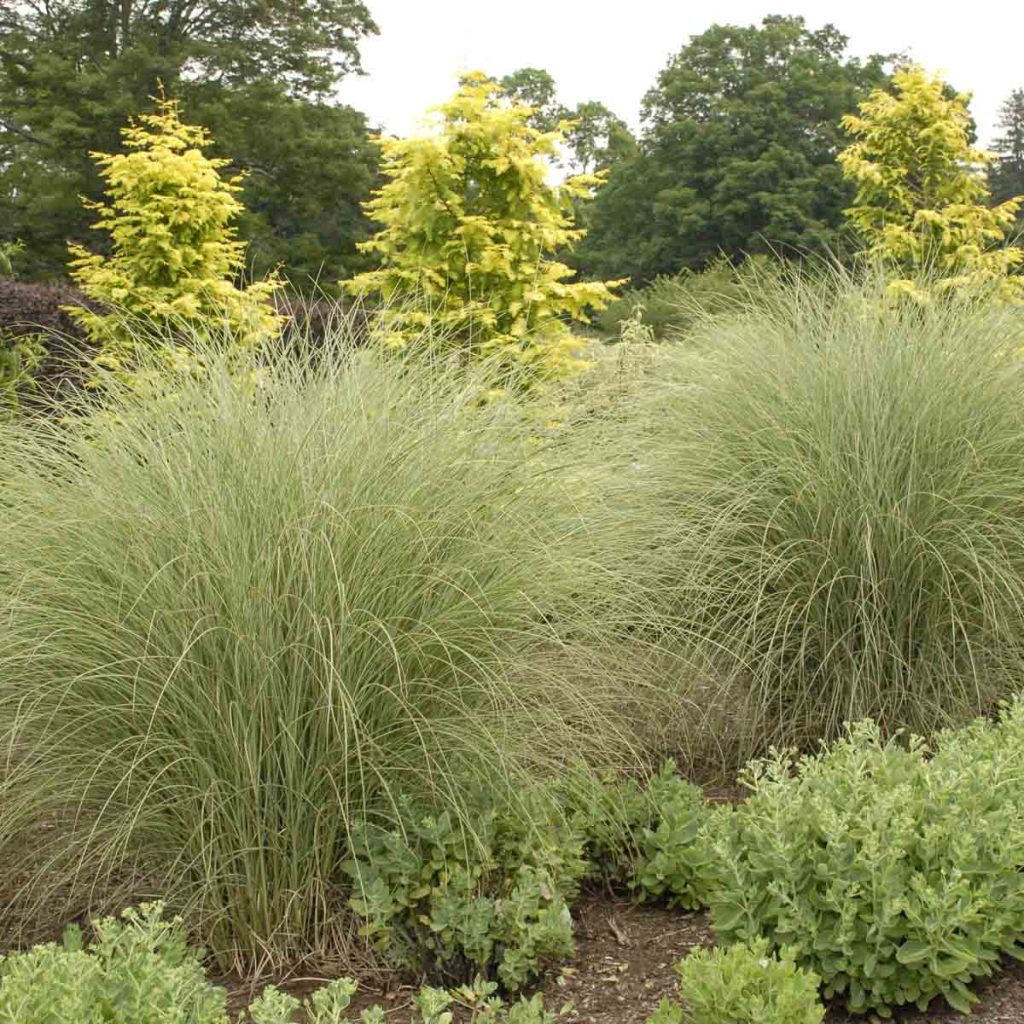 Calamagrotis Karl Forester
More upright and straight, Calamagrostis Karl Foerster is prized for its vertical wheat-like plumes that appear in late spring and last throughout the summer. Delivering great contrast when planted among other low-growing shrubs and perennials, this variety of feather reed grass grows 180 cm (6') tall, forming a 60 cm (2') wide clump. 'Karl Foerster' also prefers full sun and moist, fertile soils, though it will tolerate clay and dry sandy soils. Deer and rabbit resistant, it is also drought and salt tolerant. Named 'Perennial of the Year' in 2001. Hardy to Zone 3.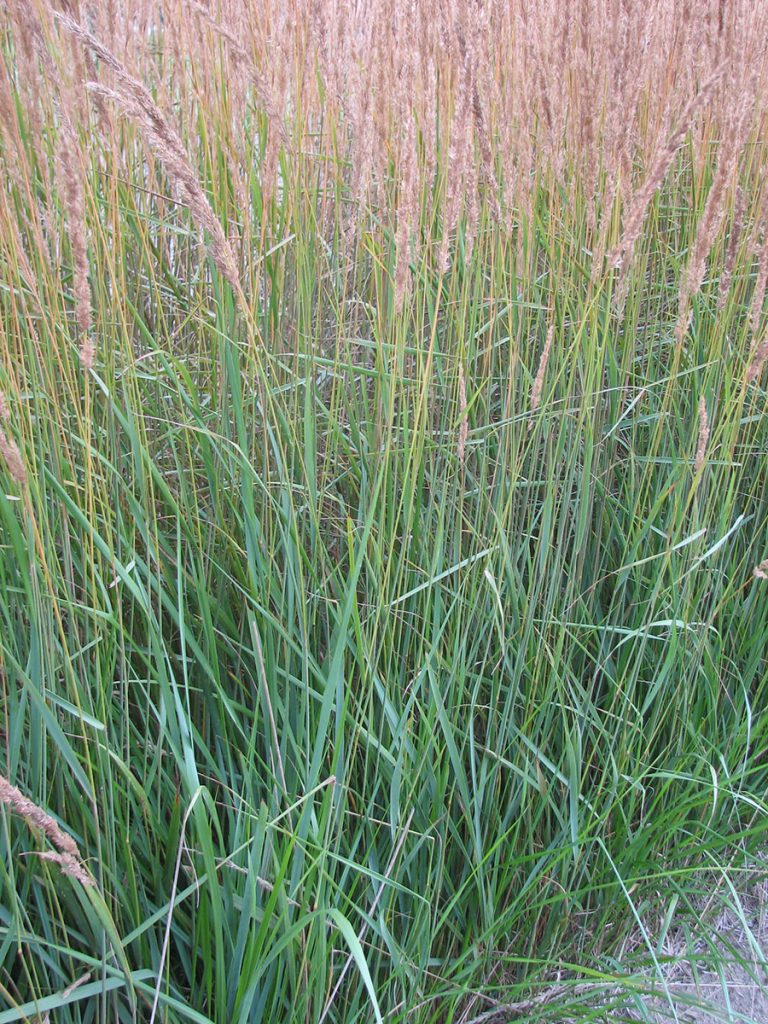 Hakonechloa macra Aureola
Japanese forest grass, or Hakonechloa, is a low-growing, soft and mounding grass that favors the shade. Pet friendly and non-toxic, both cats and dogs enjoy nipping at the foliage. Hakonechloa macra Aureola has variegated, golden yellow blades with narrow dark green striping. The cascading and draping habit of this stunning grass is well suited to slopes, rock gardens, retaining walls, and containers. Slow growing, it will form a clump about 25 cm (10") tall and 45 cm (18") wide. In partial shade, it appears more golden, but in full shade, the variegated striping becomes lime green. In autumn, tinges of red and pink appear in the foliage adding seasonal interest. This variety was named 'Perennial Plant of the Year' in 2009 and has received the RHS Award of Garden Merit. Deer and rabbit resistant. Hardy to Zone 5.