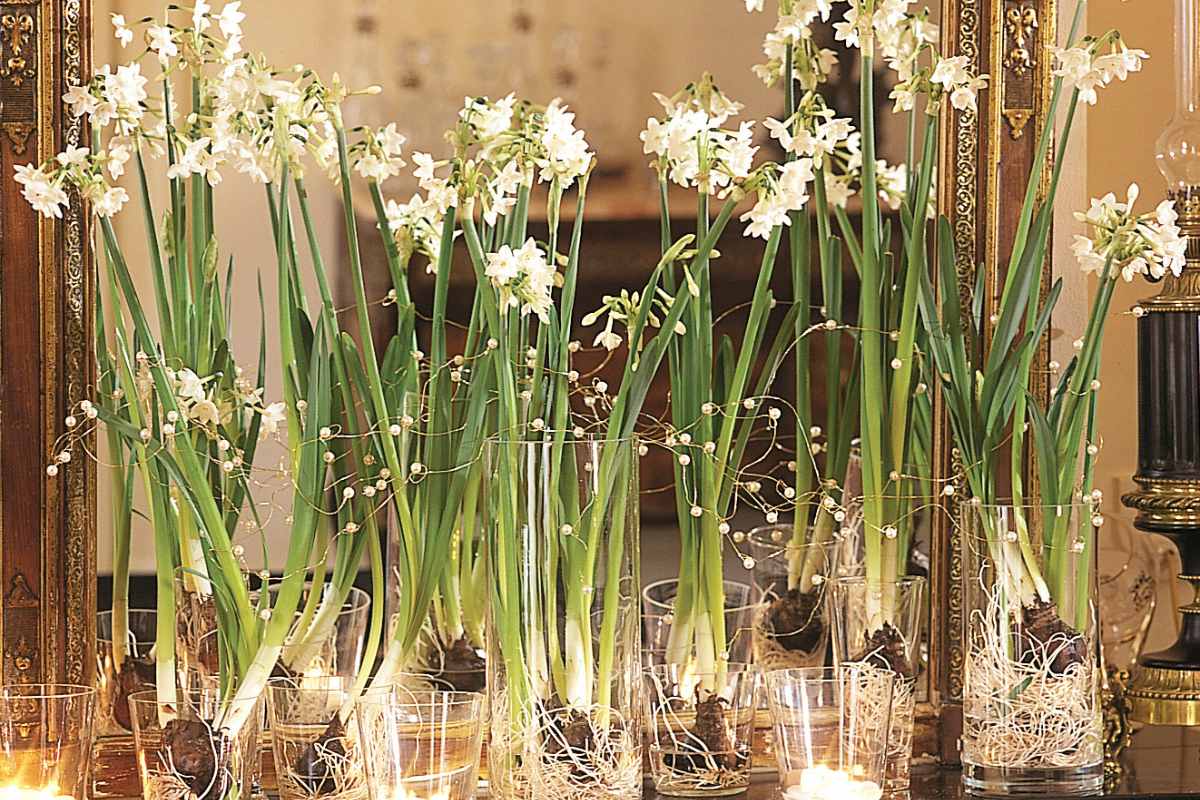 Decorating for the Christmas Season with Paperwhites!
'Tis the season to be crafty, fa-la-la-la-la, la-la-la-la! That's right, folks! It's that magical time of the year when twinkling lights, cozy sweaters, and the warm scent of freshly baked cookies fills the air. What better way to embrace the holiday spirit than by unleashing your inner DIY guru and decking the halls with some festive flair? Today, we're diving headfirst into the world of DIY Christmas decor with a twist: paperwhites. These dainty, fragrant flowers might just be the secret ingredient to making your holiday decor extra special. So, grab your crafting scissors, and your favourite holiday tunes, and let's embark on a jolly journey to create unforgettable paperwhite-infused Christmas magic!
The Perfect Indoor Flower
Paperwhites are commonly grown indoors because they are not as cold-hardy as their outdoor counterparts. They originate from regions with milder climates, making them more suited for indoor environments, particularly during the winter months. Growing them indoors allows people to enjoy their elegant blooms and sweet scent during the holiday season when outdoor gardening may not be feasible. Check out our blog Easy Winter Gardening with Indoor Narcissus and Paperwhites for a comprehensive guide on all of the different varieties of paperwhites.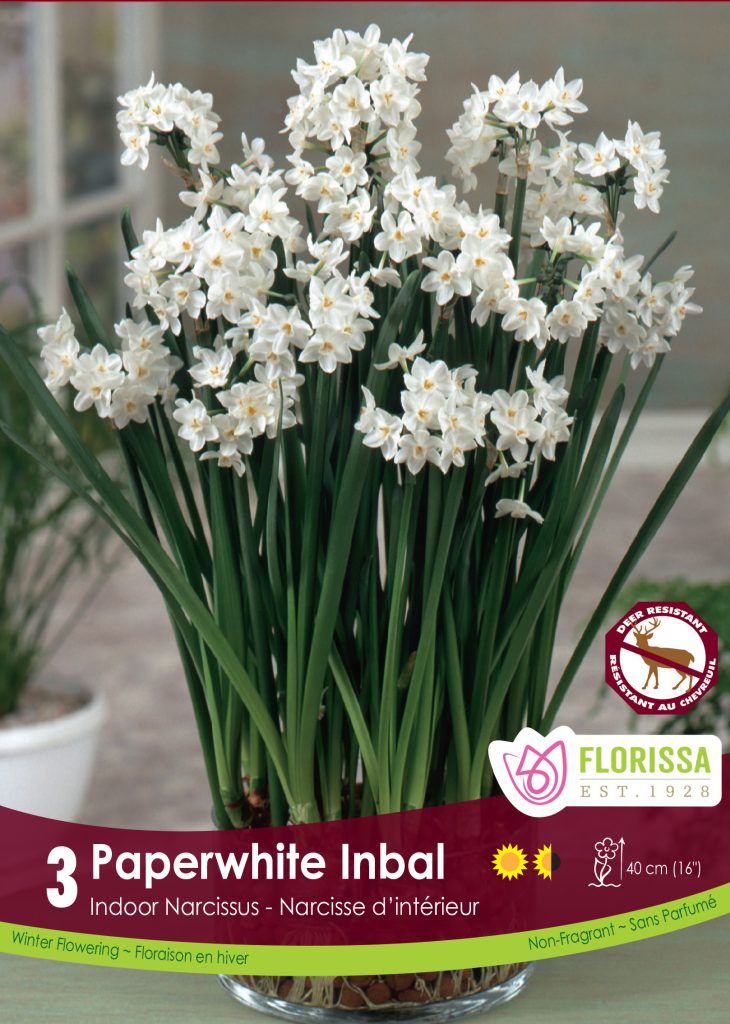 Getting Creative with Paperwhites
There are so many ways to get creative with paperwhites and they can make the best addition to your Christmas décor.
Growing Paperwhites With Soil
Decorating with paperwhites is super easy. All you need is a container (we are seeing wicker be all the rage this Christmas season), some soil, and of course your paperwhites. Fill your container with soil, place the paperwhites in the container with the tips up, and add a little more soil making sure you can still see the top 1-2 cm of the bulb and that is all. You can then start to add the decorations as you see fit. Add a bit of moss, decorate with lights around bulbs, or add a few ornaments.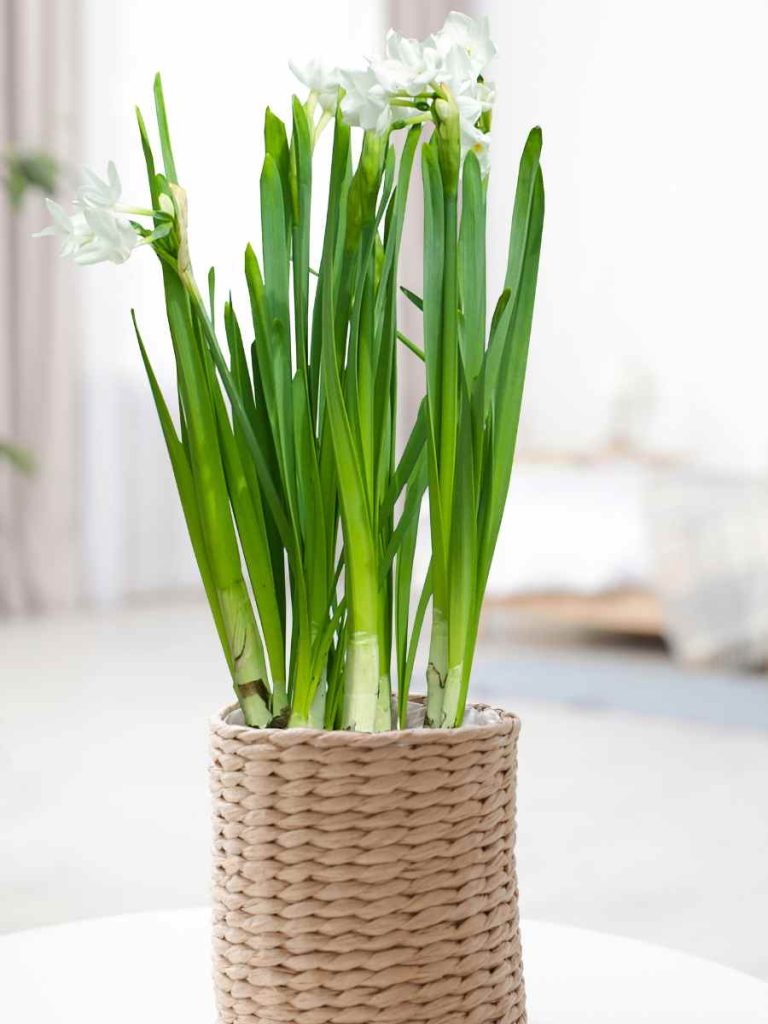 Growing Paperwhites Without Soil
Who says paperwhites need soil to bloom their magic? Let's kick traditional gardening to the curb and embark on a soil-free adventure with these whimsical wonders! Picture this: a transparent glass vase, a sprinkle of colorful stones or marbles, and nestled right in the midst of this dazzling display – your very own paperwhite party! No dirt, no mess – just the pure joy of creating a mini underwater wonderland for your blooming buddies. It's like a floral disco, but with paperwhites as the dancing queens, grooving to the rhythm of their own elegant petals. Remember when planting without soil, the bulbs should be placed just above the water level and not touching it. The bulbs detect the increase in humidity, and you will see the roots start growing from the bulbs into the water within days. So, grab your fanciest vase, toss in some aquatic bling, and let the paperwhite pizzazz shine through in your soil-free, sprout-tastic masterpiece! Check out our blog Pretty Paperwhite Flowers for more information on growing paperwhites on water.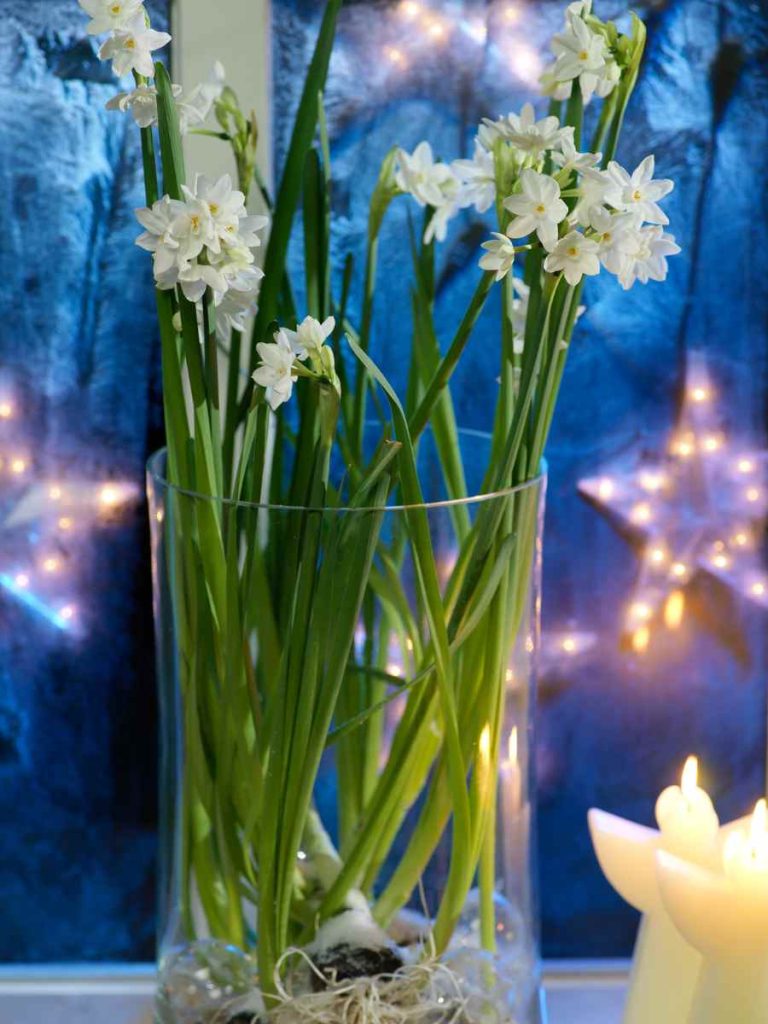 Caring for Paperwhites
A few things to note on the watering and caring for your plants for optimal success in the growing and flowering of the paperwhites. It is important to keep your soil moist but not soaked. Give the soil a watering whenever you see the top layer of soil drying out. Paperwhites thrive in bright areas so make sure to put them in a place that has lots of light. To ensure strong stems and flowers, keep the temperature between 15-20 degrees Celsius. As blooms fade give them a little deadhead so that the energy can focus on the other blooms.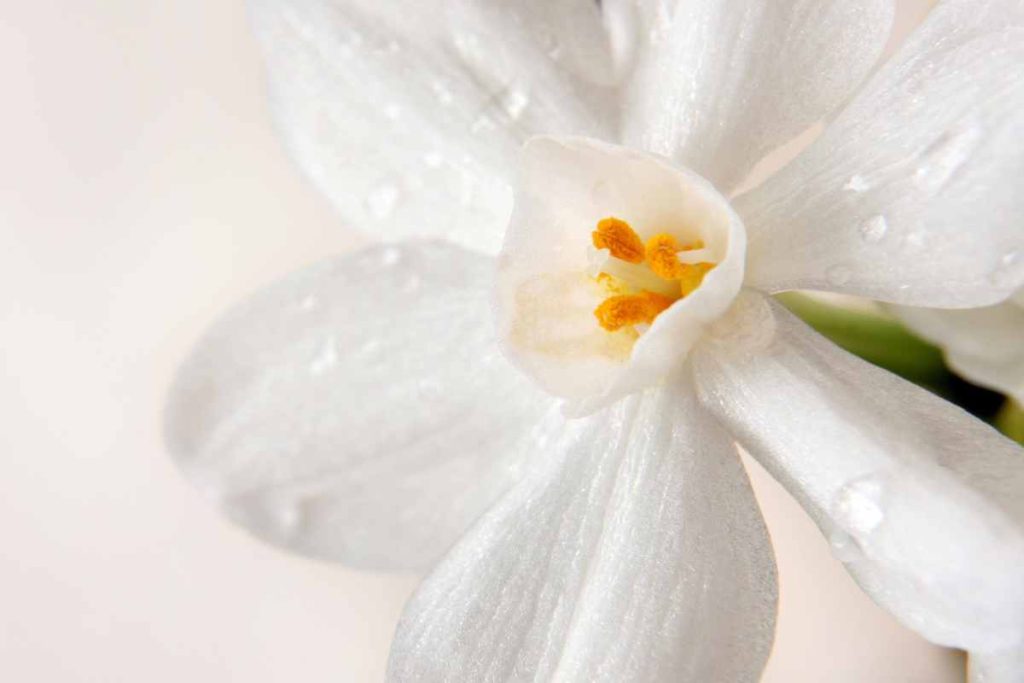 Finding the Inspo
Want to add paperwhites to your Christmas décor but not sure how it will fit in with your theme for the year? Dive into a virtual garden of inspiration as you embark on a journey through the wondrous realms of Pinterest and Instagram, where paperwhite possibilities are as endless as a field of wildflowers. Pinterest, the ultimate treasure trove of creative ideas, unfolds like a digital scroll of floral dreams, showcasing paperwhites in every conceivable setting – from rustic chic to modern glam. The pins are practically blooming with DIY decor ideas, beckoning you to explore new heights of creativity. Meanwhile, Instagram, the visual storyteller's paradise, invites you to scroll through a vibrant tapestry of paperwhite masterpieces. Each post is a window into someone else's botanical reverie, providing not only inspiration but also a sense of community in the shared love for these delicate blooms. So, grab your virtual shears and let the inspiration bloom as you navigate the delightful garden of paperwhite decor on these social platforms. Your next DIY masterpiece might just be a scroll away!
There you have it, fellow bloom enthusiasts – a paperwhite-powered adventure in DIY decor that's bound to make your holiday season extra merry and bright! Whether you've transformed your space into a whimsical underwater oasis or opted for the classic charm of a soil-free spectacular, your paperwhite creations are sure to turn heads and spread joy like confetti. So, as you bask in the fragrant glory of your handmade masterpieces, remember that the true magic of the season lies not just in the blooms, but in the joy and laughter shared while crafting them. We wish you a festive season filled with paperwhite pizzazz, creative triumphs, and an abundance of holiday cheer. Now, go forth and let your DIY spirit blossom – after all, 'tis the season to be crafty!