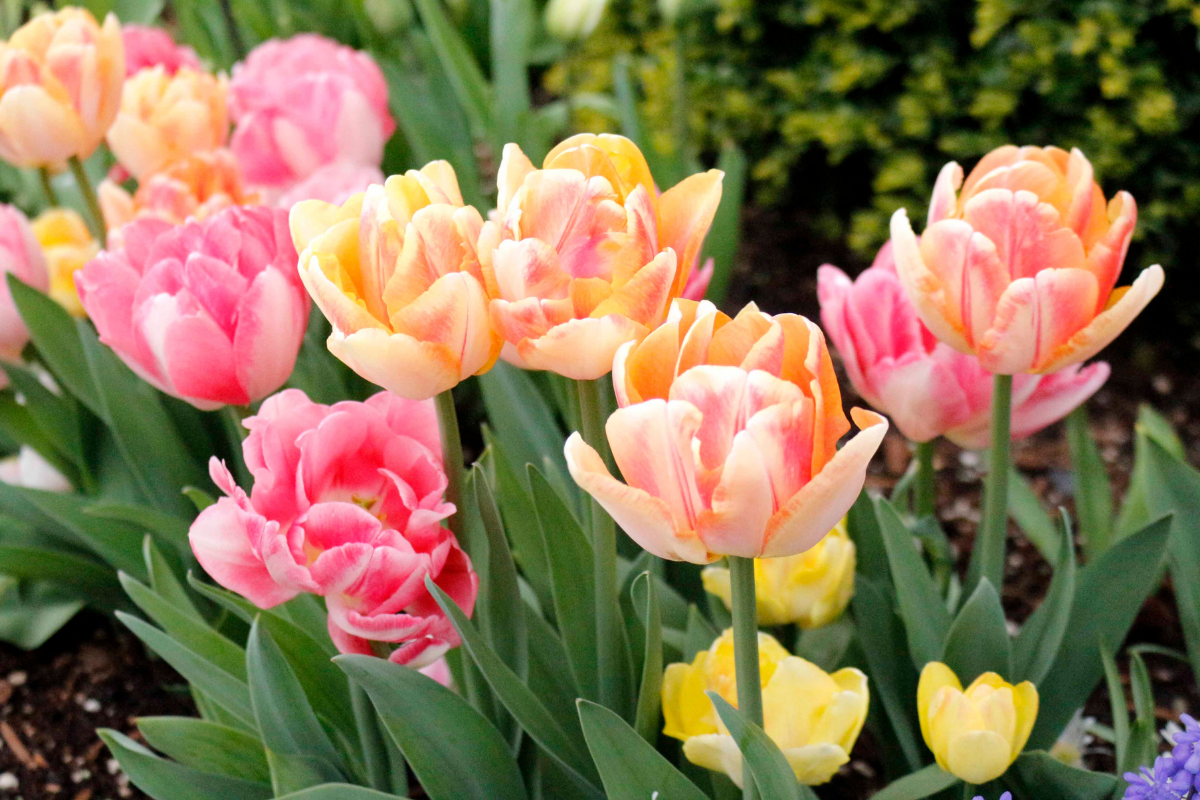 Cut Flower Favourites
Having your very own cut flower garden, is such a rewarding treat! You get to bring your homegrown flowers into indoors to enjoy. Vases of cut flowers in your house is an instant way to add colour to any room, and a smile to every face.  There are so many flowers to choose from out there, however not all flowers are best for cutting, so we're here to share with you our top picks for planting in cut flower garden!
Fall is the time of year to start thinking about what you are wanting to see in bloom come springtime. All of your tulips, daffodils (narcissi), hyacinths, anemones and so many more bulbs are planted in the fall!  The options are endless so pick your favourites or pick them all and start planting!
Daffodils are one of our favourite bulbs to plant for the fact that they are one of the first ones to bloom in the spring. Not to mention, there are so many amazing varieties, that are great for cutting!
Our top pick for a cut daffodil is Tahiti! This daffodil has a fun spin on the bright yellow classic, that you see just about everywhere. Tahiti is not like your basic daffodil. These beauties have large double flowers, golden yellow petals, a red interior ruffle, and an amazing fragrance, giving us all the beach vibes, its name intended. It's as close to a warm sunny beach as we can get in early spring, so we give it our vote for best cut flower daffodil! Standing tall at about 50cm (20″), with strong stems, it's the perfect fit for your favourite vase.
Oh, Anemones. You can never go wrong with anemones. No matter how you arrange them, whether it's one stem in a bud vase, or a whole bunch they are always going to steal the show. Our current favourite is the creamy Carmel Pastel Mix, with extra-long stems it's the perfect flower for cuts. With different pastel shades of white, pink, and purple, no two blooms will be identical, making cut anemones a bloom above the rest. If you ever have problems with deer taking nibbles in your garden, then you're in luck because Anemones are deer resistant!
You've done all the work, and now it's time to enjoy your cut flowers inside! Here are a few tips to keep in mind to help those flowers last long inside your home!
Remember to always give the stems a fresh snip once coming into house so that these blooms can get all the hydration they need!
Always start with a clean vase! You don't want to put your beauties in any vases that may have dirt, dust, or bacteria in them.
Use clean water! Flowers appreciate a clean glass of water, the same way we do!
Don't forget to check the water levels in your vases daily, ensuring your flowers have enough to drink!
Condition daffodils (narcissus) by placing them in a vase of water for about 6 hours before adding them to a mixed bouquet.
Growing cut flowers for cut is such a rewarding process! Watching your garden grow and then being able to enjoy your blooms in beautiful arrangements, is an exciting thing! The options for cut flowers is endless. You can customize your garden to grow the flowers that YOU want to see inside your home! Here at Florissa, love to share our favourites with you and help you along the way. We can't wait to see what you get growing this year for cut flower garden!