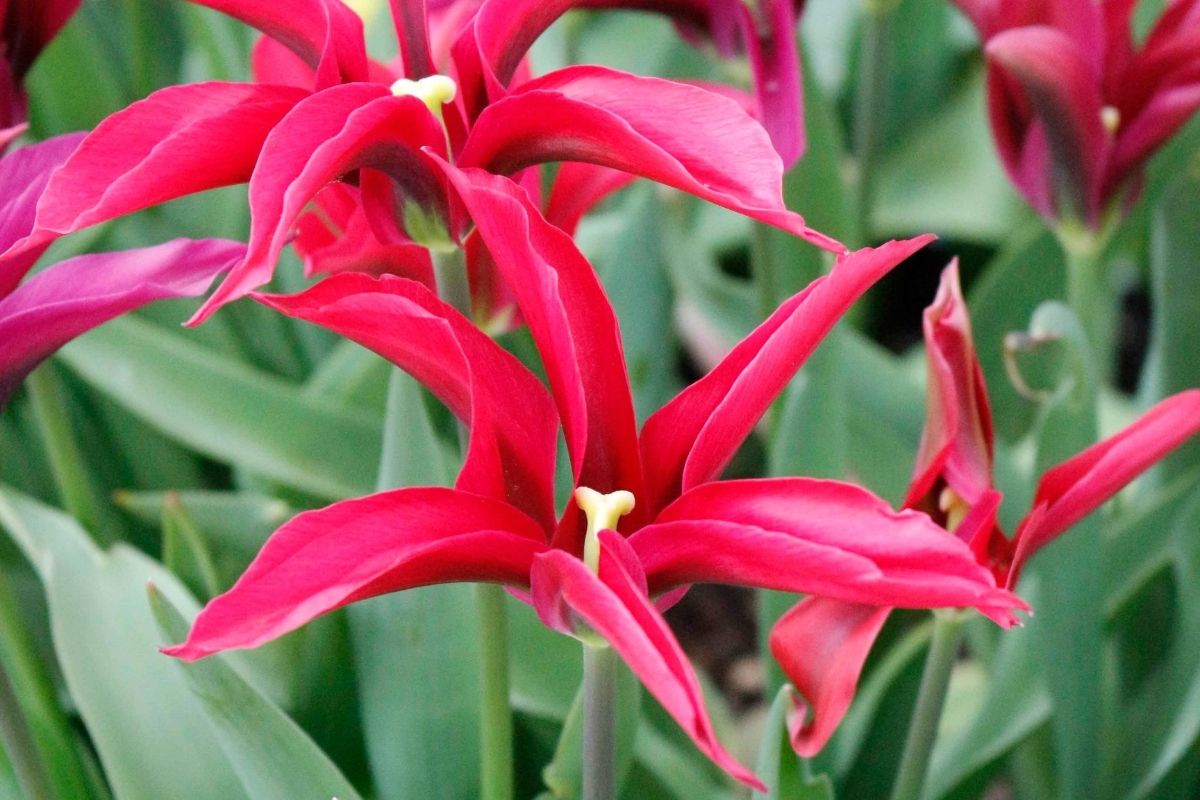 Tulip Beauty
Tulips are among the most adored and celebrated flowers around the world. They have an incredible range of shapes, heights, colours, and blooming times so that you can extend their season and enjoy them throughout spring. Check out these gorgeous new varieties and reserve a spot for them in your garden beds, borders, and containers.
Vanilla Cream
Greigii Tulip
The large and soft creamy yellow blooms of Vanilla Cream are stunning in contrast to the strong and sturdy deep purple stems and mottled foliage. Vanilla Cream is one of the taller Greigii Tulips, reaching heights of 40 cm (16").  Early blooming in March and April, these tulips naturalize, multiply and bloom for many years in the garden.
Gorilla
Fringed Tulip
A deep dark purple to almost black fringed tulip makes a dramatic statement in the garden whether planted in a solitary group or paired with more colourful varieties to create contrast. Gorilla's fringed edges look like deeply cut glistening gem stones. Strong stems grow to 45 cm (18") tall and support the large long-lasting blooms in late April to May.
Doll's Minuet
Viridiflora Tulip
Doll's Minuet appears to twirl on its stem with an unusual lily flowering shape. Slender flared petals of vibrant magenta pink and flashes of deep green add vitality and create excitement in the garden. Viridiflora Tulips are becoming increasingly popular due to their distinctive coloration and long lasting blooms in late April and May. Grows to 50 cm (20").
Pittsburgh
Triumph Tulip
Lustrous silvery purple infuses the petals from the contrasting white base and deepen in colour to the saturated raspberry plum edging. Pittsburgh has large egg shaped blooms and strong stems growing to 45 cm (18"). It holds up well in sunny borders. Blooming mid-season, April to May.
Vaya Con Dios
Double Fringed Tulip
Looking for something truly unique? Vaya con Dios emerges soft yellow, gradually changing over to creamy pink, apricot and peach shades, reminding one of a beautiful sunset. The finely serrated edges look like frayed ribbon. Strong, sturdy stems reach heights of 55 cm (22") and support the magnificent double blossoms in late April to May.  Vaya con Dios is a parting phrase that means 'go with God' in Spanish, and at every glance this tulip will grace your garden.