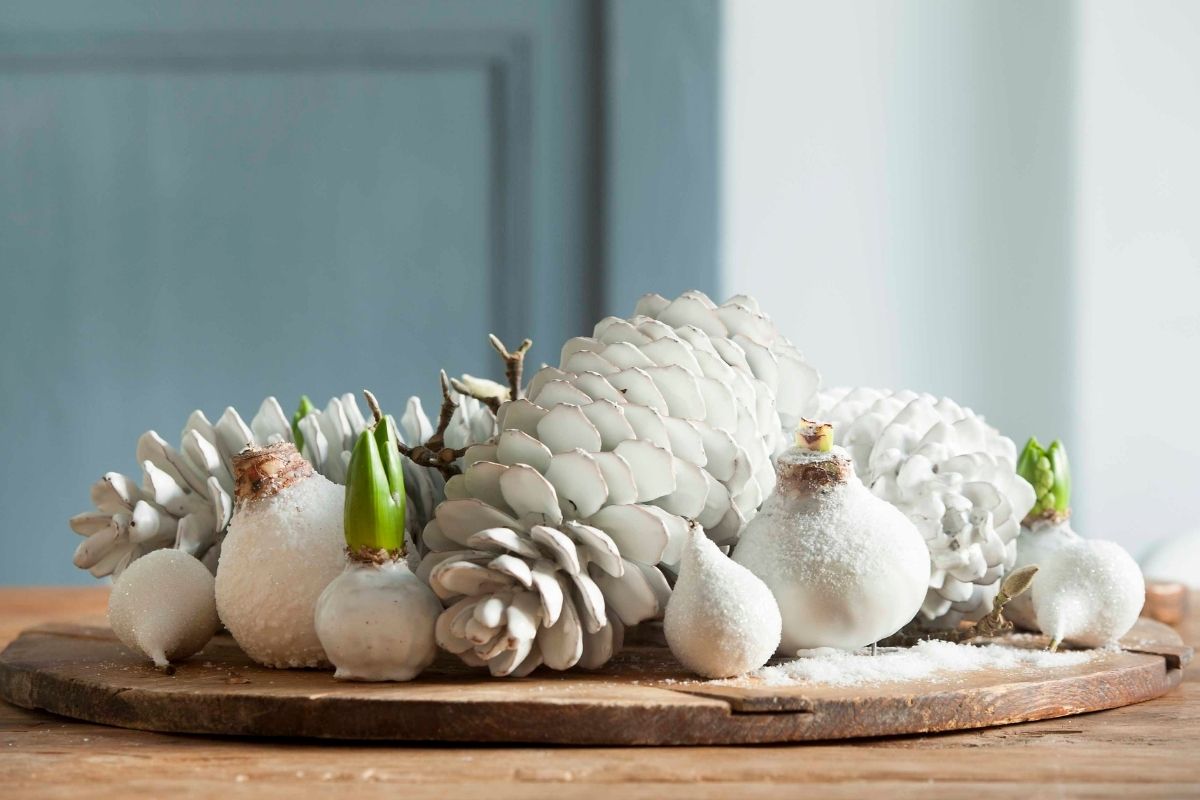 'Tis the Season for Waxed Amaryllis
Deck the halls this season with the bulb that's always ready to grow and sure to sparkle – waxed amaryllis.
These waxed amaryllis bloom in only 4-6 weeks, producing 2-3 flowers.
Each flower is a stunning trumpet-shaped display of fiery red. Everything the bulb needs is within the wax coating, so there is no need to plant it in soil or even water it. All you need is your imagination to arrange and set these bulbs in a place where they'll receive bright indirect light and be admired by everyone.
Whether you seek a classic, modern, contemporary or traditional look, waxed amaryllis bulbs fit right in because you add the finishing touches. Here are a few ideas to inspire and get your creative juices flowering.
Fill a tall clear vase with Epsom salts and rest your waxed amaryllis in it. Epsom salts are a great alternative to sand, sparkling under light, and when the holidays are over you can repurpose the salts into the bath. For extra bling, loosely wrap your waxed amaryllis with inexpensive micro mini Christmas lights.
If you have spray adhesive in your craft supplies, or decoupage glue and a paint brush, you can easily glitter up waxed amaryllis in your favorite colour. Use a glue gun to decorate your bulb with a strand of beads, or drape a popcorn and cranberry garland around your bulb. Waxed amaryllis can become a scented pomander when star anise or cloves are pushed into softened wax.
Nestle your waxed amaryllis on a platter among pine cones, or glass ornaments. Create a cozy look by wrapping it in a winter toque or scarf. Pull out that old Christmas sock that your grandmother knitted and make a nest for your bulb.
Kids love to decorate waxed amaryllis with cut-out felt shapes, pipe cleaners, cotton pompoms, cotton balls, and sticky bubble eyes. Create reindeer or elf faces to give to relatives, teachers, or neighborhood friends. These make wonderful personalized gifts and bring out smiles.
No matter your style, however you choose to decorate this holiday season, do what makes you happy and surprise yourself.
Waxed Amaryllis are now available at your favorite local garden centre in red, bronze, silver, and gold.
Read More Florissa Posts!