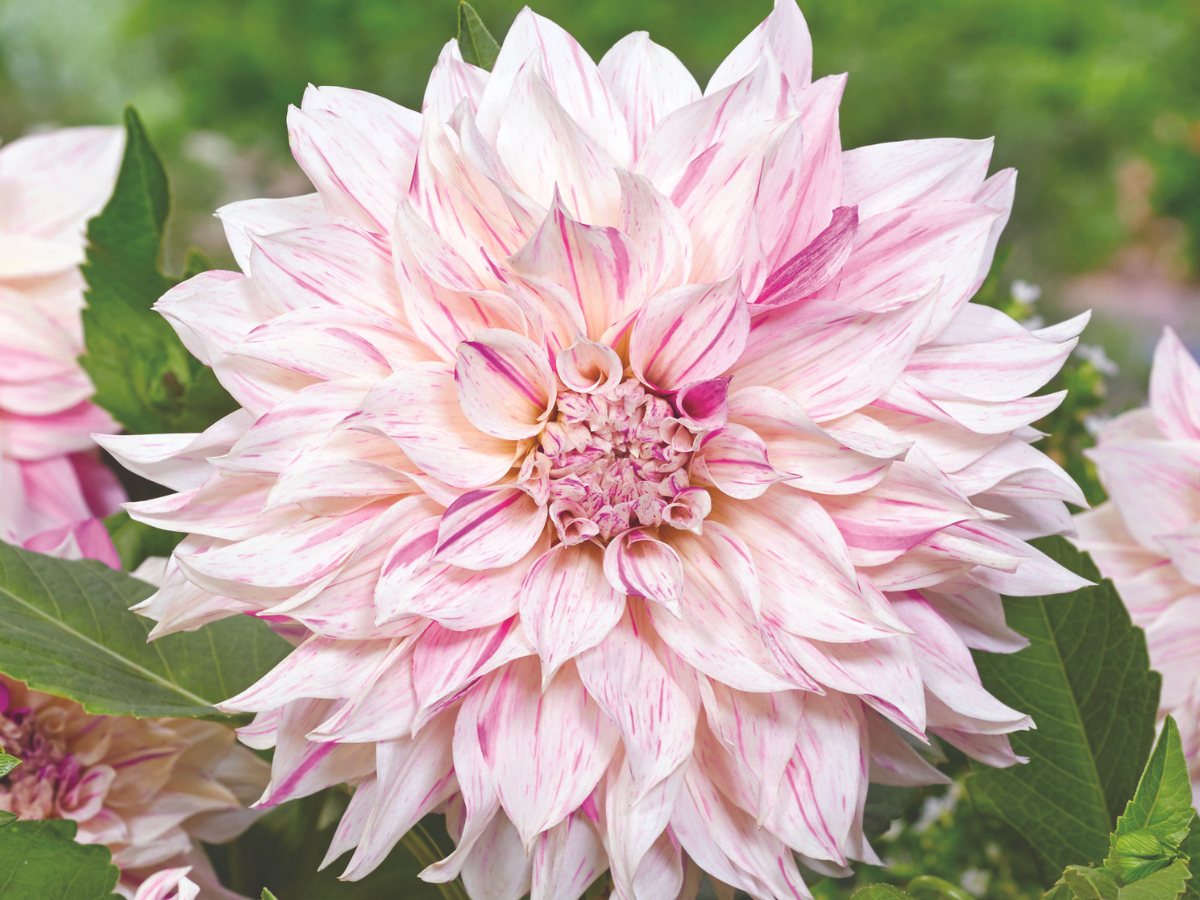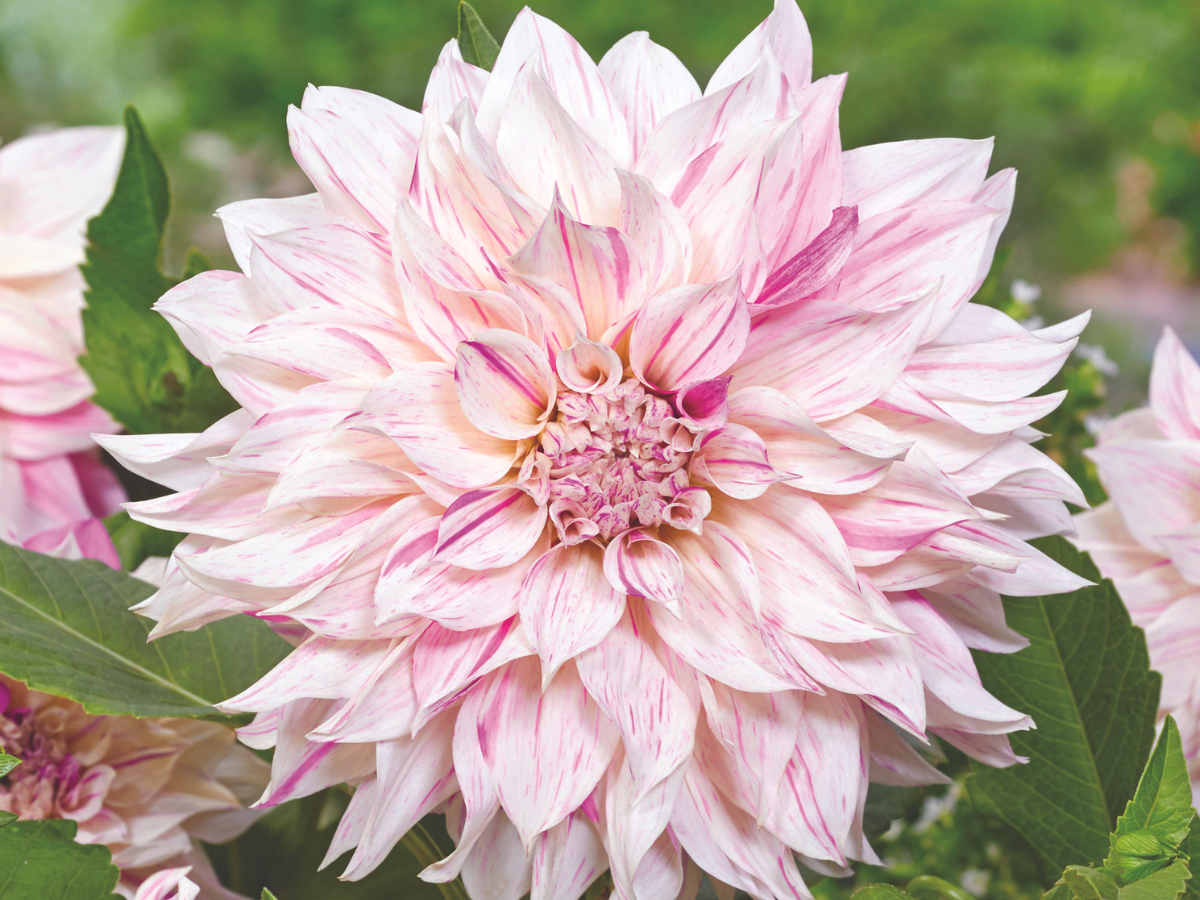 New for Spring at Florissa!
The new year is well underway, and that means it's almost time to get back into the garden. During the darker, cold winter days, all we can think about is those sunny spring days in the garden! Enjoying blooms, fruits, and vegetables that you've grown is such a reward. Best of all, trying new varieties in your garden is so exciting, and Florissa is here to make that happen!
For this spring, we at Florissa are excited to introduce some exciting new additions to our lineup! Whether you're a cut flower gardener, a vegetable gardener, or you do it all, you are sure to find something to add to your garden this spring. We have amazing new flowers, and tasty edibles to try too. So, check out our items to plant this spring. Below are just some of the many different new Florissa varieties for this year.
Colourful Companion Peach Bellini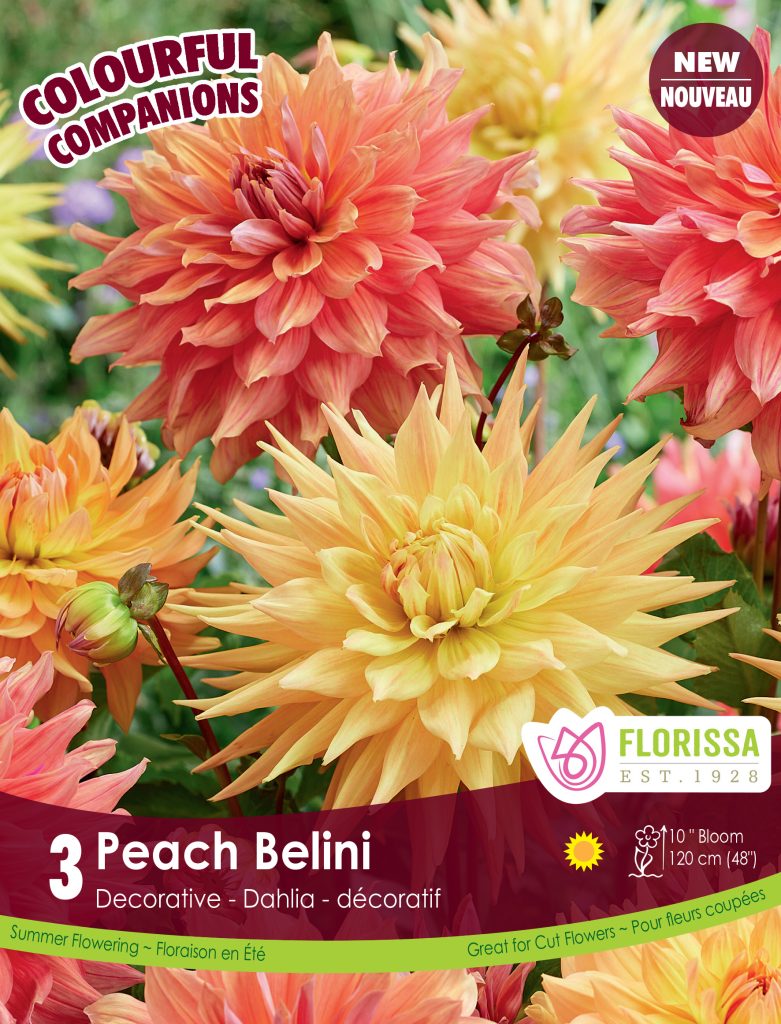 This year Florissa's Choice of the year is bright, sunshiny dahlias, Peach Bellini! With humongous 10″ blooms, the dinnerplate Dahlia duo is sure to make a statement in the garden. Perfect for cut flowers, and best of all, it reblooms! Growing to a towering height of 120 cm (48") these varieties with gigantic blooms are stunners, and cut flower gardeners will want to add them to their gardens. Enjoy complementary colours, of yellows, reds, and oranges just like a delicious Bellini drink! These blooms are perfect for a nice summer day! If you're a Dahlia lover, try this new combo, and watch the colours explode in your garden. Bring that cheerfulness into your home or gift a bouquet to your next-door neighbor!
Dahlia Café au Lait Twist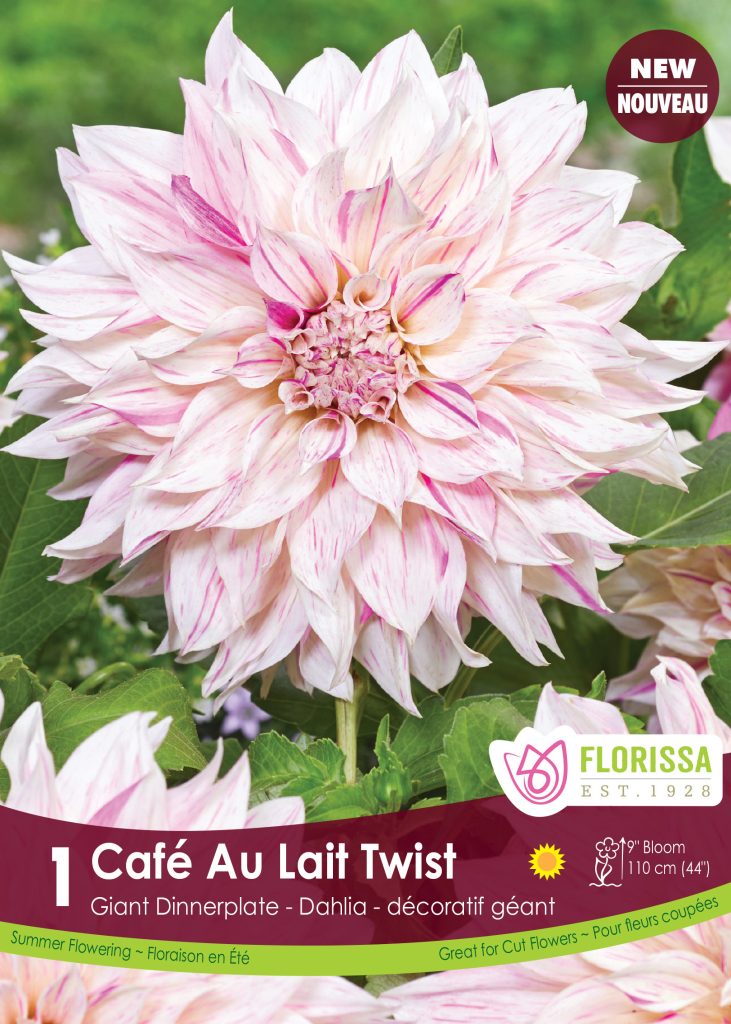 We all love the classic Café au Lait, with its gorgeous creamy latte blooms. They make such a statement in the garden, in bouquets, or on their own! New this year is Café au Lait Twist! Just like the name says, it's a twist on the classic. Its massive 9" blooms have pink streaks giving the flowers gorgeous colouring that will stand out in the garden! Café au Lait Twist is a lush plant that will produce masses of blooms for you in the summer. This is a great addition for the cut flower grower with its long stems and height of 110 cm (44"). It's a beautiful new addition to your bouquets, with all the same qualities we love in the classic Café au Lait!
Are you a novice dahlia grower? If so, check out our blog on growing dahlias for helpful tips.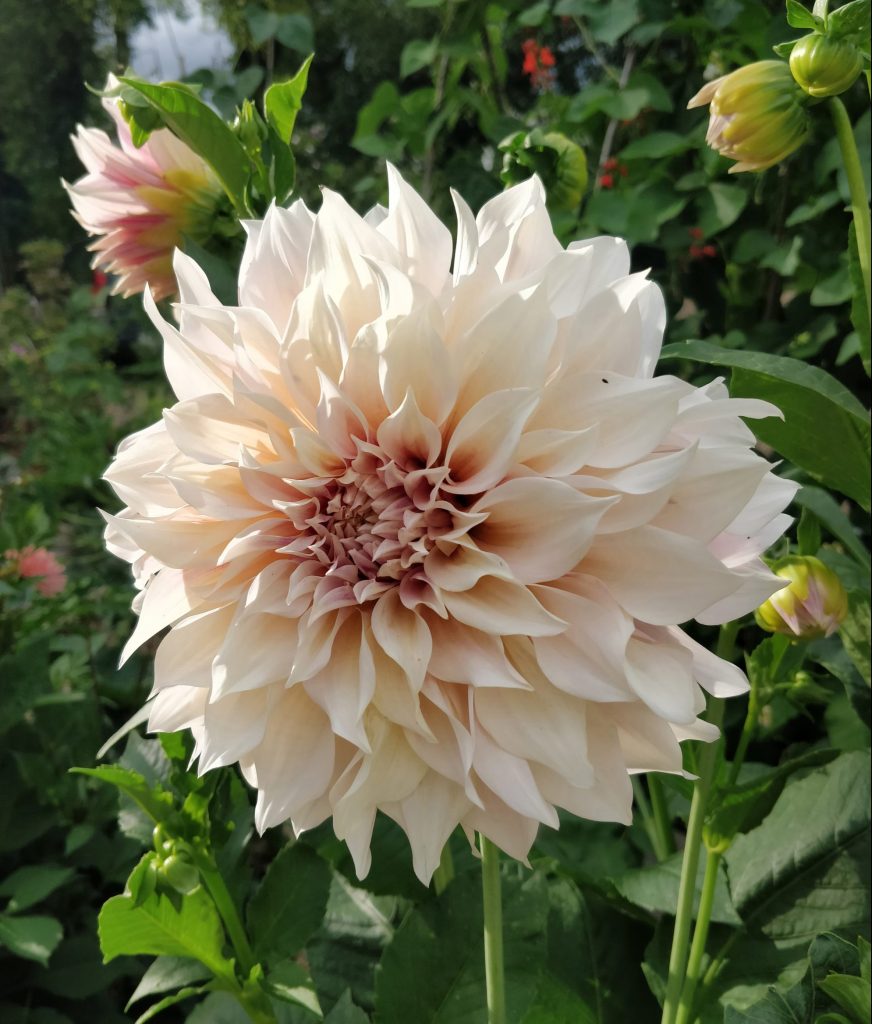 Peony Celebrity
This colourful bomb-type peony is a must-have to plant in spring 2023. Spectacular swirled blooms of magenta and white make Peony Celebrity perfect for cut flowers. Best of all, it's deer resistant so no need to worry about any critters enjoying the peonies for a snack! With huge 6″ blooms, their fragrance will fill the room with a subtle sweetness and pop of colour. Growing to a height of 90 cm (36"), these peonies will be a showcase piece in your garden with a bright pop of colour. Make sure to find a bright location for your peonies as they love to bask in the sun! Enjoy this perennial for years to come! Hardy to zone 2.
For information on planting, growing and caring for your peonies, check out our helpful blog.
Gladiolus Earl Grey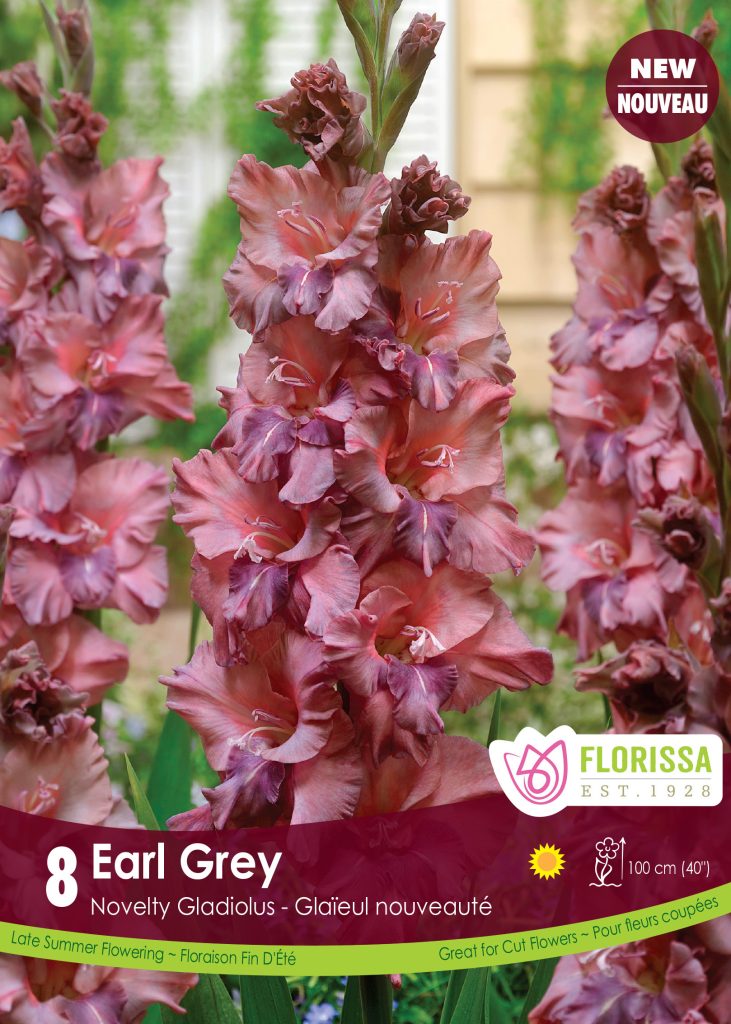 Earl Grey is a unique gladiolus that has a colour blend that we've never seen before here at Florissa! This novelty Dutch Gladiolus Early Grey is an exclusive exotic variety producing an amazing colour combination. With ashy purples, pinks, and greys this bloom is sure to turn heads! Growing 100 cm (40″), they make an amazing statement cut flower! These are perfect for bordering plantings and can also be grown in pots! Give them some sun, water, and love, and watch them grow.
Lily Tiny Icon
A new addition to the Tiny Series here at Florissa is Lily Tiny Icon! This compact lily has glossy dark green leaves and bold pink flowers that bloom in early summer. Low maintenance and easy to grow, Tiny Icon is perfect for garden beds and containers. You'll love these pretty pink blooms surrounding you on your patio in the summer! Tiny Icon grows to 35 cm (14") tall and hardy to zone 2 so it will bloom for years in your garden beds and borders. Plant these alongside other lilies in the Tiny family, such as Tiny Bee and Tiny Shadow for a stunning garden effect. Plant these beauties in full sun and sit back and watch them grow!
Blueberry Northcountry
New to the fruit line up here at Florissa is Blueberry Northcountry. This berry is an absolute must-have for planting in the spring season. Northcountry is a perfect cross between Highbush and Lowbush blueberries. Ripening in late June to early July, this blueberry bush boasts a heavy yield and produces delicious, sweet berries that are perfect for desserts or a healthy snack. Grab your cookbook and get into the kitchen! These blueberries are fantastic for adding to your favorite desserts, or a smoothie on a hot summer day. This self-pollinating blueberry is perfect for those living in a colder climate! Northcountry is very cold hardy, with a zone of 3. If you have limited area to grow plants, this blueberry is perfect for you. It is ideal for smaller spaces, only growing 90 cm (36″) tall and 120 cm (48″) wide! Pot up in your favorite container and grow your own fresh blueberries on your patio!
Potato Cristina
Summer is the time for barbequing burgers, steaks, and more! The perfect side dish to any summer barbeque is potatoes. If you love creamy potatoes to add to your meals like Red Pontiac, then you are sure to love Cristina. Cristina is an improved Red Pontiac, with that same bright flesh, and red skin, producing a high yield of medium sized potatoes. With an early harvest, these potatoes are perfect for all your favourite dishes like roasted potatoes, homemade French fries, or potato salad! Not to mention they store well, so you can continue to enjoy them for longer!
Check out our blog on harvesting your crop of potatoes!
Check out these varieties and many more of the new Florissa varieties for spring. Take a trip to your local garden centre and shop for all the newest bulbs, tubers, plants, and more we have to offer! Keep an eye out for all the new and latest items Florissa has to offer this year! We have many new dahlias, gladiolus, lilies, and even callas!  Make sure to add your tried-and-true favourites to your must-have list as well!