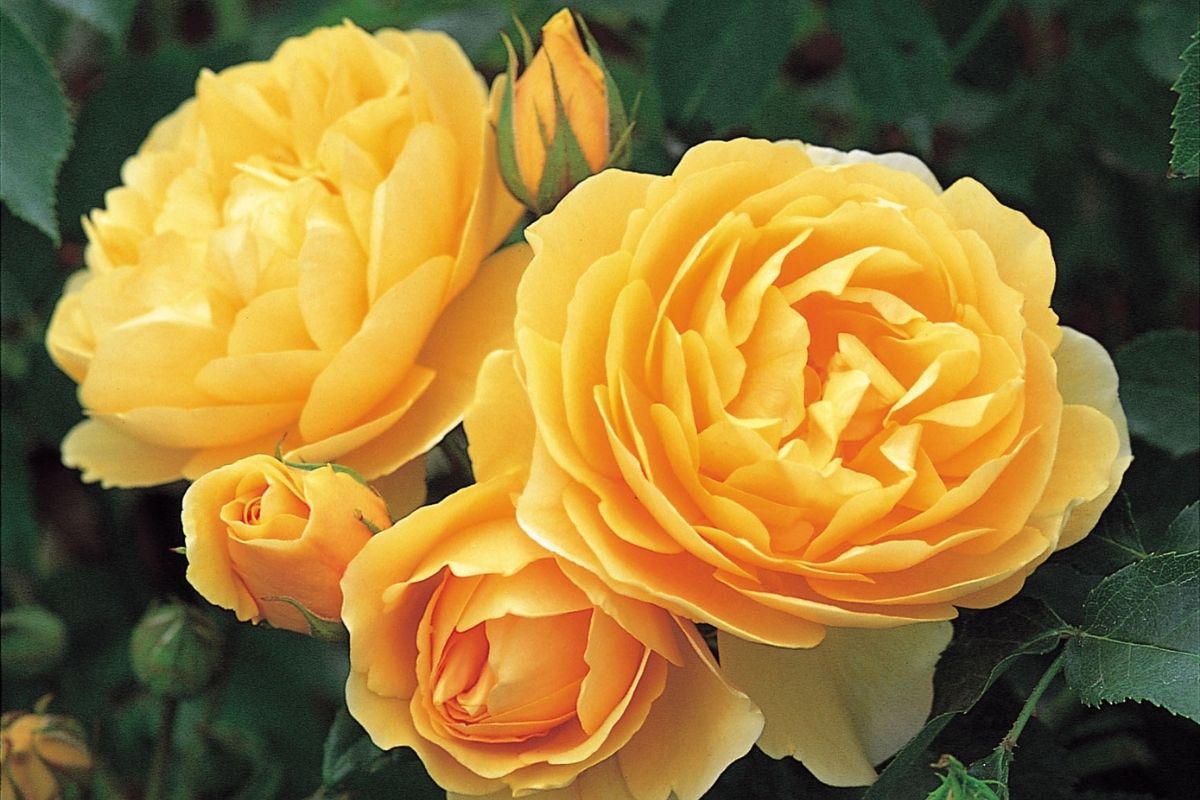 New & Favorite Roses
Shopping for a new rose to plant in your garden? Consider one of these stunning, fragrant beauties.
You won't be able to walk by without stopping to admire their blooms.
All My LovingTM, Weeks Roses
Just like the song by The Beatles, this beautiful and flawless deep cerise pink rose will become a number one hit in your garden.  All My Loving was created by Garth Fryer, a third generation nurseryman, of Fryer's Roses in England. He's introduced well over 150 new varieties and amassed a collections of awards from around the world for his creations. Weeks Roses has had the honor of introducing his finest roses in the past, and All My Loving is a lovely new hybrid tea for 2017. Each shapely bud is borne at the top of long stems which are ideal for cutting and great for bouquets. The large luminous blooms stay true to color until the last petal falls, and the tea fragrance has subtle spicy notes. The plant's excellent vigor promises profuse flower production, and disease resistance assures clean foliage. Grows to 120 cm (4 ft.) Hardy to Zone 5 with winter protection.
Graham Thomas, David Austin Roses
One of the most popular and widely grown English Roses, Graham Thomas was hybridized and introduced by David Austin in 1983. Voted The World's Favorite Rose in 2009 by The World Federation of Rose Societies, this variety has won many prestigious awards and been inducted into the Rose Hall of Fame. A rich golden yellow beauty with double, cupped shaped blooms, Graham Thomas has a lovely tea fragrance with deep lemon and violet notes. Grown as a large shrub, 1-1.5 m (4-5 ft.), it is vigorous, an excellent repeat bloomer, and disease resistant. It can also be trained as climber with canes reach 3-3.5 m (10-12 ft.), making this rose a great candidate for a pillar, blooming from top to bottom, from spring through fall. Hardy to Zone 5 with winter protection.
Tropical LightningTM, Weeks Roses
No other rose is like the new climber from Week's Roses. Tropical Lightning presents a one of a kind extraordinary color combination that will electrify the deck, patio, or garden border. Tropical warmth radiates from the rich sunset-like orange while the bright cream stripes dance like lightning. A layer of purple smoke heightens the clustered blooms, building the perfect stormy sky. The novel coloring lasts for days, and the fragrance is moderate fruity with hints of apple. Tropical Lightning is a vigorous plant and profuse bloomer, which only slows down flowering as fall transitions into winter. As if the blooms were not enough to entice you to plant this perfect storm, perhaps the disease resistance and glossy dark green foliage will. Reaching full size in 3 years, canes climb 3 -3.5 m (10-12 ft.) and in northern locations this beauty can be grown as a shrub. Hardy to Zone 4 with winter protection.
Munstead Wood, David Austin Roses
Named after one of the most famous gardens in England, Munstead Wood is another of David Austin's award-winning roses that will leave you enchanted. Each velvety bloom opens light crimson in the bud, but gradually unfurls to form a deep maroon rosette bearing an incredible old rose fragrance with hints of crushed berries. Munstead Wood forms a disease resistant, mounding shrub which reaches heights of 1m (3 ft.) An excellent choice for the front of the border, the color of this rose is spectacular among the cool and silvery blue colors of salvia, nepeta, and lavender. It will easily grow in large containers too. New foliage emerges bronzy red and matures to mid-green. A prolific bloomer, flowers are borne singly and sometimes in clusters of two or three. Enjoy them in beautiful bouquets as the flowers are long-lasting in the vase. Hardy to Zones 6. Move containers to a protected place like a shed or garage for the winter.