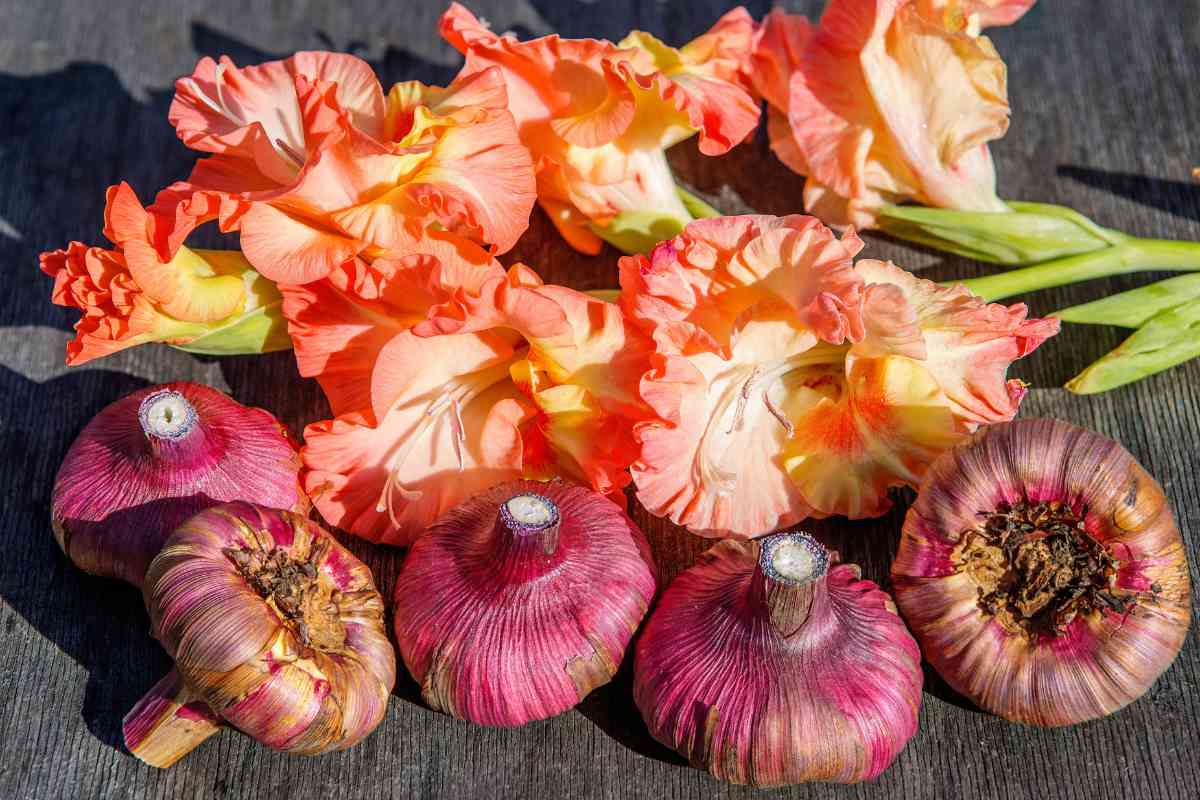 How to Plant, Grow & Care for Gladiolus
Are you looking to add a splash of colour to your garden? Try Gladiolus! There is just something about gladiolus flowers that brings me back to my first summers of gardening. Maybe it's the spikes of flat 2D foliage that suddenly burst into 3D colourful blooms. Or maybe it is how the blooms unfurl over weeks in the late summer sunshine to give long-lasting colour. Whatever the reason they are always on my must-have planting list of summer flowering bulbs. Gladioli are easy-to-grow bulbs that have origins in the tropics of the Mediterranean and African regions. Therefore, they love the summer heat. So, when planning your summer garden, include gladiolus bulbs in planting large containers and mixed borders. Cut flower growers and gardeners alike love gladiolus as they are brilliant for quick bouquets – which make perfect hostess gifts at summer BBQs. To get you growing gladiolus with success we will cover all things gladioli – from planting to growing and aftercare.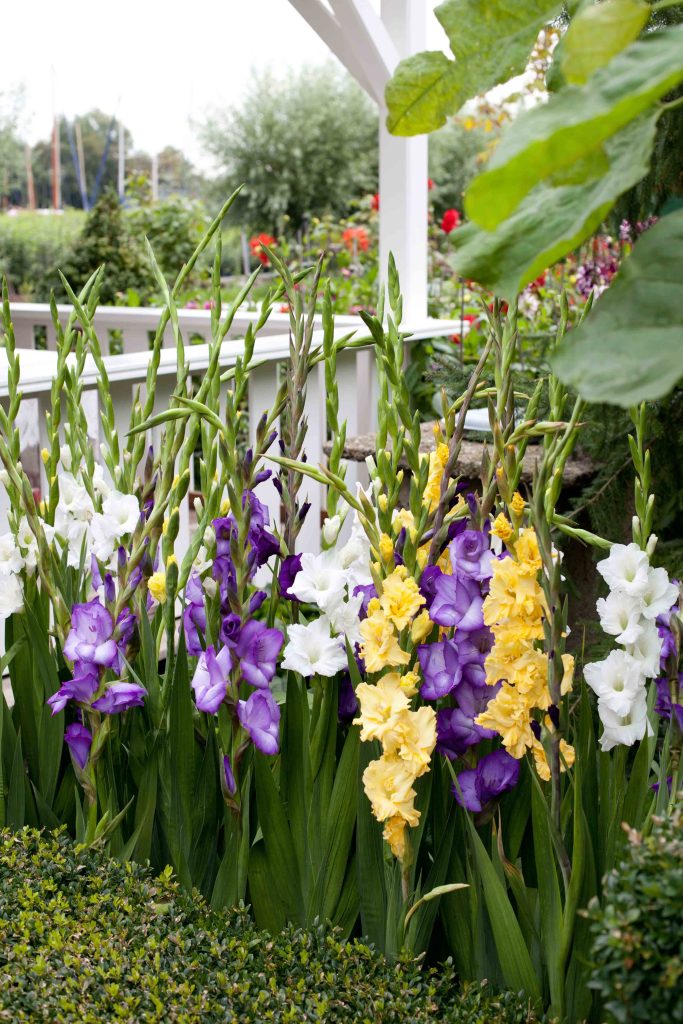 We love the fact that Gladiolus is seeing a great resurgence in popularity, which may be a result of some fantastic new varieties that are now available. Some of our current favourites are Cherry Cola, Starstruck, Lemonlicious, and Earl Grey.
Gladiolus to Plant to the Garden
Cherry Cola
Looking for bold colours in the garden? Add a splash of Cherry Cola Gladiolus. The deeply ruffled blooms of maroon with darker accents will add a pop of colour to your mixed borders. Plant in combination with white flowering dahlias and you have an instant bouquet for friends and family.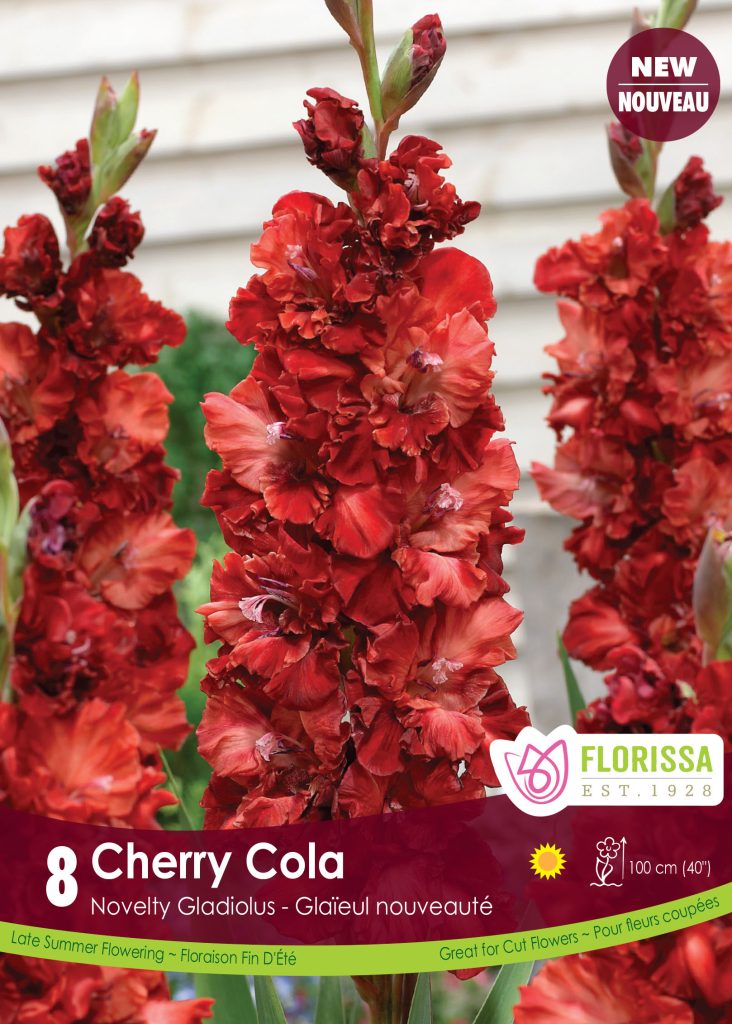 Starstruck
If brilliant colour contrast is what you are looking for try Gladiolus Starstruck. The bright pink ruffled blooms have sunny yellow markings which will be a joyful addition to mixed containers. Gladiolus will give planters height and drama when combined with seasonal annuals, long-lasting perennials, and small shrubs. So go ahead and add a few bulbs for the elegant greenery and burst of colour.
Lemonlicious
Plant some sunshine in your garden with Gladiolus Lemonlicious. The large, smooth blooms of lemony yellow and icy white will be dazzling in the late summer garden. Try planting Lemonlicious gladiolus bulbs among dark-leafed perennials and shrubs to add late summer interest and contrast to your mixed borders.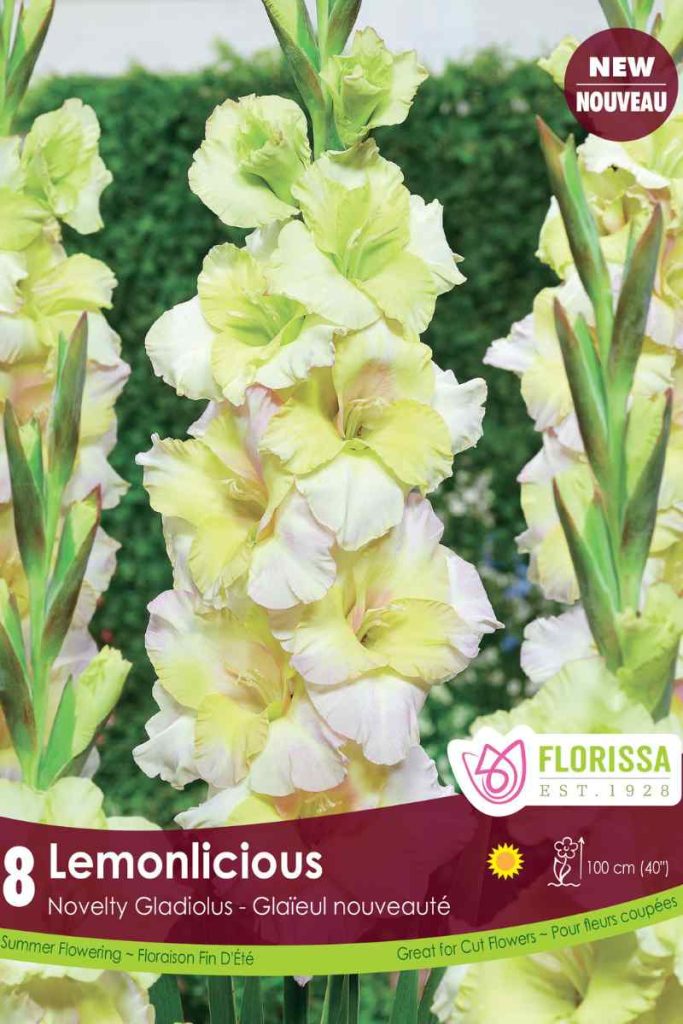 Earl Grey
Are you looking for calming, subtle colours in the garden? Then Gladiolus Earl Grey with its ruffled blooms of dusky cherry and soft plum may be just what you are looking for. Plant in containers and mixed borders where you can relax and enjoy the beauty with your favourite iced tea or summer drink.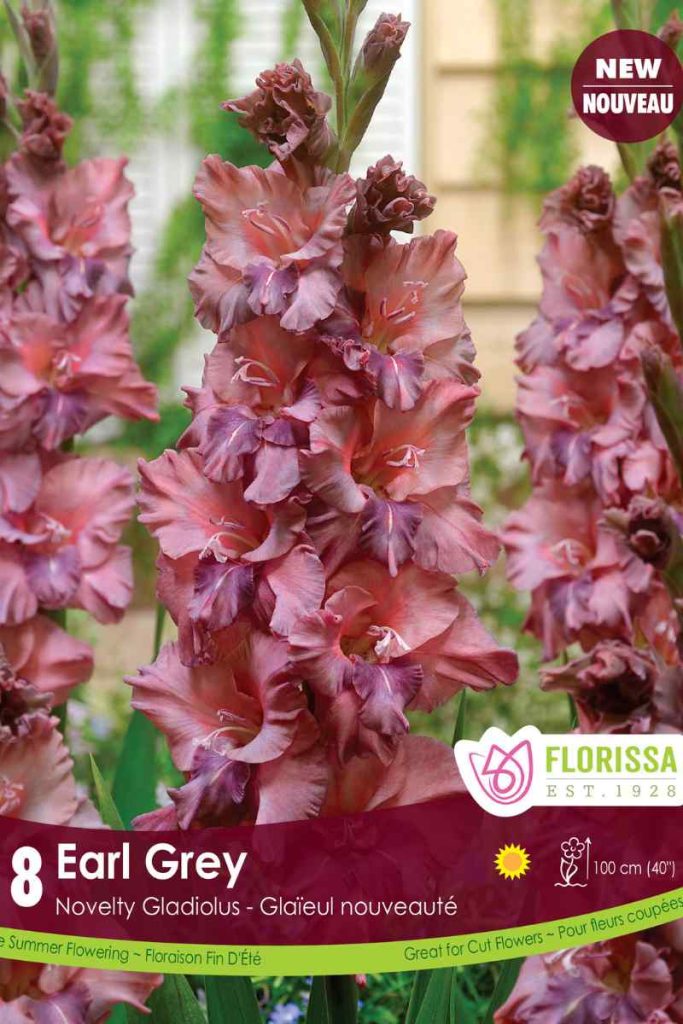 Planting Gladiolus Bulbs
Now that you have added some varieties to your must-have list of garden plants, how do you go about planting gladiolus? It is all about location, location, location! Gladioli have origins in the tropics, so they love a lot of sun, therefore choose a sunny area in your garden or patio. Is your garden more on the shady side? Gladiolus will perform well in part sun areas and the blooms will last longer too. Gladiolus flowers grow from corms, a special flat form of a bulb that has growing tips at the top. The corm will usually have an outer fibrous tunic or covering on the bulb. If your bulbs have a covering, you do not need to remove them for the bulbs to grow and flourish.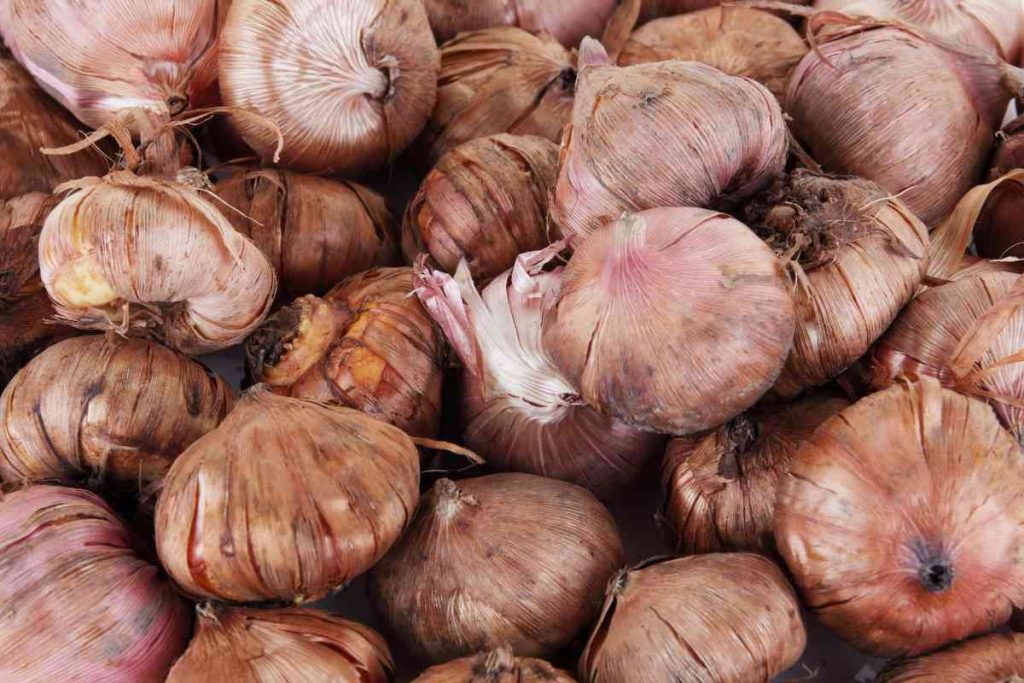 These summer bloomers are frost sensitive, so it is important to know when to plant gladiolus bulbs. Plant gladiolus bulbs in late spring, when the soil and evening temperatures have warmed up to 6°C. Gladiolus bulb planting time may be from late April to late May, depending on your growing region in Canada. Well-draining soil is key to success with summer flowering gladiolus. Before planting, dig a hole 20 cm (8") deep and amend heavy soil with sand, compost, and peat. Back-fill in some amended soil into the hole and plant the bulbs at 10 cm (4") deep and 10 cm (4") apart. Then, fill in the hole with the well-draining soil and water well. To have a constant supply of Gladiolus in the garden from August through September, continue to plant handfuls of bulbs every 2 weeks for a month.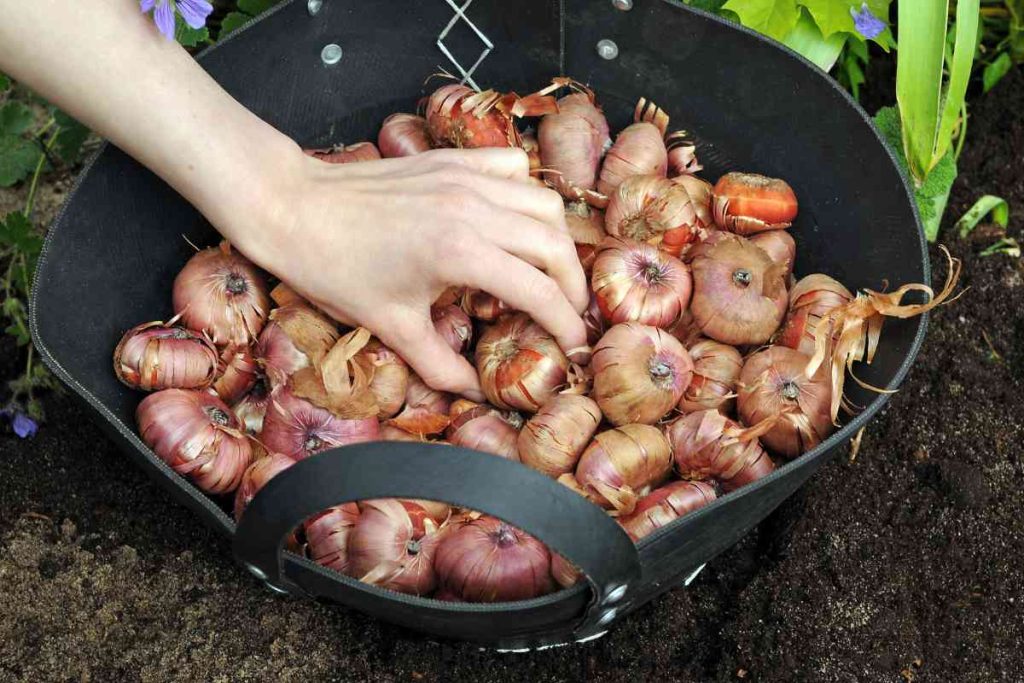 Caring for Gladiolus in the Summer
Once planted, gladiolus bulbs will appreciate a sprinkling of slow-release fertilizer in mid-June and again in mid-July. Continue to keep the soil moist and not soggy as gladiolus are thirsty garden plants, especially when the blooms are forming and flowering. During the heat of summer, when the gladioli are flowering at their best, you may need to soak the soil 2-3 times a week or daily. When the gladiolus bloom, the stem starts to emerge from the flat foliage. At this time, you may want to place a support stake or peony hoop. Strong breezes can make tall gladiolus blooms dance in the garden, but you would not want them to get tipsy and topple. Gladiolus bloom from the bottom to the tip of the stem, so as the blooms fade, gently remove them and enjoy the remaining blooms. Once all the blooms have faded, trim the flower stem to just above the foliage. Continue to water your gladiolus plants after they have finished flowering as they will start to store nutrients for next year's blooms.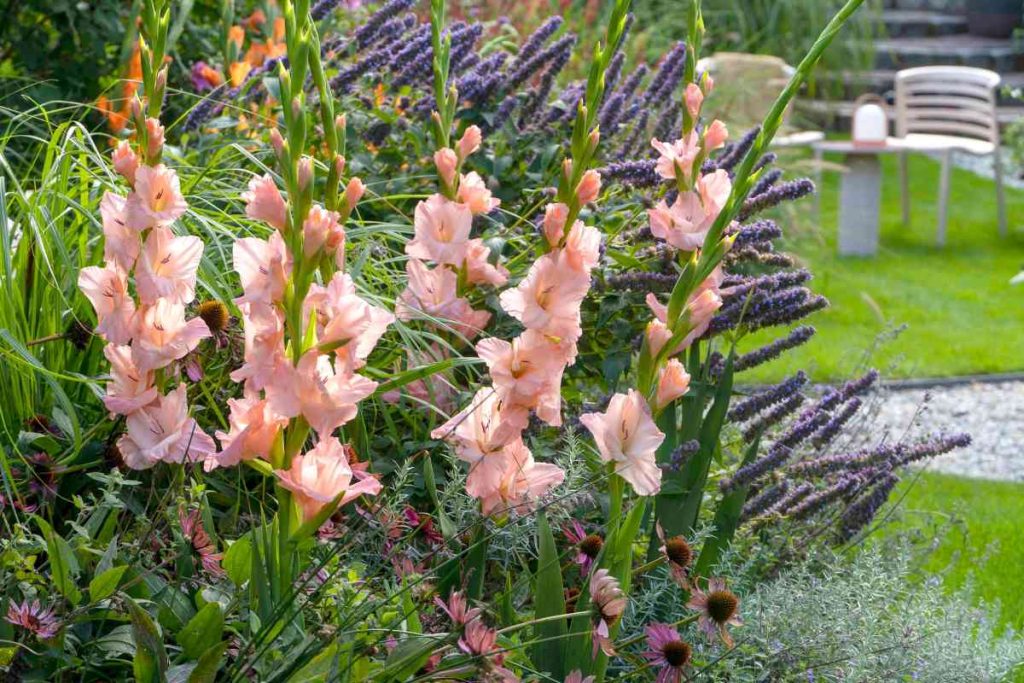 Caring for Gladiolus in the Fall & Winter
Gladioli love the warmth and are native to tropical regions. Therefore, in most Canadian gardens, digging and storing the bulbs in the fall is an important step. Once the foliage turns yellow in late September to October, carefully remove the bulbs from the soil with a fork or spade. You will see a new corm formed above the bulb you planted. Carefully remove the old corm below and add it to your compost. Then trim the leaves attached to the top bulb to 2.5 cm (1") above the top bulb. Keep the upper new corm with the stub of foliage attached and any bulblets that are at least half the size of the main bulb. Dry the bulbs in a warm, well-ventilated area and mark them with the variety name and colour. Once the bulbs have dried you will need to store them in a frost-free area over winter. Place them in trays or mesh bags in a cool well-ventilated area. Mark a day on your calendar to check them in early spring. Then in late spring when the evenings and the soil are consistently warm, you can start the planting process again.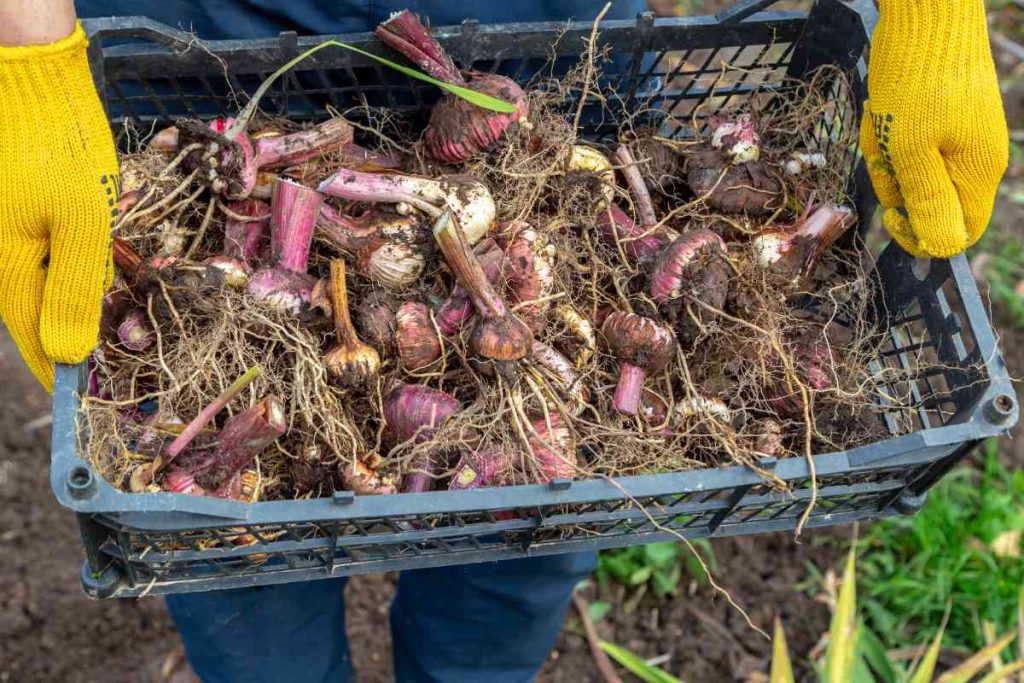 Pests that Affect the Blooming of Gladiolus
Gladioli are easy to grow and care for, but there are a few pests to be watchful of. Some pests like aphids, thrips, snails, and slugs find gladiolus an enjoyable treat too. To reduce pest attacks, water in the morning at the soil level, and avoid getting water on the flowers and foliage. Also, if possible, allow the leaves to dry between waterings or periods of rain. If there are snails and slugs on the foliage, remove them or use your favourite trapping or bait method. If you notice aphids or thrips, you can use a homemade chilli oil spray or a firm spray from a garden hose, to dislodge them. Remember to support the stems with your hand when using a firm water spray and then allow the foliage to dry. If the tips of the leaves start to get brown and dry, it can be due to a lack of water, so be sure to keep the soil moist and not soggy all summer long.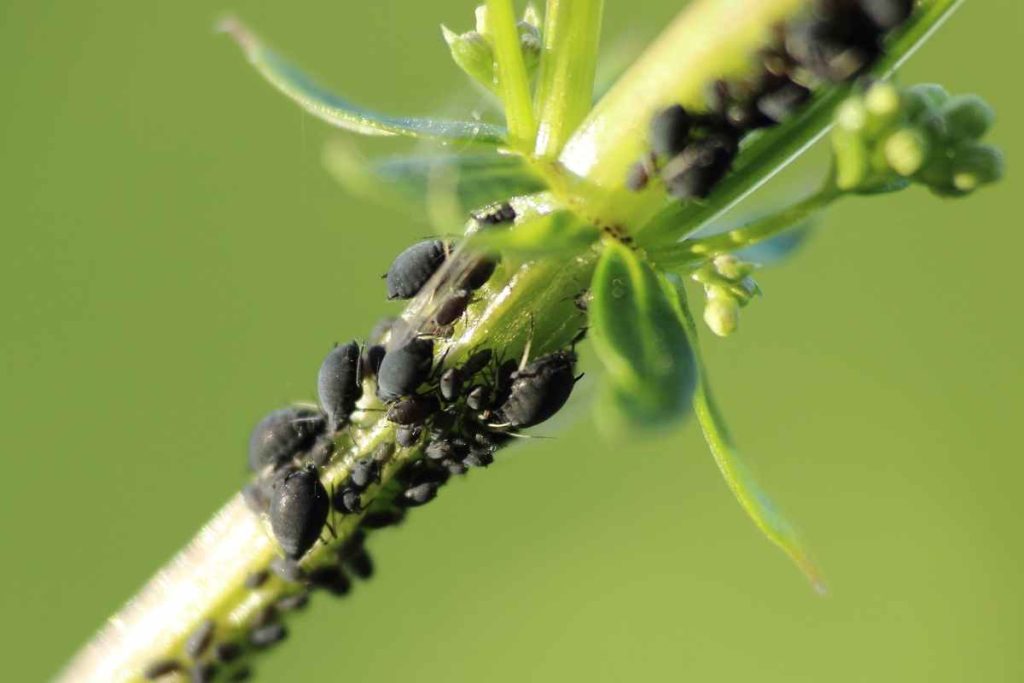 With a few tips and tricks, you too will be able to enjoy the beauty and grace of gladiolus blooms in your summer garden. Have a favourite variety? Tell us about it in the comments. Looking for gladiolus bulbs to plant? Send us an email through our retailer request form so we can send you a list of Florissa retailers near you.