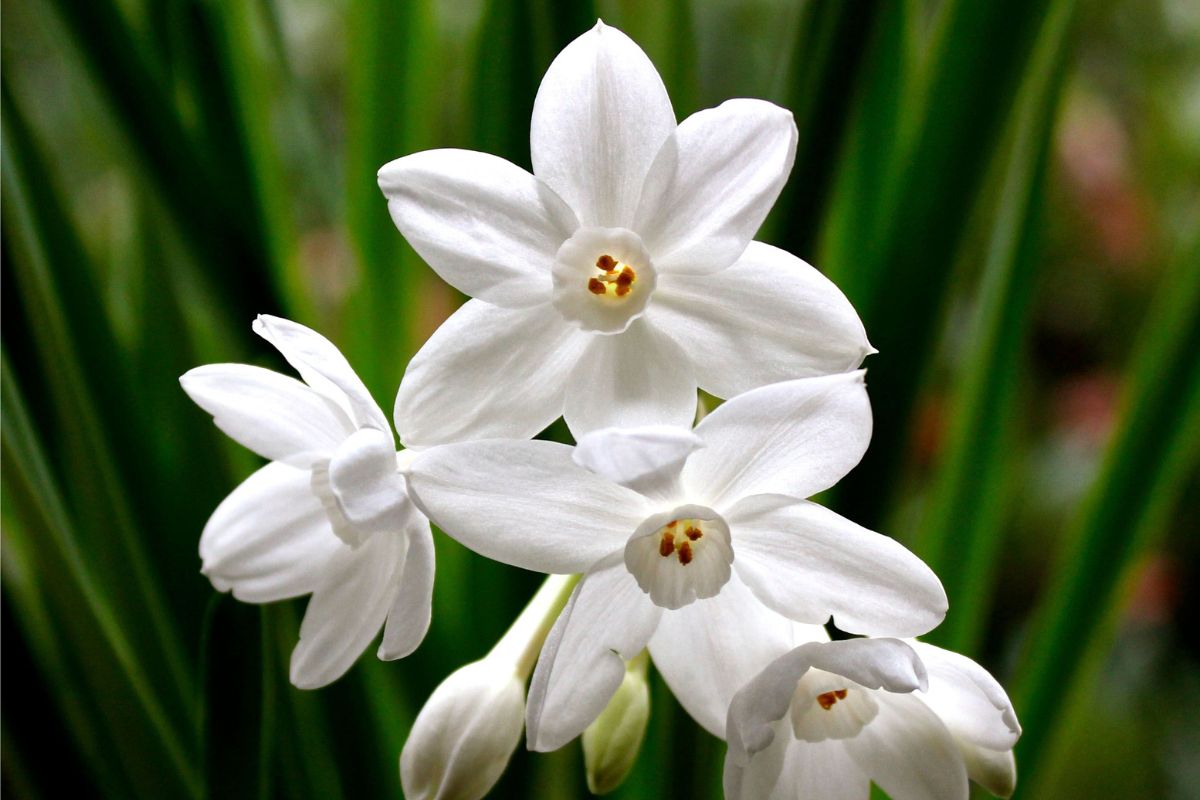 Holiday Giving: Paperwhites
Giving to others is one of the best pleasures of the holidays and living gifts that bloom indoors brighten up even the darkest days of winter. Forcing bulbs has become a seasonal tradition for many.
Narcissus paperwhites are simple and thoughtful gifts, easy to give and grow. Their snow-white brilliance and musky sweet fragrance are uplifting. Buy the bulbs now and keep them on hand for those special tokens of appreciation for teachers, daycare staff, nurses, salon stylists, estheticians, and your favorite barista. Paperwhites make wonderful hostess gifts, party favours for the book club or the women's circle, potlucks, and gift exchanges.
Simply grow them in containers without drainage holes among river stones and pebbles, or coarse sand. Clear glass containers let you see the roots, bulbs, and stems develop. Mason jars, small preserves, and canning jars, even repurposing empty tin cans are just some of the most popular trends. Being creative with presentation, exploring and experimenting with containers and growing mediums is the fun of growing and giving paperwhites. Wrap your arrangement with ribbon, burlap, or raffia. Add a sprig of rosemary, holly, red berries, or cedar and a handmade tag with your holiday greeting.
Once you've selected your container, fill the bottom with your choice of growing medium. Paperwhites only need about 8 cm (3") of depth to root, so you can decide whether to fill your container one-third, halfway full, or all the way to the rim.
Nestle the bulbs root side down in amongst the stones or sand so that they are shoulder to shoulder, but not quite touching. A single bulb may be the perfect fit for a small preserve or jam jar. Add a few more stones or pebbles to cover only the bottom half of the bulbs. Once the roots start growing in and around the stones, the bulbs anchor themselves into place.
Add water to the container until it is just below, but not touching the bottom of the bulbs. Keep bulbs above the water level, as they can sense the presence of water and will sprout roots down into it.
Set the container in a cool room at 10-15°C (50-60°F) with lots of bright indirect light. A cool porch or mudroom with a bright window is an ideal situation.
Blooms appear in just 4-6 weeks, so if you're gifting paperwhites for the holidays, Nov 15 – Dec 15 is the ideal time to start them. Paperwhites don't require a cooling period, so you'll soon see signs of growth and then you're ready for giving.
Store bulk and pre-potted bulbs in a cool dark place, out of the light, and away from ripening fruit. Plan ahead for gifts, continuous displays, and special gatherings. Bring out pots when you're ready for blooms at 2-4 week intervals. Just add water and a bright location.