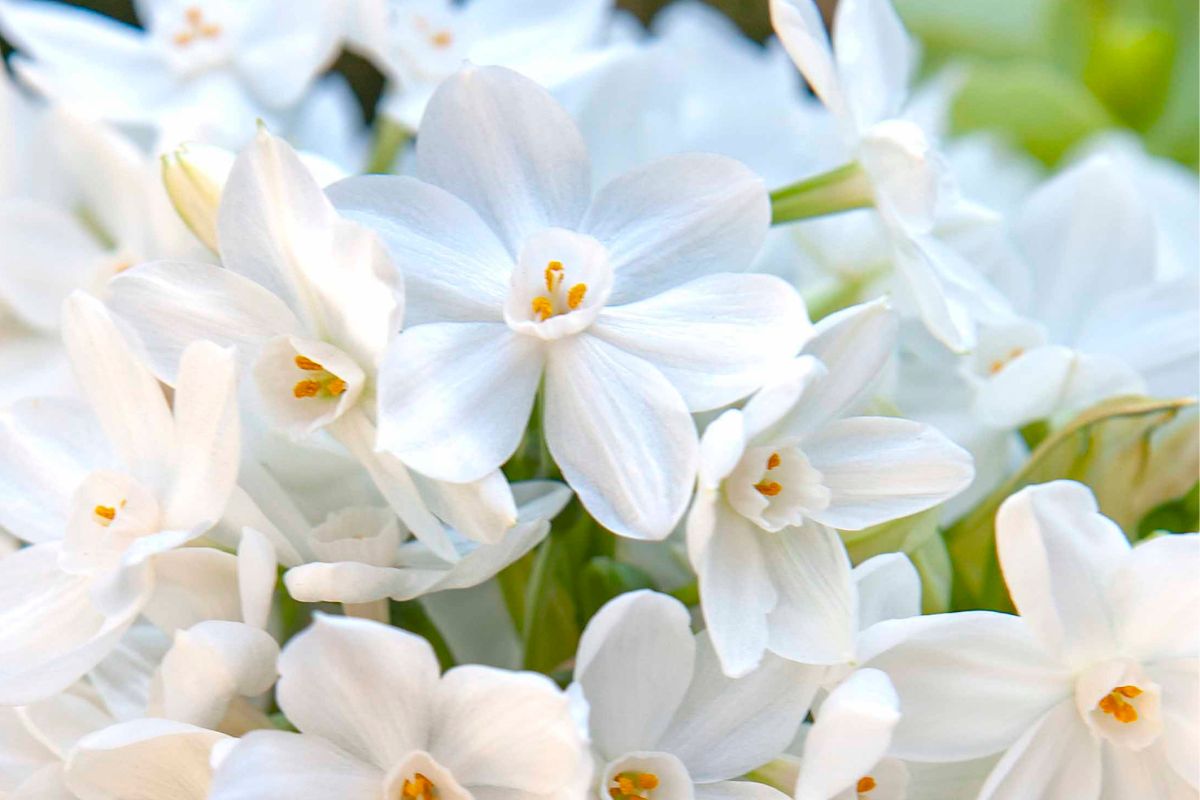 Forcing Paperwhites this Holiday Season
Paperwhites are a Narcissi (Daffodil) perfect for growing indoors over the winter holiday season. Small but full of character, this flower is one of the easiest bulbs to grow indoors as they do not require a chilling period. You simply put the bulbs in a container and wait. Within 3-4 weeks they will bloom, which is perfect for those looking for a quick turnaround. Paperwhites are unique compared to the regular types of narcissi that you plant in the fall and bloom in the spring.
Growing Paperwhites
They are the perfect project for kids or the new gardener, you don't even need soil. Follow these steps for a successful planting:
Choose a shallow, watertight container glass or ceramic are ideal. Fill the bottom 5-8 cm (2-3") with glass beads, marble chips, or decorative pebbles.
Place five or more bulbs closely together, so that the bottoms are at the same depth and the pointed ends are up.
Add more pebbles or planting medium you chose around the bulbs, to keep them in place. Remember to keep the tips of the bulbs exposed.
Add water to just below the base of the bulbs, do not submerge bulbs. The bulbs will detect the moisture and start making roots. Once roots have grown, keep the water level 0.5 cm (1/4") below the base of the bulb.
When shoots appear move to a cool, sunny spot.
Enjoy!
Varieties
Although the name suggests, not all Paperwhites are white! There are many varieties to suit everyone. There is the double flowering 'Erlicheer', scent-free 'Inbal', the 'Chinese Sacred Lily' and 'Grand Soleil D'or', and classic 'Ziva'.
Tips
If you're not planting bulbs right away, they should be kept in a cool dark place (4-10 celsius) in a ventilated plastic bag so they don't dry out or sprout
Bloom time is dependent on planting time, so you could plant a few bulbs every few weeks for blooms all season
If stems get too tall to support themselves, place a branch in your container or tie a decorative ribbon or string around all the foliage to keep it upright.
Paperwhites are unique and they will only bloom once. The bulbs can be composted after the flowers have faded.
To find Paperwhites for this holiday season, visit a retailer near you.
Not sure which retailers carry Paperwhites? Check out our Find a Retailer page.