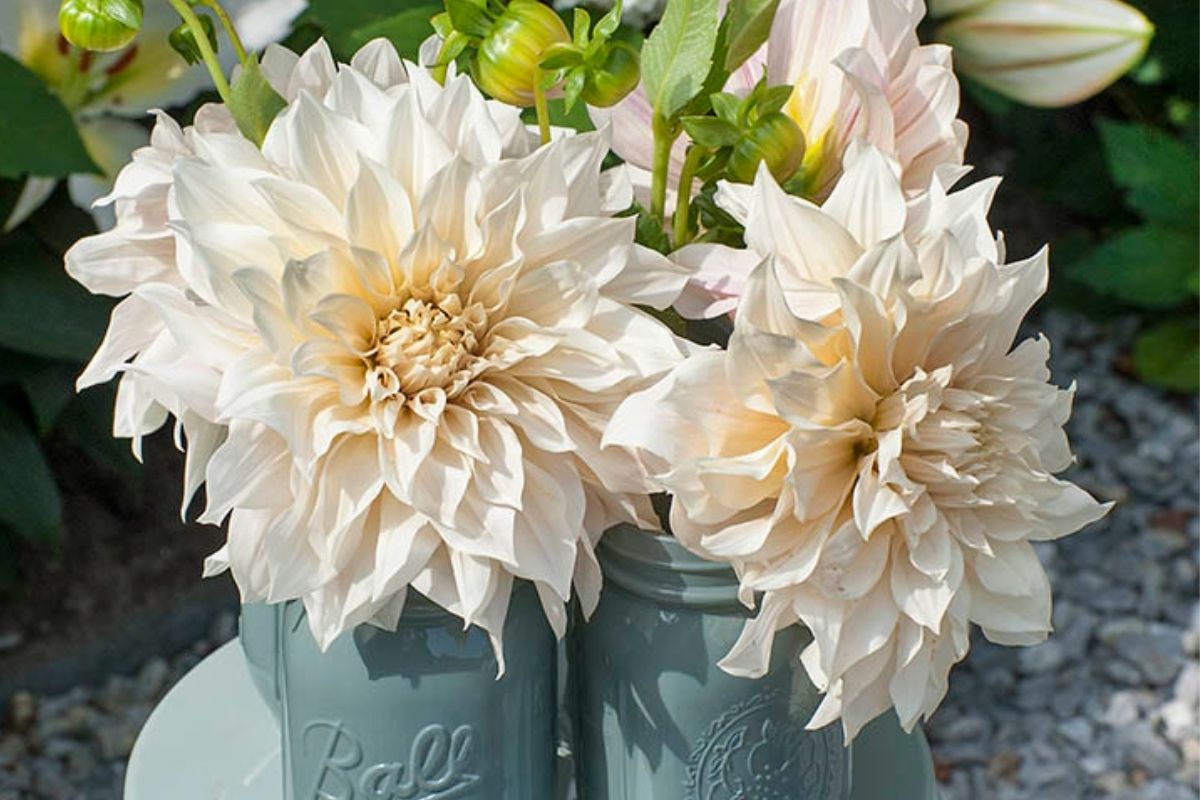 Five Fabulous Dahlias
Dahlias are one of the most rewarding and spectacular garden flowers. Their summer brilliance flourishes right up to the fall's frost. If you cut flowers for bouquets, the more profusely they'll bloom. Dahlias display a wide range of colours, shapes, and sizes from teacup to dinner plate. Did you know there are over 20,000 different varieties of dahlias? Florissa offers the best selection and any variety you choose to grow promises to bring beauty to your garden. Check out these five fabulous dahlias – they'll keep you gathering cut flowers and inspire your floral arrangements.
Karma Choc – Novelty Decorative Dahlia
Karma Choc, one of the darkest dahlias, produces abundant deep velvety red flowers. Radiant dark, burgundy green foliage complements these 10-15 cm (4-6") fully double blooms. Held on strong stems, each bloom adds drama and depth to bouquets. Bred to yield exceptionally long-lasting flowers, Karma Dahlias can last 7-12 days in a vase. Grows to 90 cm (36") in height.
Café au Lait – Dinner Plate Dahlia
Dahlia Café au Lait's magnificent, creamy and frothy blooms are blushed with light peachy-pink overtones. Darker at the center, the petals fade to elegant, pale shades at the outermost edges. Each massive 20-25 cm (8-10") bloom can easily spill over the edges of a dinner plate. A long-established variety, it's become a popular choice in wedding bouquets. Café au Lait blends beautifully with many other colours. Once you've grown this breathtaking dahlia, one plant is not enough. You'll suddenly find yourself reserving garden space to grow more of this beauty. Grows to 110 cm (44") in height.
Twyning's Smartie – Novelty Mignon Dahlia
A single row of magenta-purple petals surrounding a golden orange center disc turns into fun when one or two brilliant white petals start showing up randomly. No two flowers are the same. Dahlia Twyning's Smartie has a cute daisy-like appearance but its superpower lies in transforming a more formal bouquet into the ultimate floral party. These 11 cm (4.5") blooms are a wonderful sweet surprise just waiting to make someone smile. Grows to 90 cm (36") in height.
Sylvia – Ball Dahlia
Ball dahlias showcase the beauty of nature's symmetry with their rounded shape and inward curving petals. They add interest to floral arrangements, and lovely 'Sylvia' in radiant orange shades also lends warmth and cheerfulness. Strong deep brown stems complement the 11 cm (4.5") flowers. Ball dahlias measure at least 9 cm (3.5") in diameter or greater, while pompon dahlias are smaller, sometimes measuring less than 5 cm (2") across. Grows to 100 cm (40") in height.
Myrtle's Folly – Dinner Plate Dahlia
Dahlia 'Myrtle's Folly' has beautiful raspberry buds which reveal blooms of hot pink with yellow and orange hues. Zany petals twist and turn, splitting slightly at the tips. Each bloom is a supersized puffball and can easily measure up to 20 cm (8") across; quite a spectacular act in the garden and in your cut flower bouquets. Grows to 90 cm (36") in height.