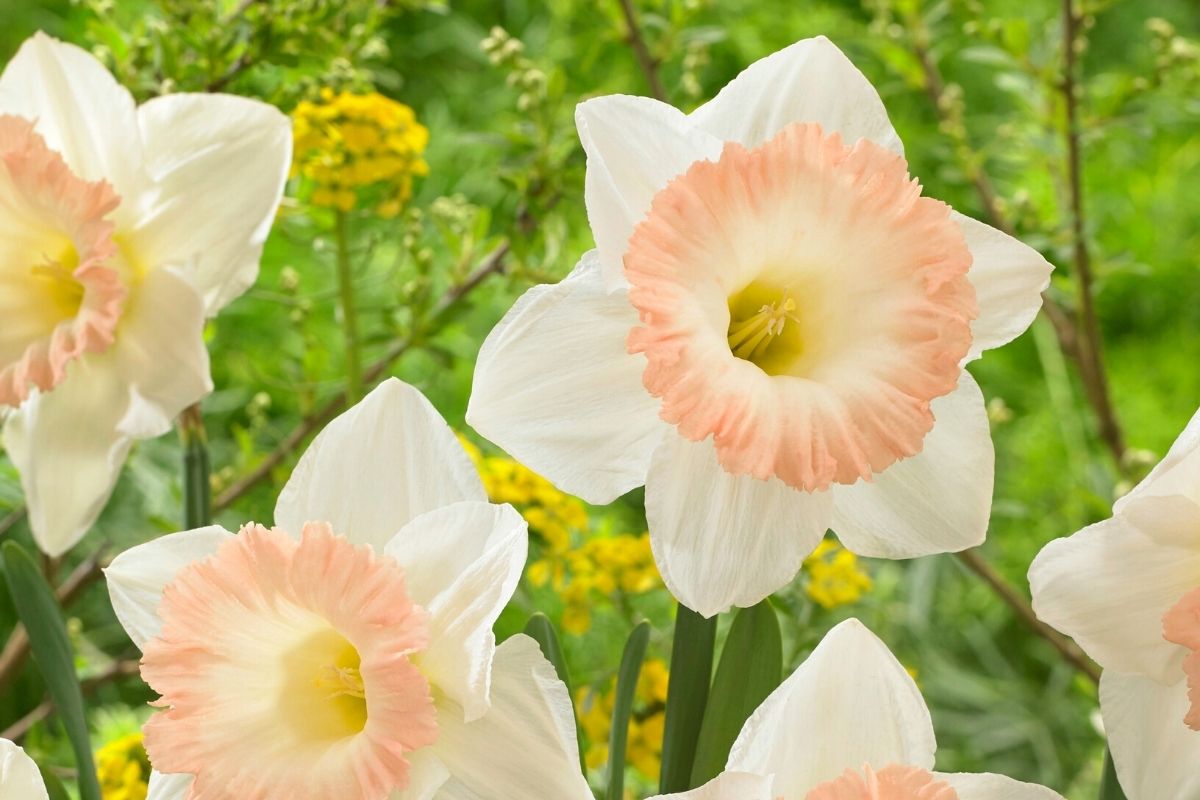 Daffodil Delights: Trumpets of Spring
Bright, sunny, cheerful – spring just wouldn't be the same without daffodils. Canadian gardeners love these easy-growing flower bulbs. Jubilant in dappled shade or sunshine. Leave daffodil bulbs in the ground and they will increase in size and number, returning to bloom for many years to come. Rich rewards for planting them just once. They perform well in mixed borders and containers, so even if you're short on garden space, you can plant up a pot to set by the door. Beautiful and durable, daffodils are also deer, rabbit, squirrel, and mole resistant…need we say more? Check out these new varieties for the most gorgeous spring ever!
Narcissus Sunnyside Up
How do you like your daffodils? Sunnyside Up is a beautiful split-corona or butterfly narcissus. Its trumpet is divided all the way to the base and each section lays back open like a butterfly's wings soaking up the sun. Creamy soft yellow petals with distinct darker sunny yellow edges are loosely curled and tousled. Hints of greenish-yellow light up the centre of the flower. Sunnyside Up received the RHS Award for Garden Merit in 2007. It blooms mid-spring and grows 45 cm (18") tall. Hardy to Zone 3.
Narcissus Queen's Delight
The best known, the most popular daffodils are the trumpet narcissi. Early spring bloomers, these daffodils have one flower to a stem and a trumpet as long, or longer than its surrounding petals. Queen's Delight has gigantic blooms at least 8 cm (3") across, each with a magnificent and showy trumpet. Opening with ivory petals, the pale lemon trumpet has a thick ruffled edge in soft apricot pink. Gradually the ruffled edge darkens, and the trumpet matures to buff cream. Queen's Delight is long blooming, and an excellent cut flower, growing 35 cm (14") tall. Hardy to Zone 3.
Narcissus Perfect Lady
Perfect Lady is an elegant and refined narcissus with upward-facing blooms. Pristine white petals surround a deep coral rose funnel-shaped trumpet. A green eye at the centre of the flower provides superb contrast. Outstanding sunproof colour, and sweetly fragrant, this daffodil is destined to become one of your spring favorites. Perfect Lady blooms mid-spring and grows to 40 cm (16") tall. Hardy to Zone 3.