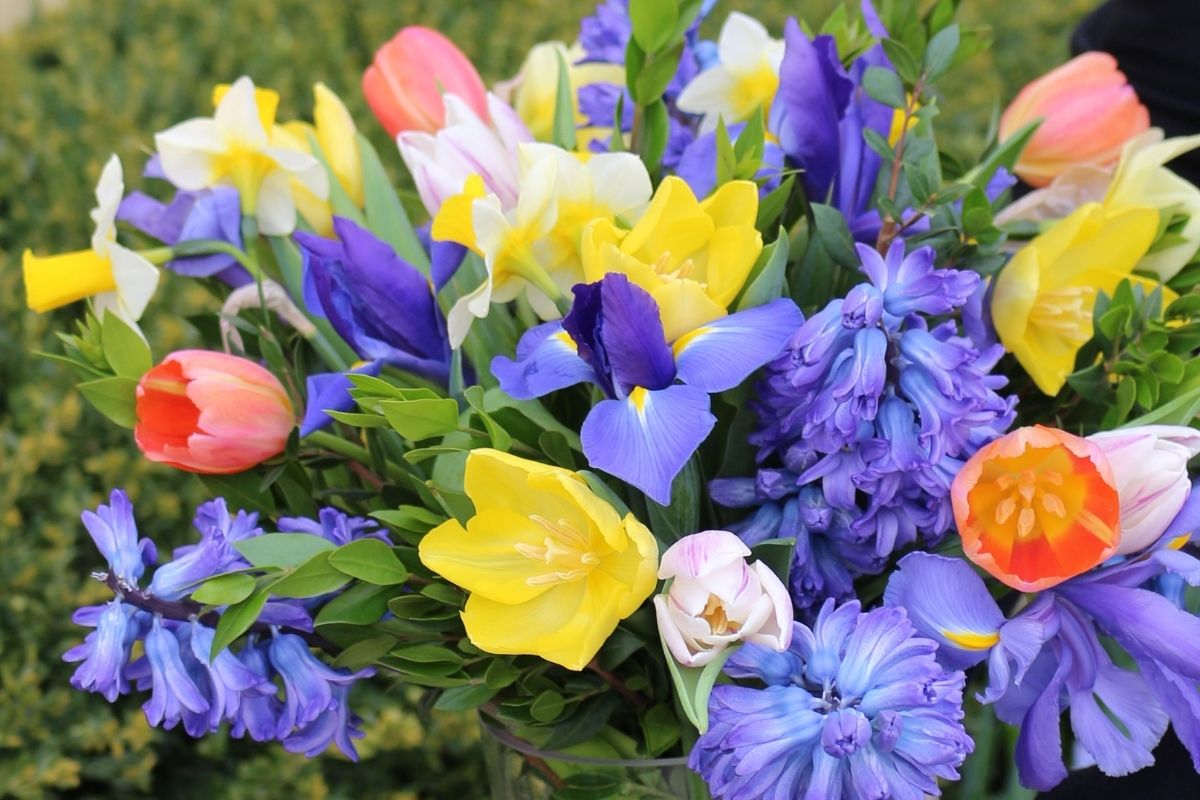 Creating Bright and Bold Spring Flower Bouquets
It's my favourite time of year… spring! All my daffodils are blooming, hyacinths are filling the air with the most perfect fragrance, and my tulips are starting to show colour. Nothing makes me happier than seeing the show that the bulbs I planted in the fall put on in my garden!
There is something so special about having a bouquet of fresh spring blooms in the house! So, I always like to plant a section of my garden dedicated to cut flowers. Whether you keep planters or a garden bed for cuts, I like to keep them separate so I can enjoy blooms in the garden as well as have ones to bring into the house.
There are a few staples that I always plant in my cut flower garden, so that I know I can make a few nice bouquets in the springtime. This includes Narcissus (Daffodils), Tulips, Hyacinths, and Irises.
Narcissi
One of the first blooms of spring, daffodils are such a cheerful flower! They come in all different shades of yellow and white and make the perfect addition to any bouquet. Daffodils are great as a cut flower and give immediate colour in the house.
Tulips
I like to plant tulips that flower at different times, so throughout the spring, I have lots of tulips to select from and use in my arrangements. I like to use Triumph tulips like Cream Flag and Apricona. They are tall, and very sturdy stemmed, giving the most flexibility when used in a bouquet. They have a long vase life and make a beautiful addition to any bouquet!
Hyacinths
Believe it or not, you can actually use hyacinths as cut flowers! The tower of blooms gives intense fragrance and adds texture and dimension to your bouquets. Hyacinths come in an array of colours from purple to white, and everything in between!
Dutch Iris
Another great cut flower that adds a new dimension to your arrangements is cut irises. They are tall, gorgeous, and deer resistant to boot! I like to plant the spring mix so that I can use the different colours depending on what I am creating.
This week I went to my local florist, Flowers & Company (check them out on Instagram @flowersandcompanylangley), and learned some tips and tricks on how to bring your flowers inside, and how to ensure they last as long as possible! I was able to work with the most beautiful blooms, including hyacinths, tulips, irises, and daffodils. The most important thing that the florist and owner, Trudy, taught me was that daffodils and hyacinths must be treated before you add them to a bouquet with other cut flowers. Daffodils and hyacinths ooze out this kind of goopy sap when you first cut them from the garden. This sap will leak into the water in the vase, clogging the stems of the other flowers, and then they can't drink any water! Those flowers will then wilt very quickly, making for a sad bouquet. But don't worry! With proper treatment, you can use daffodils and hyacinths in your arrangements no problem! After you cut your daffodil and hyacinth stems, soak them in a vase of water on their own, ranging from 6 hours to overnight, and give the stems a fresh rinse before using them in your arrangement. After your daffodils and hyacinths have been conditioned, and the sap is gone, you can create to your heart's content!
Cut flower tulips can last in bouquets for 7 to 10 days and there are a few insider tips on how to get the most out of these beautiful blooms. When cutting tulips in the garden select blooms that are just starting to show colour and leave behind at least 2 leaves on the stem. As a cut flower, the blooms will continue to develop and give you a wonderful show of colour. If the tulip blooms start to droop, you can take a pin and prick a small hole in the stem, just below the bloom. When arranging tulips, keep in mind that they will continue to grow after they have been cut. It is very normal for the stems of tulips to grow 2.5 to 5 cm (1 to 2") in an arrangement and they will bend towards the light.
Together with Trudy, we made the most gorgeous spring bouquet that is full of colour, fragrance, and beauty! We used Tulips: Flaming Flag, Prince Willem Alexander, Strong Gold; Hyacinth King of the Blues, Narcissus Angels Flute and Iris Sapphire Beauty. I was so excited to bring home my bouquet and enjoy the spring cheer at home!
One of the reasons I love to plant extra flower bulbs in the fall is to have the freedom to create bouquets in the springtime. I always have fresh flowers in the house and love gifting my blooms to friends and family. Nothing brings more happiness and cheer than a fresh bouquet of flowers and having them grown in your own garden makes it that much better!