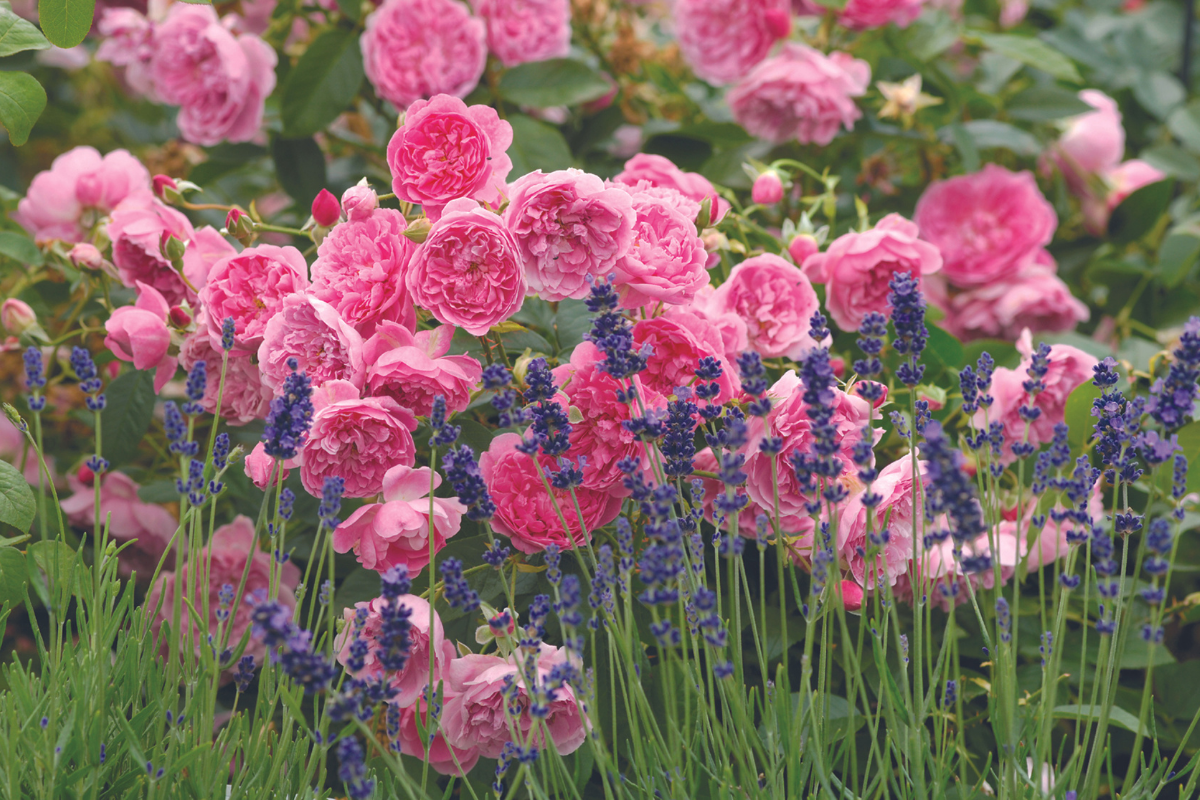 Companion Plants for Roses
Adding companion plants to your rose garden is a popular and beneficial practice for the health and beauty of your garden. The addition of perennials to your rose garden can bring out the best of your roses, by complimenting their aesthetics, warding off pests and improving the soil. Companion plants create a healthy diversity in the rose garden that is not only appealing to the eye but beneficial to the environment. Companion plants can enhance the colour palette of the garden as well as a rose's perfume. Inserting various flowers to your rose garden adds to the longevity of colour that will appear in your garden as a benefit from the differing bloom times. To have a full and lush look to your garden, there are varieties to add to your front, mid and back borders that will pair well with your roses. Best of all, companion planting inspires creativity and frees you from the formal structured rose garden.
Selecting Rose Companions
When selecting companion plants, remember that roses don't like to compete for sunlight, water or nutrients. Plants with a clumping or well-behaved habit make good companions. Avoid surrounding roses with plants that have an invasive habit so that roses don't become overcrowded. Choose varieties with compatible growing requirements (6 hours of sunlight, slightly acidic and well-draining soil, enjoys a deep soak of water 2-3 times per week, and a balanced fertilizer). When planting, locate companion plants at least 30 cm (12") away from the shrub base to maintain good air circulation and to leave roots undisturbed.
Front of the Border Companions
Front of the border rose companion plants are perfect to build substance to the edge of your garden bed and to hide the bases of your rose bushes. They can shade and mask the base of canes of the shrubs, especially for climbing roses. Short plants you add at the front will work to fill in the empty garden spaces, allowing the roses to be a focal point and showcased. Colour is a very important consideration when adding companion plants to your roses. Shades of chartreuse in Heuchera 'Lime Ricky', Hakonechloa 'Aureola' and Alchemilla will accentuate the colours of your roses. If you wish to add bright punches of colour to the front of your rose beds, try Lily 'Tiny Epic', Lily 'Tiny Poems', Phlox subulata 'Candy Stripe', Aquilegia 'Earlybird Mix' or Campanula 'Dickson's Gold'.
Add Variation Within Your Roses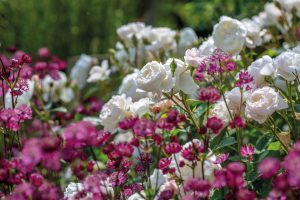 Mid-border plants used within your rose garden add dimension and contrast with their varied colour and texture. For example, blue flowers, such as Platycodon 'Fuji Blue' or Veronica 'Royal Candles' provide superb contrast to any rose blossom, as blue is a colour that isn't usually found within the rose family. Mixing in different sized blooms and colours within your roses allow your blooms to appear more vibrant. Liatris spicata, Allium, and Agapanthus 'Twister' compliment the wide, cup-shaped flowers of roses. As your roses come into bloom, so will these varieties!
Create a Backdrop for Your Roses
Create a backdrop to your rose garden. Add taller plants to compliment the heights of your rose bushes. Select tall varieties such as Allium 'Summer Drummer' blooms, Malva 'Zebrina' and Lily 'Budlight', These plants have the additional bonus of excellent textures, shapes, and bloom sizes. Allowing for various heights in your rose garden will make your eye dart around your stunning garden, stopping at all different varieties to take it all in!
Companions for Climbing Roses
Climbing roses look stunning with companion plants. Tying in a contrasting coloured clematis such as Vancouver 'Starry Nights', or the uniquely shaped Lonicera 'Gold Flame' do justice to the beauty of roses. They play off each other, creating a pleasing combination on any trellis, arbor, fence, or wall.
Beneficial Traits of Companion Plants
Allium planted among roses can help repel aphids, weevils, borers, and moles, while being beneficial to friendly pollinators such as honeybees, butterflies and hummingbirds. Allium (ornamental garlic) is also known to assist in the prevention of black spot, a common fungal disease. It's even been reported that these easy to grow bulbs can boost the fragrance of your roses.
Hardy geraniums (cranesbill) help deter beetles as well as aphids. Ideal as companions for roses, they are clump forming, well-behaved and low growing perennials. These perennials attract hummingbirds into the garden which feed on aphids and other insect pests.
When planting rose companions, consider the basic care needs for your roses and their companions. Make sure there is good air circulation around the plants to allow for proper pruning. It might be challenging to reach your roses to remove finished blooms if your perennial plant companions are too tall.
Gardeners are often seeking companions to mask the base canes of their shrubs, especially for climbing roses. Select perennial companions that create texture and interest in bouquets and the garden throughout the season. The possibilities become endless when perennials become companion plants among roses, making room for them in the mixed border.
There are many stunning perennials to add to a rose garden. For more great suggestions on plants to compliment your roses, visit your local garden centre. To find a retailer near you, visit Find a Retailer.