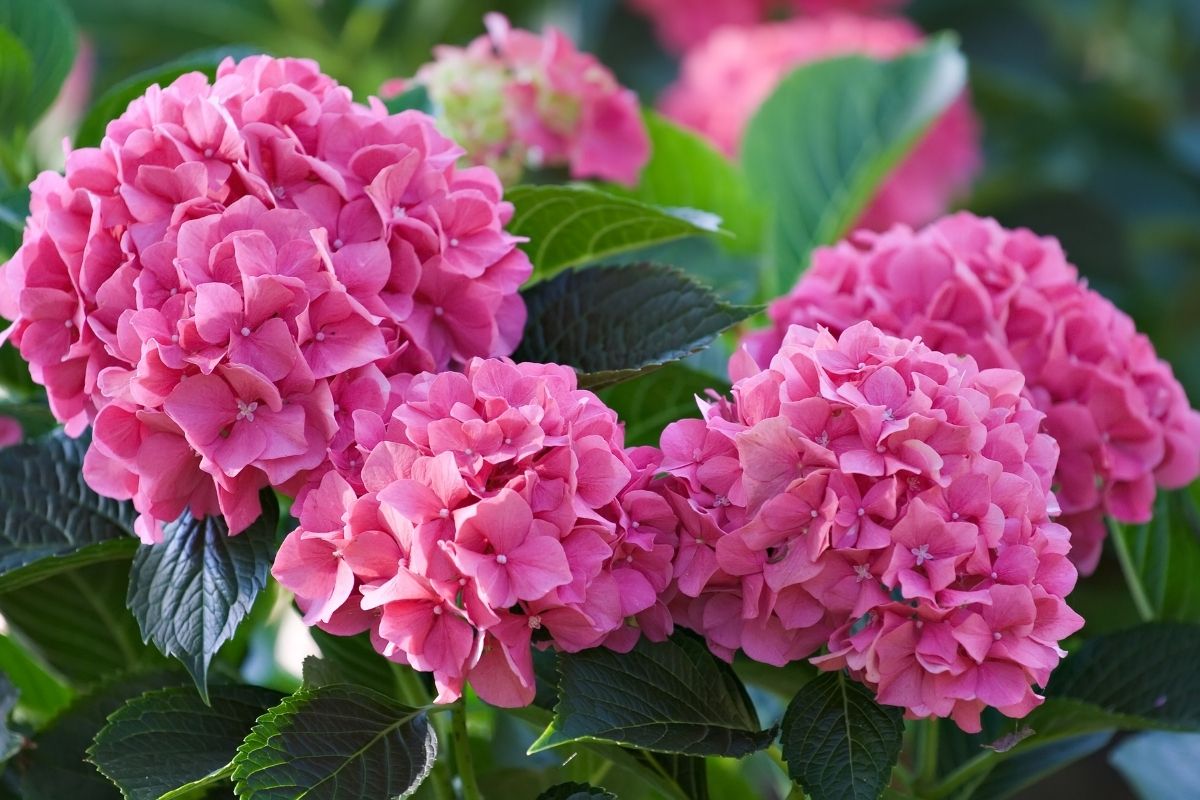 Hardy Shrubs
Canada Day is the perfect occasion to gather with family and friends, and the number one activity across the country is enjoying a BBQ in the backyard. Our gardens are very much a part of our lives and the day's celebrations. While you're grilling up the great Canadian burger, why not plant some hardy shrubs that will thrive for years to come?
We've found some great hardy shrubs that provide year-round interest.
Hydrangea 'Fire Light®' by Proven Winners©
A showy, flowering beauty that's sure to become a favorite in your garden. Hydrangea 'Fire Light®' is a paniculata hydrangea with gracefully arching upright branches and huge, cone-shaped flower heads packed with single florets. Blooms emerge creamy white in early summer, and transition as they age, to shades of pink to vivid pomegranate red. It's one of the best colour transformations in a hydrangea.
Hydrangea 'Fire Light®' offers no end of summer colour as its blooms are long-lasting, making for great cut flowers, fresh or dried. It's sensational as a hedge, or foundational plant in the border, growing 180 cm (72") tall and wide. Exceptionally hardy, it is easy to grow, low maintenance and reliable, blooming every year. Hydrangea 'Fire Light®' enjoys full sun and well-draining, moist soil conditions. In warmer areas, provide some afternoon shade. In early spring, prune the branches back (1/3 their total length) and provide a granular fertilizer for woody shrubs. An outstanding selection that has become a standard by which to measure all hardy hydrangeas. Hardy to Zone 3.
Philadelphus 'Snowbelle'
Philadelphus 'Snowbelle' is a compact, rounded shrub that is covered with clusters of double white flowers at the tips of its branches from late spring to early summer.  Commonly known as Mockorange, each bloom offers a stunning, sweet citrus scent that resembles orange blossom. 'Snowbelle' was developed by Agriculture Canada in Ottawa, and it's the most prolific bloomer of all Mockorange. Filling out right down to ground level, situate this shrub at the front of the border where it can be enjoyed. It's spectacular when in bloom, growing at a fast pace to 120 cm (48") tall by 90 cm (36") wide. Ideal for hedges, screening and mass plantings, 'Snowbelle' is highly tolerant of urban pollution, thriving in inner city environments. Plant it in full sun to partial shade, and moist, well-draining soils. Reliable and low maintenance, prune it only after flowering, when all the blooms have faded. Hardy to Zone 4, it attracts butterflies, yet is deer resistant.
Rosa 'Canadian Shield'
No shrinking violet, this rose is named after the great Canadian Shield formation that covers more than half of the country. It's part of the 49th Parallel Collection developed by Vineland Research for Canada's National Rose Program. Rosa 'Canadian Shield' was released for Canada's 150th Anniversary and these hardy shrubs are proving to be popular with Canadian gardeners. This refined red beauty is hardy from coast to coast, able to withstand the diverse climatic conditions found across Canada's major growing regions. Large, fully double, rich red blooms of 45 to 52 petals appear in clustered bouquets all over the shrub from mid-summer to fall. Excellent repeat flowering, the blooms are lightly fragrant. Versatile in the landscape, this floribunda rose grows 152 cm (60") tall by 120 cm (48") wide. It's tough too, exhibiting first-rate disease resistance to black spot and powdery mildew. Hardy to Zone 3.
Cornus 'Arctic Fire' by Proven Winners©
Cornus 'Arctic Fire' is much sought after for its intense dark red twiggy stems, as they bring spectacular colour to the garden in the fall and winter light. Commonly known as Red Twig Dogwood, they are gorgeous as ornamental hardy shrubs in the border. The dark green ovate foliage contrasts beautifully with the dark stems before turning autumn shades of glowing burgundy rose. Clusters of creamy white flowers, attractive to butterflies in spring and summer, become white berries for the birds as the seasons change. One of the most shade tolerant ornamental shrubs, 'Arctic Fire' is easy to grow and low maintenance. It's compact, just half the size of other varieties, growing only 90-120 cm (36-48") tall and wide; perfect for urban, residential landscapes, and containers too. Plant it in full sun to partial shade, and moist, well-draining soils. Prune a third of the branches back to the ground in winter and fertilize in early spring. The vibrant intense red stems will look stunning in your holiday arrangements. Deer resistant and Hardy to Zone 2.