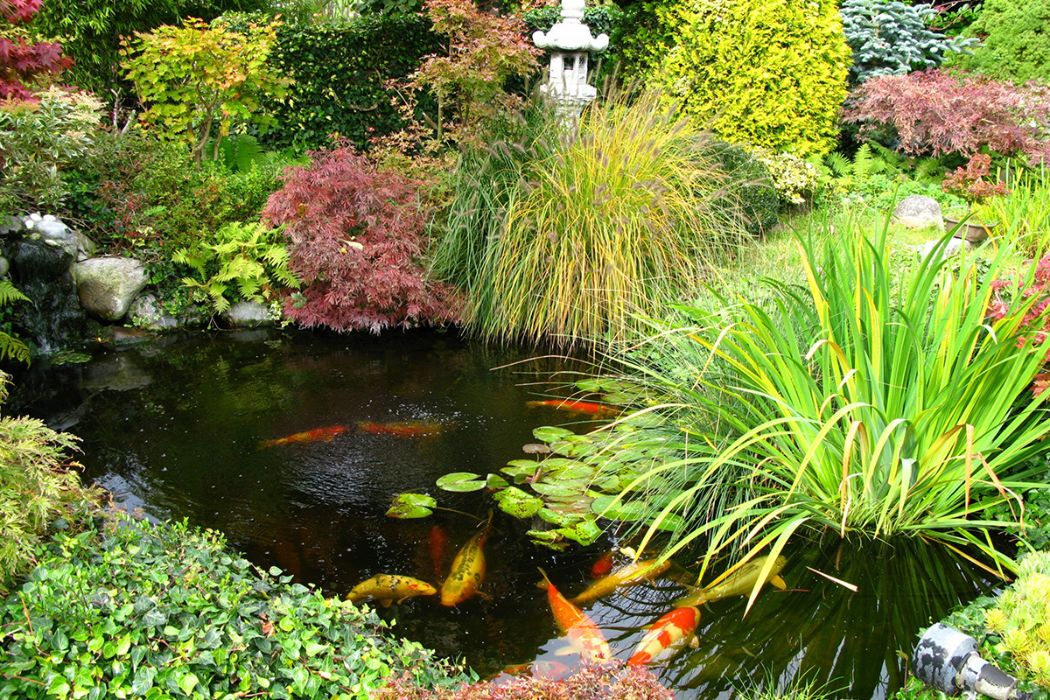 Amazing Perennials for your Aquatic Garden
Create a relaxing harmony in your garden with water features complemented by aquatic perennials! Water gardens can include small garden ponds, bogs, and fountains. The more elaborate aquatic gardens may even incorporate waterfalls and watercourses. When building an aquatic garden, don't skimp on the dressings! Flowers, ferns, grasses, and other perennials are essential for thriving and attractive water features. Selecting the right plants for the water's edge can cover a fountain's mechanics and add visual interest that takes your pond to the next level.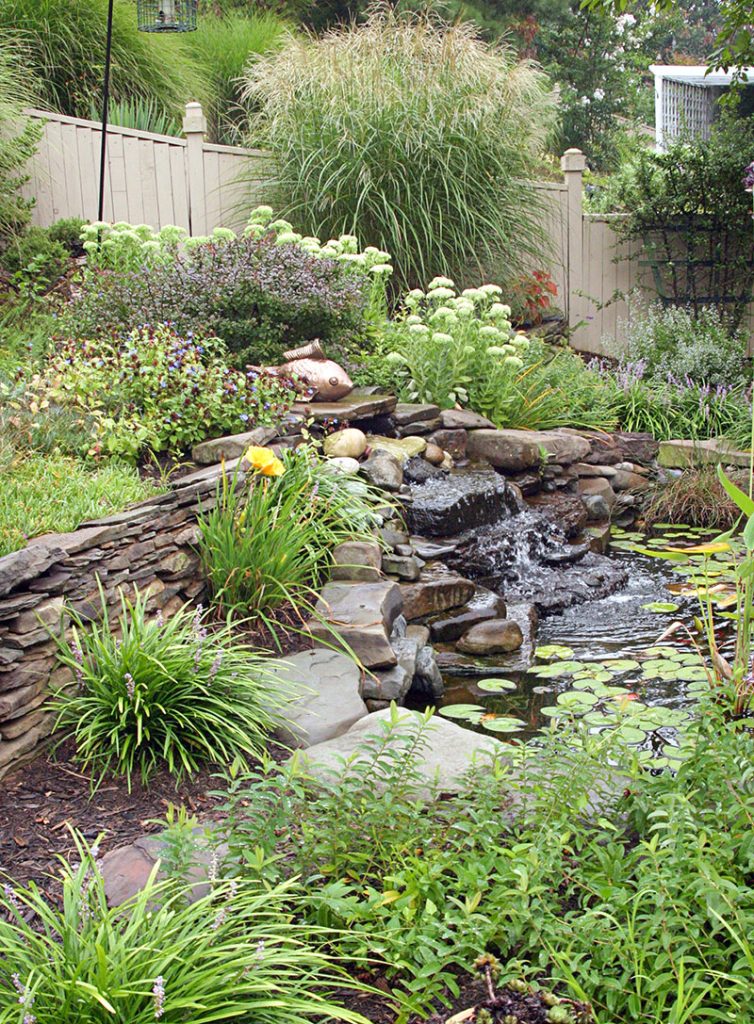 Types of Aquatic Plants
There are four general categories of plants for aquatic gardens: rooted floating plants, submerged oxygenating plants, marginal plants, and waterside plants.
Submerged plants are often used in ponds to clarify the water and remove unwanted nutrients. The majority are unattractive grass-like plants growing from the bottom of the water. Rooted floating plants are varieties such as water lilies which float on the surface of the water while still having roots at the bottom of the pond.
This blog will focus on waterside and marginal perennials. These types of waterside plants are ideal for creating a pleasing appearance around the water garden edges. They do not need fertilizer as they will absorb nutrients from the water supply and reduce algae.
Choosing Your Aquatic Garden Plants
Create a stunning and viable garden pond by paying attention to the shape, size, and sunlight needs of your plants. There are many different varieties to choose from to enhance your pond. Add dynamic splashes of colour to the waterside areas with iris, convallaria, rudbeckia, hemerocallis and more! There are endless colour choices for waterside plants. Add interest to your waterside garden with a variety of heights, textures and leaf shapes. Pair grasses with large leaf varieties like hosta or gunnera, and with short varieties such as ajuga and dodecatheon. Remember to add contrast with texture as well by using foliage of plants like rodgersia and large blooms of iris ensata. When shopping for your aquatic plants, carefully check the care instructions to confirm the variety will grow near the waterside. In addition, pay close attention to the variety's light requirements.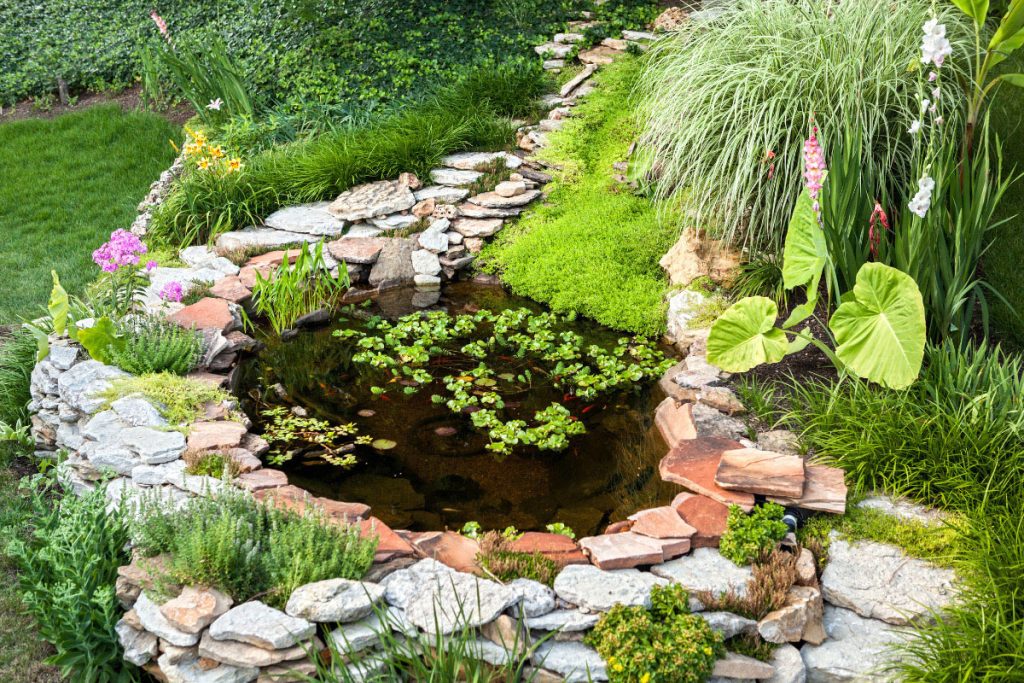 Waterside Perennials
Waterside plants, or moisture-loving perennials, prefer to have their crowns (where the roots meet the shoots) planted above the water level but to have the ends of their roots submerged and constantly moist. Bog plants are included in this category. Plant waterside plants for gorgeous greenery and blooms around ponds. Unlike marginal plants, submerged plants, and rooted floating plants, waterside plants are planted in the ground at the edges of the pond. These plants thrive with heavy amounts of moisture.
Aruncus dioicus Kneiffii
Enjoy the soft delicate whisps of creamy white blooms on this 60 cm (24") tall plant. As both a sun and shade-loving variety, Aruncus dioicus Kneiffii blooms from June through July. It's the perfect medium-sized perennial that will tolerate many different conditions. Also known as Goat's Beard, aruncus is a perfect choice for waterside interest. This perennial will love those damp and shady corners of your bog or pond! Hardy to zone 2 and deer resistant this perennial is a great addition.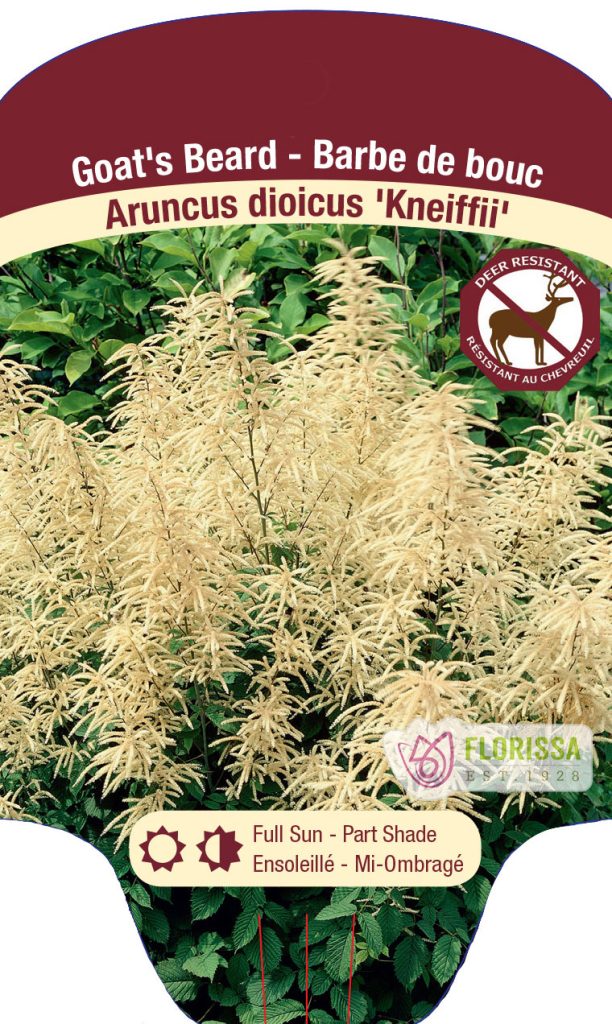 Hemerocallis Lavender Blue Baby
Hemerocallis is a very popular and easy-to-grow plant in the garden. Another feature of this spectacular variety is you can also plant hemerocallis waterside! Hemerocallis Lavender Blue Baby has stunning tri-coloured blooms of lavender petals with magenta collars and a lime green eye. These spectacular 6" blooms will add amazing colour to the water's edge as they rise from the grass-like foliage. This re-blooming daylily grows to 65 cm (26") high with a width of 75 cm (30") in your full to part sun areas. You will love its long bloom period from June through to September. This reblooming variety will produce a flush of blooms from 2-5 times each summer. Lavender Blue Baby is hardy to zone 3 and the fragrant blooms will add the fourth dimension of scent needed to complete your aquatic garden oasis.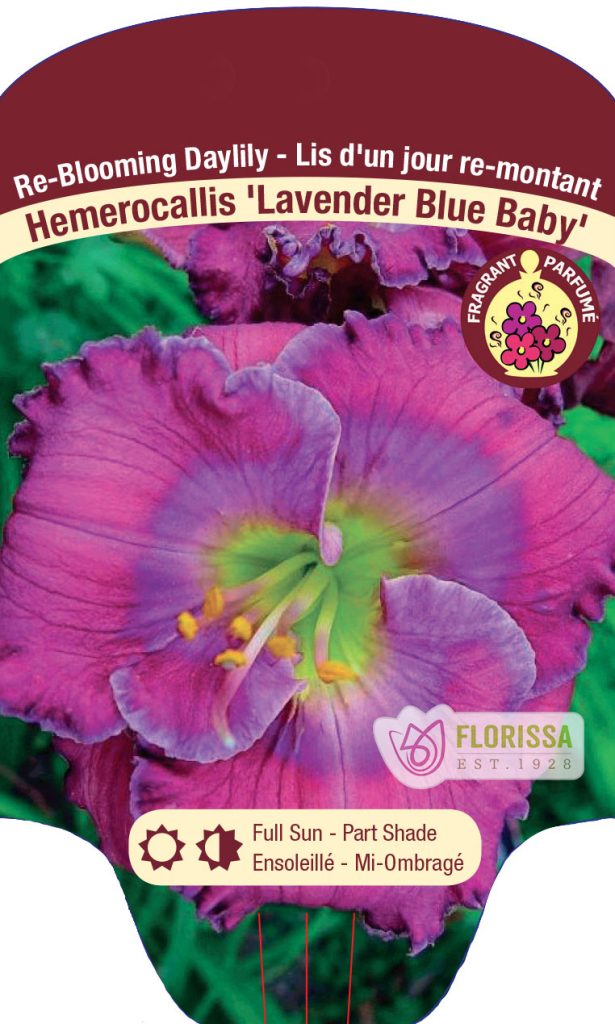 Rodgersia pin. Bronze peacock
Looking to add some interesting foliage to the waterside? The stunningly huge leaves of Rodgersia Bronze Peacock emerge in a deep cocoa bronze colour in spring and transform to dark green later in summer. All season long the leaves will display an intricate quilted pattern. Blooming in early summer, the exotic large pink plumes of Bronze Peacock will add splashes of colour to the surrounding areas. As a bonus, Bronze Peacock is great for cut and dried flowers! This perennial grows to a height of 55 cm (22") and to a width of 70 cm (28"). Hardy to zone 5 and deer resistant, this garden backbone will add interest and texture all summer long.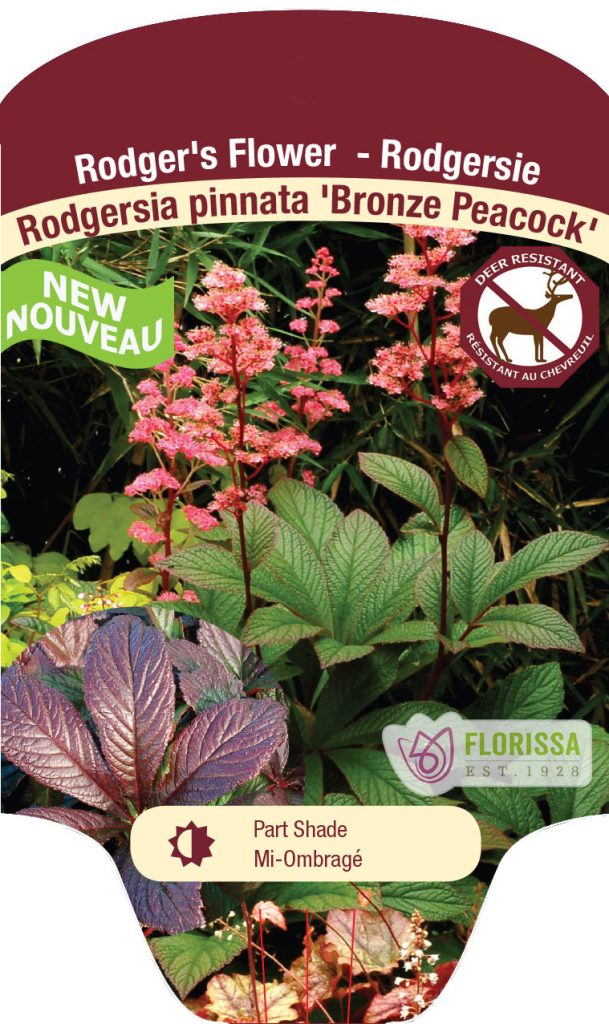 Pulmonaria Raspberry Frost
This shade-loving plant is ideal for the borders and edges of your pond. Pulmonaria Raspberry Frost, also known as Lungwort, has gorgeous deep raspberry red blooms. Not only are the flowers stunning, but the leaves add interest too! The green leaves which are lightly spotted and edged with white are a perfect complement to the blooms. Make sure to check out more pulmonaria varieties for their unique flower colours and interesting leaf characteristics! Enjoy the blooms of this pollinator-loving perennial from April to May. Hummingbirds and bees will frequent this variety, so be sure you plant it in an area around the water feature you can see! This relaxing ground cover grows to a height of 30 cm (12") and a width of 60 cm (24"). Raspberry Frost is a deer resistant and easy-to-grow perennial that is hardy to zone 3.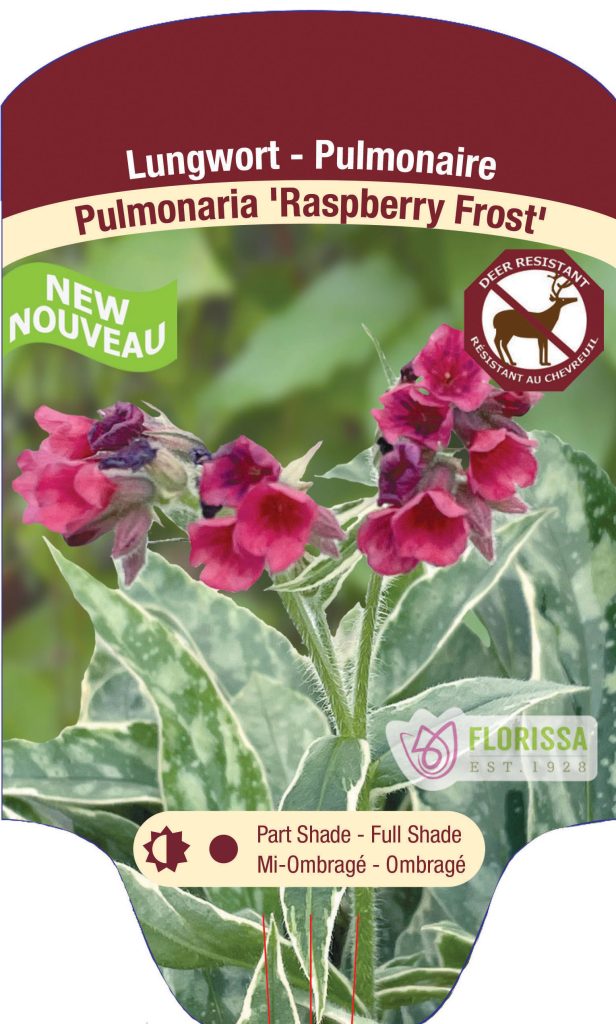 Filipendula Kahome
Add a pop of colour to the waterside with Filipendula Kahome. Reaching a height of 50 cm (20"), you can enjoy rosy, pink tiny fragrant blooms from July through September. In addition to its attractive flowers, this fern-like perennial has bright green leaves growing on red stems. With its low growth, Kahome is useful as a waterside groundcover, is hardy to zone 3 and is deer resistant.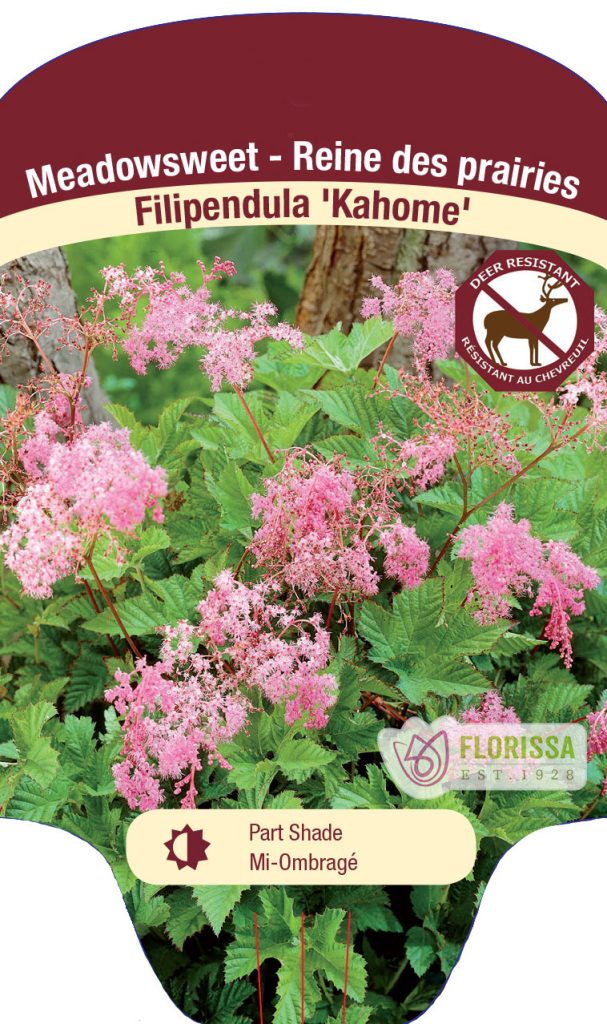 Marginal Plants
Marginal plants live with their roots under the water, but the rest of the plant rises above the surface (living in the shallow waters around the pond, most of these plants do not like drying out). These types are usually planted in containers and placed so that the top of the pot is at or just barely below the water's surface level. They can often withstand planting 3-6 inches below the water surface. There are many species and varieties of marginal and waterside plants to choose from.
Carex morrowii Ice Dance
Ornamental grasses at the water's edge are a common sight. They are a beautiful addition, with their height and ability to thrive in areas around ponds and bogs. Ice Dance's shiny dark leaves are adorned with bright white edges. Come mid-summer, Ice Dance produces small, cream, bottlebrush flowers. Despite the small blooms, it's the foliage that takes centre stage. The deer-resistant foliage grows to 30 cm (12") tall and 50 cm (20") wide when mature, and adds year-round dimension to the waterside landscape! Hardy to zone 5.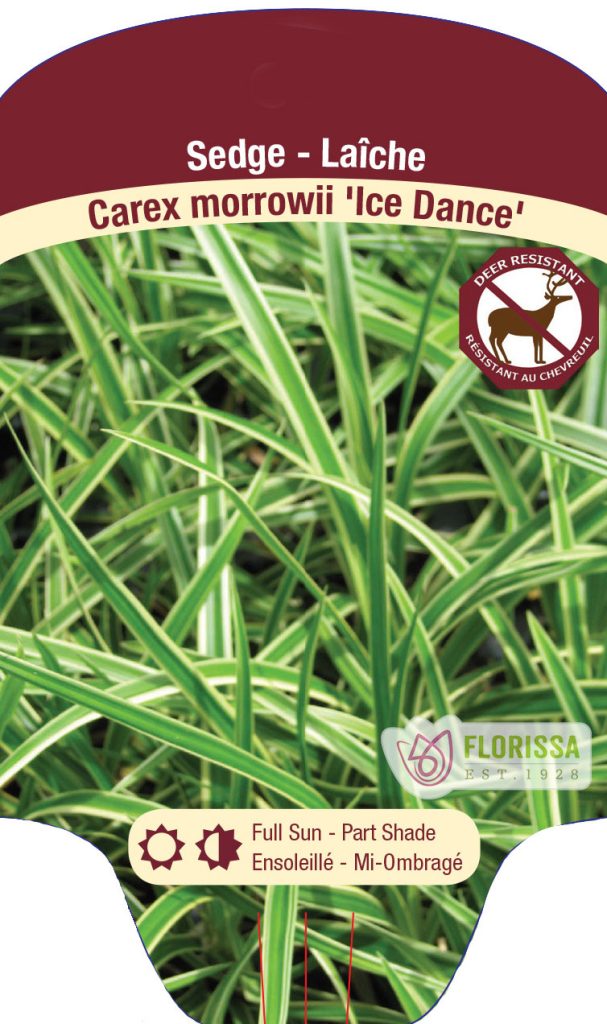 Houttuynia cordata Chameleon
Looking for a fresh and delicious scent in your garden? Add a summertime fragrance with Houttuynia cordata. This perennial's multicoloured foliage is tangerine-scented! Enjoy the mottled leaf colours of red, green, and yellow topped with petite white flowers appearing from June to July. Chameleon is a deer-resistant ground cover that grows to 50 cm (20") tall that is hardy to zone 4. It is a great waterside filler for the aquatic garden.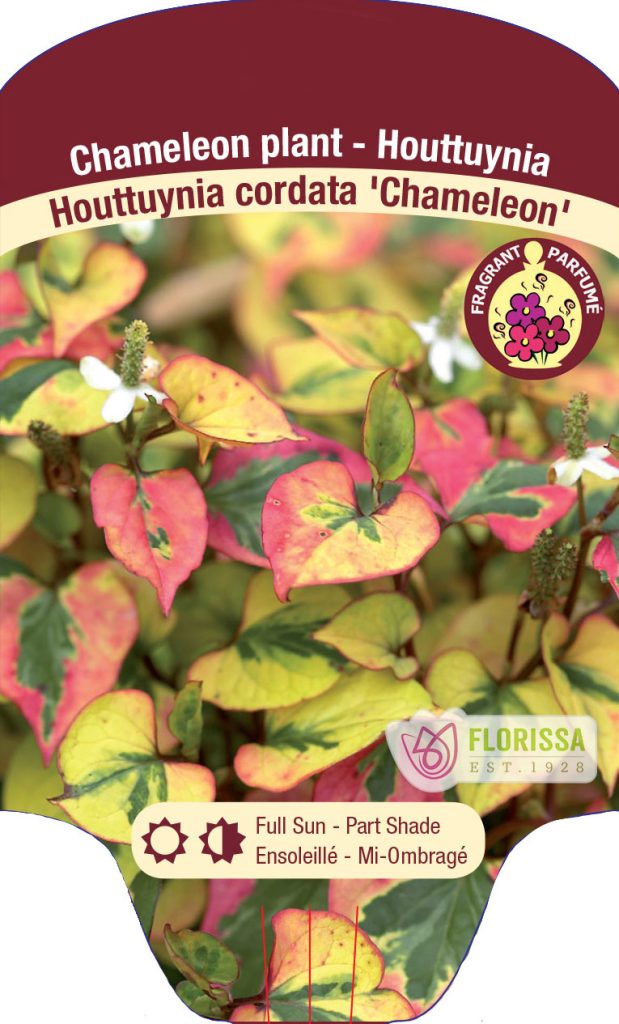 Iris ensata Dinner Plate Blueberry Pie
Take your waterside garden to the next level with vibrant punches of colour! Add the saturated purple blooms of Japanese Iris Ensata Blueberry Pie to bring extra attention to your water feature. The deer-resistant upright grassy foliage surrounds the sensational flowers, with a height of 60 cm (24"). With oversized 15 cm (6") blooms, Blueberry Pie is a hardy perennial that will thrive in wet locations. Enjoy these massive blooms from June through July in full sun to part shade location around your pond. This easy-to-grow perennial is hardy to zone 4.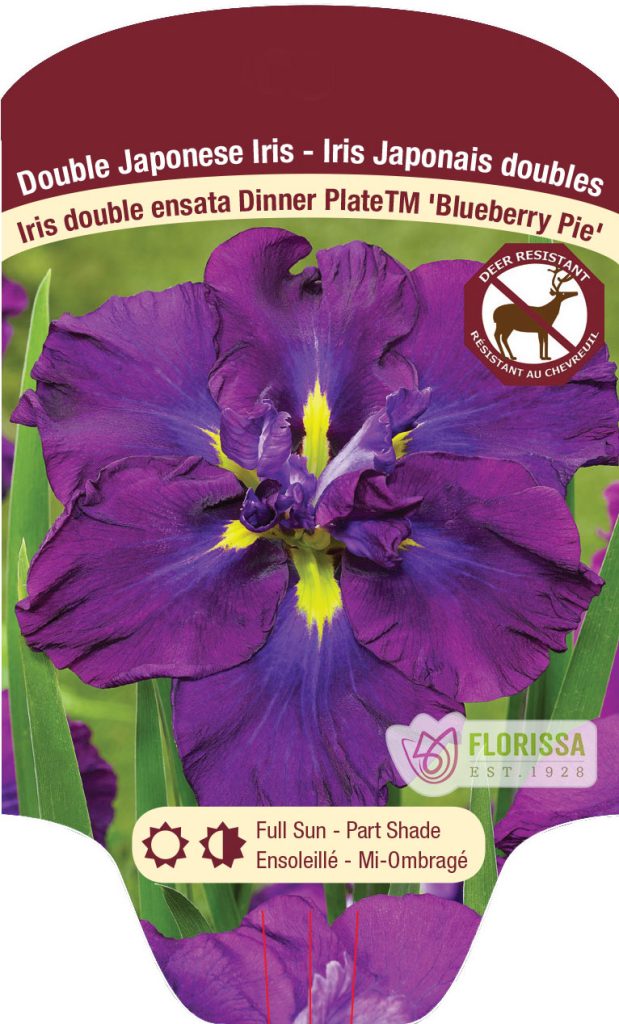 Iris versicolor Gerald Derby
Differing from the Iris ensata variety, Iris versicolor implores a unique shape. Also known as the Blue Flag Iris, Gerald Darby has more than one stunning feature to take note of. The flowers are violet-blue and adorned with deep yellow signals with white accents. The blooms do take centre stage, however before they emerge the stunning deep purple foliage is a sight to behold before it transitions to green in summer. The flowers bloom at a lovely height of 60 cm (24") tall and form a clump that is 30 cm (12") wide. As a deer resistant easy-to-grow perennial, this hardy to zone 3 plant should be on the must-have list of everyone planning a pond or water feature.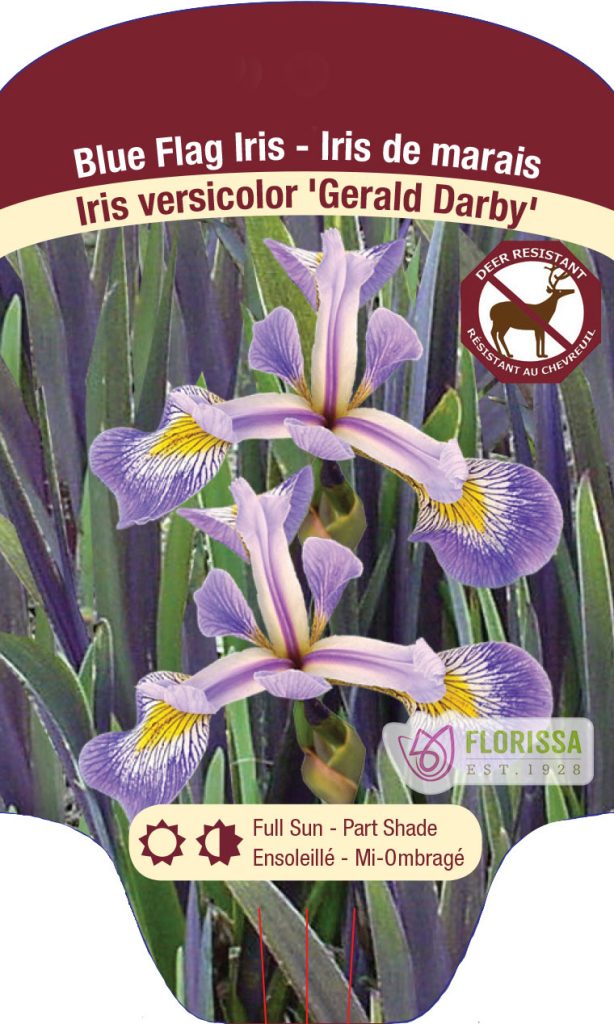 Once you have planted all your waterside plants, it's time to relax! Create a comfortable seating area next to the waterside and enjoy the sounds and sights of your gorgeous aquatic garden! You will not regret dressing up your garden pond with these gorgeous aquatic favourites!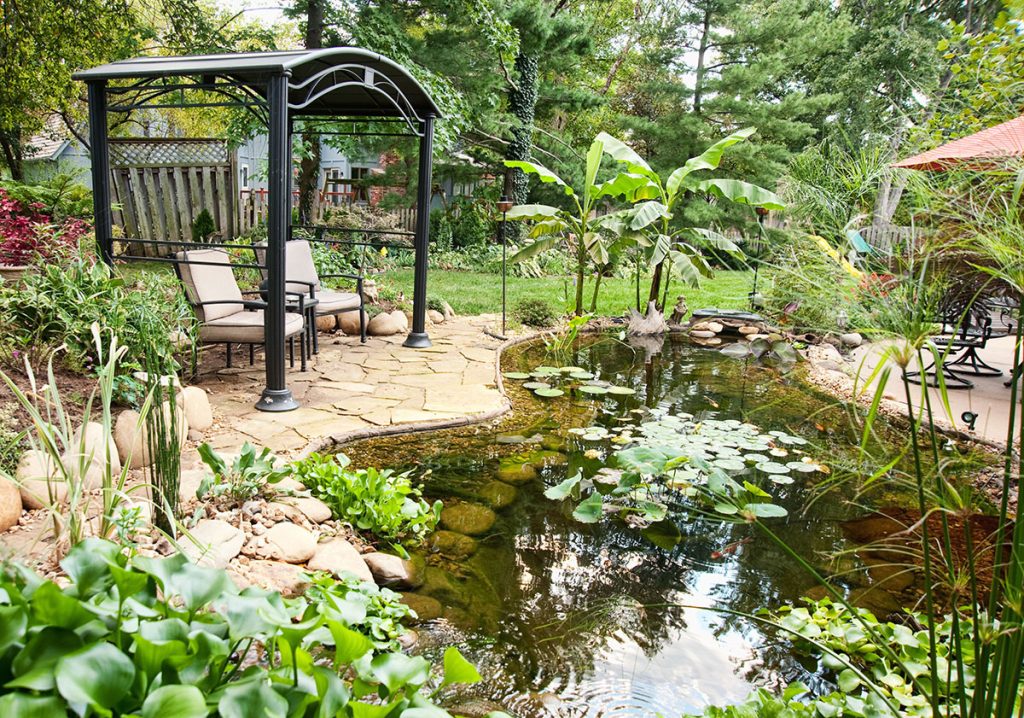 To learn more about waterside and pond perennials, including additional varieties, check out our pamphlet on Florissa.com.