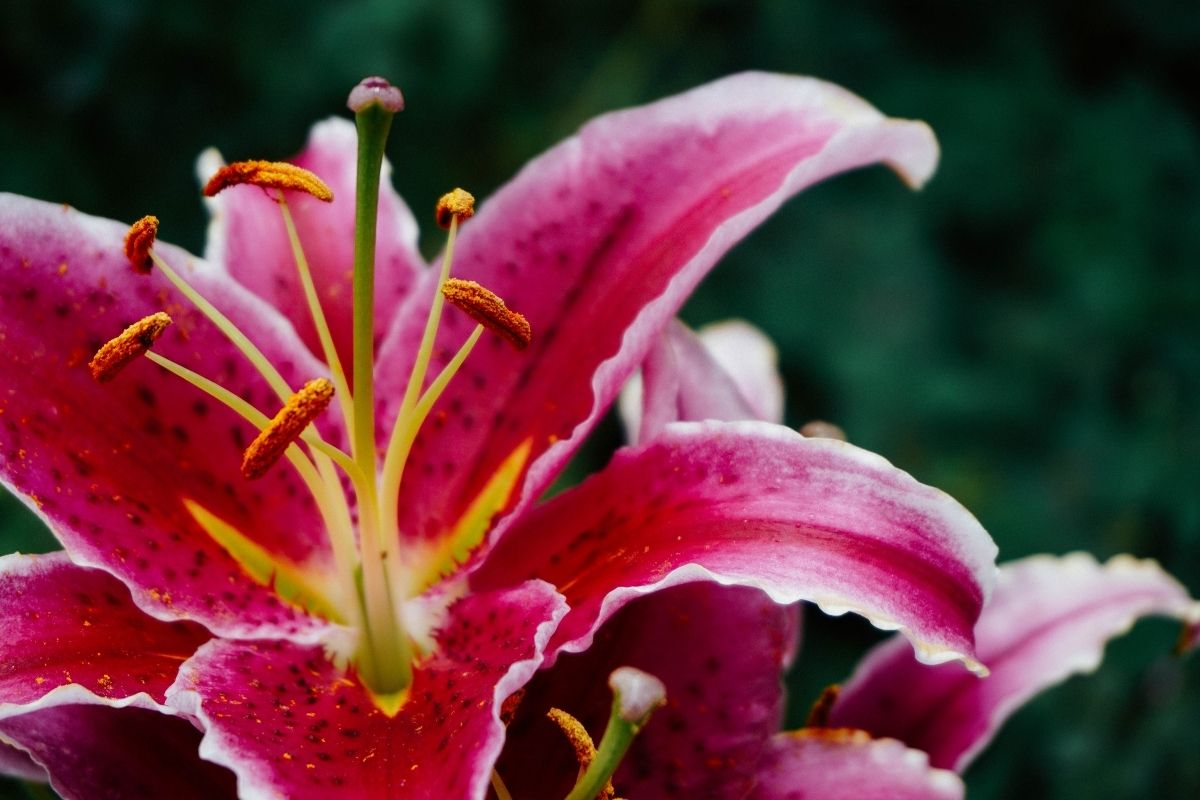 A Summer of Lilies
Everything a gardener desires can be found in a lily. They're easy to plant, grow, and maintain; thriving in full sun and well-draining soils and they are hardy. Their exotic blooms are alluring, graceful and elegant, sometimes beautifully fragrant. Lilies even flower in sequence throughout the summer. So, go on – gift yourself with a summer of lily blooms – by selecting varieties from the blooming times below.
Asiatic Lilies are the earliest to bloom, they follow the peonies in late June. They light up the summer garden for weeks with an array of colors ranging from soft pastels to bold fiery shades. The blooms face upwards, with shapely wide petals that flare or curve away at the tips. Most are unscented, and some are even pollen-free, which makes them ideal cut flowers and perfect for those who suffer from allergies. Asiatic lilies come in a range of heights from 35 cm (14") to 90 cm(36"), so there are varieties that are ideal for patio containers as well as the perennial border. Hardy to Zone 2.
The mid-summer showstoppers, Trumpet Lilies soar above other garden perennials with their lofty and elongated flaring trumpets. From white to bright gold to apricot orange to pink– these beauties have a colour to fit every garden. Each stem produces up to 15 pendent flowers which can perfume outdoor living spaces with their lovely fragrance, especially in the evening. In the border, they stand 100 cm (40") tall, making great companions to phlox and delphiniums. Hardy to Zone 3.
OT Hybrid Lilies are sometimes called Orienpet Lilies. A cross between oriental and trumpet lilies, these mid to late summer bloomers appear about two weeks before Oriental Lilies. The large wide open blossoms of thick petals are glorious even on the hottest of summer days. Whether you select solid shades or bicolors with unusual patterns, all are deeply fragrant. Returning each year on more robust stems, these lilies can reach towering heights up to 180 cm (72".) Often they are referred to as "Lily Trees", but they are not a tree as they go dormant underground in the winter. Hardy to Zone 3.
Lilies for Late Summer Blooms
Oriental Lilies begin their summer reign in August. Known for their immense flowers, rich colors, and exquisite fragrance, they are the most captivating of all. Oriental lilies provide weeks of glorious color with wide open and outward facing flowers. The blooms are more open than trumpet shaped, with petals curving back and away from the center. In shades of white, pink, cherry red, salmon and yellow, oriental lilies display striking patterns, banding, spots and speckles. "Stargazer" is one of the most popular oriental lilies with its breathtaking blend of cherry red and pink, white edging and bright red flecks spilling across the petals. Oriental lilies are available in a variety of heights from patio sized 45 cm (18") all the way to 120 cm (48".)  Magnificent in the perennial border, they can also be grown in containers. Hardy to Zone 2.
At the cutting edge of the lily world are Double Oriental Lilies. These dazzling, sparkling blooms open to reveal layers upon layers of wavy petals. Double oriental lilies are super fragrant, but lack pollen, which makes for very long lasting cut flowers in the vase.
In contrast, Species Lilies with smaller, delicate flowers have profound impact in the garden. Their blooms typically face down towards the ground with reflexing petals which curve back and away from the flower's stamens. They may be fragrant or unscented, but they'll tolerate more shade than other lilies. An excellent choice for a garden with a wild soul, species lilies make great companions for ferns, hostas, and grasses. Plant them on the outer edges of your garden and these soft beauties will merge with nature. Species lilies grow to 60-150 cm (24-60") tall. Hardy to Zone 3.