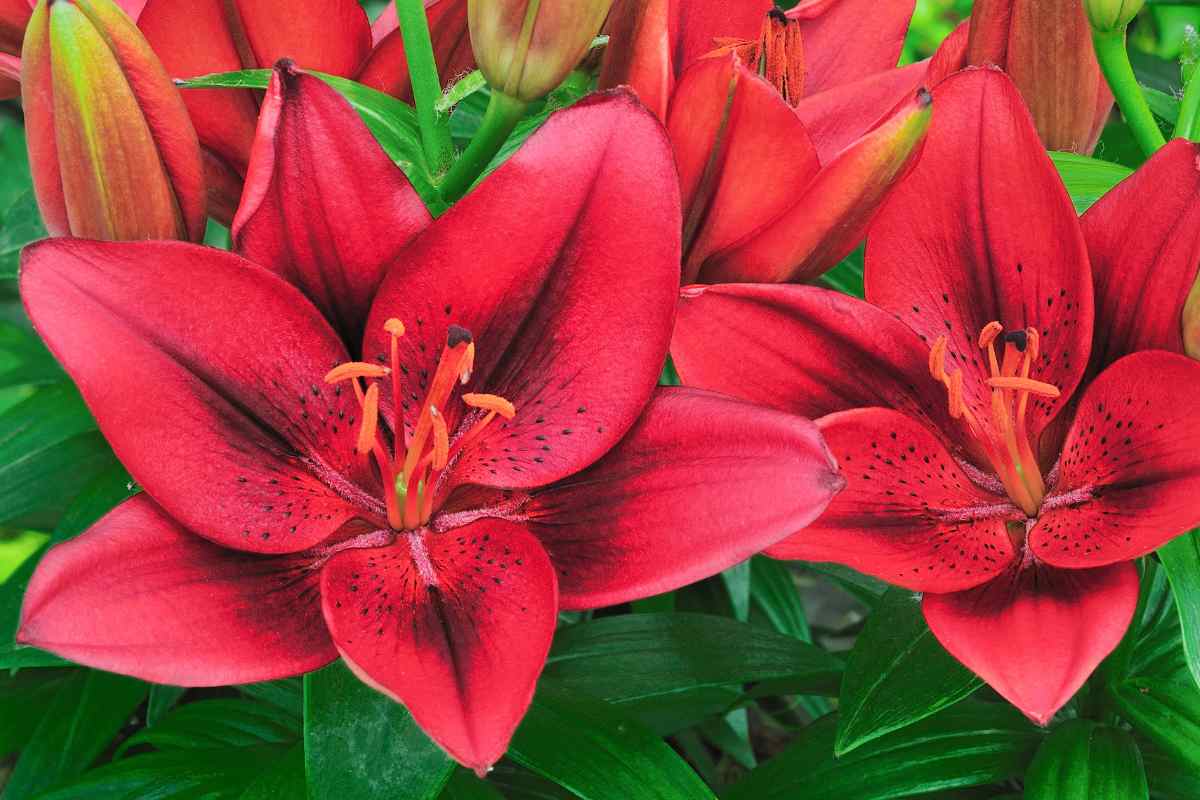 8 Stunning Plants for a Patriotic Canadian Garden
Astilbe
Astilbe enhances our shady spaces and woodland gardens. When grown in rich moist soils, these plants benefit from dappled light and can tolerate the morning sun. Astilbe only ask that you water them regularly and if you do, you'll discover how easy they are to maintain. Long-lasting plumes consist of hundreds of tiny flowers which attract butterflies and hummingbirds. The plumes make wonderful cut and dried flowers, so leave them standing to create fall interest – no deadheading required! Deer-resistant astilbe will keep up its appearance all summer long. Planting them in groupings where their colours can blend and soften the landscape.
Burgundy Red & Visions in White
Astilbe Burgundy Red offers a striking pop of colour. In early summer deep burgundy red plumes are carried on stiff red stems over elegant and lacy green foliage. Illuminate and provide great contrast by pairing Burgundy Red with the gleaming pure white plumes of Astilbe Visions in White. These compact and upright varieties, both grow 60 cm (24") tall and hardy to zone 3. Plant these two in mixed borders for a stunning garden highlight! Astilbe is also great as cut flowers. This deer-resistant variety will be in bloom for Canada Day!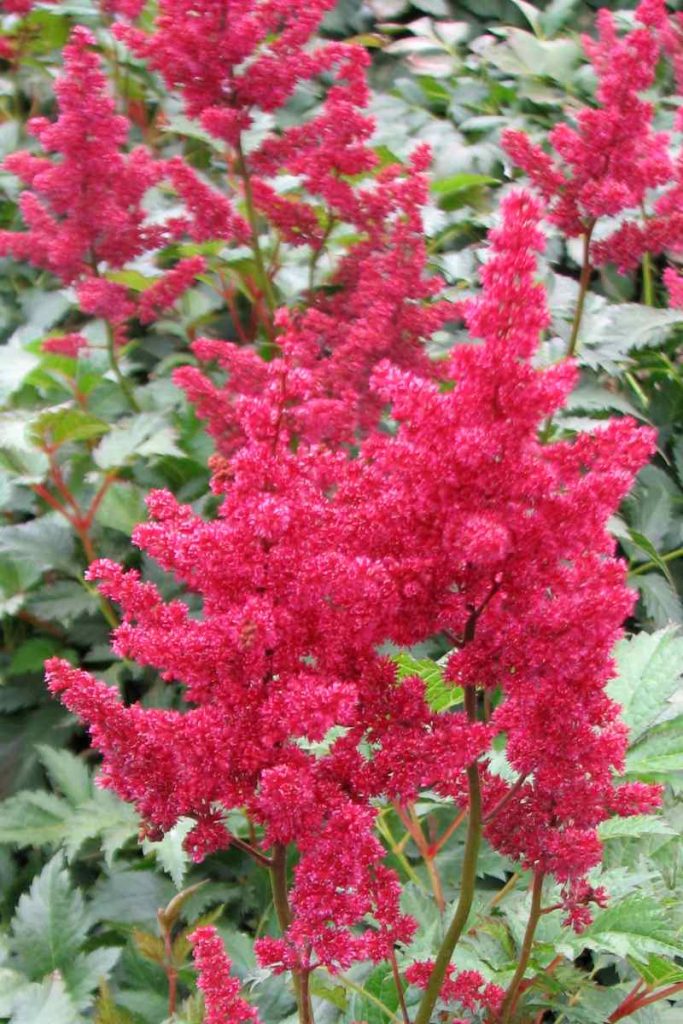 Hemerocallis
Did you know that each stem of hemerocallis carries a succession of blooms, and many varieties send up 2-5 flushes of blooms from June through September? Also known as daylilies, hemerocallis are extremely versatile plants. Easy to grow, they perform wonderfully in full sun and well-draining soils. Adaptable to many conditions, hemerocallis is well suited for all the major growing regions across Canada. Weave them throughout the garden and use them as edging in mixed borders. They are a great solution on steep slopes which can be a challenge to maintain. The grass-like foliage of hemerocallis looks superb growing in containers too.
Joan Senior & Chicago Apache
Joan Senior is one of the most popular near-white hemerocallis. Blooming from early to midseason, she bears an abundance of creamy white flowers with wide, reflexed petals and lime green throats. Each fragrant bloom, 18 cm (7") wide, lasts more than 16 hours – an extended bloom time for daylilies. Blooms open in the morning and fade with nightfall.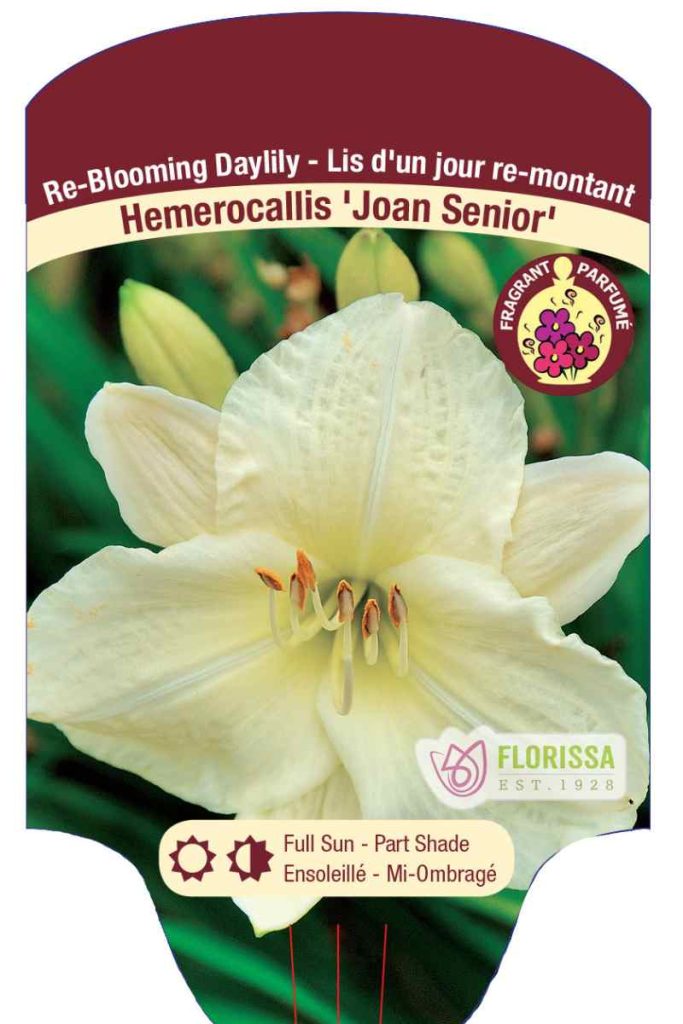 Pair Joan Senior with Chicago Apache for an energizing combination. Chicago Apache's sunfast scarlet red flowers are also slightly ruffled. A golden green throat and a white blaze down the center of each petal make this a truly stunning hemerocallis with 12 cm (5") wide blooms. Both Joan Senior and Chicago Apache grow to 70 cm (28") tall and are hardy to zone 2.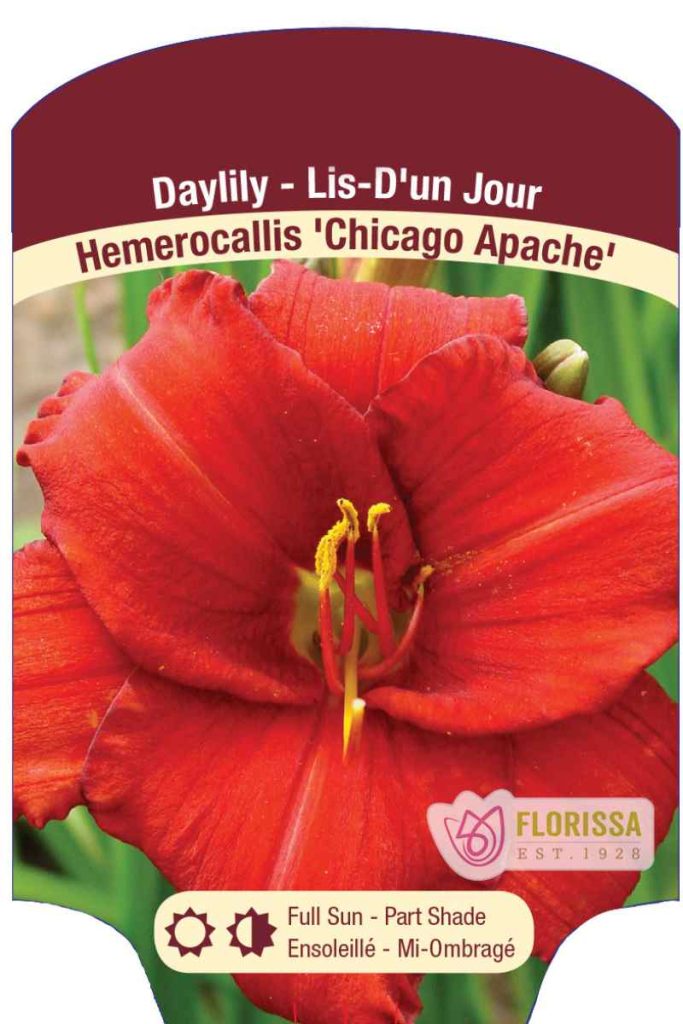 Phlox
The Phlox Flame Series captures attention with naturally compact, bushy habits, great disease resistance, and large clusters of fragrant flowers. Growing only 45 cm (18") tall, dwarf phlox are ideal for mixed borders, edging walkways, and filling containers. Easy to grow, they enjoy partial to full sun and moist, well-draining soils. Plant them and the friendly honeybees, butterflies, and hummingbirds will come by for a visit – everyone except the deer who seem to steer clear of phlox. Phlox Flame Series bloom earlier than taller garden phlox varieties.
Red Flame & White Eye Flame
Plant the saturated Red Flame garden phlox and add intense colour to the summer garden. In combination with the large scarlet red flower clusters, the snow-white blooms of White Eye Flame are perfectly offset. Each flower of White Eye Flame has a small rose red eye which sparks off the deeper red blooms. This is a truly charming combination and best of all, these beauties are hardy to zone 3 which means you'll enjoy them year after year. After the first flush of flowers in July, deadhead faded blooms to allow the lower side blooms to take center stage through September, these phlox will be a perfect sight for your Canada Day celebrations!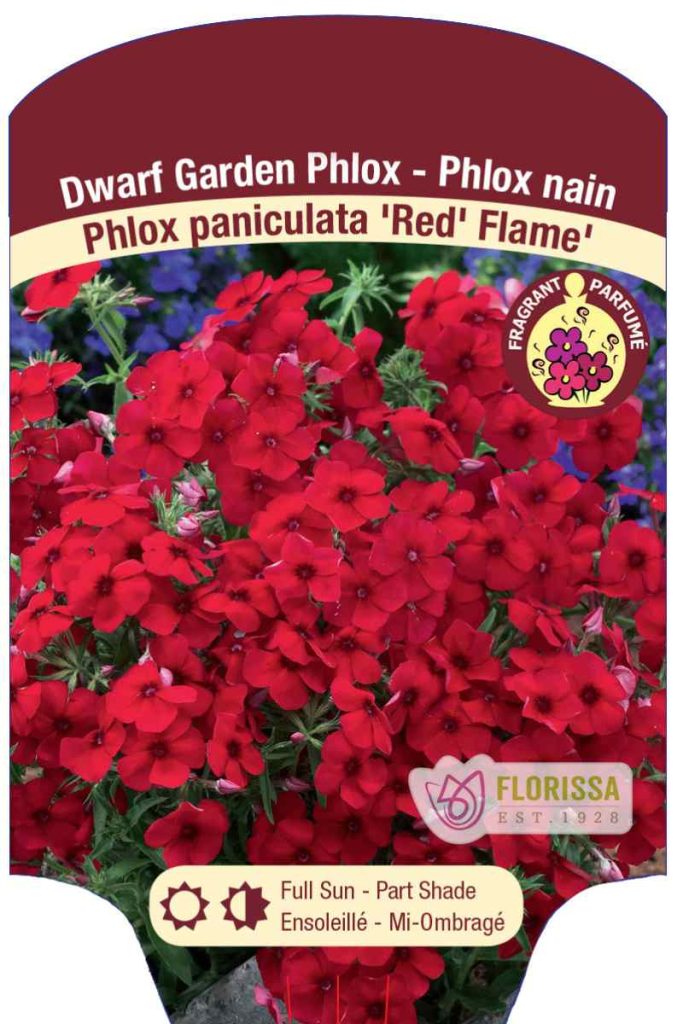 Lilies
Asiatic Patio Lilies are petite versions of taller varieties. These smaller lilies, maxing out at 40 cm (16") in height, are fabulous in containers, and easy to tuck into the front of your perennial border. Asiatic lilies are also easy to grow, enjoying full sun and well-draining soils. Once the bulbs have been planted, just water regularly until the blooms open. Once the blooms have faded remove spent blooms and keep watering as the foliage will generate and store nutrients for next year's blooms.
Tiny Crystal & Tiny Ghost
Asiatic Patio Lilies Tiny Crystal and Tiny Ghost team up to create the best maple leaf red and white sparklers when placed throughout the garden. They are hardy to zone 2 and can be left in the ground all winter, which means next year they'll bloom right on cue, appearing in June, ready for your Canada Day garden.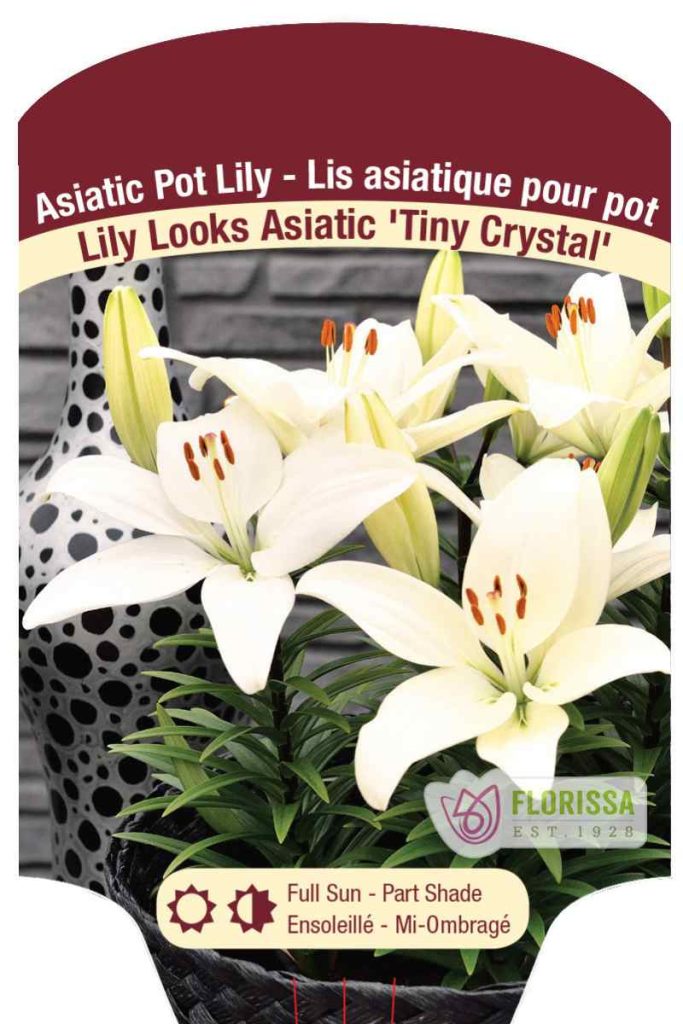 Annuals
Are you hosting a backyard party and lacking a punch of red and white? Add instant colour with annuals. Plant annuals in patio containers or hanging baskets to immediately add patriotic colours. To add red, try pelargoniums, petunias, zinnias, or coleus. For completing your Canadian containers or hanging baskets, add white bacopa, snapdragons, calibrachoa, or verbena. After a quick trip to the garden centre to pick up a few of these plants, soil, and maybe a container or two, you will have the components to add patriotic colour to your patio or balcony. Perfect for short-notice Canada Day barbeques.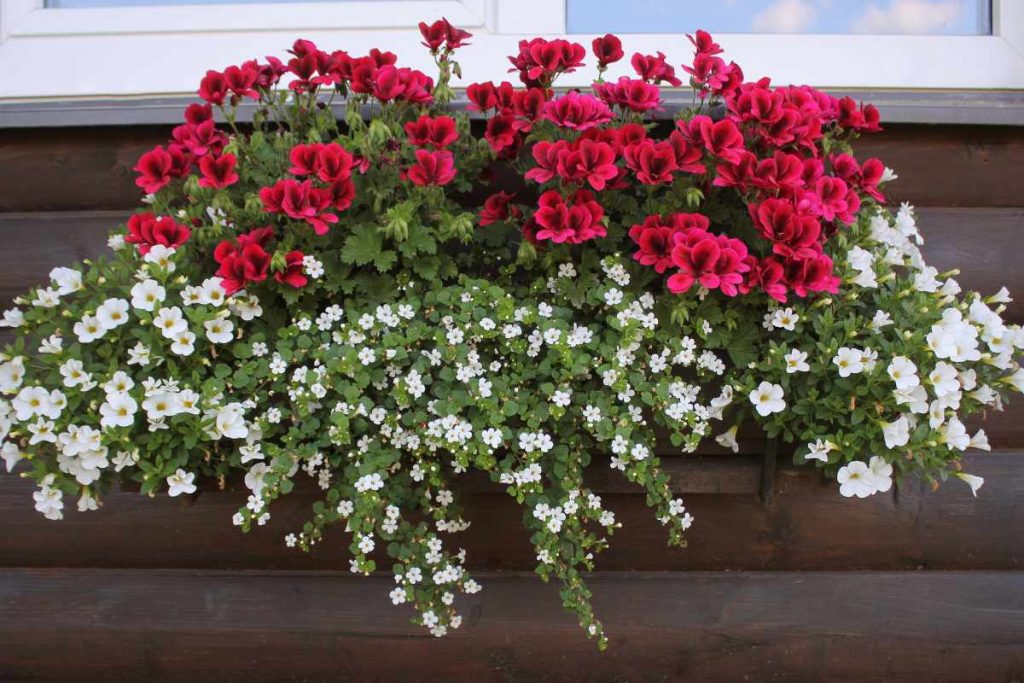 Apart from being the celebratory colours of Canada, red and white blooms in the garden create a wonderful impactful contrast. Saturated red blooms are enhanced by pure, white flowers. Red will bring white flowers out to the forefront of the garden colour pallet! Happy Canada Day!