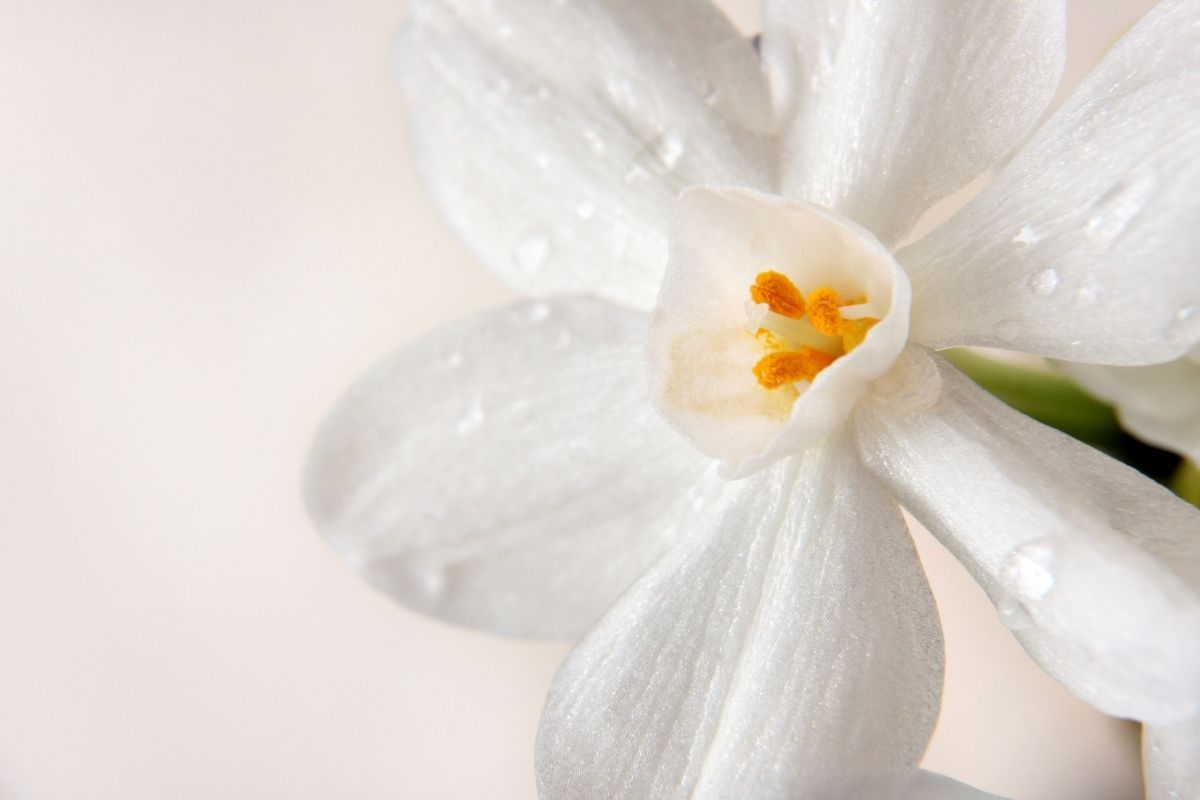 Pretty Paperwhite Flowers
It's always nice to have greenery and living bouquets around the house during the holidays, and pretty paperwhite flowers are incredibly easy to grow. Sparkling flowers as white as snow make for a gorgeous, sweet-smelling bouquet just 4-6 weeks from planting. Paperwhite flowers suit any style from formal to casual.
Shallow containers work just as well as tall vases; the bulbs need only 8 cm (3") of depth to root. Clear glass containers let you see the roots and stems develop while the starry blooms rise above. Half the fun of forcing paperwhites is getting creative with presentation and experimenting with unique and unusual bottles, jars, dishes, and crocks.
Once you've selected your container, fill the bottom with 5-8 cm (2-3") of your choice of stones or growing medium. Then nestle the bulbs root side down in amongst the stones so that they are shoulder to shoulder, but not quite touching. Cover only the bottom half of the bulbs, as they will anchor into place once the roots start growing in and around the stones.
Fill the container with water until it is just below the paperwhites. In general, bulbs don't like to "sit" in water, so keep the bulbs dry just above the water level. Bulbs can sense the presence of the water below and will sprout roots down into it.
Place the arrangement in a cool room at 10-15°C (50-60°F) with lots of bright indirect sunlight. Growing paperwhite flowers in warm or low light conditions will cause the stems to stretch, weaken and flop over. A cool porch or mudroom with a bright window is an ideal situation. Paperwhites don't require a cooling period, so you'll soon see signs of growth and can watch it progress daily. Once you see flower buds, bring the pot into warmer living areas and soon the sweet scent of paperwhite flowers will freshen the house.
Plan ahead for continuous displays and special gatherings. Store pre-potted bulbs in a cool dark place and bring out pots at 2-4 week intervals or when you're ready for blooms. Just add water and a bright location.
Fragrance is personal, and there is more than one kind of paperwhite to explore. If the sweet, musky scent of Paperwhite Ziva is not your favorite, explore the delicate spice and citrus aroma of Chinese Sacred Lily, or the faint scent of Inbal. Ask for these varieties at your local garden centre.