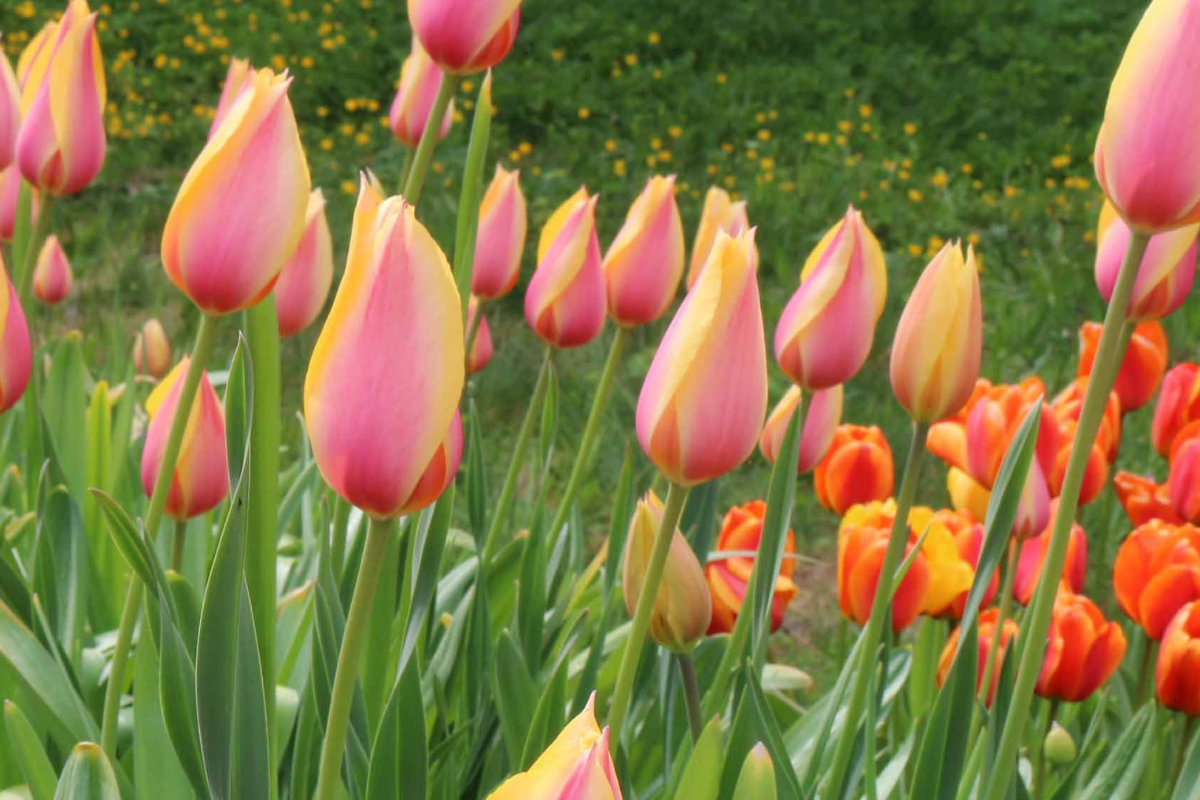 Giant Bulbs for Late Spring
Uncover the Secret of Spring Garden Giants!
Spring blooms come in all shapes and sizes from the petite snowdrops of early spring to the soaring giants of alliums in late spring.  By adding some late spring bloomers, in your fall plantings, your garden will continue to flower magnificently through spring's prime time and into summer.
Discover how these gentle, towering giants offer exceptional beauty and striking border combinations with delphiniums, peonies, and iris. Plus, they are beneficial for our pollinator friends too, as these bulbs are great nectar-rich food sources. Plant some of these late spring bloomers this fall and behold their exceptional beauty, as you await your next set of summer blooms!
This tall, towering tulip got its name from its shades of blush pink and soft yellow. A late spring bloomer, this garden giant grows to 75 cm (30″) and makes the perfect tulip for fresh cut flowers in the house.  Blushing Beauty has sturdy stems to hold the beautiful blooms that emerge in the late spring. With graceful, lily shaped flowers, this tulip is an elegant statement in the garden. Growing taller than most, these tulips are ideally situated towards the back of the border or flower bed. They would also look great along a fence or hedge.
For the best visual impact, plant the bulbs in clusters 15 cm (6") deep and spaced 10 cm (4") apart in full sun to part shade locations in fertile, well-draining soils. Blushing Beauty blooms from late April to May and makes an outstanding companion when planted among bearded iris (Iris germanica), roses and alliums.
Fritillaria - Persica Ivory Bells
Tall and striking, Fritillaria Persica Ivory Bells is a soft yet impactful late spring flowering choice. Growing strong to heights of 80 cm (32″), this tower of blooms is great for sunny borders, barriers, or backdrops. The blooms transform from a greenish white to a soft ivory as they age, bringing new beauty to its bell like flowers.
This showstopper has thick stems, and each stem can carry up to 30 bell shaped flowers, a sure favourite. These bulbs are best planted on their side in groups of 3 or 5 bulbs or more. Ivory Bells blooms in late spring and enjoys a full sun area with well-draining soils. Ivory Bells is deer are squirrel resistant and compliments its darker cousin persica, and Dutch Iris Lion King.
Looking for something extremely tall, fragrant, and deer resistant? Then Allium Summer Drummer is the one for you! Blooms are 20 cm (8″) wide, atop sturdy stems that are a unique shade of purple, with an imposing height of 180 cm (72″). Summer Drummer is one of our favorites among the giants and is especially loved by its pollinator friends like bees and butterflies. Alliums are ornamental garlic, and their foliage when crushed has a garlic-like fragrance, but the flower-heads of Summer Drummer smell uniquely like black licorice.
Deer and rabbit resistant, this allium is the last to bloom in the garden and will be a bold addition to cut flowers mixes from June to July.  Alliums return reliably year after year and require little maintenance after planting, just allow the foliage to die back completely. Easily grown in full sun to partial shade locations and well-draining soils. Plant these bulbs 20 cm (8") deep, spacing them 30 cm (12") apart, and wait for its beauty to bloom!
Look forward to the last bits of spring with some of these giant bulbs that will produce big and exciting blooms. Plan your garden so you can enjoy all of spring, with blooms at different times. Find your favourite bulbs and giant bloomers at your local garden centre and get planting! All of us at Florissa look forward to your seeing your inspired late spring gardens!
For more information, or to find a garden centre nearest to you, please visit find a retailer.