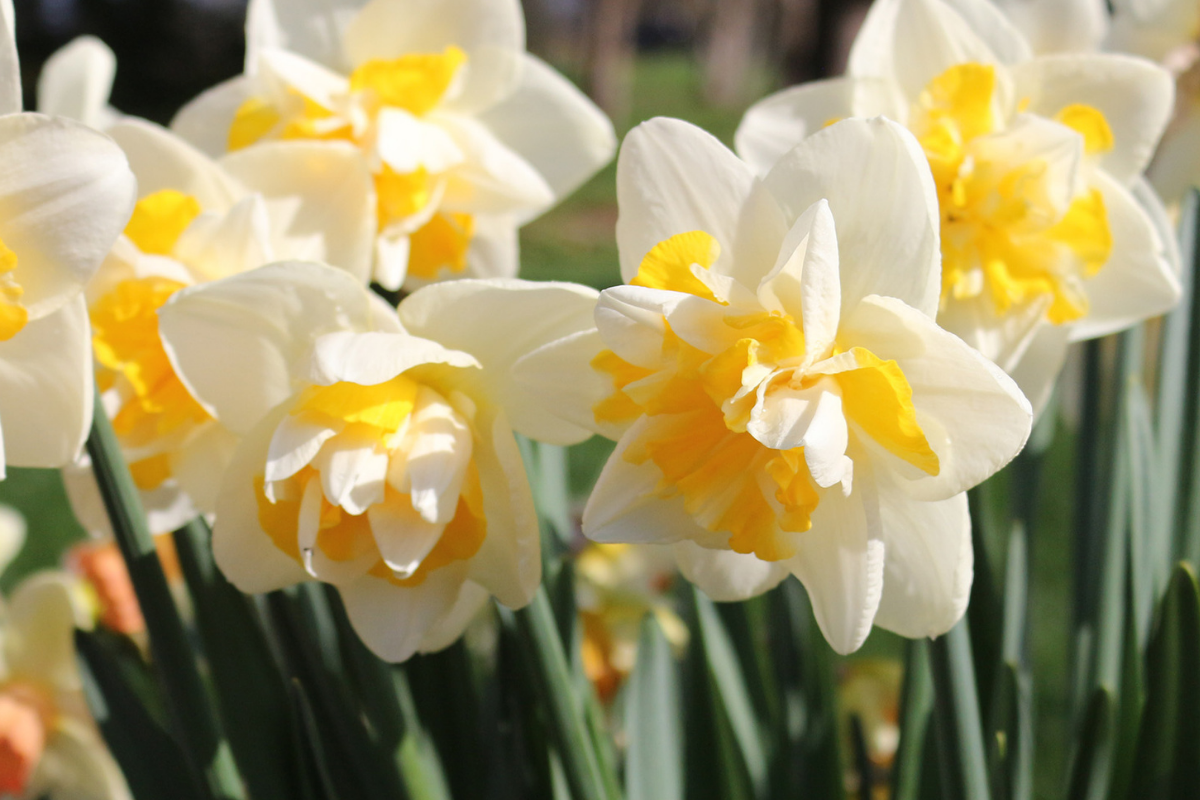 Fall Deer Resistant Bulbs
Signs of deer nipping at tender plants in the garden can tug at the heartstrings. It can also inspire gardeners to plant for deer resistance as well as beauty. Deer naturally avoid what they find distasteful and Florissa offers the best selection of deer-resistant bulbs. Check out this Fall's NEW deer-resistant varieties – let your garden bloom from early spring to summer!
Iris Reticulata 'Alida' – Dwarf Iris
Iris reticulata, also known as Dwarf Iris, blooms from late winter to early spring. They grow best in full to partial sun and well-draining soils. Iris 'Alida' has large flowers in dazzling sky-blue shades splashed with golden yellow and white patterning over each fall. Growing 15 cm (6") tall, these deer-resistant blooms naturalize and return each season kicking off spring's wave of colour. A welcome sight in the late winter garden, dwarf iris are ideal for containers and rock gardens, as well as the edges of your mixed border. Hardy to Zone 5.
Narcissus 'Double Star'
Narcissus 'Double Star' is one of the newest varieties from one of the best growers in Holland. Big and beautiful frothy white double flowers are brimming with bumblebee yellow petals and held high by sturdy stems. They're wonderfully fragrant too. Grows 40 cm (16") tall and blooms mid-spring. Hardy to Zone 3.
Iris Hollandica 'Pink Panther'- Dutch Iris
The season's must-have for the deer-resistant garden is Iris hollandica 'Pink Panther'. The soft and gorgeous lilac-pink blooms with bright yellow accents represent a truly unique colour breakthrough. Also known as Dutch Iris, these blooms are popular with florists and gardeners as they are excellent cut flowers with strong, sturdy stems. Just imagine them among your cut flower peonies and be sure to plant extra for cutting. Growing 60 cm (24") tall, Dutch Iris are ideal for intermingling throughout the mixed border. They bloom in late spring and are an important food source for our pollinators through early summer. Hardy to Zone 5.
Eremurus 'Foxtrot'
Eremurus, or Foxtail Lilies, add dramatic flair to the deer-resistant garden and guarantee the "Wow!" factor. These spidery tubers grow into tall willowy spires densely packed with bottlebrush flowers in soft shades of yellow, orange, pink, and coral. A lovely pale pink, Eremurus 'Foxtrot' reaches peak heights of 150 cm (60" or 5 ft.) tall, bringing a new dimension to the garden as a focal point or planted among border perennials. They prefer full sun and well-draining soils; plant them in a location sheltered from strong winds. Set tubers 10 cm (6") deep and 35 cm (14") apart. Blooming in late spring, the flowers are attractive to pollinating honeybees, butterflies, and hummingbirds. Hardy to Zone 5.