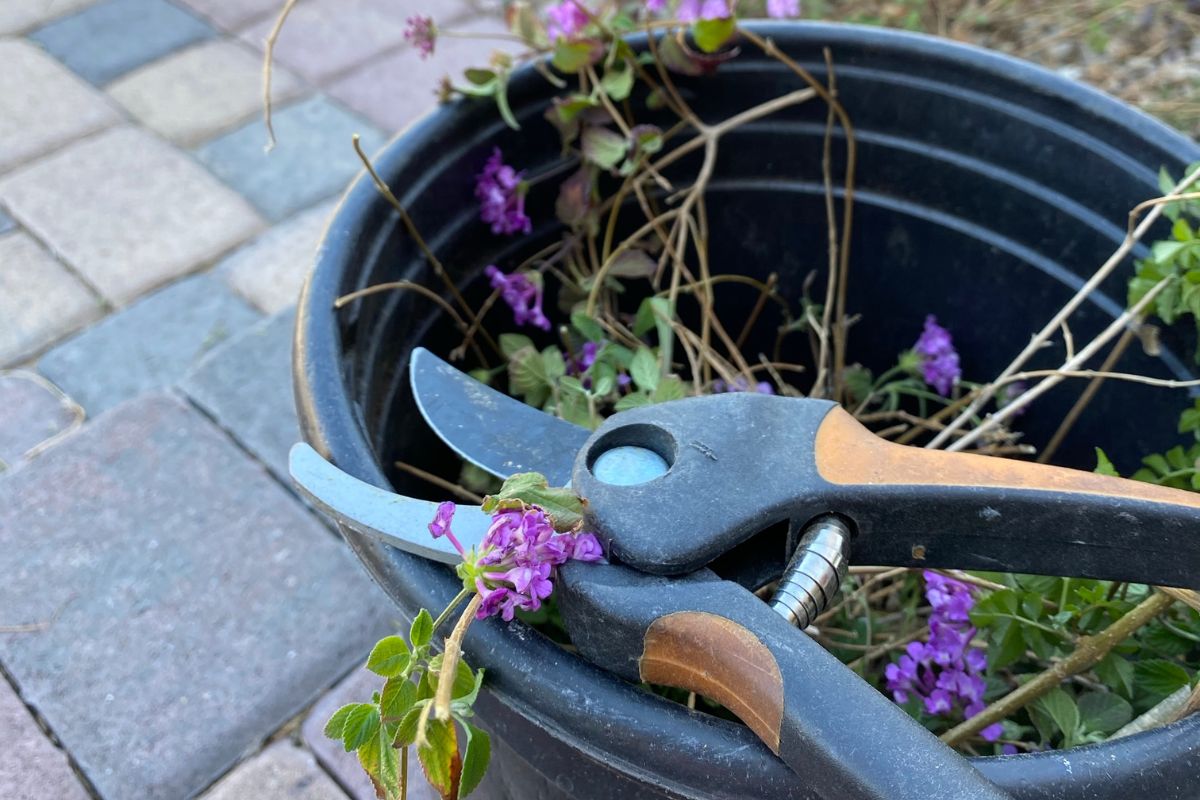 Top 10 Things to Prepare Your Garden for Winter
Say farewell to summer and hello to fall and winter. Some years we have the joy of extended summers with warm weather that lasts well into fall. When these delayed seasons happen, it can mean extra growing time – hooray! Then when we have an abrupt change from the sunny warm weather to the regularly scheduled, cold temperatures of our Canadian climate. When these changes happen, we need to quickly prepare our garden for winter. So, we have our top 10 things to do to enjoy the last moments of fall and how to prep the garden for winter.
Clean Your Gutters
Once all the leaves start to fall, gutter cleaning can be a weekly task depending on the type of trees near your home. Both deciduous trees, or trees that lose their leaves, and evergreens like cedars shed foliage in the fall.  Before the deluge of rain and hard cold of winter sets in, you will want to get your gutters cleaned of debris and inspected for leaks. A leaky eves trough can bring issues with water drainage too close to the home foundation. Safely get out there with a trowel to scoop out the big debris and a hose to rinse down any excess and remember to clean out the downspout too.  For really large jobs or towering heights, you may want to hire professionals.
Start a Compost Pile
Compost is jammed packed with nutrients your soil needs to grow large, luscious plants. Fall is the perfect time to get started. When you are cleaning the garden borders, vegetable beds, and raking leaves, select a space in the back corner of the yard for compost. There are lots of composting options whether it is a dedicated space for a pile or a smaller space for a bin there is one to fit your needs.  Make sure the area you choose is easily accessible so you can keep adding more material.  Remember to put any diseased foliage and invasive plants into the curbside pick-up or garbage. A compost started now will provide great nutrients for your plants in the future.
Clean Up Shrubs and Trees
Winter snow and freezing rain can be really challenging for the trees and shrubs in our yards. So, give a thorough check now. Prune out any dead branches and trim back weak stems. Many flowering shrubs like lilacs, will set buds for next year's blooms right after they flower, so be thoughtful of this while you are out there with the clippers. For the climbing plants, secure the canes and stems to supportive structures, to reduce damage from winter winds. Use the fresh tree trimmings to make wreaths and door swags to enjoy all season long.
Tidy Up Garden Borders and Vegetable beds
Give your flower borders a clean sweep. Place row tunnels over late-season vegetable crops, like carrots, leeks, and kale, to keep the harvest going all winter. Remove spent plants, leaves, and debris to reduce micro-habitats for garden pests and bugs to over-winter. Already have compost and it is overflowing? Top-up raised beds with well-rotted compost to make room for fresh materials. Clean out annuals from hanging baskets and planters. Be sure to get the roots too and shake out excess soil, onto your flower beds or veggie garden, then wash and store or recycle empty containers. 
Last of the Season Lawn Maintenance
Give the lawn its last trim of the season and compost any clippings. Remember to complete the winter prep on your lawn mower. Start by rinsing out the undercarriage to remove clumps of dried grass. Then follow the maintenance guide if you need to drain fluids, replace filters, and disconnect spark plugs. The next step for the lawn is aeration – this will reduce compacted soil and improve drainage over winter and into the spring. Is your lawn overgrowing onto walkways? Make pathways safe for wet and frosty mornings by edging the lawn that is encroaching on paved areas. Edging the lawn along walkways can improve drainage from paths to make them safer in the winter months.
Plant Spring Flowering Bulbs
Fall is the bulb-planting time! Once your annuals are removed from your borders and containers, you now have plenty of space to plant some tulips and hyacinths for wonderful spring colour.  In one hour, you can easily plant a hundred bulbs. Remember to plant alliums and narcissus in clusters of at least 5 or 7 bulbs to have larger impactful displays. Add some interest and fun to plain early spring lawns – by planting Glory of the Snow (chionodoxa) or crocus. Then plant up your entryway containers and walkway borders – a little work now will delight you with blooms all spring long!
Drain & Store Hoses and Irrigation Systems
A great watering system is a time saver!  Keeping up with watering during the hot spells of summer can seem endless, so an irrigation system is ideal. If you have a small space, just a hose or a few soaker lines may be perfect. If you have a larger space with lots of raised vegetable beds, consider a more focused system to make sure all your plants have access to water when they need it. Whichever system you utilize, getting it drained, dried, and put away for winter is a must. As water freezes, it expands by 9% so any connections and spray nozzles can be stressed and break under the pressure.  Be sure to disconnect your nozzles and hoses from your outdoor sources, then drain them out.  You can even use an air compressor to blow air through the lines to get all the water out.  For custom systems, follow the manufacturer's guidelines. Then coil the hoses up with tie wraps and store them in a frost-free area over winter.
Get the Grime Off Your Tools
Treat your garden tools well and they will give you years of use. Take a moment and clean your hand tools and pruners before storing them. Rinse and scrape stuck on soil and then soak in soapy water for 15 minutes.  Inspect for rust – if you spot some use a wire brush or steel wool to remove it. Then disinfect your tools with a mix of 1 cup bleach to 1 gallon of water and soak for 10 minutes and thoroughly rinse and dry. The last task is oiling, add a light layer of machine oil to moving parts of pruners and trimmers. For shovels, rakes and trowels have a container of sand and oil to plunge them into to easily disperse the oil into nooks and crannies. Your tools are now ready for spring gardening and pruning!
Outdoor Lighting
Now with the yard looking amazing – time to illuminate it! Lighting is an important part of your yard-scape. As the daylight hours are the shortest in fall and winter, having the proper lighting is a practical way to showcase your style. Outdoor lighting is very important for security and safety. Fumbling for keys in a dark doorway when you arrive home, is not the welcoming feeling you want at the end of the day. So, consider adding spotlights, floodlights, and downlights to make hard structures glow and shed light in dark areas. Try motion sensor lights as an energy-saving option. Brighten up paths and walkways with raised lighting for dark paths. Looking to enhance the mood of an outdoor space? Try twinkling string lights. Keep in mind, solar-powered lights are affordable and easily moveable, but are they going to radiate enough light when you need it? So, a proper plan to bring your bright ideas to fruition may require assistance from a professional.       
Review and Plan Spring & Summer
Now you can go through the highs and lows of the last year in the garden. Jot down successes in the garden. Did the new Gladiolus Amber Mystique and Dahlia Crème Silence bloom and flourish?  Maybe add lilies and more verities to create a cut flower corner. Did you get a chance to enjoy fresh berries from your Strawberry Eversweet? Maybe plan to make a strawberry border or plant more hanging baskets of everbearing strawberries, for easy harvesting from summer through fall. Were you outside watering with the hose in hand for hours on end? Plan to add a watering system with a timer, so you can have more time to relax in the garden.  Do you have areas that need improving? Try adding some shade-loving plants like Hosta Island Breeze and Athyrium Limelight to brighten them up. Need to add more structures for climbing plants? Start sourcing or building over the winter months, so they are ready to go in spring.
Looking for ways to invite butterflies and hummingbirds into your garden? Plan to add some pollinator-loving plants to your flower borders and containers. Now is a great time to relax with a hot beverage and add to your must-haves for the garden list. Many local garden centers have the option to pre-order plants, shrubs, and seeds for spring. Looking for a local retailer visit our Find a Retailer page and we can help you locate a store near you.
As the daylight hours get shorter in the fall and winter, we may not be able to be in the garden all day as we desire.  But with an hour here or 30 minutes there, we can get our yards and gardens ready for winter.  Then we cozy up indoors for the winter and dream about our spring and summer gardens that will be here soon!