New Fall Bulbs and Accent Flowers to Make Your Spring Garden Pop!
As the summer months wrap up, cooler weather starts to roll in and autumn appears. It's a season of leaves changing colour, crisp fresh air, pumpkins, and it is also a very exciting time for gardeners! Spring flowering bulbs hit the garden centre shelves, complete with standard favourites along with some dazzling new varieties! It's now time to plan out your spring garden. Which varieties will you want to see growing in your garden next spring?
This fall, there are gorgeous new varieties to check out. Looking to add tulips, narcissus, or anemones to your garden? Florissa has new varieties to suit everyone's style. Check out our new bulb varieties to plant now for a stunning spring garden, along with accent varieties to plant for extra impact. Let us help you pair your new favourites with other beloved varieties that have the same bloom time and complement each other. Check out our top new picks for fall!
Tulip Beauty of Spring
It's no secret why tulip Beauty of Spring is a favourite this year. The yellow blooms grow to 55 cm (22") and shine with bright red edging. Not only attractive in the garden, but this mid to late-blooming tulip is also a great addition to cut flower arrangements. Looking to increase the drama? Try planting Allium Moly Luteum alongside the Beauty of Spring. The clusters of this 25 cm (10") tall yellow flower pair nicely with the brightness of the tulips.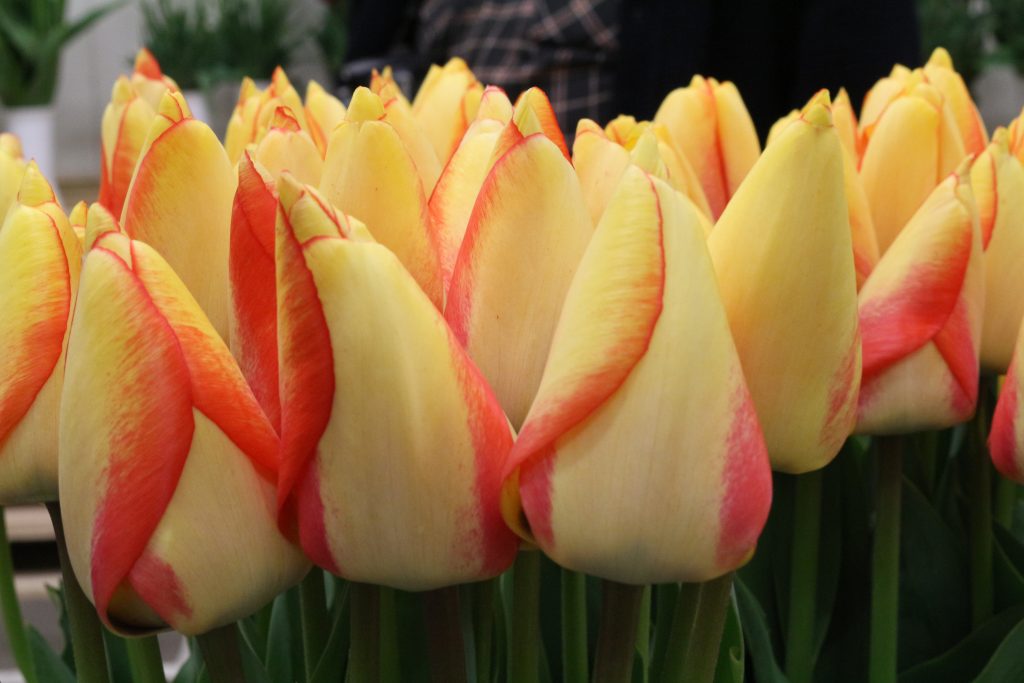 Narcissus Coral Crown
Say goodbye to winter with the early to mid-spring blooming Narcissus Coral Crown. Shining brightly with yellow petals and mandarin orange ruffled cups, this narcissus is ready for the spring sun. Growing to a height of 35 cm (18"), Coral Crown adds a spark of fresh colour to the spring-blooming garden. Remember to bring some blooms indoors to enjoy too! Paired with the sweetly scented, crisp white Hyacinth Carnegie, 25 cm (10") will intensify the pop of yellow and orange! These two are a match made in heaven. Want to add a third garden accent to the mix? Try the always popular Narcissus Tete a Tete to enhance the cheerful sunny yellow in the mix. As a bonus all these varieties are deer resistant, so you can enjoy the blooms instead of travelling garden grazers.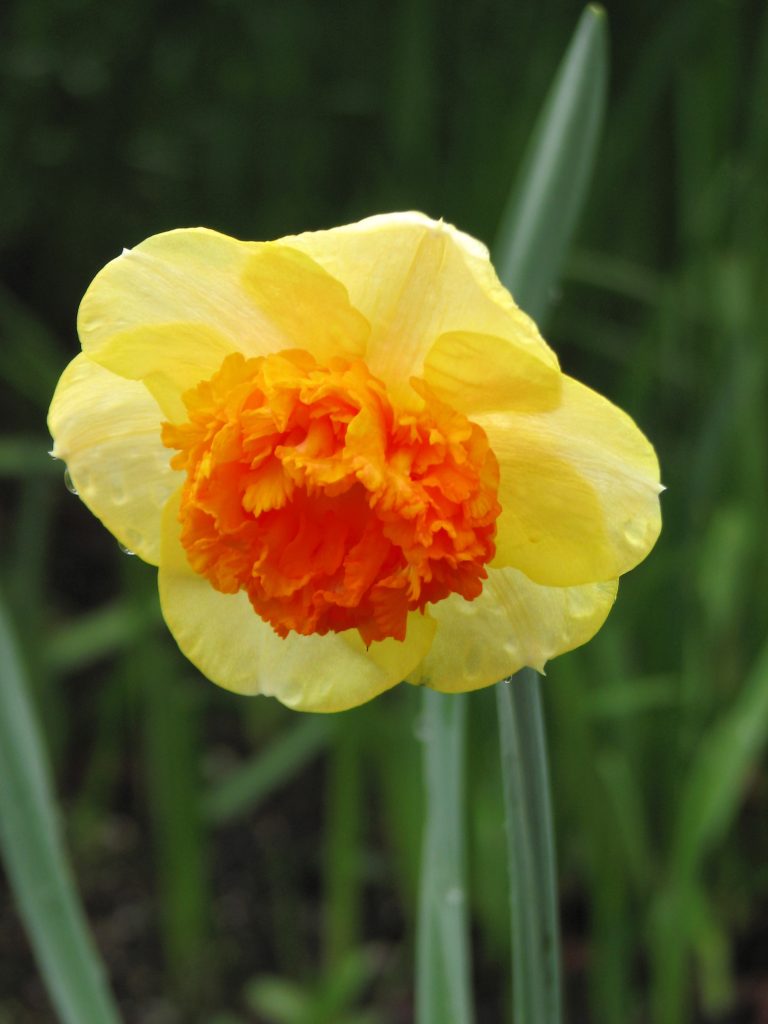 Anemone Fullstar
This year we are featuring two new Anemones, Fullstar Red and Fullstar White. These pompon-like double blooms of 10 cm (4"), grow to 40 cm (16") and produce lots of blooms for cut flowers. Try planting these anemones with the boldly flared Tulip Spryng Break to create a showcase of crimson red and creamy white blooms for weeks in spring. Add some clusters of the shorter-growing Muscari White Magic and you will have a showstopper display all spring long!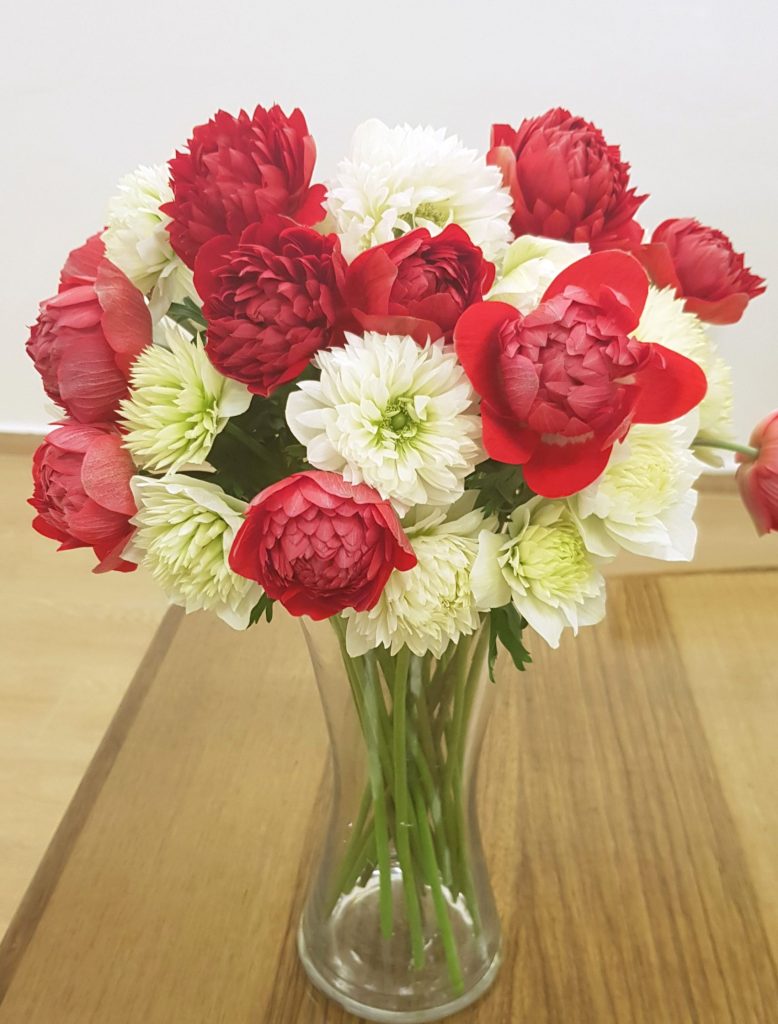 Tulip Shiun
A mid-spring bloomer, triumph tulip Shiun is a vivid combination of pure white and vibrant bright purple. These blooms start off with just a thin purple edge and as the blooms age, the violet spills into the white until you have fully purple blooms. Growing to a height of 45 cm (18") it pairs well with the double peony tulip Double Shirley. This complementary coloured tulip of white with purple accents boasts enormous blooms that also change colour as they mature! If you are planting in containers try adding some early season interest with Crocus Spring Beauty and dwarf Irises JS Dyt. The blend of deep purple, lavender and clean white will be a welcome sight. These very early spring blooming varieties will bloom for weeks and be an opening show before the headliner tulips in mid-late spring.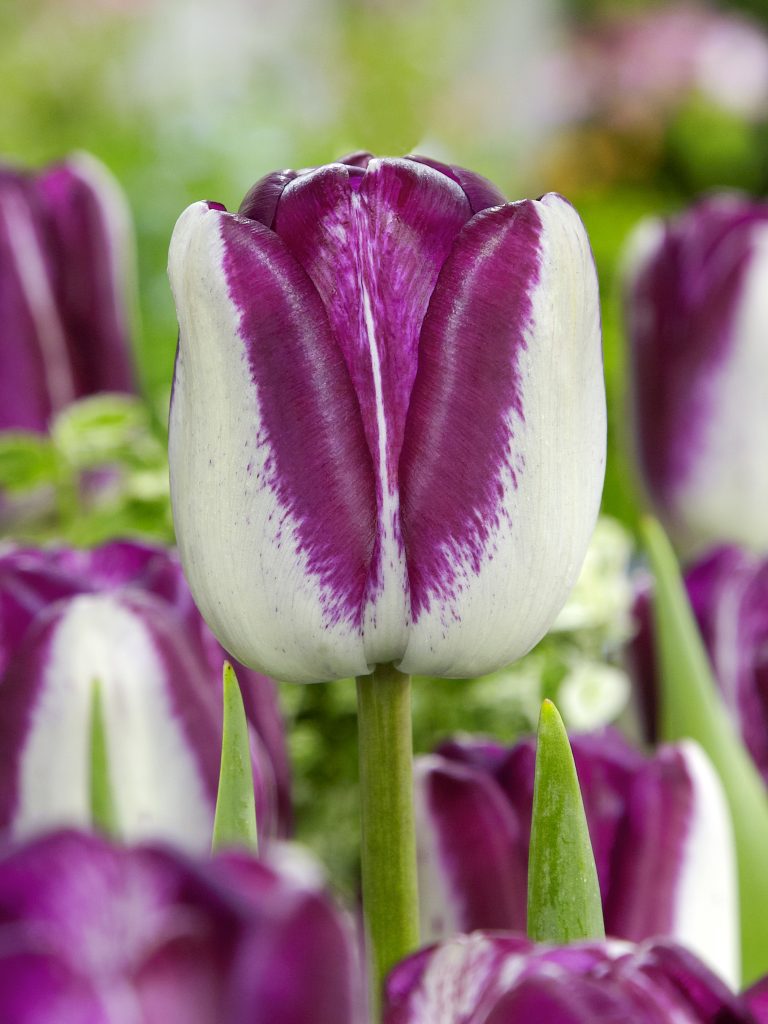 Colourful Combinations
Find all the complementary bulbs in one package with our Colourful Companions! New this year is Puddle Jumpin', a playful mix of Narcissus Poeticus Recurvus and Scilla campanula Blue. Also known as Spanish Bluebell, Scilla blue grows to a height of 25 cm (10 in), is wonderfully scented, and is deer resistant. It pairs so well with Poeticus Recurvus in both height, fragrance, and colour. It will have you putting on your goloshes and hopping through the spring puddles!
Florissa's Colourful Companions makes planning your garden a breeze. The bulbs are pre-chosen for their similar bloom times, heights, and attractive look together in the garden. Another new Colourful Companion this season is Cherry Blossoms, featuring the deep pink flamed blooms of Tulip Pretty Princess and candy apple red-pink blooms of Tulip Red Rover. Take the guess work out of garden pairing with our helpful Colourful Companions.
No matter what style, variety, height, or bloom time, Florissa has spring flowering bulbs perfect for you! When matching up varieties that work well together in the garden, always check the bloom times to make sure your favourites will be appearing in the garden at the same time. This year add one or more of Florissa's new spring varieties to your garden. Pair them with classic varieties such as Galanthus (snowdrops), Crocus or Chionodoxa (Glory of the Snow) and you can create a garden, bursting with a mixture of colours, textures and style all spring long!
For information on where to find these beautiful new varieties, and other Florissa products near you, please inquire on our Find a Retailer page.