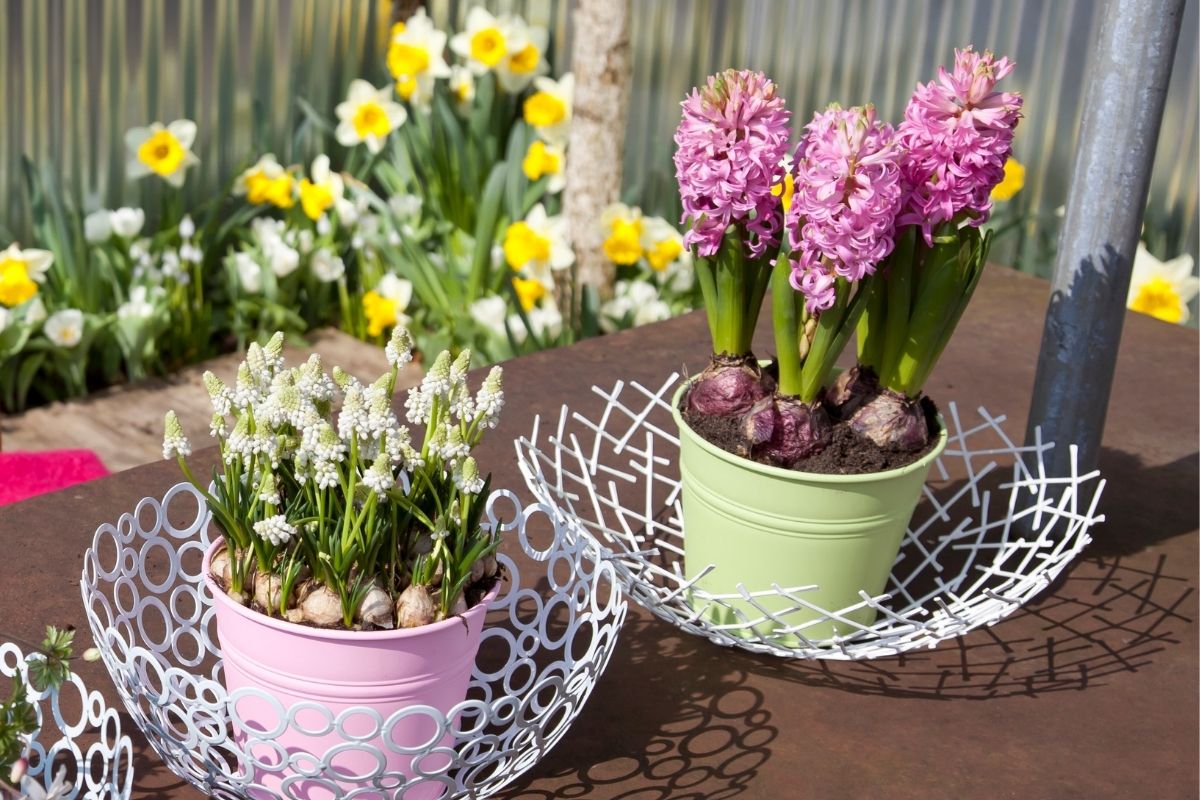 Living Easter Arrangements
This Easter, plant up a gorgeous table centerpiece with ready-potted bulbs in fresh radiant spring colours. Living arrangements are easy and fun to put together with widely available spring flowering bulbs such as tulips, narcissus, hyacinths, and muscari. These living Easter arrangements will create a feeling of spring indoors, even if the sun isn't shining, lifting the spirits of friends and family.
Purchase ready-potted bulbs when the flower buds are just beginning to show colour, muscari buds will have formed, still tucked in the foliage at the base of the bulb. They'll bloom within the week. Choose pops of spring colour – cheerful sunny yellows, illuminating whites, soft pinks and vibrant purples. You can enjoy the bulbs growing in their plastic pots and colourful wrappers, but they don't have to stay there. Even as the bulbs are coming into bloom, you can transplant or re-pot them into another container or vase.
Your new container might just be a wicker basket, an old drawer, window box, re-purposed lunch box, cookie tin, rustic watering can, or even a few mason jars. When choosing a wicker basket, select one with a thick plastic liner.
Fill your container with moistened potting soil. When you press the soil in your hand it should clump together, but it shouldn't be so wet that excess water drips from your fingers. Your container doesn't have to be evenly filled, as mounds of soil can transform into a spring green landscape with a layer of moss.  Check in with your garden centre for the best selections of environmentally friendly moss. You can soak dry moss in water to give it more moisture and body, making it easy to work with again.
Ease the bulbs out of their plastic pot, by pressing the pot's sides to loosen the soil. Hold the plants at their base, sliding them out on their side. Avoid pulling directly on plant foliage as its likely to tear. Gently tease apart the bulbs to make them appear more natural, and plant them where you like, at the same depth in your new container. When you've finished arranging your bulbs, fill in any open areas with more potting soil. Tuck the moistened moss in and around the bulbs, and over any open spaces.
If you like an Easter theme, hide a few coloured eggs here and there.
A bird's nest, chicks, or a rabbit ornament can be lovely, as can a branch of forsythia, pussy willow or cherry blossom. Keep it simple and let your decorating make you smile as you create your own living Easter arrangements.
Care for your living Easter arrangements, never let the soil dry out. Avoid placing it under or over an air vent and keep it away from the fruit bowl. Ripening fruit releases small amounts of ethylene gas which can age flowers prematurely. Once flowering is complete, remove the spent blossoms, leaving the foliage to nourish the bulbs. Enjoy knowing that the bulbs will bloom again next spring.
Bulbs such as narcissus, hyacinths, and muscari can be planted outdoors into the garden where they'll settle, replenish, and return to bloom again.