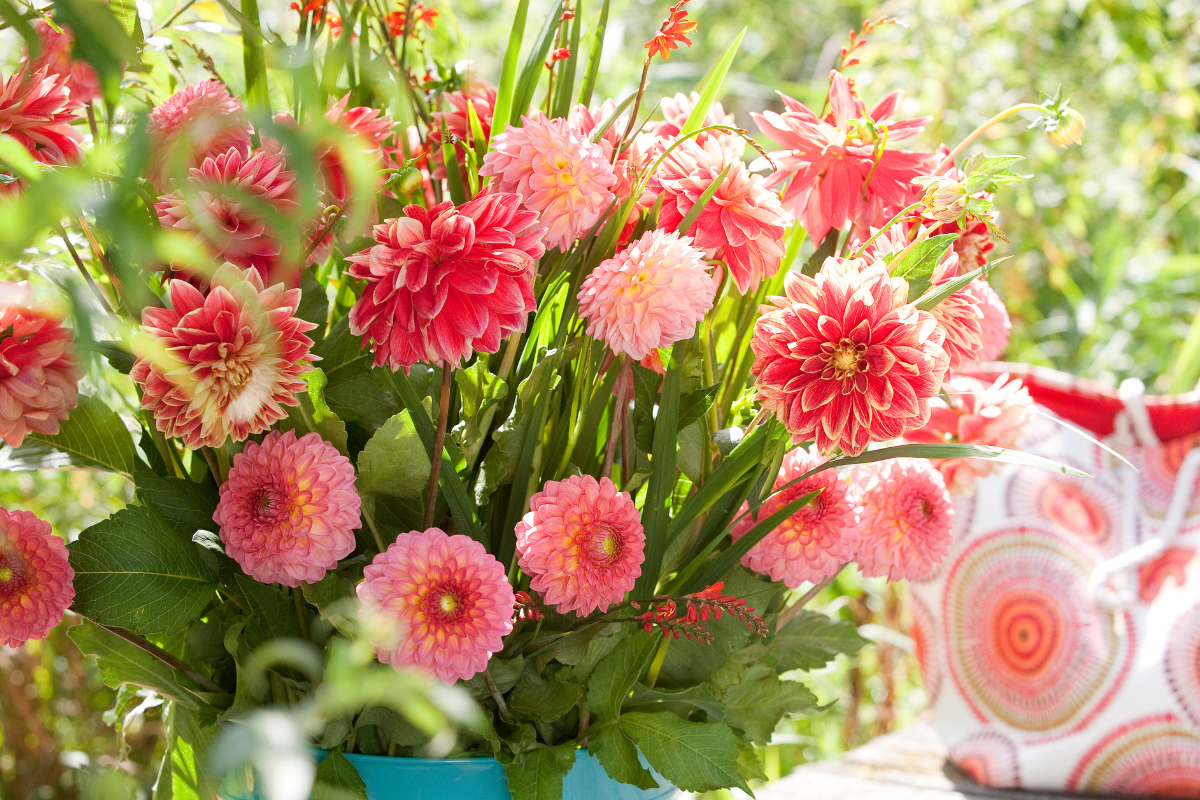 Inspiration for Container Gardening
Containers are a fantastic location to plant a variety of bulbs and perennials. Whether on your patio, front entrance or balcony, containers large and small can have a gorgeous impact.
To add stunning interest, lilies and dahlias can bring bright punches of colour, bees and butterflies to your containers.
Dahlias
The best dahlias for containers are patio dahlias which grow to a height of 45 cm (18"). The dahlia gallery series are perfect for container planting. Art Nouveau (pink), Singer (deep red), Pinto (yellow) and La Tour (lilac and white) range from 4-5" in bloom size and are reblooming.
Lilies
There are many gorgeous lilies to add to containers as well. If you want to keep your container arrangements low, within 30-40 cm (12-16"), add Patio Asiatic Lilies such as Tiny Bee, Tiny Padhye, and Tiny Shadow. There are also beautiful and fragrant Oriental Patio Lilies (40-50 cm, 16-20") such as Sunny Bonaire, After Eight and Sunny Azores. With their shorter height and full-size blooms, these varieties are perfect for containers.
Grasses
To add variation in height and texture, incorporate ornamental grasses. Calamagrostis 'Avalanche', also known as Feather Reed Grass, is a deer-resistant container grass that grows to 90 cm (36"). For a coloured grass, try Imperata cylindrica 'Red Baron' (45 cm, 18"). Paired with dahlias and lilies, grasses add dimension to an arrangement.
Hostas
Smaller hostas also work well in containers. Excellent ones to try are Hosta 'Funny Mouse' (height of 20 cm and width of 30 cm), Hosta 'Hands Up' (height of 40 cm and width of 35 cm) and Hosta 'Yellow Polka Dot Bikini' (height of 25 cm and width of 40 cm). All of these are great for containers with other species of plants and in shaded patio locations. Larger hostas, such as 'Firn Line' or 'Golden Tiara' work well planted in containers by themselves.
Additional Tips and Tricks
To fill out your container, add in Oxalis. With its full and plentiful leaves of unique shapes and colours, Oxalis at a height of 20 cm (8") will add coverage beneath the blooms of your dahlias and lilies.
Last but not least, have fun! Pick out some varieties you love. Look into adding Anemones, Ranunculus, Cannas and Callas! There are endless options for your containers. Mix together all sorts of beautiful varieties. Use your imagination to create an arrangement that speaks to you!
In addition to these varieties, Florissa has a wide selection of summer flowering bulbs and perennials to add to your containers. Contact your local garden centre to ask about their shopping options, or regarding pre-ordering products. Looking for a retailer near you?
"Request a Retailer"