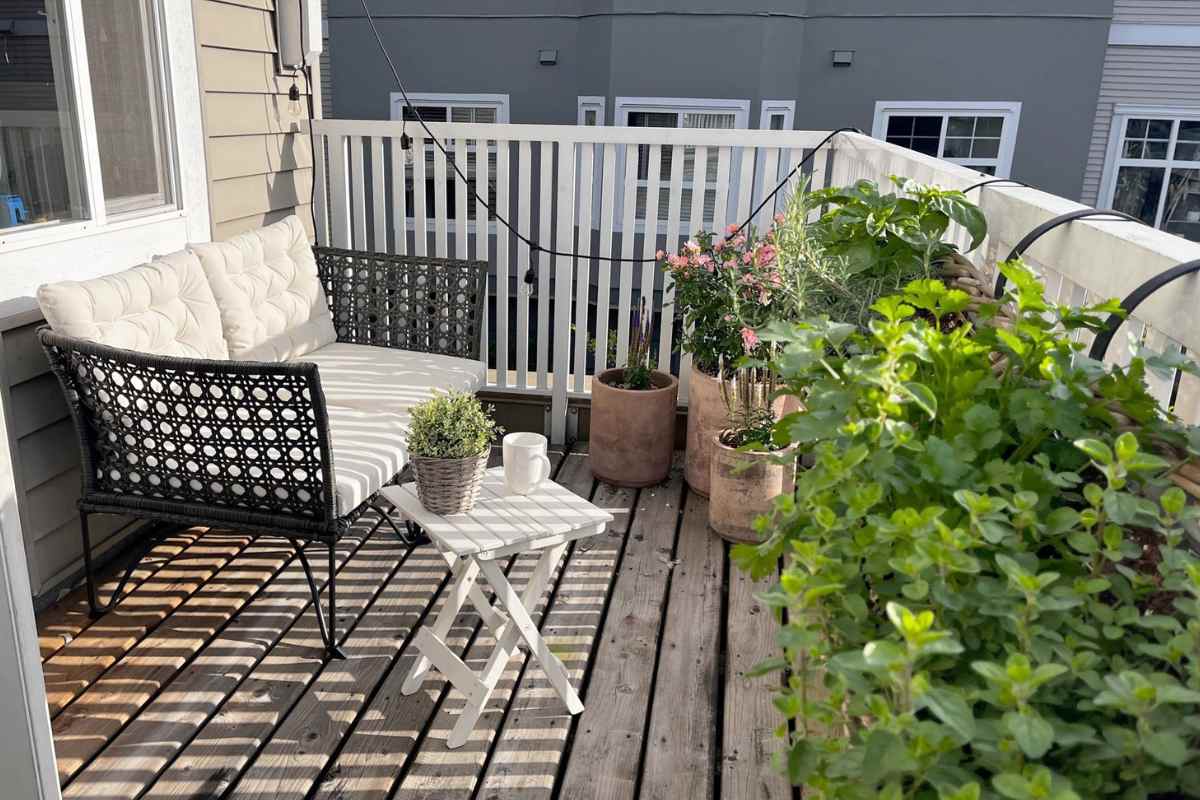 How to Design the Perfect Garden Patio
Have you moved into a new space with a balcony and have no idea what to do with it? I found myself in just this situation this spring and it was time to do something about it. That is why I took the time out to create the perfect garden balcony. Filling my balcony plants, herbs, and décor that made the space not only functional but a small garden oasis that I could enjoy for the summer evenings. Here is how I did it, and so can you!
Getting the Ideas
I started by gathering balcony garden ideas. A trip through Pinterest for balcony design inspiration was perfect for finding great ideas. I was specifically looking for ideas that I could use to incorporate a small herb garden, some strawberries, and of course some great plants to brighten up the place. With a small space, I found ideas for vertical gardens that feature trellises with hanging pots. Then looked for ideas on different planters that could house my herb garden, strawberries, and flowers. To finish the space, I searched for ambiance ideas on where and how to add lights and what kind of furniture I would want to relax in. Pinterest is a treasure trove of ideas so head on in, create your balcony space board, and get pinning.
Start Planning
With all these different ideas it was time to start planning. I first started by sketching out my balcony space and then popping in different elements I really liked from Pinterest to see if I thought they could look good in that arrangement. I sketched four to five designs before I came across something that I thought would look best and be functional in my area. Finally settling on a sketch, a nice mix of pots, an area for herbs and strawberries, an eating space, and of course a chilling area. I was getting excited about how my space was taking shape. A key thing to remember is that although you have the planning in place, things can change depending on what you find at the stores and how things look when you start putting things in motion. Always be open and flexible to change.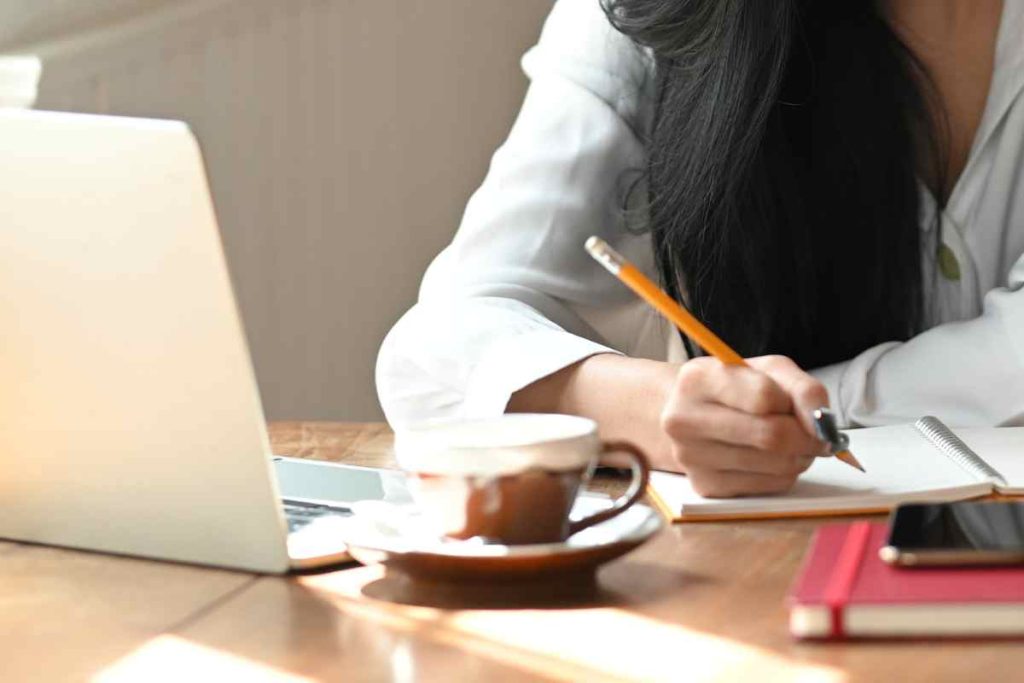 Choosing the plants
This was the most fun and yet the most challenging stage of the whole process. I had three pots set aside for plants, two rail hangers for herbs, and a small space for strawberries. A key thing to think about is how much sun your space gets and then choose plants that will thrive in that lighting. I have plenty of morning sun on my balcony which means I have lots of options for planting. The first thing on my list was a rose as I really wanted a nice fragrance to greet me as I went out onto the balcony. There are so many options for roses in small spaces, but I was looking for something that could fit nicely into my largest pot which meant I was looking for a shrub rose. I settled on the rose Peach Drift. It is compact, produces lots of flowers, and smells wonderful.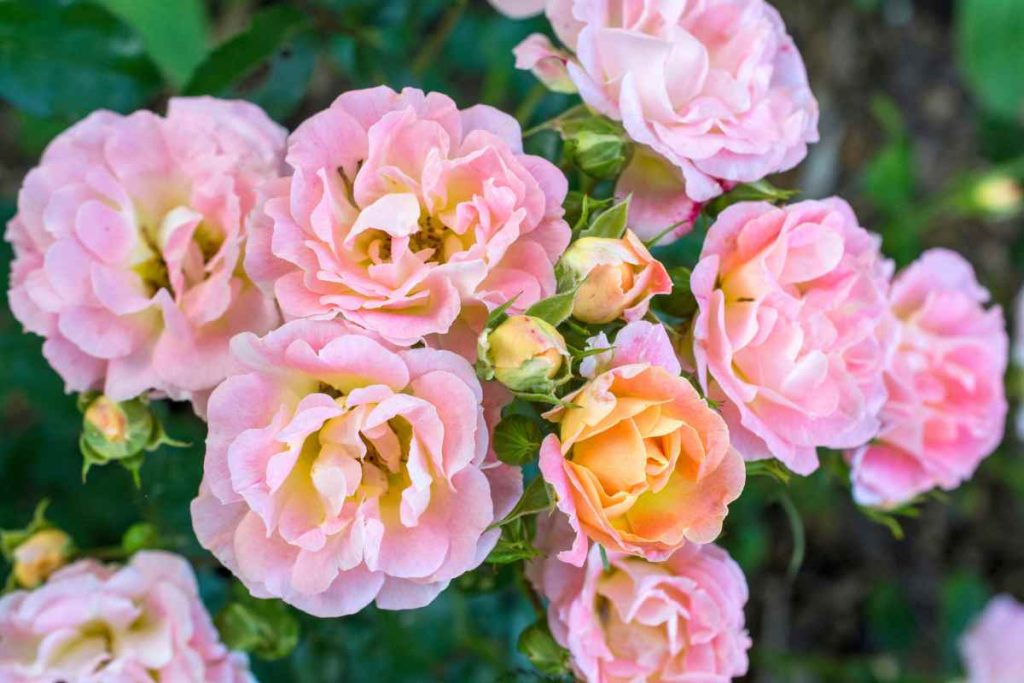 Adding Perennials & Annuals
After I picked out the perfect rose, it was off to choose the flowers for the other pots. I settled upon Salvia Blue Hill (purple/blue) and Salvia Snow Queen (white). Both of these varieties are drought tolerant, give off a beautiful scent, and attract bees to help pollinate my strawberries. Although I chose perennials (plants that come back year after year), don't shy away from grabbing some annuals (plants that only bloom once). Annuals can give you instant colour before your perennials start to bloom. With the three plants chosen, it was time to move on to the herbs.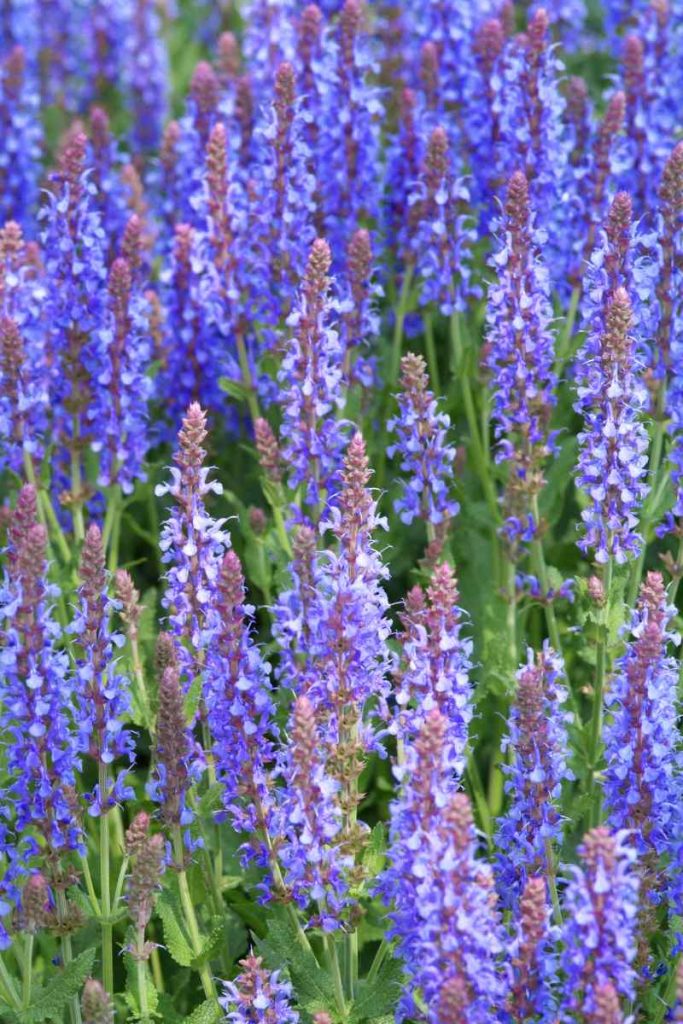 Adding a Herb Garden
As a lover of all things fresh and European, I wanted to grab some herbs that were common in dishes that I was planning to make this summer. With the railing baskets, I could plant four different types of herbs, so I chose Rosemary, Basil, Cilantro, and Oregano. When choosing your plants for your herb garden, I would suggest looking at some of your go-to recipes. See if there is a common theme between the herbs and go for varieties that compliment what you cook.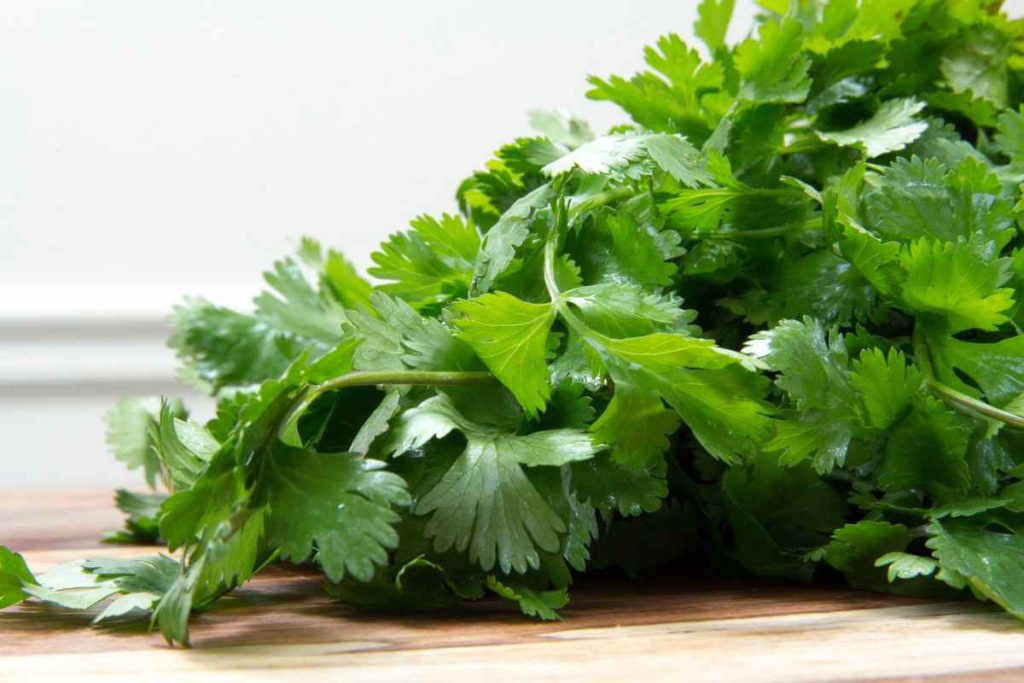 Edibles
Lastly, the strawberries. I wanted to have fruit to harvest throughout the summer, so I planted an everbearing strawberry. My choice this year was Strawberry Seascape as it produces red fruit which is sweet but firm; perfect for eating and also for freezing.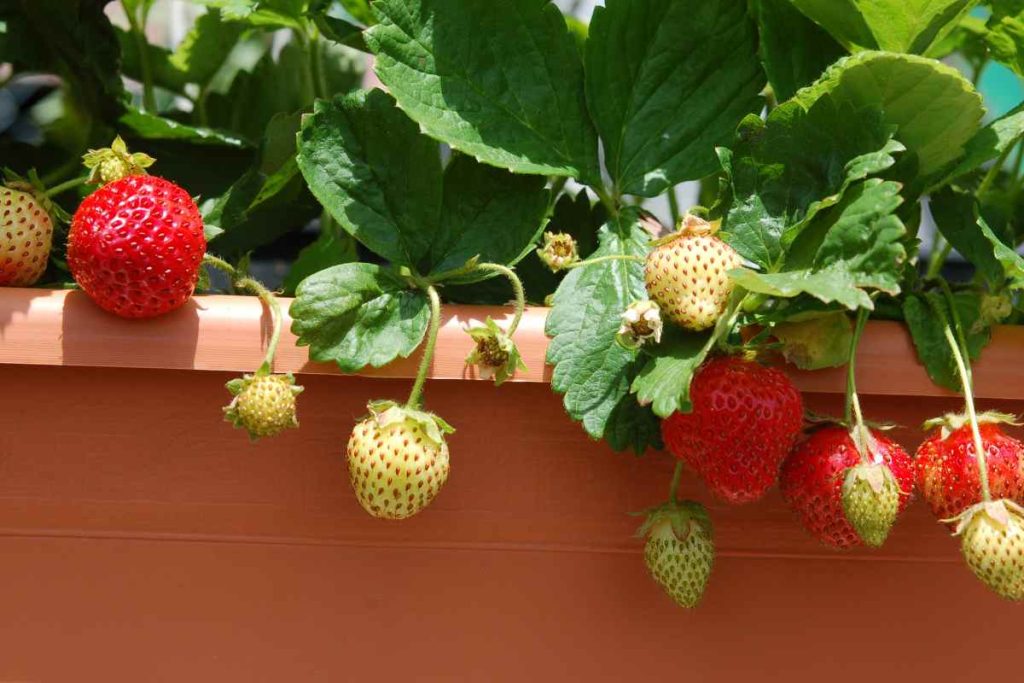 Putting it all together
With everything chosen, it was time to put it all together. I went to my local garden centre and picked out some pots with removable saucers, wicker hanging planter boxes, and some well-draining soil. I already had some extra pots from previous purchases for my strawberries. Then it was off to my favourite outdoor furniture retailer for the décor. Once everything was gathered together, I spent the evening putting all of it together.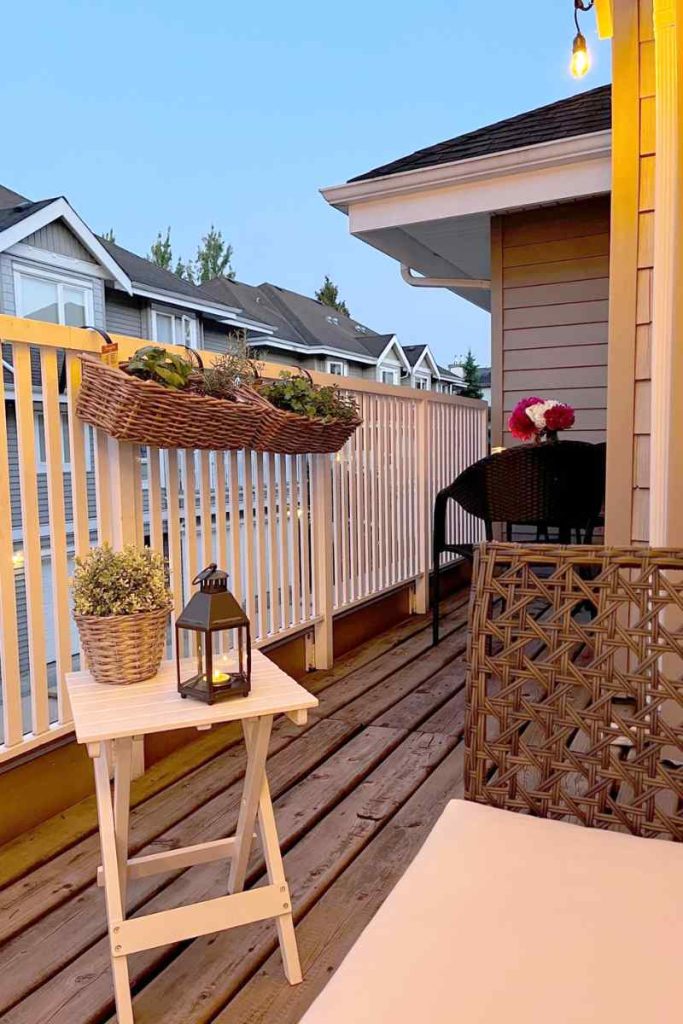 Enjoy Your Balcony Garden!
With my balcony oasis completed, I could finally relax and enjoy my new living space. I grabbed a glass of wine and a book to have a nice summer evening on my balcony. This weekend it will be time to invite friends over, make a delicious dinner using fresh herbs, and share my new outdoor space. Now it's your turn to gather ideas, design, shop, and enjoy! Happy house-making!