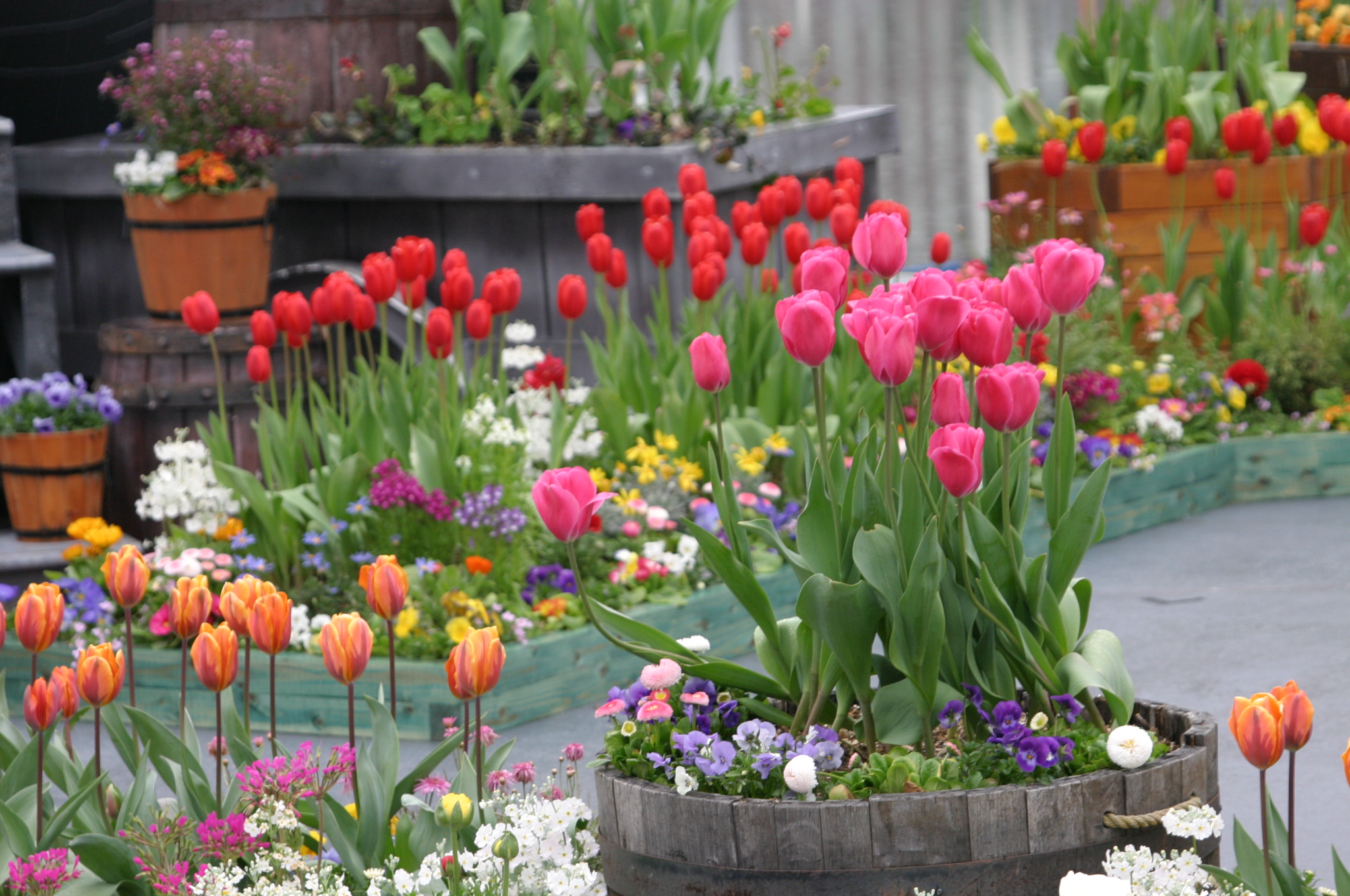 How to Use Large Containers in Your Garden
Large garden planters make for eye-catching displays. There are many sizes, designs, and materials of containers. Big containers or barrels can be utilized in many ways to add variety, structure, form, and interest to the garden. The large size creates fantastic focal pieces, gives you more room to plant, and more choices of plants since you are not as restricted in size!
Preparing for Planting
After you choose your container, the first step is to make sure the pot has proper drainage. Check to see if there are drainage holes at the bottom, and if not, make sure to drill some. Based on how large the containers are, you might not want to fill your entire container with soil before you add plants. To fill up some of the empty space in the container before adding soil, try adding pot fillers. This makes the containers not only lighter but will save you money on the soil. I like to use items that I already have around the house, such as plastic water or milk jugs, foam packing material, or plastic garden pots turned upside down. Ensure that the drainage holes are still functioning and not sealed by filler material before you start adding your well-draining soil. When choosing what to plant in your containers, make sure they all require the same amount of sun during the day, and that their blooming times are complementary within the season.
Large Statement Pots
First, let's create a huge statement! A large container by the front door is a great way to catch the eye. Transform the look of your front porch and add instant curb appeal to your home. Place a bold, colourful piece where people will pass by! For those who do not have a garden around the front of their home, this is a great way of showcasing your favourite flowers and greenery. Take notice of the amount of sunlight in your porch area, as they are often undercover from an overhang, so part to full shade varieties may be your best options. Under my porch overhang, I like to plant hostas, heuchera, astilbe and veronica. I love the variation in foliage and colour of these varieties!
Spring and Fall: Bulbs in Containers
Spring Blooming Containers
Fall is the time to plant your spring flowering bulbs and there are a lot of types and varieties to choose from. I love to plant a multitude of bulbs. It's great to see a full container bursting with blooms! Remember, a large container will need more bulbs. Add a mix of larger flowering varieties with smaller ones to fill up the space in your containers. I always plant tulips and narcissus in my garden. To accent those varieties, I choose to add muscari and hyacinths. But there is no one way of planting! With all the choices – from fritillaria to galanthus, you can let your creative juices flow.
I prefer to plant a variety of heights within my containers. One of my recent favourite tulips is the bouquet flowering tulip, Antoinette, growing to a height of 45 cm (18")! Each stem has 3-5 blooms that start off white and yellow and colour change to pink, white and yellow. It's a dramatic centre focal point in containers. I also like to add a bunch of single-colour tulips such as Purple Flag (45 cm, 18"), or Yokohama (35 cm, 14"). Call me old-fashioned, but I am a sucker for the classic King Alfred Type narcissus too! Growing to a height of 40 cm (16"), I just can't get over how beautiful this variety is. To be sure, I also like to add some more 'fun' narcissus to my pots. The double narcissus Tahiti and split corona narcissus Lemon Beauty (both at a height of 40 cm, 16") are amazing as well. But all flowers are great choices, am I right? I like to choose some shorter varieties to plant around the edges of my containers. My go-to variety is muscari. My favourites at this moment are muscari Grape Ice and White Magic (both 15 cm, 6"). Of course, I love to be creative in the garden and often add a splash of galanthus, anemones, and crocus!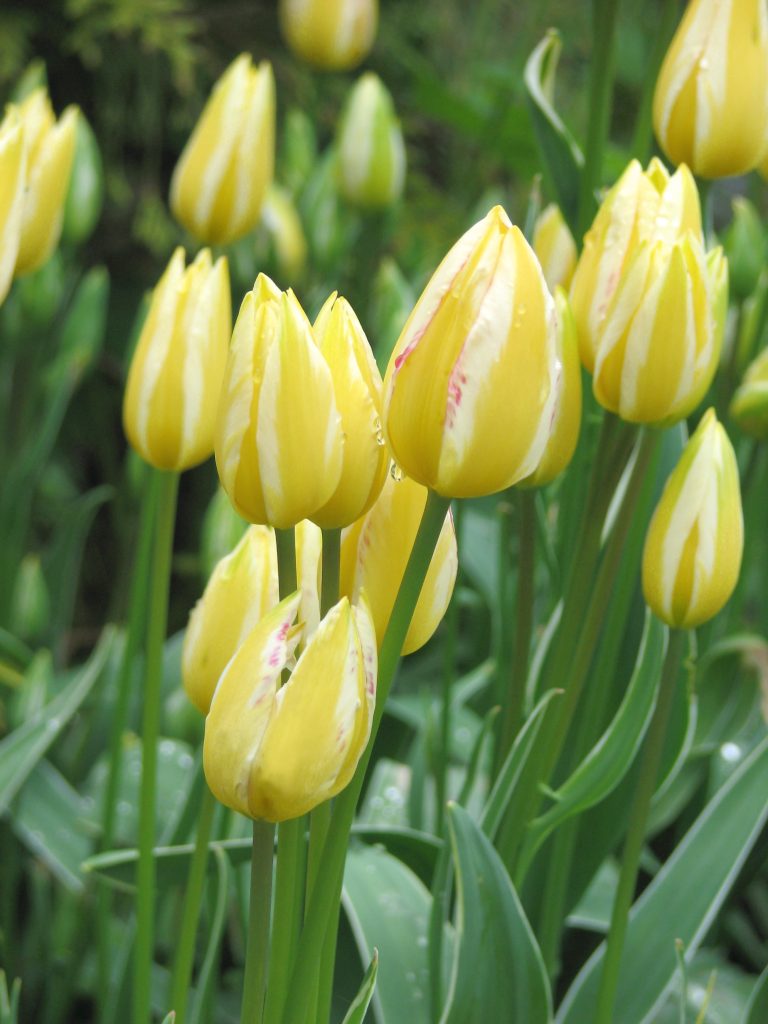 A smart way to plant your spring flowering bulbs is to do layer planting. Layer planting is layering the bulbs at certain depths to create an overlap in bloom times. With a little planning, you can create a succession of colour that will last for months! For more on layer planting, read our blog Easy Layer Containers.
Summer Blooming Containers
After your spring containers are finished in late spring, it's time to plant your summer blooming containers. Lately, I have been seeing Cannas everywhere! They look amazing in large summertime containers. Use cannas in large containers as a striking centrepiece to ground the arrangement. Around the cannas, choose varieties that will bloom well in full to part sun. Personally, my current favourites are the bronzeleaf Canna Wilma and the yellow and red speckled canna Emily both growing to a height of 45 cm (18"). Cannas add a touch of the tropics to your containers and with showy flowers, they are the perfect building block for creating large containers.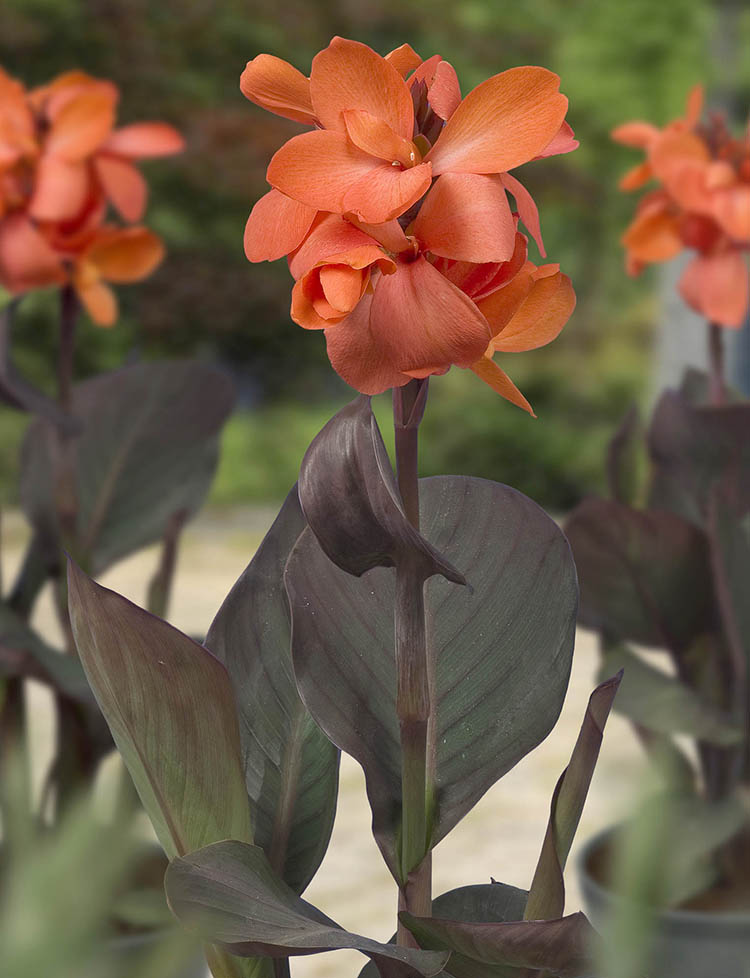 Liquid Desire with a height of 60 cm (24″) is a bright novelty dahlia to add to containers. I love the two-tone mix of bright and light pink shades on the blooms. The patio series of dahlias are perfect additions to planters. Dahlia Gallery Pablo fits nicely into containers. Growing to around 40 cm (16"), it fits well into the space, as do the patio asiatic and fragrant oriental lilies. There's a wide variety of different colours available to make an eye-catching display. If you love lilies, I recommend the fragrant blooms of oriental pot lilies, such as After Eight and Sunny Bonaire. Remember to remove your dahlia and canna bulbs at the end of the season as they are not winter hardy. You can store them in a cool area such as a garage until next year. Both the dahlias and the lilies are best for full sun locations.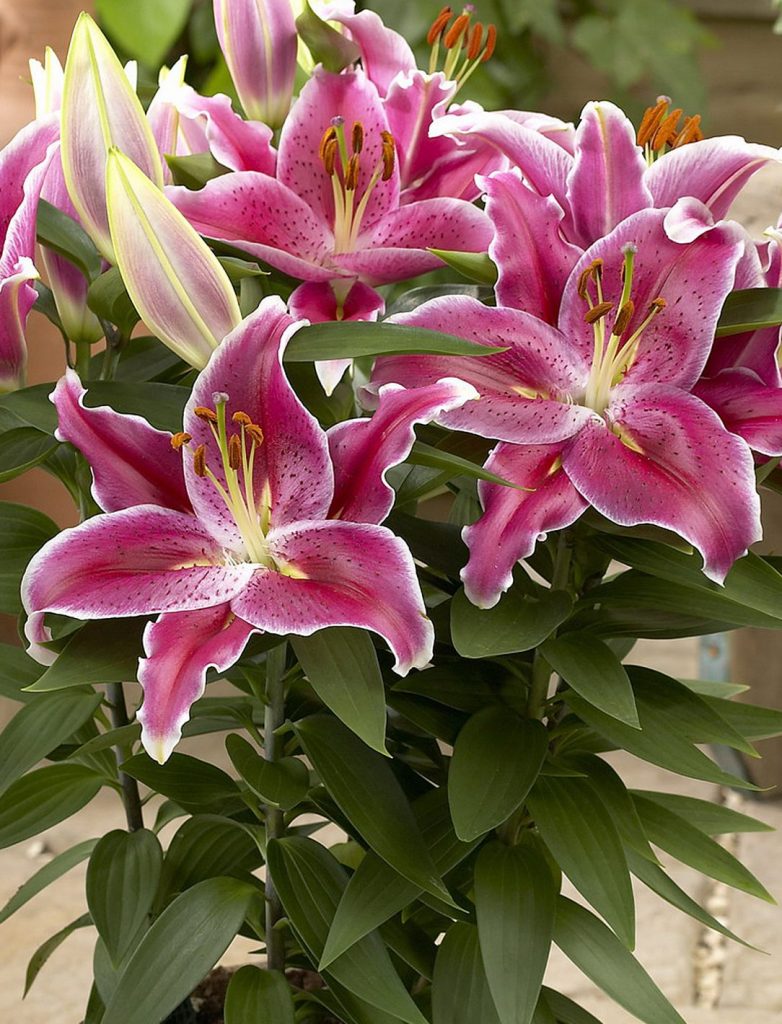 Perennial Containers
Perennials are a great choice for large containers. The varieties that would work well in large containers are endless. I love adding hostas, grasses, hemerocallis and astilbe for colour. I follow the pro tip when planting my containers to include a filler, spiller, and thriller. Our blog Patio Perfect Containers outlines choices for each one based on sun and shade locations of your containers.
Fillers
Some of my favourite fillers are hosta, heucherella, veronica and monarda. With creamy white centred leaves with wide blue edges, make shade-loving Hosta High Society a fantastic filler at 40 cm (16") wide. To add some colour to a container, Heucherella Pink Fizz (20 cm, 8") is perfect for shadier locations as well. One of my all-time favourite fillers for full to part sun containers is Monarda Petite Delight. At a height of 25 cm (10"), Petite Delight is a fun addition with its long-lasting, bergamot scented spiky plumes of pink. Looking to add long-lasting splashes of violet-blue? Try Veronica Sunny Border Blue with its 50 cm (20") spires of blooms that last all summer long. For an upright grass to add to a container in full to part sun locations, I like the dramatic Imperata Red Baron, growing to a height of 45 cm (18"). The intense red foliage will make this grass not only a filler but also a thriller!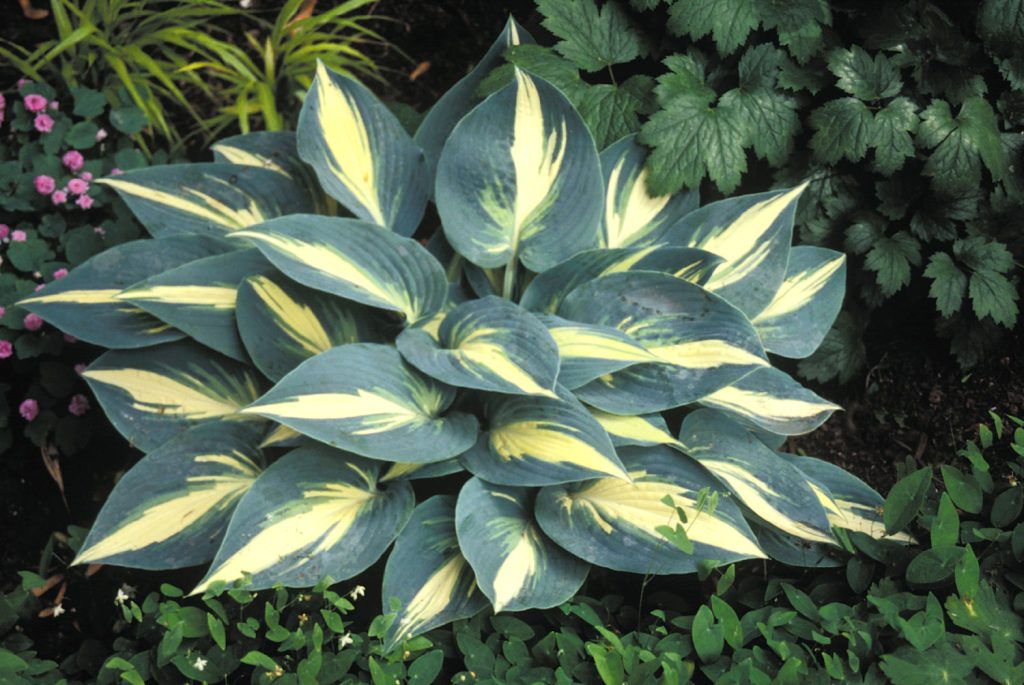 Spillers
Choosing spillers is fun, as I love to see flowers cascading down the sides of my large pots. Campanula Blue Waterfall (full to part sun), Hakonechloa Aureola (part sun), and Phlox Subulata Red Wing (full to part sun) are all gorgeous spillers for large containers.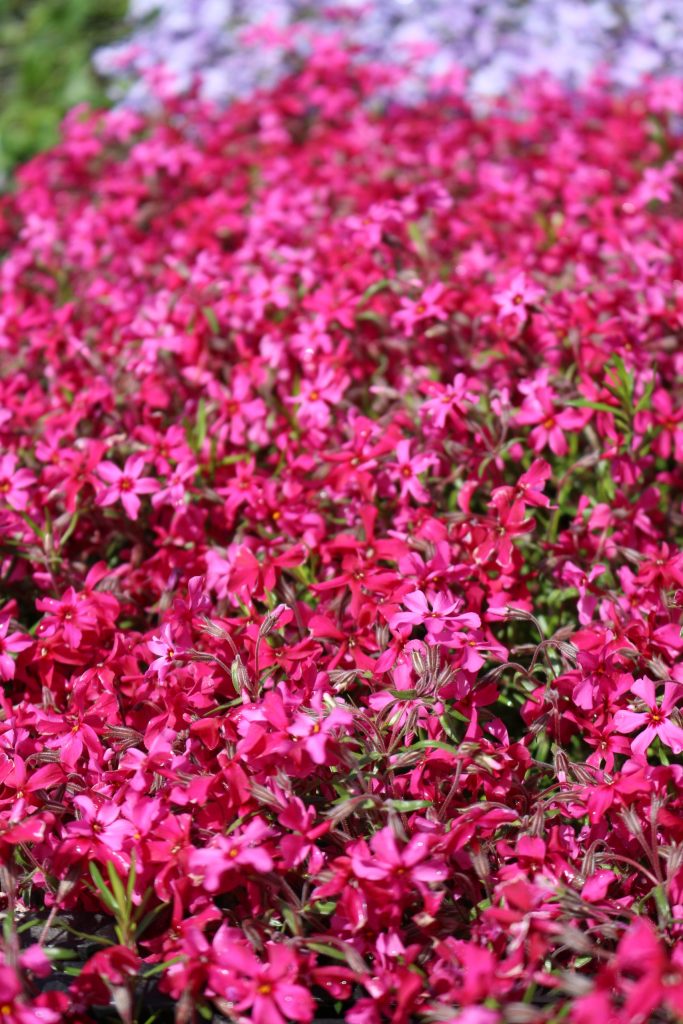 Thrillers
In my opinion, the most enjoyable to choose for containers is thrillers! I love visiting my local garden centre to look for statement pieces. One of my favourite thrillers for sunny larger containers is Delphinium Delphina Dark Blue-White Bee. The 50 cm (20") tall towers of deep violet flowers make an absolute statement. For the shadier areas plant Astilbe Visions in Red. The deep magenta plumes reach 45 cm (18") and are striking in combination with the finely cut deep green leaves.
Remember when planting in large containers, it is more impactful to fill them with multiple fillers, thrillers and spillers. If you are planting many large containers, repeating your planting recipe will create a modern look. Whereas planting each container with a different collection of plants will produce a country feel with a riot of colour. There are so many varieties to choose from!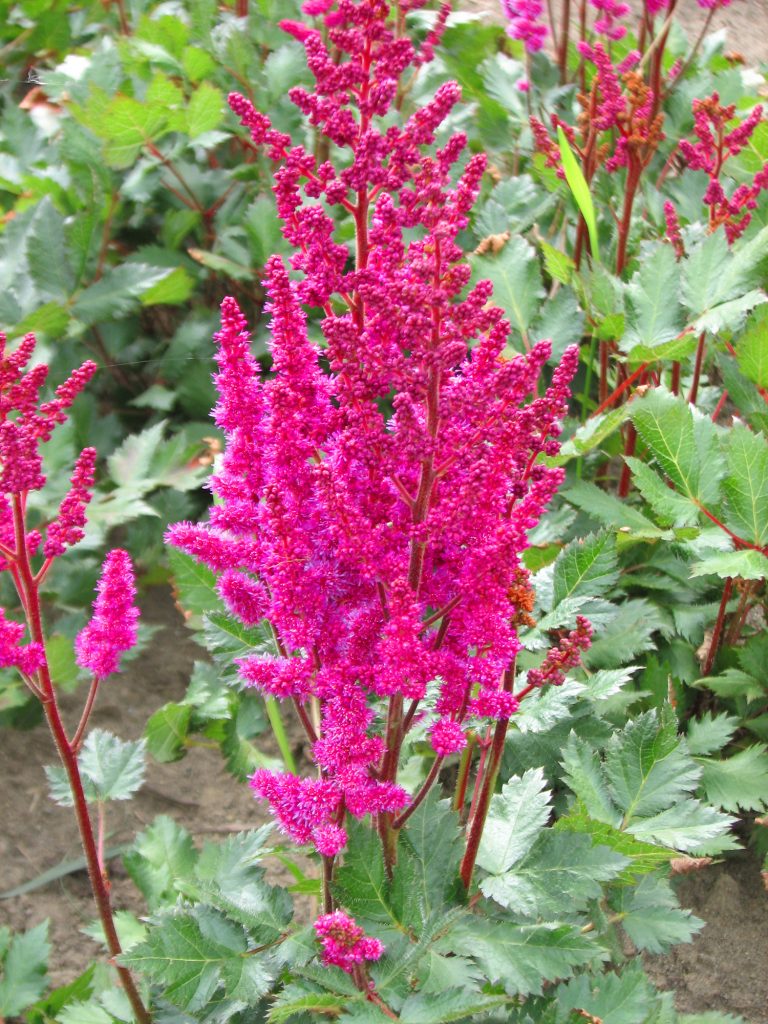 Water Feature – Garden Accents
If you are looking for something unique to do with your larger containers, make a garden statement for all the senses by creating a water feature. Build a fountain, bird bath, or water container garden for aquatic perennials. Large containers and barrels also make for good accents in a garden. To create interest and structure in your garden, why not place an empty or overturned barrel, or unique container in your garden bed, then start adding plants around it?
Building a large container is fun to do. There are only a few guidelines to follow – make sure you have adequate drainage holes in the container, select plants that require the same amount of light and moisture, and select varieties that will bloom at complementary times. Whether it is a planter filled with spring flowering bulbs, summer flowering bulbs or perennials, there are many different choices to see your style and vision fulfilled. Now comes the fun part visiting the garden centre and finding varieties to fill your large containers and brighten up your spaces.
For information on where to find Florissa products near you, please inquire on our Find a Retailer page.