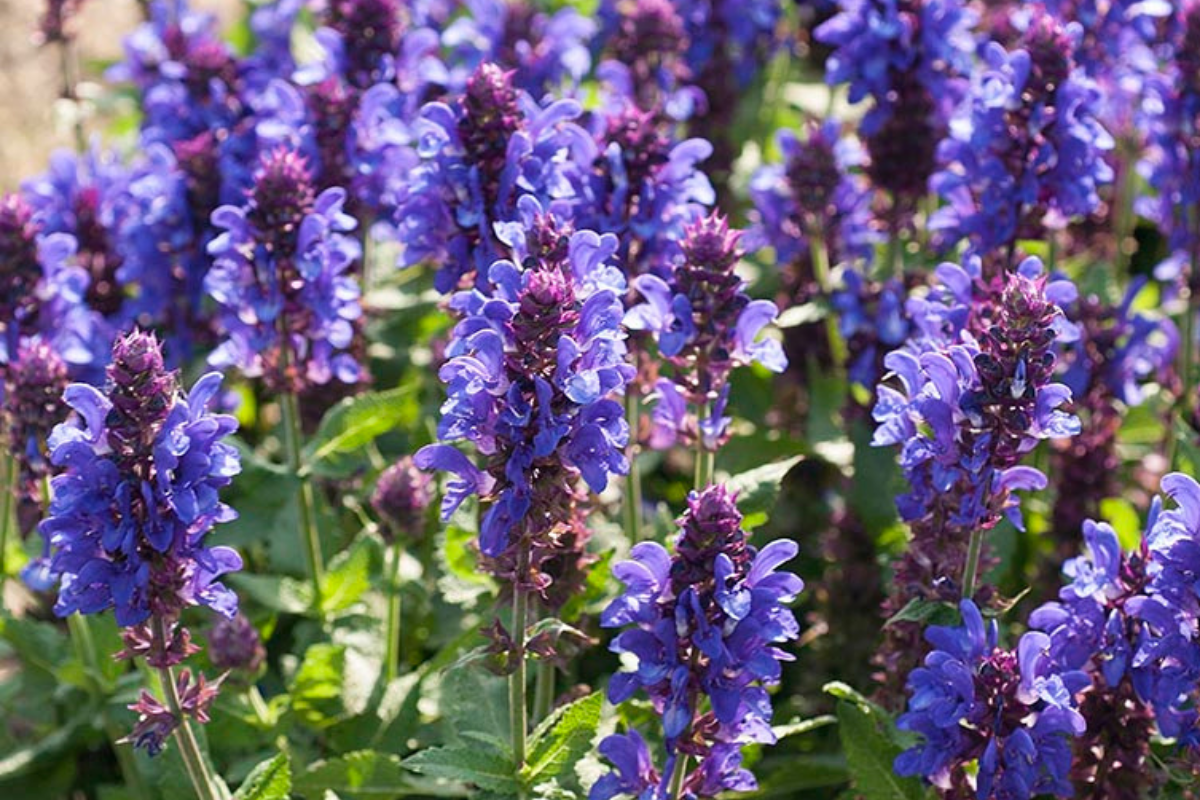 Classic Blue and Your Garden
Classic Blue is the Pantone 2020 Colour of the Year. Everything from fashion, home, design and yes, gardening is influenced by Classic Blue this year. This blue is said to be representative of the sky at dusk. A sky that anticipates the day ahead, and all the wonders that may happen. Will you see new blooms and growth in your garden tomorrow? The calmness and depth of this blue creates a sense of comfort and constancy in the midst of the high stress of our current culture. Plant an oasis to recharge in and be refreshed with new growth and new blooms.
In the garden, we can find this deep and calming blue in a variety of perennials and summer flowers. Break free this year from the standard pink, red and yellow flowers to explore the wide world of blue. To inspire you into adding Classic Blue to your garden, here are some of our favourite selections and ideas.
Salvia 'Blue Marvel'
'Blue Marvel' evokes a sense of whimsy and interest in your garden. This perennial sage is a prolific bloomer with spires of flowers, that will attract the bees and butterflies to your garden. This soft and compact perennial is deer resistant, grows to 30 cm (12") and is perfect for mixed borders and containers. Blooming in full sun from June to September, 'Blue Marvel' also brings a welcoming fragrance.
Mertensia virginica
Bring the feel of the woodlands into your backyard. Also known as Virginia bluebells, this woodland perennial prefers a nice moist location for best growth. Place them with hostas, ferns and dicentras (bleeding hearts) in your garden for excellent pairings. Growing up to 60 cm (24"), Mertensia virginica is easy to grow, with grey-green foliage that creates and an interesting background for its stunning pendulous blue bell flowers.
Agapanthus 'Blue Triumphator'
Agapanthus 'Blue Triumphator' has showy spheres of blue blooms that add a tropical touch to patio containers and garden beds. 'Blue Triumphator' also welcomes beautiful butterflies and bees to grace your outdoor living space. This easy-to-grow perennial reaches heights of 100 cm (40"), enjoys full to part sun, is easy to grow in your garden and is deer resistant.
Gladiolus 'Nori'
Gladiolus 'Nori' is a dramatic addition and a must-have for your garden this year. 'Nori' showcases snow white centres which flow out to deep blue-purple petal edges. This contrast in colour evokes a sense of serene calmness. A late summer flowering novelty gladiolus, 'Nori' is excellent for borders and cut flowers. Growing up to 100 cm (40") this is sure to be a showstopper in any garden.
There are many other ways you can add Classic Blue to your garden this year. Clematis 'New Love', Iris Germanica 'Feedback', Platycodon 'Sentimental Blue', and Veronica 'Tidal Pool' are wonderful varieties to try in your garden. Connect with Classic Blue this year and leave your garden yearning for the promise of what lies ahead.