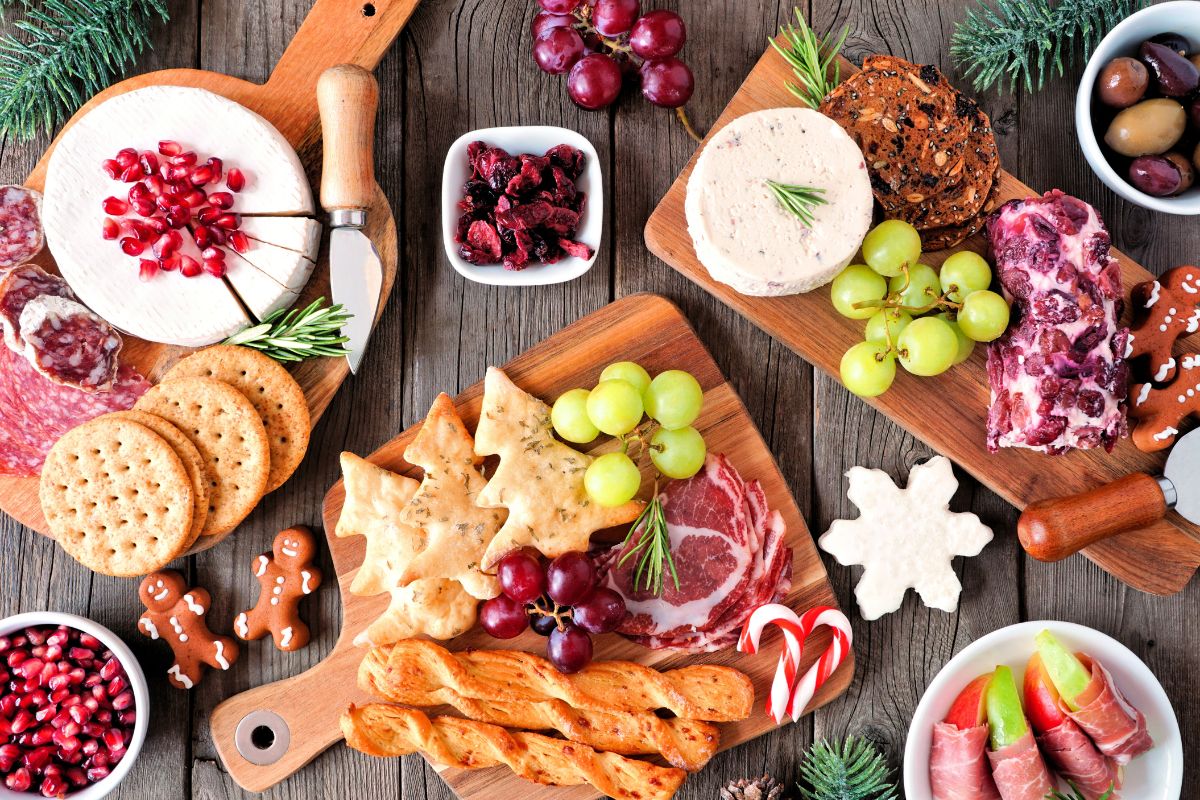 Our Favourite Holiday Recipes
The holidays are a time for family, friends, and food! What could be better than gathering around the table to enjoy some delicious Christmas recipes? In this blog post, we share some of our favorite recipes to make your holiday season extra special. From appetizers to desserts, we have you covered! So, gather up your loved ones and get cooking!
Start your evening off right with some festive appetizers. Our favorites are sure to get your taste buds going!
---
Cranberry Jalapeno Dip
My favourite appetizer for Christmas gatherings is fresh and a little spicy! Every year I make my festive Cranberry Jalapeno Dip. It's always a crowd-pleaser. Even my mom who can't handle much heat loves this recipe. It has just the right amount of sugar and lemon juice to cut the heat of the jalapeno. Served over cream cheese or by itself, this cranberry jalapeno dip is great with crackers or tortilla chips.
12 oz fresh, uncooked cranberries
1/4 cup green onion
1-2 fresh jalapeño peppers
2 Tbsp. cilantro
3/4 to 1 cup sugar
1 Tbsp. lemon juice
1/8 tsp. salt
16 oz. cream cheese (optional)
Use a hand food chopper to chop cranberries (it is best to not use a food processor to chop these as the cranberries liquify too much). Chop green onion, jalapeño peppers, and cilantro. In a medium-sized bowl, add chopped cranberries, green onion, cilantro, and jalapeños. Add sugar, lemon juice, and salt on top of the cranberry mixture and stir gently until blended. Cover with plastic wrap and place in refrigerator overnight.
Take the cranberry mixture out of the refrigerator and stir all ingredients together. Strain out all liquid using a colander with small holes. In a medium-sized dish, pour cranberry mixture atop cream cheese (optional) and keep in the refrigerator until ready to serve. Enjoy!
-Laura
---
Charcuterie Board
My go-to appetizer strikes a perfect balance of salty, sweet, and savory – it is a charcuterie board! This enhanced version of a cheese, crackers, and pickles plate has add-ins of savory meats, fresh fruit, nuts, jams, and dips. Start with a base of two to three cheeses, one soft cheese like herbed Havarti, brie, or cream cheese with pepper jelly and two hard kinds of cheese like sharp cheddar, swiss, or gouda. Then select your favorite deli meats like dried salamis, ham sausage, and pepperoni bites.
Next are the fresh fruits and veggies. These give brightness to each bite, so add in some grapes, berries, apple slices, carrots, cucumbers, and peppers. Adding in some dried fruit and nuts is great too. Some of my festive favorites are cashews, almonds, pistachios, dried apricots, and cranberries.
For the salty element, try the addition of marinated stuffed olives or dill pickles. For your selection of dips and spreads, try a sweet fig or homemade blackberry jam, a hummus, seedy mustard, or ranch dip. Choose your favorite 2 or 3 kinds of crackers, with a selection of light crispy, and savory herbed. These are sure to blend well as the base for all the toppers on the board.
Use a nice large wooden cutting board or ceramic platter to display all these tasty treats. When you arrange your offerings, keep in mind anything liquid should be in a small bowl to keep all the dried items crisp and reduce flavour spillover. Adding labels for specialty items and dips will help your guests as they jump in to enjoy! This easy go-to appetizer can be prepared in minutes so it is great for last-minute get-togethers or evenings out. Enjoy all the opportunities to gather this Christmas!
-Dianne
---
Cranberry Baked Brie
A classic appetizer, Cranberry Baked Brie, is always my favourite. I love ooey gooey cheese! This simple dish is an easy starter for your big holiday feast. While I'm making a Christmas dinner for my large family, I can put this appetizer together in no time and with very little effort. As a bonus, it's a huge crowd-pleaser.
Preheat oven to 350ºF. Place brie on a baking dish lined with parchment paper. Bake brie for 15 minutes. Remove and let the brie sit for 1-2 minutes. Transfer the parchment paper and brie to a serving platter. Top with cranberry sauce and pecans and serve with your choice of crackers. Enjoy!
-Emily
---
Spiced Chocolate and Dried Fig Christmas Cake
What would Christmas be without some delicious desserts? To really get in the spirit of the season, dazzle your guests with a tasty holiday dessert.
After a wonderful Christmas meal, my family eagerly awaits my Spiced Chocolate and Dried Fig Christmas Cake! I found this recipe a few years back on the Jamie Oliver site. I must give credit for this amazing cake! Thanks to him, my family thinks I'm the best baker in the family!
Ingredients:
4 oranges
50 ml vegetable oil
50 ml whisky or brandy
150 g clear runny honey
2 large free-range eggs
260 g self-rising flour
200 g dark brown sugar
50 g ground hazelnuts or almonds
2 teaspoons ground cinnamon
1 teaspoon ground star anise
1 teaspoon ground ginger
2 tablespoons quality cocoa powder
100 g quality dark chocolate (70%)
300 g dried figs
120 g hazelnuts
50 g crystallized ginger
Chocolate Glaze
25 ml clear runny honey
50 g castor sugar
25 ml whisky or brandy
1 orange
1 tablespoon orange blossom water
125 g quality dark chocolate (70%)
75 g unsalted butter (at room temperature), plus extra for greasing
Method
Preheat the oven to 180ºC/350ºF
Finely grate the zest of 2 oranges into a large bowl, then squeeze in the juice of all 4 – you need about 150ml.
Measure the oil, brandy, and honey into the bowl. Crack in the eggs into a mug, lightly beat with a fork, then tip into the bowl.
Sift the flour into a separate large bowl, then add the sugar, nuts, spices, cocoa powder, and a big pinch of sea salt.
Chop the chocolate, halve the dried figs, and then roughly chop the hazelnuts. Finely dice the crystallized ginger, then tip into the bowl of dry ingredients, along with the figs, nuts, and chocolate.
Pour the wet mixture over the dry ingredients and fold until well combined (be sure not to overwork it as the cake may become a bit too dense).
Transfer to a buttered tin and place in the centre of the oven for 25 minutes. Rotate the tin in the oven, then continue to bake for another 10 to 15 minutes.
Test the cake by briefly removing it from the oven and pressing gently in the centre – it should feel rather firm without any sinking. (The skewer test won't work here as there is so much fruit and chocolate.) Then listen to the cake: it should be silent; if you hear a crackling or hissing, bake for a little longer.
Remove from the oven and allow to cool in the tin for 15 to 30 minutes. Flip to release from the tin. (If using a springform tin, you can leave it to cool completely in the tin before releasing, but bundt pans are best released while the cake is still warm.)
To prepare the chocolate glaze, place the honey, sugar, and whisky or brandy in a pan. Squeeze in half the orange juice, then measure in the orange blossom water and 40ml of cold water. Bring to a rapid boil for 1 minute, then remove from the heat. Rest for 3 minutes.
Finely chop the chocolate and dice the butter. Add the chocolate to the pan and whisk to combine, until melted.
Next, add the butter a little at a time, mixing continuously until everything is melted and looks lovely and shiny.
Allow the glaze to cool slightly before drizzling it all over your cake to serve (you can make the glaze a day ahead if you like – gently warm it up just before drizzling).
-Rebecca
---
No matter what food you choose to serve, the important thing is to bring family and friends together for a meal. Celebrate the holiday season with good food and great company! From all of us here at Florissa, we wish you a joyous holiday season filled with delicious food and lasting memories. Happy cooking!