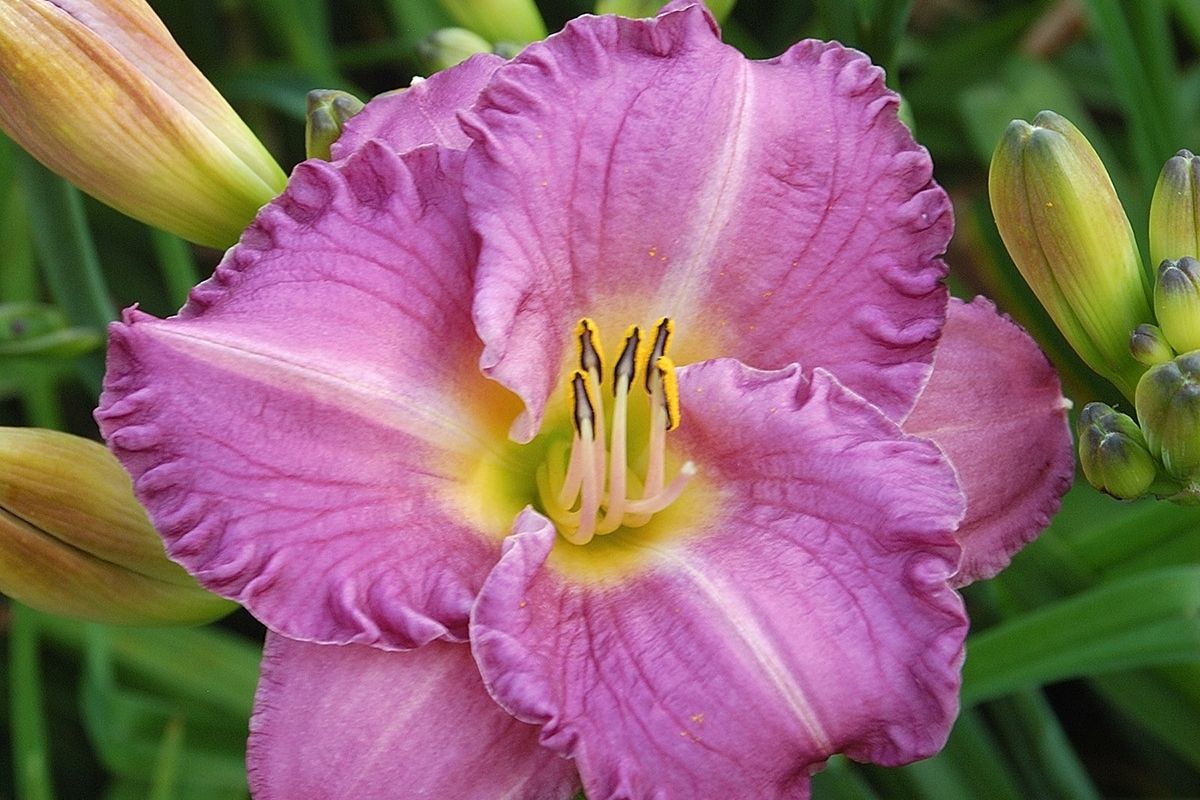 New for Spring
Florissa's Choice: Starlight-Starbright
Watch the stars come out this summer with Florissa's Choice for Spring, 'Starlight-Starbright.' This Colourful Companion blend of oriental lilies features blooms up to 20 cm (8") across in soft shades of pink, yellow and white. Blooms so large and luminous they'll light up the beauty of your garden as dusk falls. Ideal for a moonlight garden, plant 'Starlight-Starbright' where you relax and enjoy their enchanting exotic fragrance. Easy to grow and maintain, oriental lilies enjoy full sun and grow to heights of 110 cm (44"). Hardy to Zone 4. When planted in the border, they'll return year after year to put on a dazzling show.
Versatile in containers, these are great focal points in any area. In the flower world, purple is one of the most sought-after shades. It's especially trendy this year as Pantone has chosen 'Ultra Violet' as the colour of the year; reflecting current styles and moods all over the world. 'Ultra Violet' is an inventive, visionary, imaginative and creative colour. How can you enjoy it in the garden? Check out these inspiring varieties to plant this spring.
Dahlia Smokey Amethyst
Colourful Companion 'Smokey Amethyst' showcases the perfect pair of two-toned decorative dahlias. Each 10-15 cm (4-6") bloom is stunning on its own. Intense deep velvet purple petals tipped in white complement subtle lavender shades and deep dark purple centres. The light against dark, dark against light hazy purple shades build superb contrast. Together, these dahlias make for ultra-appealing flower bouquets indoors and out. Easy to grow dahlias enjoy full sun and bloom continuously from mid-summer to fall. The more you cut flowers for bouquets, the more they'll bloom. Dahlias are tender bulbs and susceptible to frost. Dig up the tubers in the fall and store them through winter.
Hemerocallis Entrapment
Hemerocallis 'Entrapment' captures all the attention with its huge 15 cm (6") ruffled blooms in rich violet. A distinct white midrib flows down the centre of each petal from the blossom's bright yellow-green throat. Every single bloom lasts only 24 hours, hence the common name: daylily. Even so, daylilies bloom over a long period, are easy to grow, and perform wonderfully when planted in full sun and well-draining soils.  A super re-bloomer, 'Entrapment' sends up 2-5 flushes of blooms from July through August. As a member of the 500+ Blooms Club, after 3-5 seasons in your garden, 'Entrapment' can produce 800 blooms or more. Grows to 55 cm (22") in height. Hardy to Zone 3.
Gladiolus Zita
Ultra-violet can charge the garden with high voltage spirit, especially when teaming up with chartreuse green. Gladiolus 'Zita' bursts forth with zest and energy, flowering on sword-like stems. Each lovely and large orchid-like blossom has slightly different bright magenta-purple markings. Dutch Gladiolus are one of the most beautiful and engaging summer cut flowers in a vase. They'll transform an entire room and they're incredibly easy to grow. If you stagger plantings every two weeks from early May to July, you'll enjoy a succession of blooms from summer to fall. 'Zita' reaches heights of 100 cm (40") and is a tender summer bulb. Pick up a couple of packages and grow yourself super-charged bouquets.
Anemone Bordeaux
Commonly known as windflowers, De Caen Anemones look like poppies as their petals ruffle in the slightest of breezes. Their beautiful single blooms in jewel-tone colours are gorgeous in mixed bouquets or in a vase all on their own. In the garden, tuck them into the edges of your borders and along pathways, or grow them in containers wherever you'd like the rich velvety colour. 'Bordeaux' has deep wine-red petals contrasting with a vivid violet-purple eye zone. Finely cut spring green foliage complements these blooms which appear about 3 months after planting. In early spring, planting brings out early and mid-summer flowers, while early summer planting offers a fall show. De Caen Anemones enjoy a warm sunny site and well-draining soils. Be sure to soak the hard corms in room-temperature water overnight before planting them. Anemones grow 45 cm (18") in height. Hardy to Zone 5.